On the Job With Jennifer Lee, Director of Frozen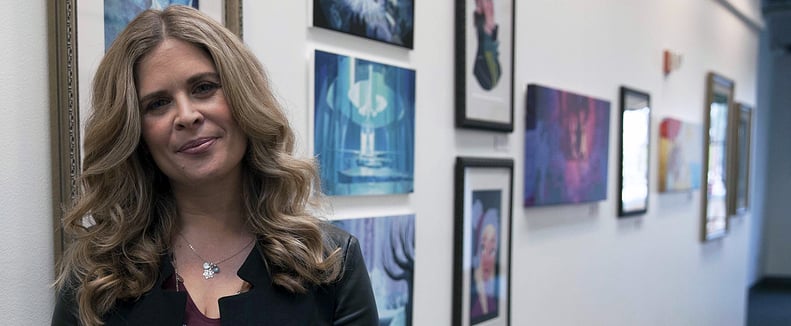 It's a rare thing for any first-time director's film to be nominated for — let alone win — a Golden Globe, but Jennifer Lee's debut movie, Frozen, did just that this year. The achievement was a meaningful one for Jennifer, who, by her own admission, took a "circuitous" route to the director's chair. She started her career in the world of literature, working in book publishing, before going to film school at Columbia and later landing a gig as cowriter of Wreck-It Ralph. Still, the shift wasn't completely out of left field; serendipitously enough, Jennifer's dream as a kid was to become a Disney animator.
Frozen gave Jennifer a unique opportunity to celebrate "wild and wonderful" girls like her childhood self and her own 10-year-old daughter, Agatha. "I was the one that would stain my dress the minute I put it on," she told us with a laugh. The director clearly relishes portraying strong women on film and next up has plans to expand into live action. She currently has a movie "in the vein of Erin Brockovich" in the works at Leonardo DiCaprio's production company, Appian Way.
Jennifer recently invited us inside her workspace at the sunny Disney Animation Studios in Burbank, CA, for a candid conversation about her unique career path, her advice to young women who want to break into film, and her biggest professional "pinch me" moment.
POPSUGAR: What was your very first job?
Jennifer Lee: I worked as a pharmacy technician at CVS when I was 16.
PS: Anything you've taken away from the job that's helped you today?
JL: Wow. Probably that working can be tedious at times, and people can be mean, and you just have to keep going.
PS: How would you describe the role of women in the film industry today? A lot of people have been talking about the fact that only 10 percent of this year's Oscar-eligible films were directed by women.
JL: I don't know what the magic formula would be to change it; I'd love to find it. I love that there are more women. The more women do bigger films as well, I think the more that will help. I think all we can do is keep pushing. And keep helping each other, just being very supportive of women in the industry and mentoring. I got to meet Emma Thompson, and for me, she's like a hero, and she said, "You know, we all have to pass the torch to each other and inspire each other." And I think that's probably the best thing I've heard.
PS: What was the toughest job or project you've taken on?
JL: Frozen, for sure. Wreck-It Ralph was a huge learning curve to adjust to this world. With Frozen, we did the film — from when I came on — in 17 months, and we mostly started over, so that was intense. We never wanted the schedule to make the film just be "good enough." I wanted it to come out where I felt like I wouldn't do anything differently.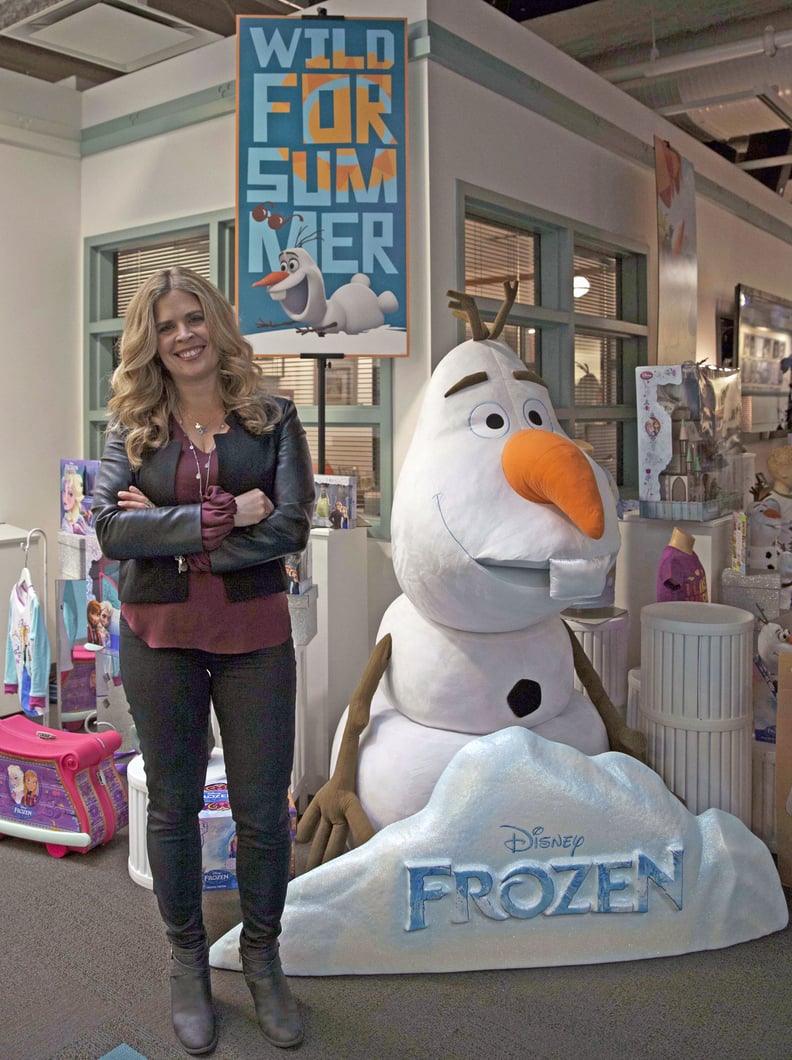 PS: What's been your most memorable "I've made it" moment?
JL: We screened this for an audience in Arizona last June, and that was the moment we realized we had something, because the reaction was huge. It was my first time on a private plane with [Disney's Chief Creative Officer] John Lasseter and [Frozen songwriter] Kristen Lopez. And we're sitting there, and they put out John Lasseter's wine, and we toasted. And Kristen said, "Does this mean we've made it?" And I said, "Don't say that, or the plane will crash!" I'm from the East Coast; we have to be self-deprecating, but at least through Kristen, I was able to enjoy that moment.
PS: What's your number one priority outside of work?
JL: My daughter.
PS: What was your biggest professional setback?
JL: Switching careers. Going from book publishing to film was definitely the hardest thing. Book publishing is a world where you work your way up. The film industry is so complex, and it is constantly surprising. It can really knock your ego out and your sense of your abilities, and you have to take that out of the equation, because it doesn't matter if it's the best script you've ever written. What it takes to get a film made is so complicated. Every time you get the "no," you have to be able to not let it affect you. That's the hardest part.
PS: Who are your mentors?
JL: I have been lucky here that I've gotten to work with John Lasseter. Frozen meant a lot to him, so I had many moments where he took the time to work with me. But I feel like I have a mentor in each department here. There was not anyone who didn't welcome me and then say, "Let me introduce you to what it takes to tech animation, what lighting consists of, what our challenges are." There were two professors, Andy Bienen, who wrote Boys Don't Cry, and Eric Mendelsohn — Judy Berlin was one of the films; he won Sundance for that — and I just saw them in New York last weekend. I still have all their notes from class on my desk.
PS: What are three things you can't live without?
JL: My daughter, obviously, number one. Films. I guess hand in hand with that is music. I've been playing a lot with Mumford & Sons. I love Daft Punk. U2 will forever be it, because they're like my first love. I've got a little bit of Shakira on my iPad. I made a mix when I was in New York when I was there for the week, because I love when I'm out on the streets with the music playing.
PS: How do you relax or shut off at the end of a long workday?
JL: To shut off at night, I actually put on a TV show. I like to find a drama or something I've never watched and then have the whole thing play. Sometimes I'll fall asleep, but it will take a while. I love getting in bed, putting it on the computer, and just kind of let it wash over me a little bit. Kind of to get out of my own head.
PS: Are there any pet projects or dream stories that you want to bring to life?
JL: I do have a need for socially conscious films. I respond to those. But my slight obsession is science fiction. Science fiction, to do it well, is one of the hardest things. I don't know if I'm ready, and I only want to do it when I can do it exactly right.
PS: What's your favorite movie or a movie that inspired you to get into film?
JL: It's actually When Harry Met Sally. I think that's one of the most perfectly written screenplays. I think it's timeless. Other scripts I'll read, but it's the one I always have with me. I'm going to go to the ones that I trust, and that film? I think it's perfect.
PS: What would your advice for a 25-year-old woman trying to follow in your career path be?
JL: Don't lose faith in what you are trying to do, even though you will get pummeled emotionally left and right. There are a lot of "nos" to any "yes." And that's OK.
PS: What would your advice to your 25-year-old self be?
JL: Get out of your own way. It is a confidence thing. What I find holds women back is our doubt of ourselves. A lot of my male friends don't do that, and if they do, they know how to hide it. So maybe steal from them. It's OK to be completely flawed. That's everyone. Get out of your way with that.
Source: POPSUGAR Studios