Viva La Savings! How to Visit Las Vegas on a Dime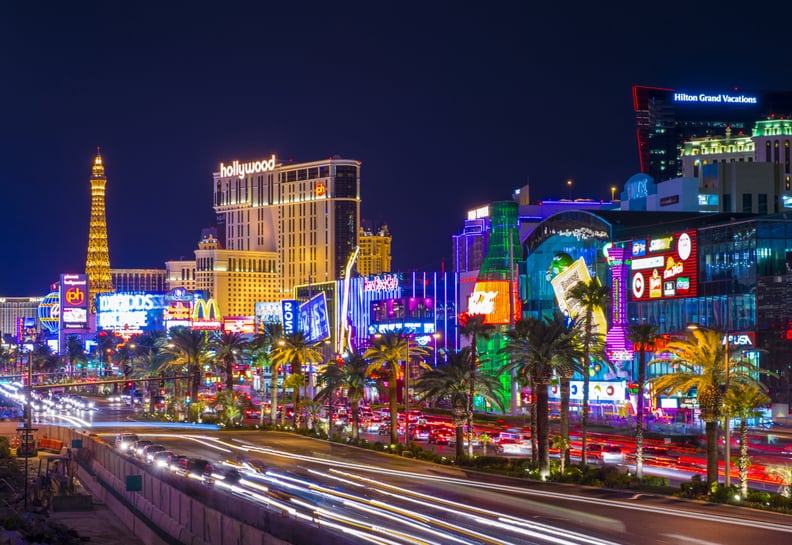 With Spring break right around the corner, Las Vegas is one of the go-to destinations for many to let loose and enjoy the warm weather. While the wide range of nightlife, five-star restaurants, and gambling may paint an illusion that you need an unlimited amount of cash, there are plenty of affordable ways you can plan the Sin City getaway of your dreams! From flying the right airline to choosing the best day of the week to stay, travel can cost as little as only a few hundred bucks per person. It just takes a little extra planning and research in order to book a trip that won't break the bank, but is guaranteed to be just as fun. Check out these tips to help you stay on budget as you plan your next Vegas trek!
1. Plan your trip during the week.
Many may be hesitant to plan their stay during the week, but Las Vegas is a destination that has something going on 24/7. Electing to arrive on a Monday or Tuesday and departing before the weekend rush means you will be saving a whole lot on hotel room rates. Weekend rates are typically almost double or triple the price, which makes sense because that's when people are usually more free to travel. With weekday booking, you can put the extra cash toward show tickets, drinks, and food! Besides, anything you wanted to do in Vegas on the weekend will still be available during the week. Just because you're not arriving on a Friday night doesn't mean the fun will be any less.
2. Take flights that depart earlier or later in the day.
Airline flights tend to be priced lower if you choose ones with early departures at 6 a.m. to 9 a.m. or later departures in the evening past 6 p.m. This is also a good time to take advantage of any frequent flier miles you have! You can also save money if you book your hotel and flight together in a package deal through sites such as Expedia, Kayak, or Orbitz. Keep in mind the quicker you arrive, the sooner the party can get started!
3. Be on the lookout for hotel deals.
Booking your stay through sites such as Hotels.com, LasVegas.com, or Hotwire will help you stay on budget. Don't book the first room you see, but instead take some time to shop around for deals and find the price that fits your budget best. Not only will these sites help you save cash, you'll also find an amazing room for a cheaper price!
4. Limit yourself to a carry-on bag.
Many airlines charge passengers to check bags, with prices ranging anywhere from $15 to $150. These fees easily add up, as you are paying them each way of your flight. If you want to avoid spending the extra cash, try to downsize your luggage by packing lightly in a carry-on bag.
5. Don't forget the resort fee.
Once you're checking into your hotel, beware of the resort fees that you'll need to pay. The fee covers a variety of amenities including Internet access, fitness center access, in-room calls, and more. Depending where you stay, be prepared to pay up to $28 per day. Budgeting early for the resort fee is better than being surprised once you're charged.
Once you arrive, the following tips could be helpful if you want to keep on saving cash.
6. Take advantage of buffets.
If you want to stretch your dollar when it comes to food, make the buffets your priority. Not only are there a variety of cuisines to choose from, but it's all you can eat and every hotel typically has at least one buffet option. Depending on the time of the day you're dining, buffet prices can range from $20 to $50 or more per person. Although the price may seem steep, you get more food compared to ordering a single dish at a restaurant.
7. Walk instead of taxi.
One of the perks of Las Vegas is that everything you need is in walking distance. From food to entertainment, you don't have to travel far. The cost of taxis can easily add up, but they're a good option to take advantage of if you have a destination located at the end of the strip. Before you hop in a taxi, find out how far of a walk it is. You never know, you might find something even cooler along the way.
8. Avoid paying full price for nightclub admission.
Las Vegas is home to an incredible array of nightlife. From rooftop nightclubs to a star-studded list of house DJs, there is no shortage of entertainment. If you want to access these hotspots, don't forget to dress your best. Admission prices vary depending which establishment you're at, and VIP bottle service prices start at $300. If you happen to bring along the man in your life, beware that males typically get charged $100 for club admission. One way around that is to sign up for the guest list through a promoter or online. It will not only cut down the costs of admission, but also gives you access to free drinks.
9. Enjoy all the free attractions.
If you want to catch a live show during your time in Las Vegas, you don't necessarily have to purchase a pricey ticket. From flashy lights to dazzling water displays, there's something for everyone to enjoy. These are just a few options:
10. If you gamble, join the player's club.
With gambling being one of the traditional Las Vegas staples, you might as well reap the benefits that come with it. Many of the resorts offer their guests a chance to sign up for the player's club, a rewards program with exclusive discounts and promotions. Members are also able to earn free food, rooms, show tickets, or other amenities through how much they've been gambling during any given stay. Who knows, it could be a double win if you hit it big at the table!
At the end of the day, remember to have fun and enjoy Las Vegas for everything it has to offer. Whether you're there to party or indulge in some delicious grub, there is truly something for everyone. What are some of your favorite Sin City tips? Source: Shutterstock / Kobby Dagan