Why the "Worst" Job I Had Was Actually the Best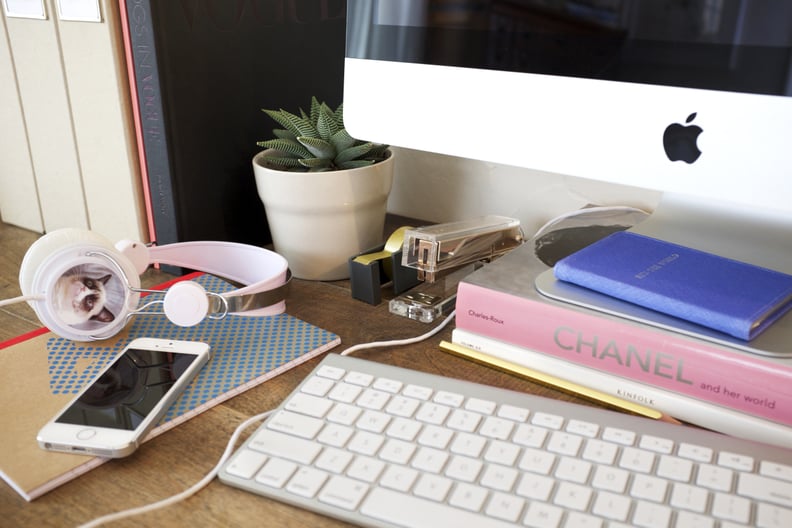 POPSUGAR Photography | Glen Giffen
POPSUGAR Photography | Glen Giffen
When I was a junior in high school, I decided I wanted to be a journalist. I had only a vague idea of what working in journalism was really like, but I suspected I was good at it. As editor in chief of my high school literary magazine, I continued our first-place winning streak at Florida's state HS journalism competition (yep, that's a thing). I loved the thrill of working on deadline, editing stories, and coordinating all of the moving pieces to get a publication to print. I neglected my math homework and enjoyed diagramming sentences in my spare time.
Sh*t got real when I was accepted into the Medill School of Journalism at Northwestern University, which is essentially an expensive version of trade school, in that it prepares you for one career path. Before I continued down this very specific path, I figured I should sample my chosen field, which led to one of the weirdest and most valuable jobs I've ever had. I started at the absolute bottom, and the experience was valuable in ways I never could have imagined. Here is why no one should ever be afraid to take the crappiest job they can find in their chosen career.
1. It's Not Just a Job
As my senior year of high school wound down, I needed a Summer job, and while there's nothing wrong with working in restaurants and retail, an entry-level job in the career you think you want to pursue can help you decide if that career is right for you. And if it is, you get a head start on your résumé and on making connections in your industry. I started by asking anyone I knew how to get my foot in the door at the local newspaper, the Pensacola News Journal. Surely they had some entry-level job they'd give to an 18-year-old, right? Eventually, I hit an unlikely jackpot. The girlfriend of the mom of a kid I babysat had just been promoted from her job at the paper, and they needed to fill her position: part-time evening newsroom clerk.
Newsroom clerk was barely a journalism job, and it definitely wasn't prestigious. As the night clerk, I worked from 2 p.m. to 10 p.m. (admittedly, ideal hours for my 18-year-old self). I shared the job and a very dirty desk with the daytime clerk, whom I'm pretty sure lived in his car (no judgment; just providing context here). My random assortment of responsibilities included writing obituaries, compiling lottery numbers and front-page indexes, and listening to people complain on the "reader feedback line" voicemail. But I was thrilled: I had a paying gig in journalism already at age 18.
2. You Gain Relevant Skills
At major newspapers, writing obituaries is a prestigious job, since it involves crafting postmortem tributes to dignitaries and public figures. These were not the obits I was writing. I "wrote" the kind that people paid to publish in the paper, after filling out a form with all the pertinent info and some preferred wording. I had very little creative freedom, but I still wanted to be the best damn obit writer this town had ever seen, even if no one but me could tell the difference. I learned that I enjoyed the journalistic aspects: making sure the style was consistent across all the obits, calling funeral homes and sometimes grieving family members to fact-check details. I learned to be a professional interviewer and an accurate reporter, and I got over my fear of picking up the phone and calling strangers (in front of other people, no less).
Even weirder was my job listening to the "reader feedback line" voicemail, where citizens could call in with their opinions and might be quoted on the opinion pages. Not only was this highly entertaining, but it also taught me very early on that the most vocal readers are usually the angry, grumpy, and outraged ones. The reader feedback line didn't get a lot of warm compliments. Working in online journalism now, I'm fortunate to have learned early on that you can't take feedback too personally and it's best to ignore the haters.
3. You Can Observe the Culture
Even in the sh*ttiest job in the newsroom, I was still in a newsroom, and I very quickly realized that this work environment suited me. For the most part, it seemed people moved up the ladder because they were talented, not because of office politics. I was surrounded by funny, smart, irreverent people who weren't at all stuffy and, at times, downright outrageous: I once witnessed our grumpy, 60-something female copy chief shout (loud enough for the entire newsroom to hear): "How many c*cks do I have to suck to get this page proofed?!" These were my people!
I also got used to working in a fast-paced, loud office environment, and I grew accustomed to unpredictable workdays, where the plan could change at any moment if there was breaking news. Turns out, that was all great training for online journalism, where I ultimately ended up. I watched talented people who were willing to work untraditional hours and who stayed at the office until the work was done, which inspired me to do the same at future jobs.
4. You Get a Clearer Picture of What You Want to Do
At any entry-level job, you have to do stuff that sucks. But the parts of it you hate are valuable for two reasons: you're motivated to ask for extra (more rewarding) work, and you gain a clearer idea of what you like and what you don't like.
The task I hated most as a clerk was inputting new business licenses, which had to be published in the money section every month or so. I had to walk a few blocks to the courthouse with a laptop the size of a butcher block, request the newly filed business licenses, and manually input all of the information. Not only was it very boring, but it also made me sad to see how many pitiful people wanted to start businesses that were clearly awful ideas; think at-home Beanie Babies businesses with names like "Barb's Beanie Babies." But spending two hours doing that made me yearn for more rewarding work, so I asked for it. I pitched stories to the features desk and wrote them in my spare time; working all those extra hours was totally worth it when I got my byline in the paper. Plus, I got my foot in the door, which led to freelance work and a paid internship on the features desk during college.
I also got to witness the different roles at the paper — copy editors, feature writers, hard-news reporters — and talk to people about their jobs and observe their day-to-day lifestyles. In the break room or the "smoking hut," I asked writers and editors about their career paths, what stories they were working on, whatever. I realized that the idea of being a hard-news reporter sort of terrified me, and the features desk seemed more creative and fun. As a direct result of those observations, I decided to major in magazine journalism instead of newspapers. It was definitely the right decision, and one I couldn't have made without that first "crappy" job.
5. You Learn to Pay Your Dues
Perhaps the most valuable part of that clerk job was that it gave me perspective. I realized I should never be too proud to take on the most menial tasks. At every internship and entry-level job I had over the next five years, I never minded doing boring, often thankless tasks, like transcribing interviews or fact-checking, because I knew I could gain valuable knowledge and skills along the way. So far it's working out for me.