Apple TV 4K Review
I Traded Up For the Apple TV 4K and Here's Why I'll Never Go Back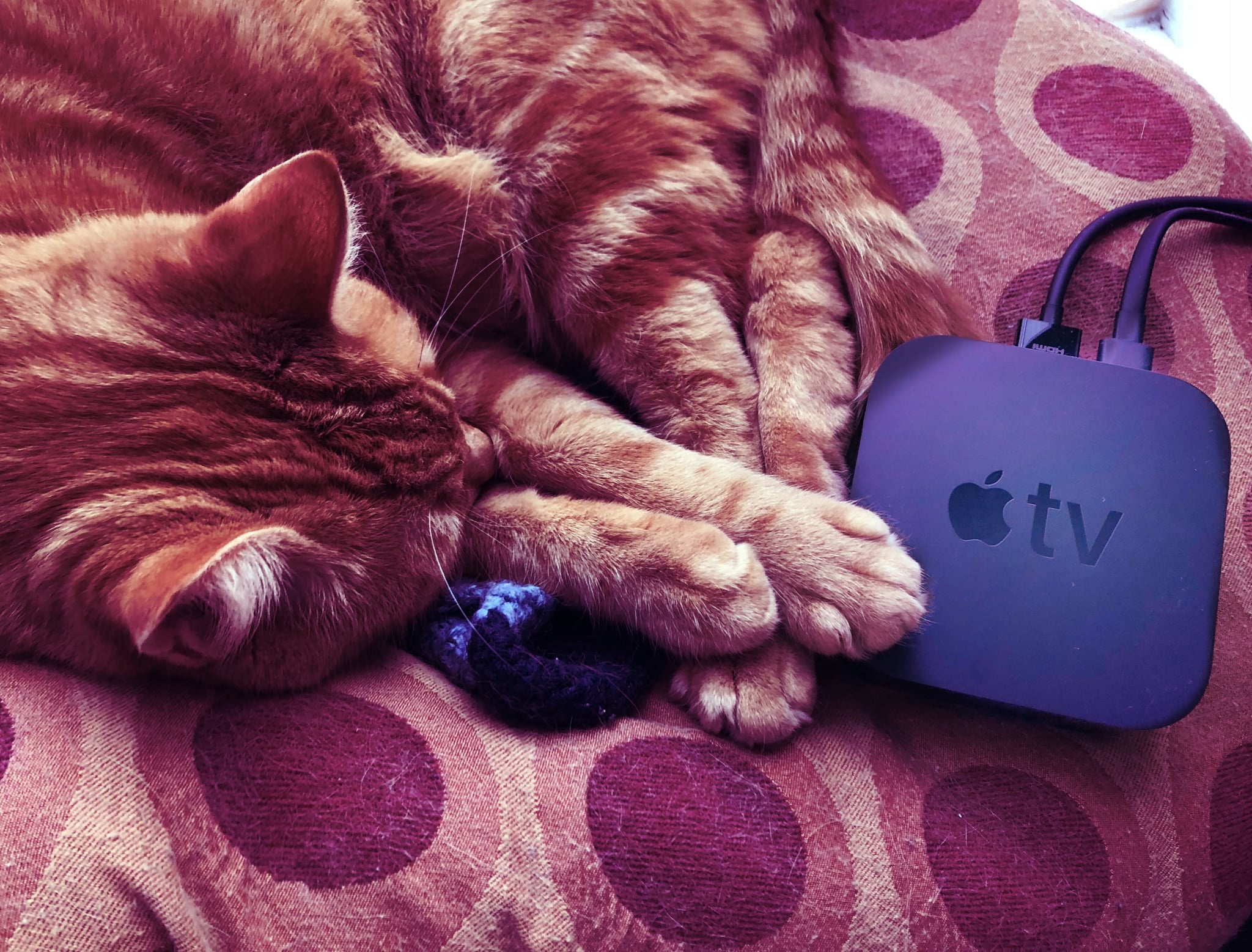 Image Source: POPSUGAR Photography / Chelsea Hassler
I got my first Apple TV as a present; I was still working in television at the time, and my boss presented it to me as a (very, very generous) holiday gift. The supersleek, supermysterious object would quickly become something that I could not picture my life without. Not only did I use the second-generation device a lot for work, but it also meant that I no longer had to squint at my teeny-tiny laptop screen when I wanted to watch something on Netflix or Hulu, opening the floodgates of binge-watching that would remain constant for years to come. In the seven years that my Apple TV and I cohabitated together, I lived in three different boroughs of New York City, saw partners and friends come and go, and changed my career several times over. It was just in September of this year, 2017, that I tried its much, much younger sibling — the Apple TV 4K — and knew it was time to update my trusty partner in crime.
To be clear, I hadn't ever even considered upgrading my old device. It worked perfectly, so why would I bother? But when I unboxed the 4K and got it up and running, I realized the light years of tech I had been missing out on. Therefore my experience isn't one shaded by a side-by-side comparison, a judgment of what sets it above and beyond its competitors (or, for that matter, not). Instead, it's one of awe and wonder — and of falling back in love with TV all over again thanks to the help of a device that's roughly the size of a thick slice of bread.
Ahead, you'll find some of my favorite functions of the Apple TV 4K. And if you're in the market for a more thoughtful way to streamline all the many ways we get our entertainment these days and for things to be a little bit simpler in several of the most intuitive yet impossible ways, I promise you won't be disappointed by the Apple TV 4K.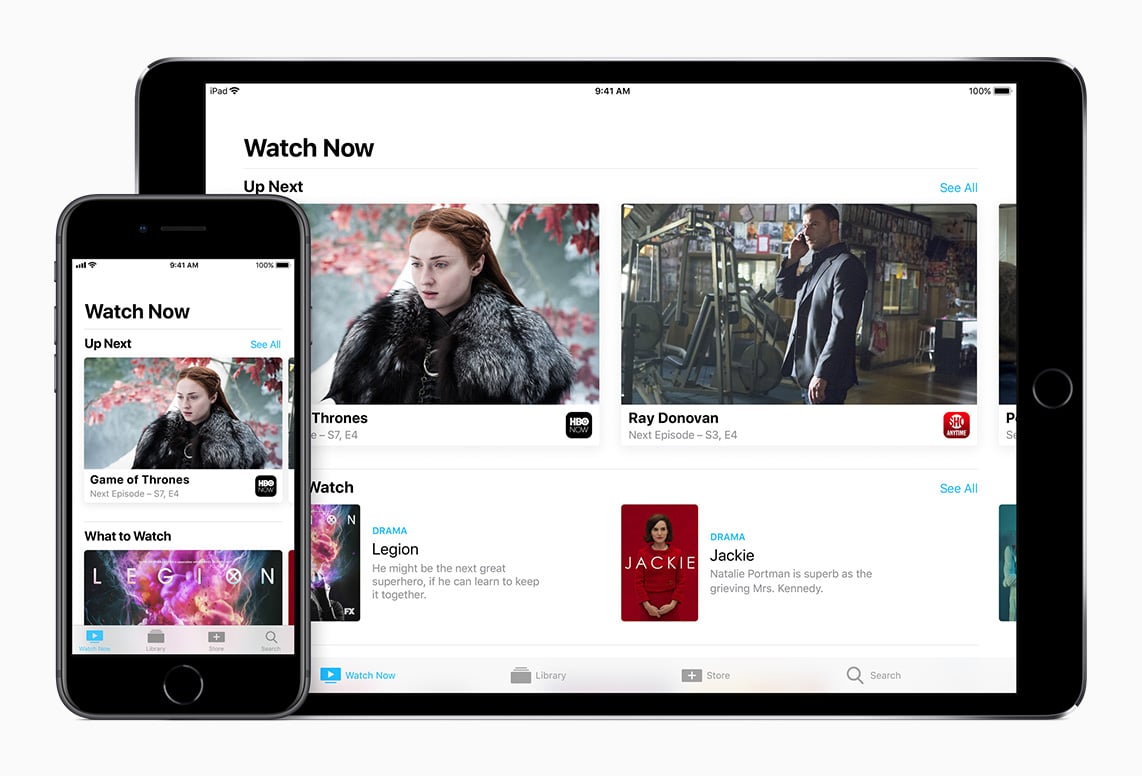 Image Source: Apple
The TV App
I'd always been curious about that "TV" app that appeared on my iPhone at some point over the last year, and as soon as I got started with iOS 11 and my new Apple TV, everything sort of just fell into place. It's basically where you can find everything you're looking for, all in one easy-to-find place. Once you've signed in with iOS 11, it pulls together all of your apps (like Hulu, Showtime, and HBO) and you can also add in your cable subscription to gain access to all of the programming on apps like CBS, The CW, and more. And once you watch something — or leave off halfway through an episode — it puts it in there for easy access to pick up exactly where you left off on any other Apple device.
For me, the best thing about this is the fact that it eliminates having to search for the latest episodes and where you can stream them — it puts them right in front of your face where you quite literally can't miss it, and you can essentially just live in the "watch now" section of Apple TV if you want to. For full instructions on how to set this up and get going, head on over to Apple to read more and know that I am not exaggerating when I say that it has eliminated hours of searching from my life and I couldn't be more stoked about it.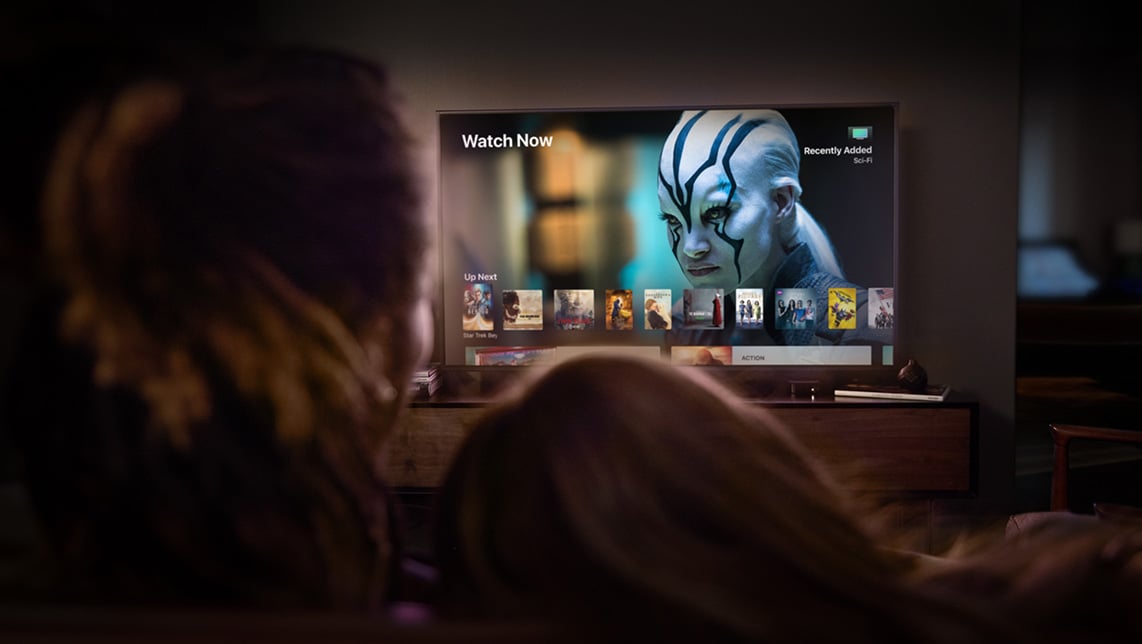 Image Source: Apple
Siri
When I said that I wasn't looking to highlight specific features that are new only to this device, I was very much referring to Siri, who honestly blows my mind (even now!). A recent convert to voice control, it almost feels like Siri was made explicitly to make browsing more easy — and to make it so that when you lose the remote control, you've always got the ability to control your TV via your mouth. Siri can do lots of things, though, and isn't just limited to "pause" or "play."
You can ask Siri to find the most recent episode of a TV show or pick up where you left off on a movie. You can rewind a couple minutes or a couple seconds, or search through what's available in the massive libraries of the streaming giants for a specific moment in time that you just have to watch again. Say "What did they say?" and she'll skip back 15 seconds in time and throw some captions up on the screen for that scene. Ask her "Who stars in this?" and she'll give you an IMDB-style rundown on the bottom of your TV screen, no iPhone required! Oh, and if you're indecisive (like me), she can also tell you what to watch based on what Apple sees as trending at that moment in time.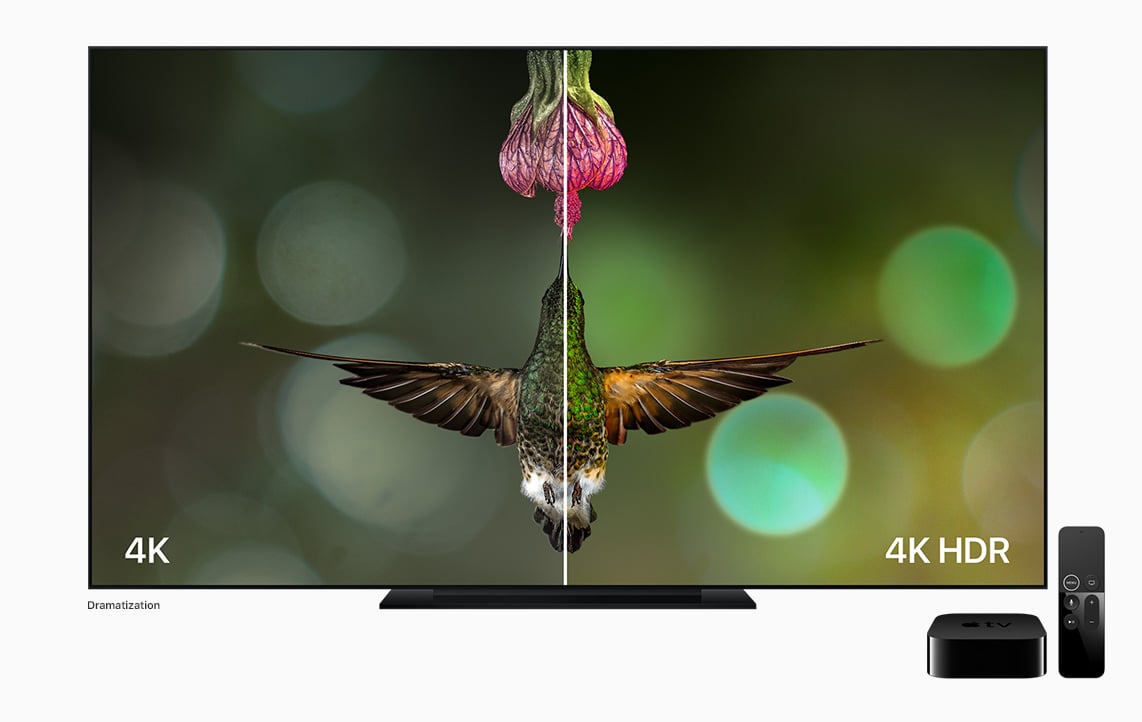 Image Source: Apple
4K and HDR
I'd be lying if I said that I could tell the difference between 4K and regular TV before I got the Apple TV. But I had the pleasure of hooking my box up to a real, legit 4K TV and all I can say is: holy sh*t. It's like being in an adventure that requires no glasses or special devices to traverse, and the colors are mindblowingly vivid. I'm almost — almost! — tempted to upgrade my old TV, but as the saying goes, I'm probably better taking one step at a time. And it can cost you a bit more money (Netflix has a "premium" plan that features 4K movies in all their glory), so it may not be for everyone. But if you do have a 4K TV, do yourself a favor and get an Apple TV. I promise it won't disappoint you. Even the screensaver that comes up when you've been idle too long has been upgraded to a beautiful, crystal-clear set of images that will leave you transfixed as you listen to music or talk on the phone.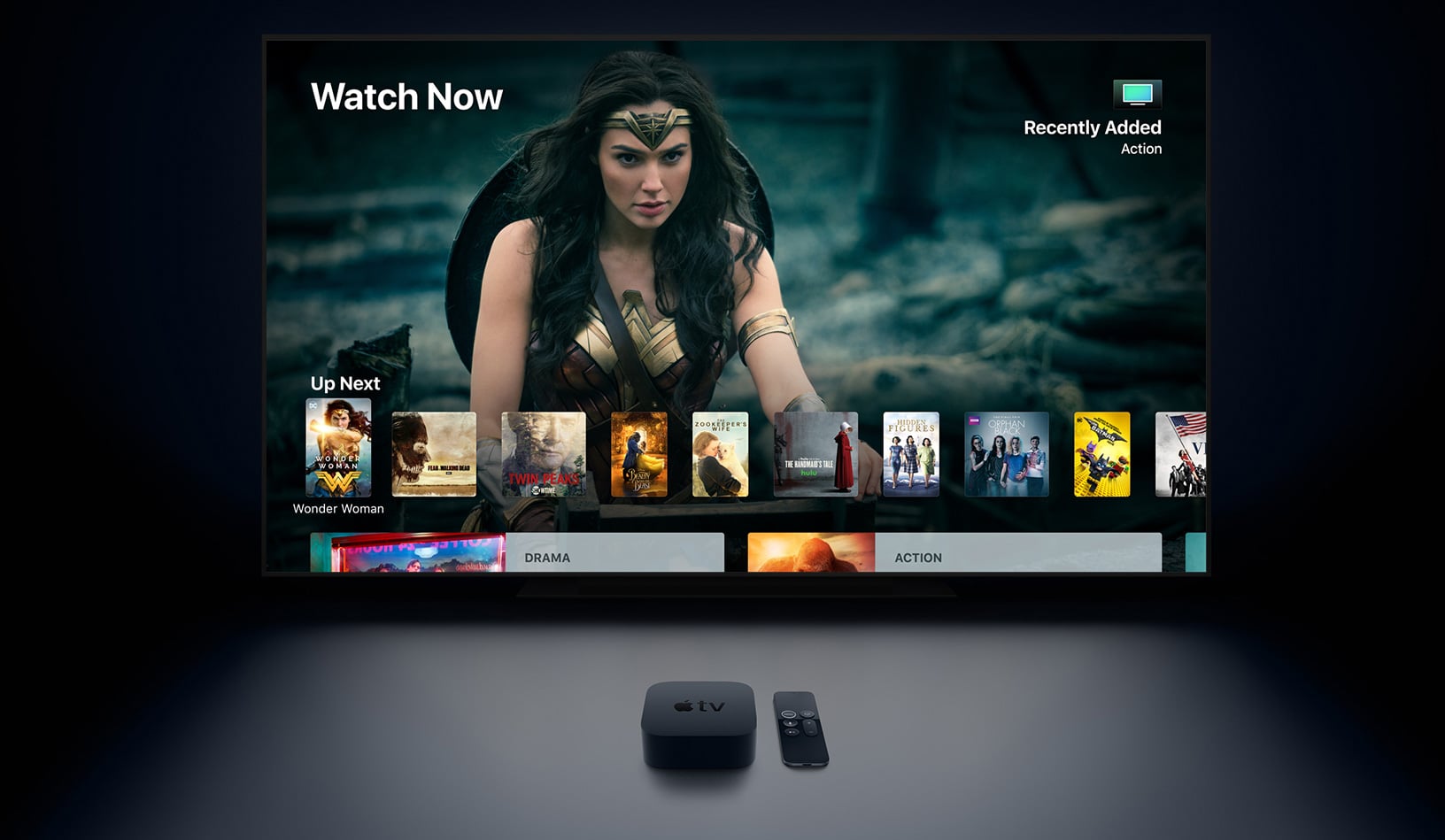 Image Source: Apple
And a Few More Things
Apple recently changed its movie rental period to a whopping 48 hours (!), which means that instead of only having a night to watch a movie, you can make a weekend out of it — and it makes the rental fee feel a lot better from where I stand. And when you don't feel like watching a movie, there's also a whole host of beautiful, addictive games that have been brought into the device, which means you can play the things you love most as well as a bunch of new TV-native apps via your tiny Apple remote (or, if you're fancy, via a control which you can purchase separately). I would be remiss if I didn't mention just how smoothly the interface works. No more loading screens and clunky click-throughs — everything about using the Apple TV feels crisper, snazzier, and, frankly, more enjoyable than ever before. And finally, one of the features I love the most: since the Apple ecosystem is so efficient, I don't have to get rid of my old Apple TV. Instead, I moved it into my bedroom, which means I can pick up exactly where I left off in the living room. It may be a whole lot more rickety, but it's the sign of true progress. Apple has clearly got one eye on making all of your devices, old and new, work together — and I couldn't be happier with the result so far.