Donald Trump Calls Illegal Immigrants Bad Hombres
Yes, Donald Trump Just Referred to Illegal Immigrants as "Bad Hombres"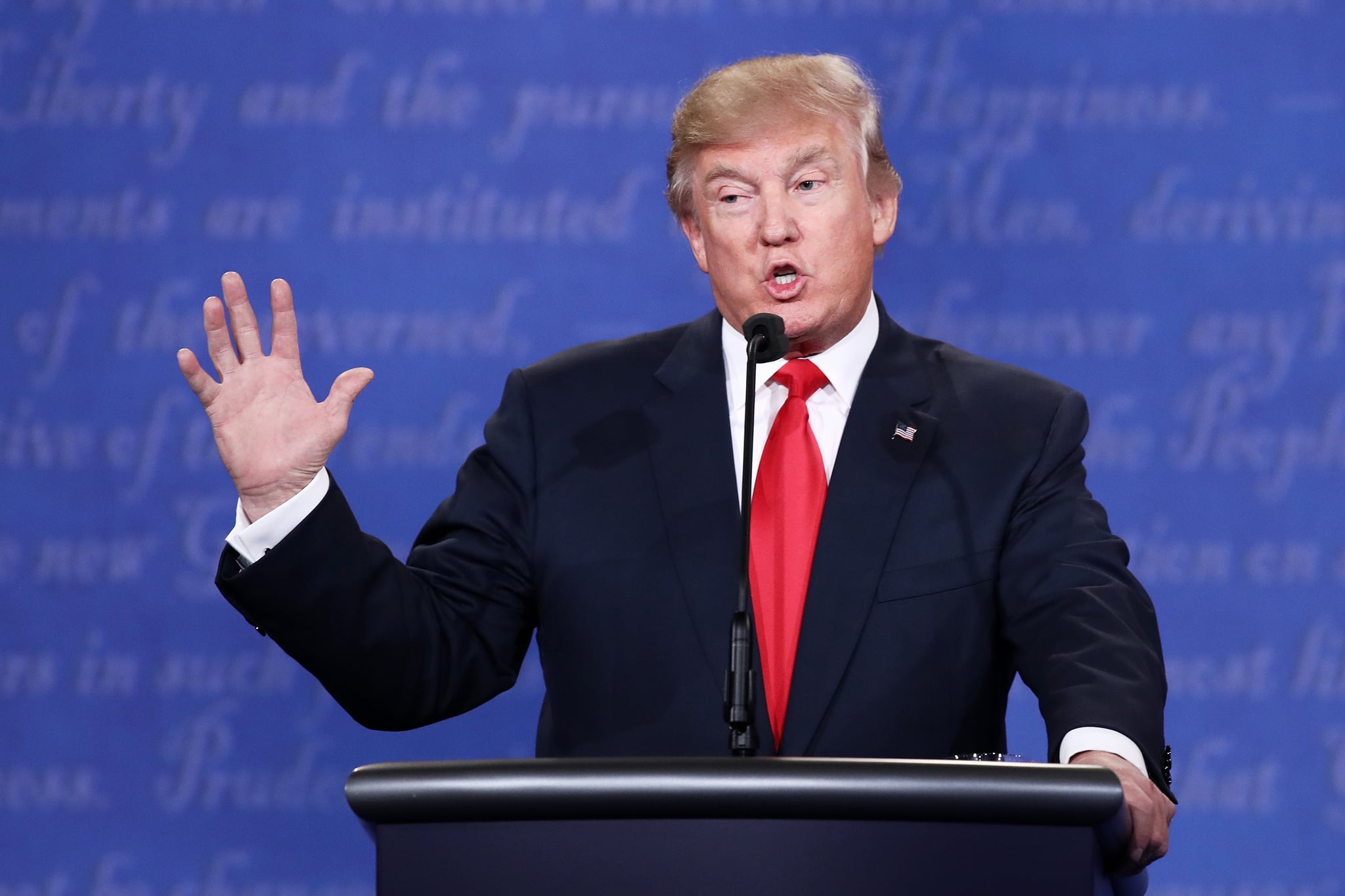 Donald Trump has never been shy about his views toward immigration, including calling Alicia Machado "Miss Housekeeping," and it was no different during Wednesday night's third presidential debate. When addressing the issue of immigration, Trump hit a new low and referred to illegal immigrants as "bad hombres."
"One of my first acts will be to get rid of all the drug lords . . . We're going to get them out, we're going to secure the border," he said. "We have some bad hombres here, and we're going to get them out." Yes, you read that correctly, and all it took was three minutes before the reference was trending on Twitter. His racist remarks have us questioning whether this is the actual debate or a skit on SNL.
Watch the video below, and then see how the internet reacted . . . We're warning you, it's not pretty.
Donald Trump on Immigration: "We have some bad hombres here." We're going to get them out" #DebateNight https://t.co/vMULIRBFa1

— CNN (@CNN) October 20, 2016
Trump: we gotta get rid of the bad hombres in this country

Me: ugh yes gross disgusting get out pic.twitter.com/49Wb0DmOrt

— NYC Blonde (@NYC_Blonde) October 20, 2016
"Hombres"? #DebateNight

— Hillary Clinton (@HillaryClinton) October 20, 2016
Is "bad hombres" part of his Hispanic voter outreach? Not out of keeping with the rest… #debatenight

— Arianna Huffington (@ariannahuff) October 20, 2016
"We have some bad hombres here" - the worst hombre of them all #debatenight

— Ziwe (@ziwe) October 20, 2016
"Bad Hombres" sounds like a Quentin Tarantino thriller starring Danny Trejo and Josh Brolin. #DebateNight #BadHombres

— Josh Olin (@JD_2020) October 20, 2016
Bad Hombres paying more taxes than Donald.

— Tricia Rose (@ProfTriciaRose) October 20, 2016
Bad Hombres, coming this fall to Fox. #debatenight

— Anthony De Rosa (@Anthony) October 20, 2016
😂😂😂😂 wait 😔 You're probably right. @TPGRoberts: @YNB I believe "Bad Hombres" is Trump's attempt at Hispanic outreach...

— yvette nicole brown (@YNB) October 20, 2016
BAD HOMBRES: Brooklyn's newest, HOTTEST, indie pop band

— Sam Sanders (@samsanders) October 20, 2016