High School Team at SpaceX Hyperloop Competition
Meet the 17-Year-Old Girl on the Cutting Edge of Hyperloop Technology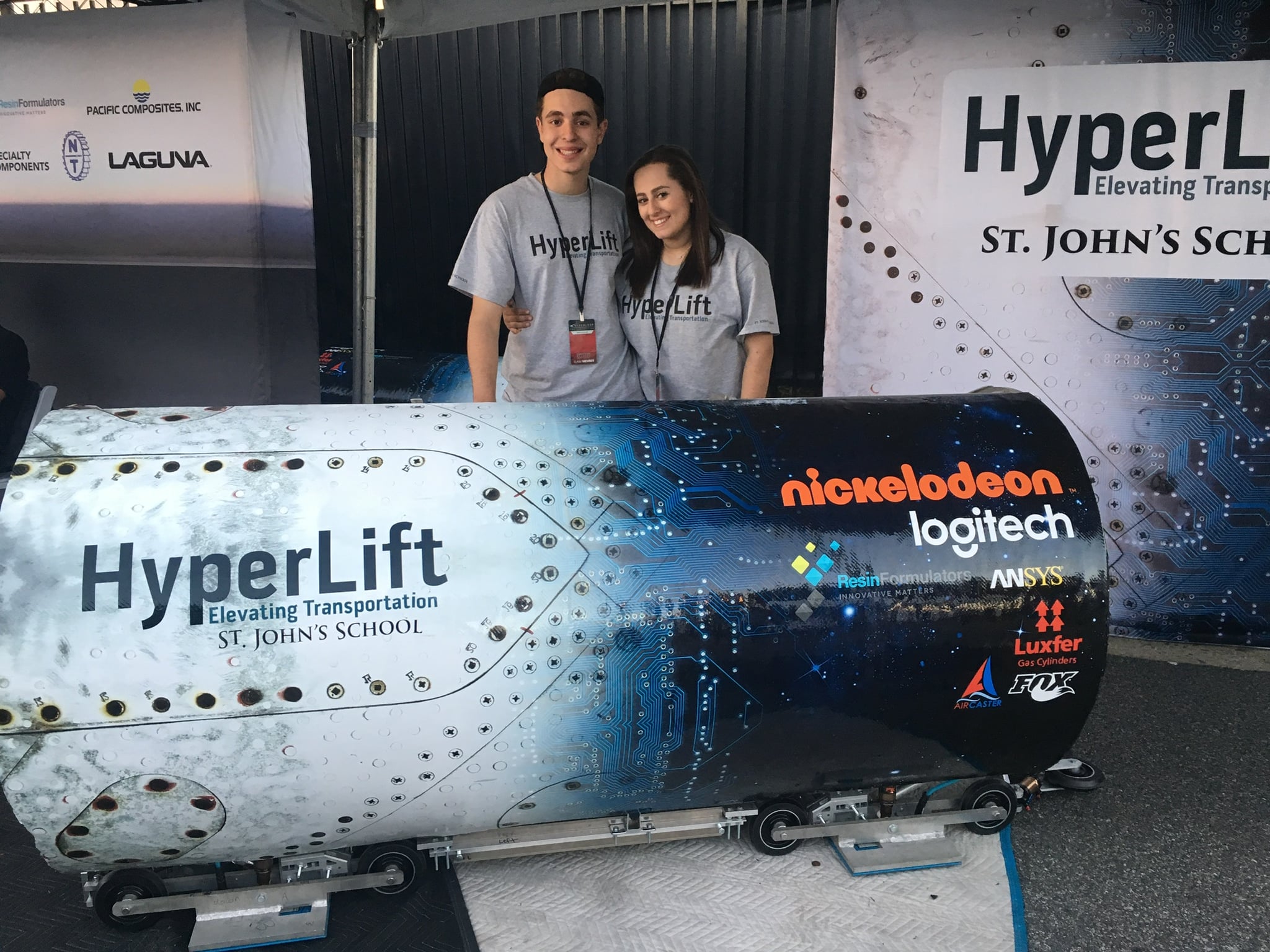 Elizabeth Awad, a 17-year-old student, sized up the competition at the SpaceX Hyperloop Pod Competition on a cloudless January day in Hawthorne, CA. The town is home to SpaceX's rocket scientists. It's also besieged by Los Angeles's gridlocked traffic — but the technology Awad and others were designing was an effort to eliminate that problem.
She looked down the row of pop-up tents shading the Ph.D and master's students' designs. Aspiring engineers from the University of Wisconsin Madison, Technical University of Munich, and MIT tested their creations before inspections began. Awad's pod stood out in the crowd. It boasted Nickelodeon as a sponsor and bore the name of St. John's School. The teenager was on the only high school team in the finals for SpaceX's competition to design one of the first hyperloop pods — and, hopefully, one of the best.
When Awad matriculated from her sophomore to junior year at St. John's in Houston, she expected to take her first physics course, practice for the SATs, and maybe attend prom. She didn't think she'd be part of a team designing cutting-edge technology alongside students nearly a decade her senior. But when her older brother found out about the contest in 2015, that changed. She and five other St. John's School students joined forces to form Team HyperLift. After a school day full of lessons on grammar and history, Awad would rush to help her team, pulling up YouTube videos on how to make DIY industrial-strength glue and how to drill through metal. She had to teach herself how to mix and cure industrial epoxy. And she also handled her team's finance and public relations roles.
Theoretically, hyperloop could propel travelers at up to 800 mph.
Hyperloop itself became a global phenomenon within the technology industry in 2013 when SpaceX CEO Elon Musk suggested the idea of a high-speed form of travel that essentially puts passengers in a vacuum tube and shoots them along at airplane-like speeds. Theoretically, hyperloop could propel travelers at up to 800 mph, whisking them from San Francisco to Los Angeles in about a half hour.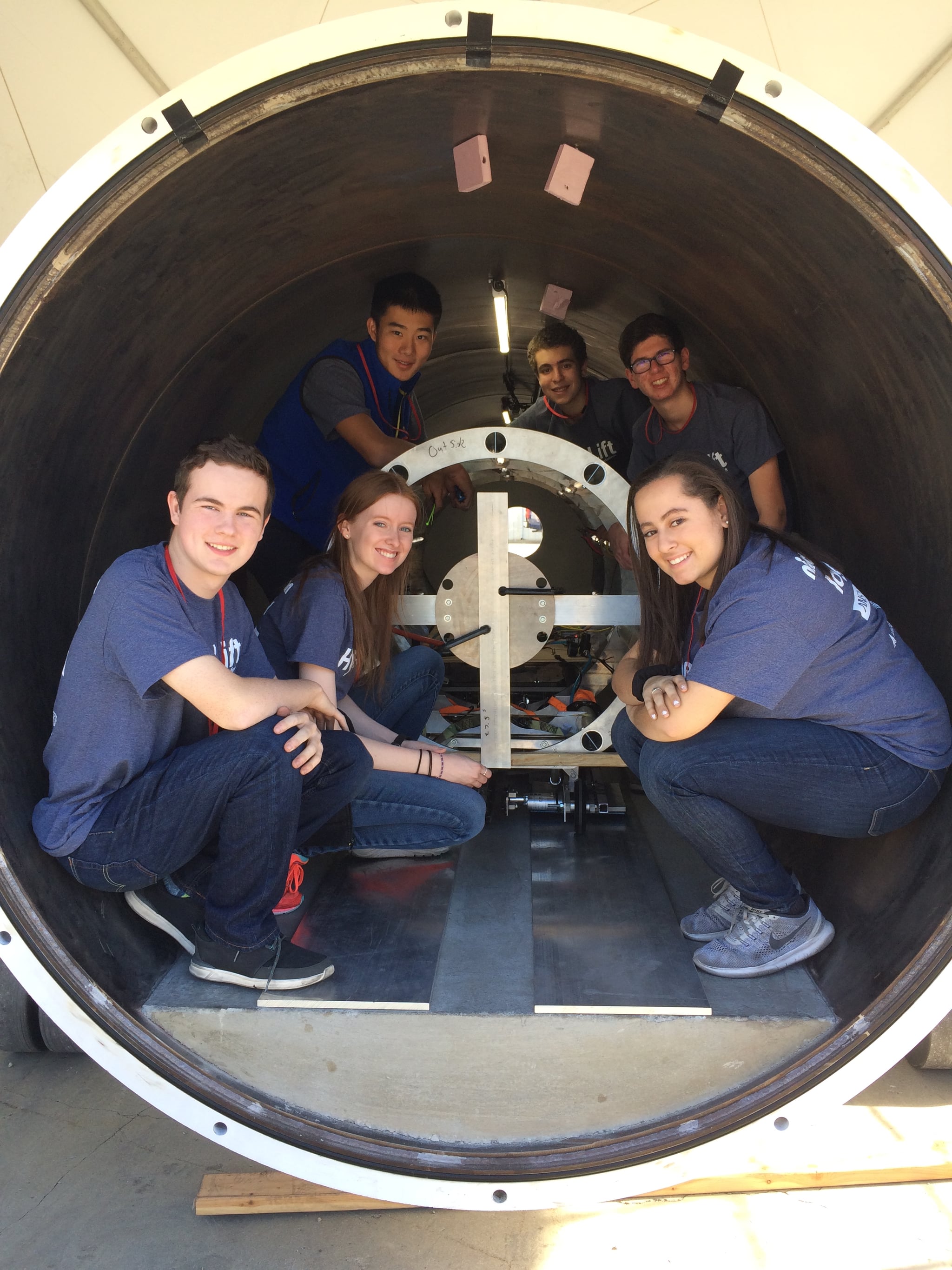 Elizabeth, front right, takes a photo with her collaborators on Team HyperLift.
While SpaceX isn't developing a hyperloop system, Musk's explanation about how it could be developed spawned a technological race. SpaceX hosted a competition challenging students to develop some of the world's first working hyperloop pods. The second iteration of that competition — a speed test — will take place in August at SpaceX's headquarters in Southern California.
The fact that the competition was geared toward undergraduate, master's, and Ph.D students didn't faze Awad and her fellow St. John's School classmates, and it didn't stop them from advancing through several preliminary competitions to land at the finals this year.
"Being a girl should not stop you from doing STEM."
The week of the finals competition, her team set up their laptops and tool kits under their own tent and got to work. Awad and her team tested and retested their systems in the middle of SpaceX's parking lot, electrical wires from the company's vacuum test chamber stretching alongside their square of workspace. There was more than one moment, Awad says, when the team realized part of their pod needed to be changed on the fly. She says being able to talk with other teams to get advice was as much of a thrill as testing their pod.
"We weren't that worried about being the youngest. It was a little extra challenge for us," Awad said. "We learned so much just talking with graduate and undergrad teams."
For Awad, talking with female engineering students was especially meaningful. Awad and Katie Malcolm, the one other young woman on her team, knew they were facing some difficult odds. Nearly everywhere they looked, they saw men working on pods and men judging those pods. But seeing women working hard — and even leading some teams — was invigorating to the budding engineers.
Awad says it helped her feel confident that women "are here to stay" in the engineering world. "Being a girl should not stop you from doing STEM," she said, a hint of elation in her voice.
Awad says she had been interested in math since elementary school, and it continued into middle and high school. As she watched her older brother enter coding competitions, she began to plan her own trajectory into the world of equations and derivatives. She loved the puzzle that mathematics offered: there was one right answer to an equation with none of the messiness of political science and subjectivity of literature. She had already planned to amp up her focus in engineering when she got into her first physics class, but hyperloop found her first.
Now, she's using that knowledge by speaking with elementary and middle school groups about her experiences — especially girls.
"I'm just hoping to inspire younger women and younger students to pursue STEM," she said. She once spoke with an eighth-grade group and met one girl afterward, who told Awad she was inspired to join her school's engineering club.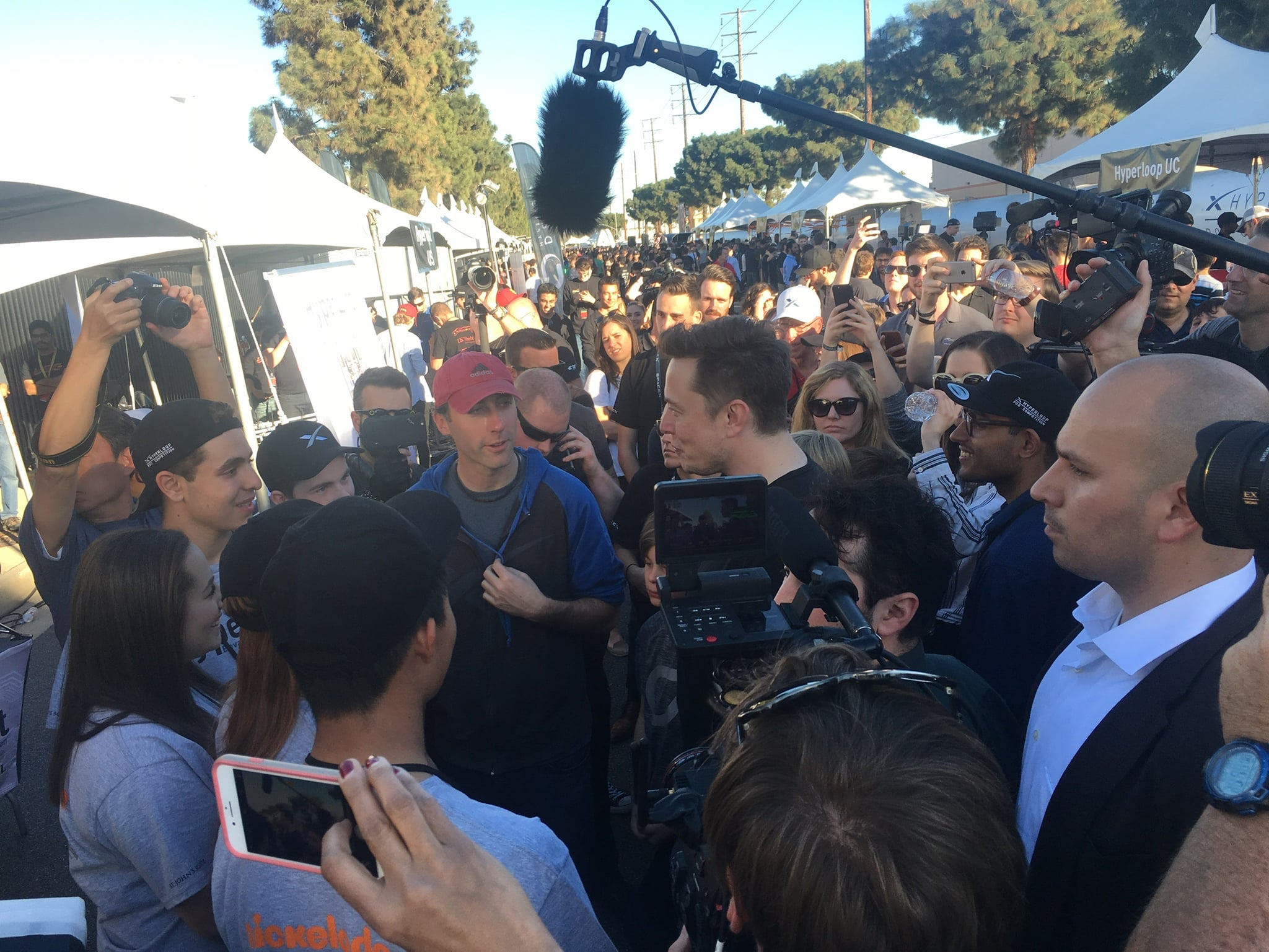 More than a year later after forming their team, Awad and her collaborators arrived in Southern California for the SpaceX finals, finished pod in tow. After nearly a week of intense tests, the St. John's School team got their pod to levitate in the vacuum tube for about 20 seconds — a monumental achievement. They were one of the first groups to ever achieve this feat.
"It was an amazing feeling," Awad said. "I immediately went and hugged my brother. I started crying a little bit. All of our hard work for the year and a half, we were able to see it."
When the St. John's School team was announced as the ninth-place winner, the crowd that had gathered for the hyperloop pod competition erupted. Engineers, judges, SpaceX employees, and other competitors jumped to their feet. Teams that would go on to win second and first place gave the high-schoolers high-fives and hugs.
While the St. John's School team may not be able to attend the August competition for logistical reasons — some of their team is graduating high school — Awad plans to prepare her team and their pod for their next competition opportunity.
"Personally, I want to continue if there is a third competition," she said.
As for her future career plans? Awad says she's creating her list of colleges to apply to, with a focus on programs that could propel her into the hyperloop industry after college.
No matter where she lands, she says she knows she wants to be an engineer. "I hope to continue working on hyperloop throughout college, whether on an existing team or by starting a team," she said.
Image Source: Courtesy of Elizabeth Awad