How Do I Use Snapchat's 3D Friendmojis?
Exclusive: Snapchat Secretly Launched 3D Friendmojis — Here's How to Use Them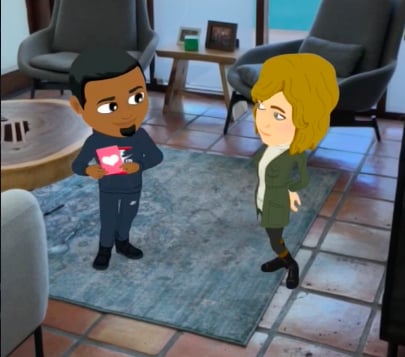 Snapchat first launched the much-loved 3D Bitmoji back in September, forever changing the way we snap the world around us and adding a little bit of AR-based personality to the scenes we encounter on an everyday basis. Now, POPSUGAR can exclusively confirm that as of Feb. 23, the next generation of 3D Bitmoji has finally arrived — and they're called 3D Friendmojis.
3D Friendmojis are all about bringing you close together with friends and family, and the feature enables you to add mini-me versions of not just yourself but anyone you're snapping with into the frame. And while you may have seen them already living inside your Snapchat app — the company has been quietly rolling it out over time but is only today confirming the feature — the Friendmojis are now available to anyone using iOS or Android with Classic or Bitstrip-style Bitmoji.
To get started, head on over to the Chat section of Snapchat, tap into a conversation, and press Capture to create a direct-reply snap. Then, once you point your rear camera at anything in your vicinity, tap the screen and choose Friendmojis from the lens carousel, then drop the Bitmojis onto a surface to begin one hell of a fun journey together, no matter how far away you might be. And in case you were wondering: yes, you can scale, move, and walk around the 3D area — as with the previous World Lenses — so it's more than worth it to spend a little time playing around to get the perfect angle and action for your snap. Finally, as always, once you've staged the perfect scene, you can add to your Story or send directly to friends.
A Snapchat spokesperson confirmed to POPSUGAR that the new feature will also work with the newest Bitmoji style, Bitmoji Deluxe, but is still in the process of being rolled out to all users — so if you want to get in on this, it may mean switching back for a bit (and we'll update this post as soon as it's fully launched).
So, what are you waiting for? Your 3D Friendmojis are already waiting for you in the app, so get snapping!