How to Take Action After Brett Kavanaugh's Confirmation
An Open Letter to Women Who Are Wondering Where We Go After Kavanaugh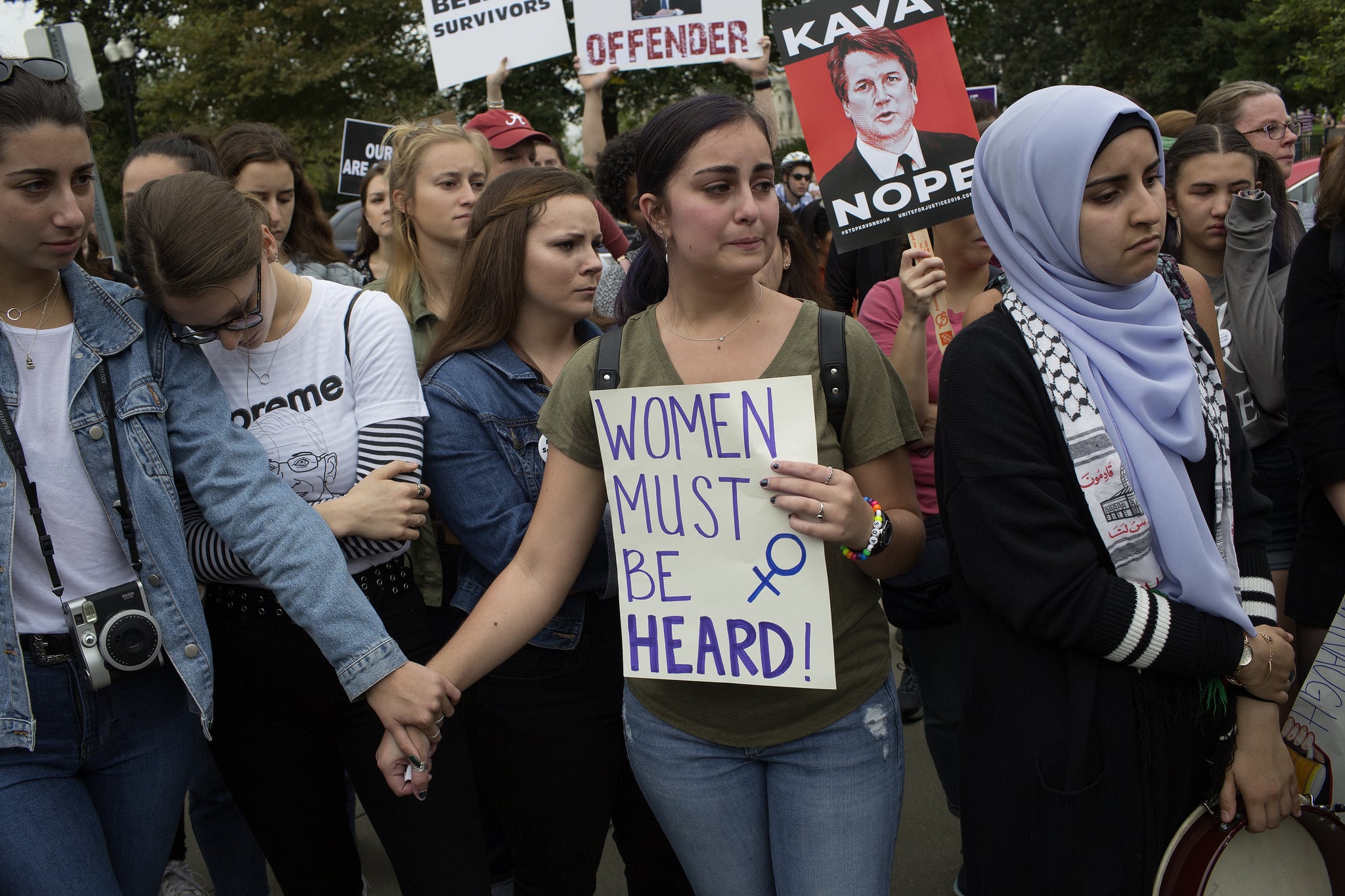 In the immediate aftermath of the Senate's decision to confirm Brett Kavanaugh to the Supreme Court, despite allegations from several women who accused the judge of sexual misconduct, there were no words that could make anything better. Many of us probably needed to take the weekend to rest and process the news.
Predictably, a lot of people are now talking about the upcoming midterm elections, which are certainly important in the context of Kavanaugh's confirmation. The weekend's events demonstrate why absolutely no one can sit out an election. Yet, the painful truth is that this fight is fundamentally so much bigger than Nov. 6, 2018. For women and survivors, Kavanaugh's confirmation is about the fight of our lives, for our lives: to be respected, to be seen, to be believed.
For women and survivors, Kavanaugh's confirmation is about the fight of our lives, for our lives: to be respected, to be seen, to be believed.
This is a devastating, even traumatizing, loss, and we have to take care of ourselves and do everything we can to support those in our lives who are hurting. But the reality is that the fight goes on — the arc of progress is long and paved with devastation and change isn't going to happen immediately. The scars of this loss may take some time to heal, and when they do, for those of us who are ready to step back into the fray and channel our frustration into actions for change, there are many productive paths for us all to move forward.
Over the past few weeks, women and survivors across the country have shared a deep, visceral reaction to the accounts of alleged abuse from Dr. Christine Blasey Ford, Deborah Ramirez, and Julie Swetnick, and the gross mistreatment of them by the most powerful men in the country. President Trump, credibly accused of sexual misconduct by more than 20 women, mocked Dr. Ford before a laughing crowd, claimed Ramirez could not be credible as she was "drunk" during the alleged incident of abuse, and called all of the women's allegations against Kavanaugh a "big fat con" by Democrats. Meanwhile, Senate Republicans did everything they could to discredit Dr. Ford, erase her and Kavanaugh's other accusers, and confirm an alleged sexual predator to the highest court in the land as quickly as possible.
Many of us responded to this horrifying injustice by putting our everything into this fight, marching on the Capitol, rallying at the Supreme Court, and showing up to and organizing solidarity events across the country. In turn, we faced dismissal and erasure, and were misidentified as "paid actors" by the president and prominent senators, who apparently can't fathom that women have the capacity to form our own opinions and stand up for them.
As Democratic Senators like Elizabeth Warren and Cory Booker have stated, we lost this fight — there's no escaping that. But as Senator Kamala Harris pointed out in a moving video, it matters that we fought. Our actions made a difference; we ignited a painful but deeply important conversation about the realities of sexual violence, and we used our voices to stand up for justice and assure women and survivors that they matter.
Now, in the aftermath of this tragedy, women, survivors, and allies who want to see change should know they are far from helpless. There are actions we can all take and goals we all have to work toward going forward. Those goals include electing lawmakers who represent and listen to all of us, empowering greater numbers of voters (and especially women and minority voters) to be a part of the political process, and holding powerful men — from the Brett Kavanaughs of the world to the president and Republican senators who facilitated Kavanaugh's confirmation — accountable.
Day-by-day, we can actualize these goals in a variety of ways: flooding our local newspapers with letters to the editor about the issues we care about, volunteering for campaigns for feminist political candidates or ballot measures, calling our representatives every day and writing them letters about what we want from them, donating what we can to the politicians and organizations that share our values, and speaking out on social media. Certainly, the last item is a crucial piece of low-hanging fruit: social media has empowered all of us with a platform, and we all have a moral obligation to stand up for what we believe is right and stand up to what we know is wrong.
Additionally, we don't have to rely on others to make the change we demand to see. Supported by numerous women's political empowerment groups, record-breaking numbers of women filed to run for office in 2018 — and that was before Kavanaugh's confirmation. There's absolutely no reason any of us who feel compelled to join these women should shy away.
Collectively, we've just witnessed precisely why between 62 and 84 percent of survivors of sexual assault (an estimated one in five of all women) refrain from coming forward, out of fear of blame, disbelief, and character attacks. Meanwhile, the same people who stand by a president who has led crowds in chanting "lock her up!" about a female political opponent indicted for no crimes turn to phrases like "innocent until proven guilty" and "due process" in regard to Kavanaugh. This hypocrisy exposes a critical reality. Sweepingly disbelieving survivors and women, while dismissing anyone whose assault wasn't videotaped to "prove" their abuser's guilt, was never about protecting the Constitution. It's always been about degrading women and letting powerful men get away with doing whatever they want.
Kavanaugh's confirmation is devastating and heartbreaking for many of us, especially in the wake of so many other critical blows to women's rights in recent years. It's OK to feel helpless sometimes — as long as we know that, in reality, we are not. No one can do everything, but everyone can do something.