Is Ivanka Trump a Feminist Op-Ed
It's Time to Realize Ivanka Trump's Fake Feminism Isn't Just Hypocritical — It's Calculated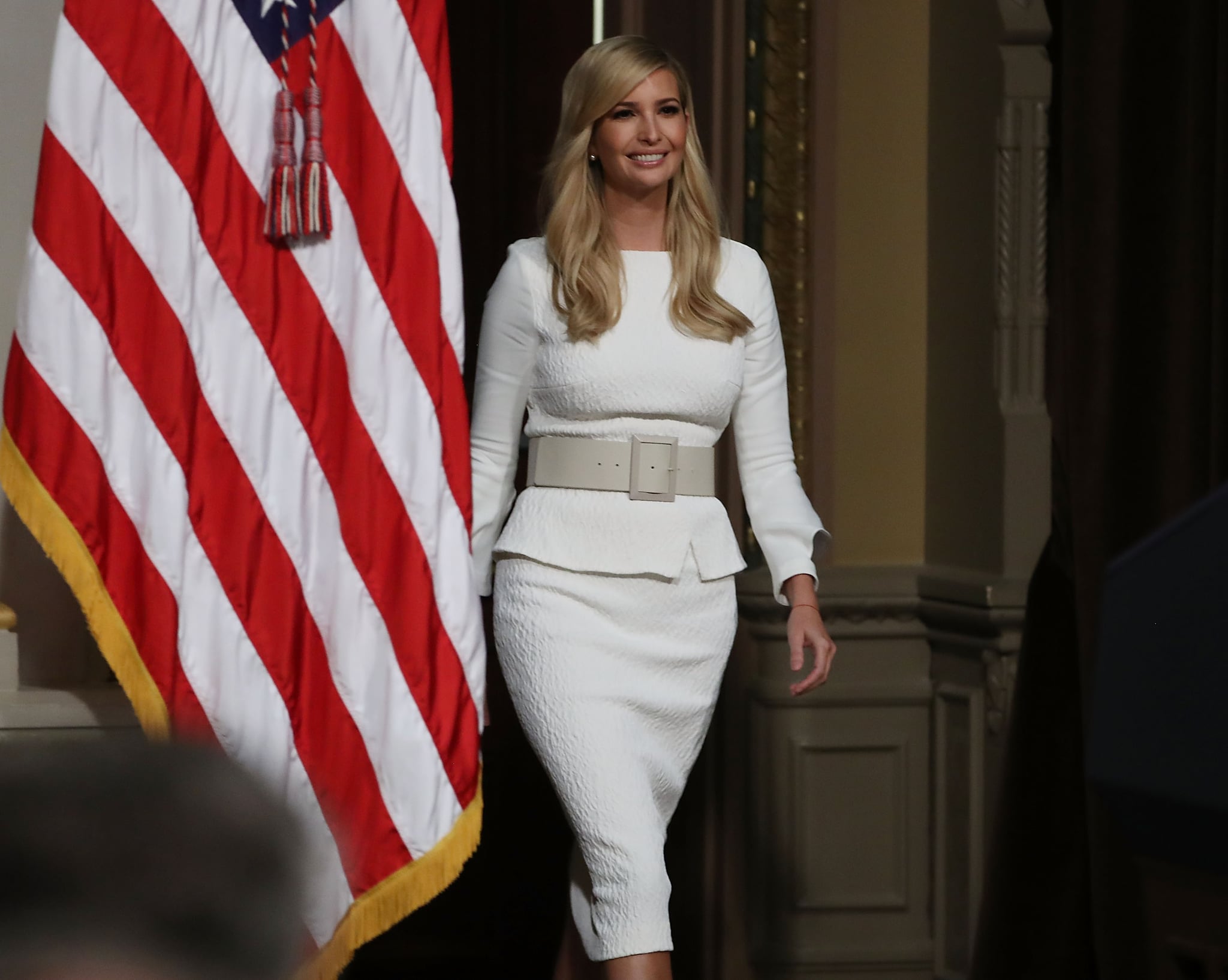 On Nov. 29, Ivanka Trump had the audacity to write an op-ed in The Washington Post commending the president's efforts to combat global human trafficking. Specifically, the daughter of and senior advisor to the president praised his administration's decision to revoke some aid and support to countries that have failed to adequately address human trafficking within their borders — all while Ivanka maintains virtual silence on ongoing, state-sanctioned abuses of women and children at the US-Mexico border.
Since the beginning of her father's presidency, Ivanka has decisively branded herself as an advocate for women and children and has consistently touted her speeches and projects related to human trafficking. Yet Ivanka's concerns about the safety and welfare of women and children abroad ring disingenuous, coming just days after harrowing new reports about the tear-gassing of migrant children at the US-Mexico border and new (and damning) revelations about the administration's disinterest in doing the bare minimum to protect migrant children separated from their parents from harm.
Ivanka's anti-human trafficking work is hardly allyship. Instead, it is a transparent effort to deflect from the United States's own abuses of children.
Ivanka has since tried to distance her father's administration from the atrocities at the border, blaming them on politicians across party lines for failing to implement meaningful reforms on immigration, as though that would offer any reasonable defense. As numerous immigration reporters have already pointed out, the president's unabashed "zero tolerance" policies — including systematic family separation, turning away victims of domestic violence (even those with children), and his dehumanizing, xenophobic rhetoric — have all contributed to the current ecosystem of state-sanctioned violence against women and children at the border.
Ultimately, Ivanka's willingness to not only overlook but dishonestly portray her father's role in this violence — all while touting her work on global human trafficking — demonstrates a gross hypocrisy and reveals her opinion on which women and children actually matter. In Ivanka's worldview, it's certainly not the Central American migrant families fleeing death, violence, and, yes, even sexual abuse.
According to Witness For Peace, an estimated six in 10 women and girls are raped and 80 percent are sexually assaulted during their journey to the border. There have been numerous recent high-profile cases of border patrol officers and detainment center workers charged with sexual assault against migrant women and children. In April, The Intercept reported that of 1,224 sexual abuse complaints filed at detainment centers between 2010 and 2017, only 43 investigations were conducted; of course, these only include reported incidents. Earlier this week, a new report revealed the Trump administration had specifically waived required rigorous background checks of staff at migrant detention camps who work directly with migrant children. This will only increase the likelihood of child abuse — including the sexual abuse Ivanka Trump claims to be so concerned about — at the border.
Combating human trafficking and sexual violence against women and children abroad may be a noble and vitally important goal, but not if efforts are intended to hide or deflect from abuses at home. Ivanka's role in downplaying human rights violations at the border and the Trump administration's active role in militarizing and making the border more violent are hardly an aberration from her long history of noninclusive, faux-feminist activism. Speaking of the evils of child exploitation, as Ivanka repeatedly does in her Washington Post op-ed this week, factories that have made clothes for her brand have repeatedly been accused of child labor, extremely low compensation, and verbal abuse.
Human trafficking may be particularly rampant in developing, majority nonwhite countries. But Ivanka's anti-human trafficking work is hardly allyship. Instead, it is a transparent effort to deflect from the United States's own abuses of children. And certainly human trafficking and child exploitation are not just far-away, global phenomena; new policies to penalize countries that fail in their obligations to address human trafficking will do little for the estimated 15,000 to 17,000 US victims of human trafficking.
So long as Ivanka remains not merely associated with but a senior advisor within an administration responsible for putting babies and toddlers in cages, all of her other work on women's and children's rights will continue to ring hollow at best . . . and insidiously manipulative at worst.
Image Source: Getty / Mark Wilson