Madonna Opens Children's Hospital in Malawi
Why Madonna's Children's Hospital in Malawi Is a Complete Game Changer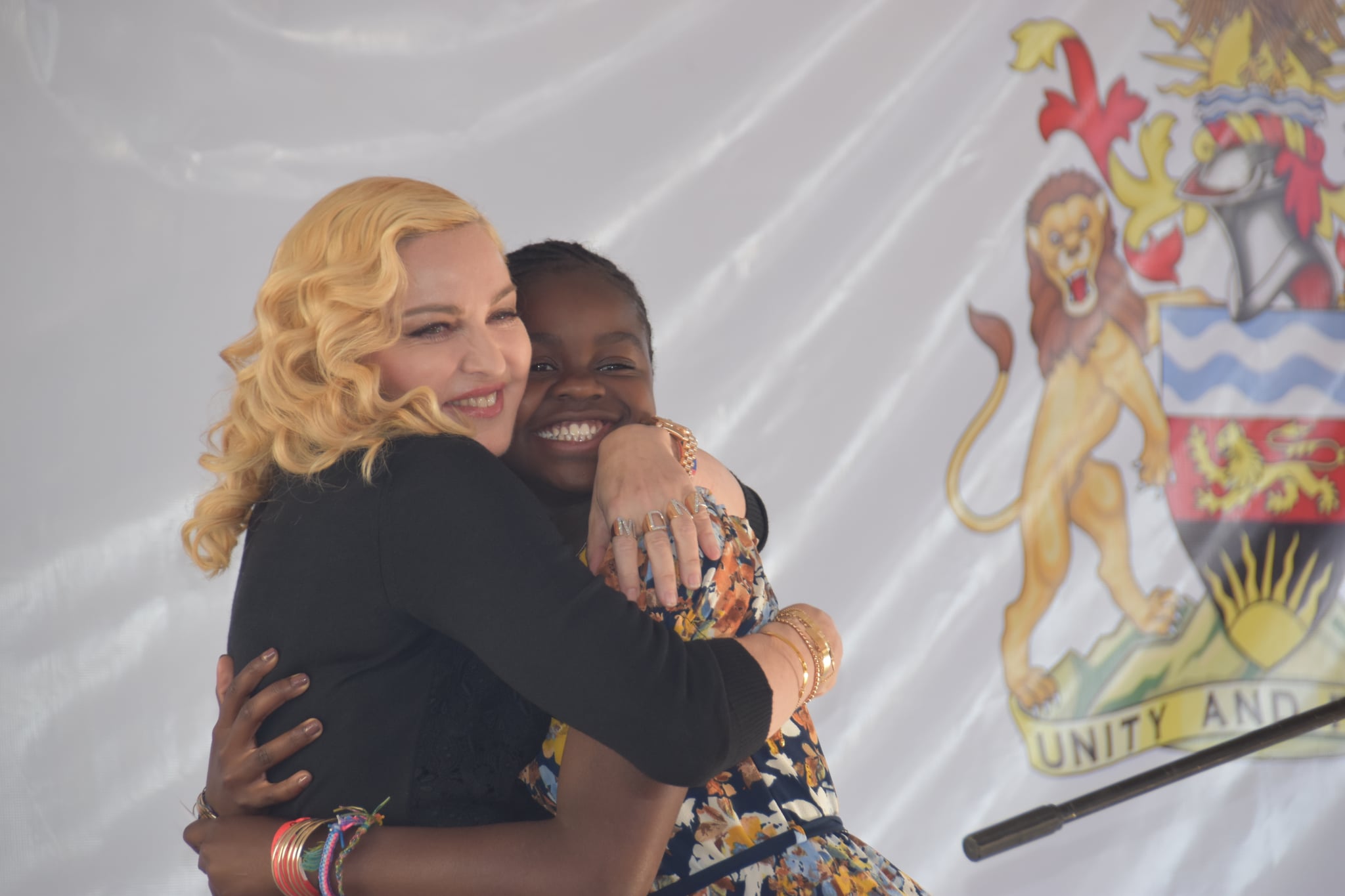 Madonna and Malawi haven't always had a harmonious relationship, but after several failed charity projects and controversies in the country where she has adopted four children, Madonna has finally found political goodwill with the opening of the Mercy James Centre For Pediatric Surgery and Intensive Care Clinic on July 11, 2017.
Madonna's relationship with Malawi began when she adopted her son David Banda from the country in 2006 and daughter Mercy James in 2009. She also adopted twins Esther and Stella earlier this year. But Madonna wasn't content merely growing her family; she wanted to give back to Malawi in a bigger way — hence, the Mercy James Centre, named after her 11-year-old daughter. Getting here, however, was a very bumpy road.
Malawi President Peter Mutharika officially adopted Madonna as the "daughter of Malawi" in appreciation of her "motherly heart."
The 45-bed facility, centrally located in the Queen Elizabeth Central Hospital (QECH) compound, is dedicated to children's surgery and includes the country's first pediatric intensive care unit. Mercy herself spoke at the opening ceremony on July 12, thanking her mother and all of the partners involved in the construction of the hospital. Malawi President Peter Mutharika also took the podium and officially adopted Madonna as the "daughter of Malawi" in appreciation of her "motherly heart."
Malawi's infant mortality rate is incredibly high (44.80 per 1,000 births, versus 5.8 per 1,000 in the United States) due to a lack of sophisticated equipment and medicine, not to mention the long distances families must travel to receive care. According to Madonna's charity, Raising Malawi, the new facility will help the QECH double the number of surgeries performed on children each year, as well as provide preoperative and postoperative care. It is, in the words of pediatric surgeon Dr. Eric Borgstein, "a game changer for Malawi."
Since its opening less than three weeks ago, the MJC has already treated 313 patients, and a remarkable 73 children have undergone successful operations, according to hospital director Venancio Kapalamula. He also reports that patients are traveling to the new facility from all over the country, and of the more than 300 treated, 238 were admitted into the hospital and 75 were treated as outpatients.
The pediatric hospital is even more remarkable when you consider Madonna's previous charity projects in Malawi, which have been blighted with controversies, including a very public row with former President Joyce Banda and court battles with previous employees.
An Obstacle Course to Adoption
Madonna's Malawi obstacles started with the adoptions of David and Mercy, which were challenging due to Malawi's archaic adoption laws that date back to the pre-independence colonial period in 1949. In the case of David, the law in Malawi did not allow someone who was not living in Malawi to adopt a child, and Madonna had to appeal the case before the adoption was granted.
The second adoption, too, faced legal huddles. At the time Madonna applied to adopt Mercy James, she had just divorced from Guy Ritchie. The court in Malawi turned her down on grounds that she was a divorcee and therefore unfit to raise a family as a single parent. Again, she had to appeal the case before she was granted adoption.
The adoption of the twins has been a smoother affair because of the remarkable growth of David and Mercy. This, coupled with the successful completion of the MJC hospital, has renewed confidence that Madonna only means well for the children and the country. Meanwhile, the Malawi Human Rights Commission (MHRC) has asked government to expedite amendments to the adoption law in order to protect children.
Raising Malawi's Bumpy Road
Madonna's first project in Malawi was the Raising Malawi Academy For Girls, a $15 million school outside of Malawi's capital city, Lilongwe, that planned to enroll 500 girls annually. However, in 2011, one year after laying the foundation stone, Madonna abandoned the project and let all of her employees go — including CEO Anjimile Oponyo-Mtila, the sister of Malawi's former President Joyce Banda.
The controversy began when the New York Times reported that Raising Malawi Inc. had spent $3.8 million on the project — with very little to show for it.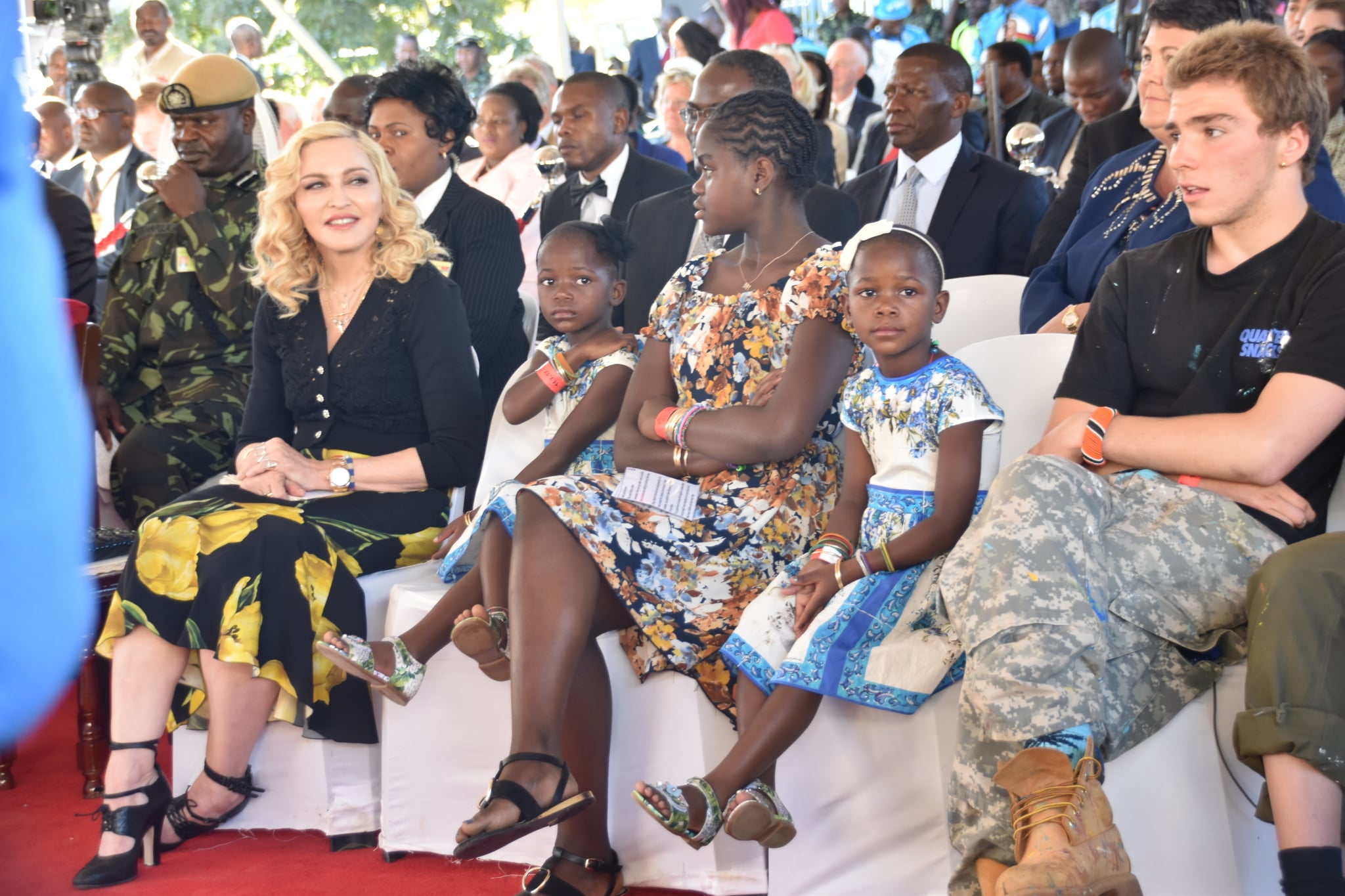 This revelation did not go down well with the ex-employees, who alleged in Malawi's The Nation newspaper that the $3.8 million figure was wildly inaccurate. The ex-employees claimed only $654,630 had been transferred to the project, not $3.8 million, and that the sum had mostly been spent on two events involving Madonna during her visits.
That same year, seven ex-employees filed a court case demanding compensation from Raising Malawi. Court documents obtained at the labor court in Blantyre indicate that Raising Malawi settled, paying out a total of $129,533 in compensation to the six ex-employees in 2011. However, Joyce Banda's sister, Oponyo, refused to accept the $88,515 she was offered, instead demanding $395,223 in compensation. As of April of last year, the court case was still on, but we do not know the outcome of the case or whether or not it has been settled. Raising Malawi did not respond to our requests for comment on the matter.
A National Controversy
In 2013, Madonna announced that she was shifting her focus from the girls' academy to building primary schools across Malawi. She partnered with an organization called BuildOn, which adds classrooms to existing schools that have large student populations and not enough space; in rural Malawi, students are often forced to hold class outside. Admirably, Raising Malawi partnered with BuildOn to fund the construction of 10 new classrooms, but when Madonna claimed that she had "built 10 new schools," it ignited a public row with then-president Banda.
Joyce Banda released an extraordinary statement to the press, accusing Madonna of lacking the decency to tell the truth: "This is an insult to the people of Malawi. She can't be lying to the world at our expense . . . . For her to tell the whole world that she is building schools in Malawi when she has actually only contributed to the construction of classrooms is not compatible with manners of someone who thinks she deserves to be revered with state grandeur."
"This is an insult to the people of Malawi. She can't be lying to the world at our expense."
The withering statement from Banda's office also condemned Madonna for trying to use her celebrity to get special treatment. "Granted, Madonna is a famed international musician, but that does not impose an injunction of obligation on any government under whose territory Madonna finds herself, including Malawi, to give her state treatment."
Adding an unorthodox turn of phrase, the statement said Malawi had played host to other international stars, including Chuck Norris and Bono, "who have never demanded state attention or decorum despite their equally dazzling stature." In an absurd final blow, the government even denied Madonna use of the VIP lounge at the airport as she was leaving the country. (It should be noted that, in an unrelated story, the Malawi government this week issued a warrant for Banda's arrest in relation to allegations of corruption.)
Celebrity and Charity in Harmony
But with the hospital project, Madonna has finally found her cause — and acceptance in Malawi. At the opening ceremony, Madonna thanked the partners who helped the hospital project happen. "What started out as a dream for Malawi and her children has become a reality, and we couldn't have done it without your support," she said in a press release. Madonna's team did not respond to requests for comment regarding the actual cost of the hospital, saying only that Raising Malawi provided the bulk of the funding to build and equip the hospital. The MJC will continue to operate the facility in conjunction with the Ministry of Health.
In Malawi, the Mercy James Center's impact could be far-reaching. Just a month ago, the nation woke up to the sad news that two mothers had given birth to two stillborn babies because there were no anesthetists to attend to them seven hours after their scheduled Caesarean operations at Queen Elizabeth Central Hospital. In the aftermath, QECH Chief Hospital Administrator Charles Mhango told the nation that the hospital has an acute shortage of anesthetists; the hospital has 20 operating theaters but only eight anesthetists to attend to patients.
A shortage of medical personnel is just a small portion of the mammoth challenges besetting the QECH. Chronic shortages of medicine, congestion in the wards, rising cases of gross negligence, and a lack of sophisticated equipment for diagnosis and treatment all cast a shadow of gloom over the patients at QECH. But with the opening of the Mercy James hospital, there are now three extra theater rooms to perform life-saving sophisticated surgeries.
Not only that, but the MJC has a classroom to teach more doctors the science of surgery. Alongside Raising Malawi, QECH surgeon Dr. Borgstein developed a training program for doctors, which recently produced the first Malawi-born pediatric surgeon. To further improve the quality of service at the center, 20 nurses received specialized training from experts flown in from South Africa, which is aimed to reduce the cases of negligence, according to Raising Malawi's Facebook posts.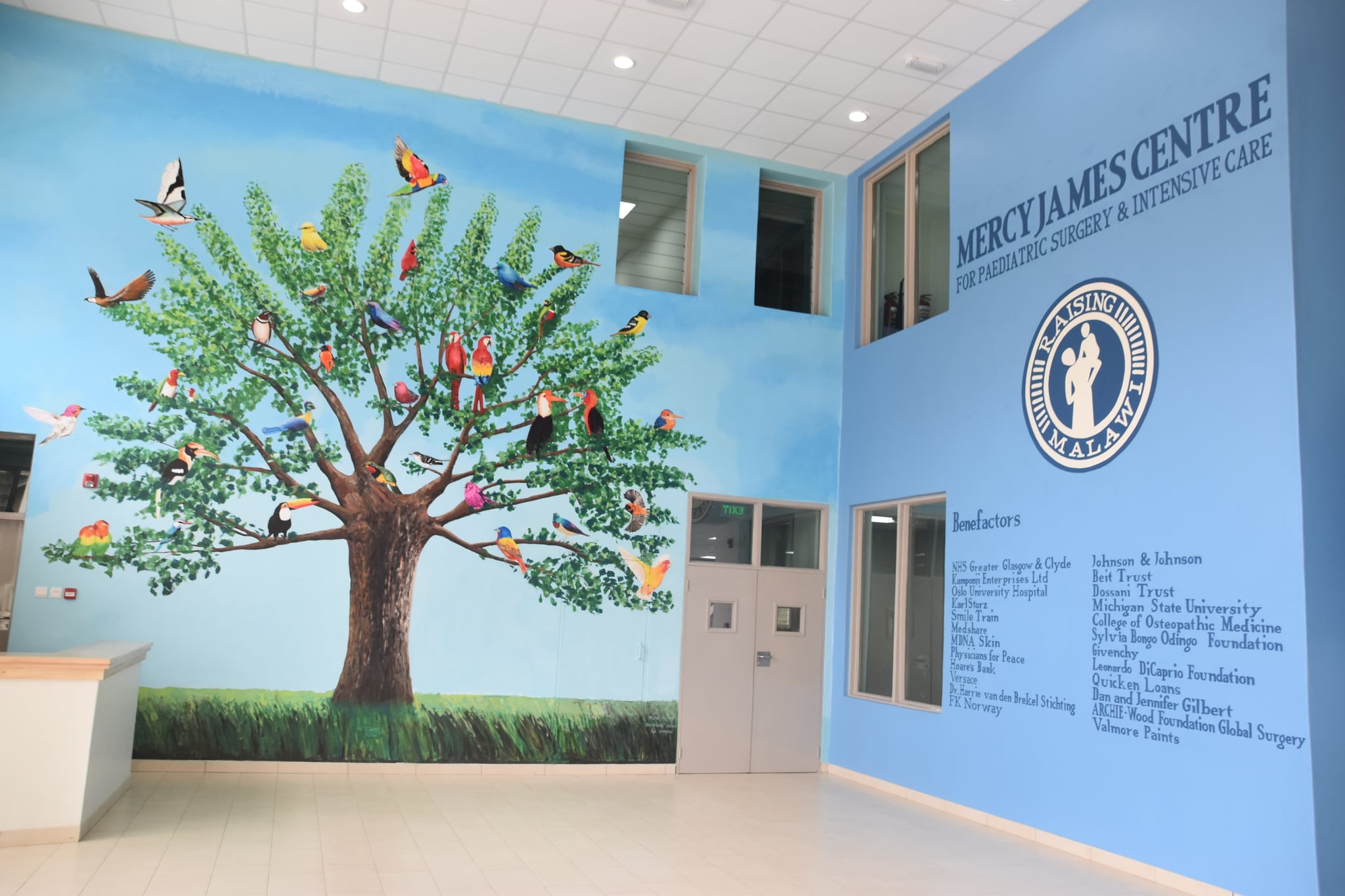 In a recent interview, former Minister of Health Peter Kumpalume urged Madonna to do more, noting that there are still gaps in the health system that require urgent attention. "Currently the Ministry of Health has 247 patients on the waiting list that require specialized treatment abroad," he said. "Out of these, 76 are children, and 68 of these children are suffering from heart-related diseases. These children should not be on the waiting list. The MJC should start offering cardiac operations for these children. I appeal to you to open cardiac surgery as well at the MJC."
The Mercy James Center is more than just a clinic for medical treatment. It is also a place where the healing process is accompanied by fun and where children can come to be inspired. The reception area features a mural of a giant tree giving shelter to birds, while the walls of the wards feature paintings of renowned statesmen, such as Nelson Mandela and Desmond Tutu. In Mercy James's words, the center is a place for healing and fun, and the art sends a strong message to the patients that tough times will not remain forever.
Image Source: POPSUGAR Photography / Kandani Ngwira