Marco Rubio Repeating Himself at GOP Debate
Could This Be the Exact Moment That Cost Marco Rubio the Nomination?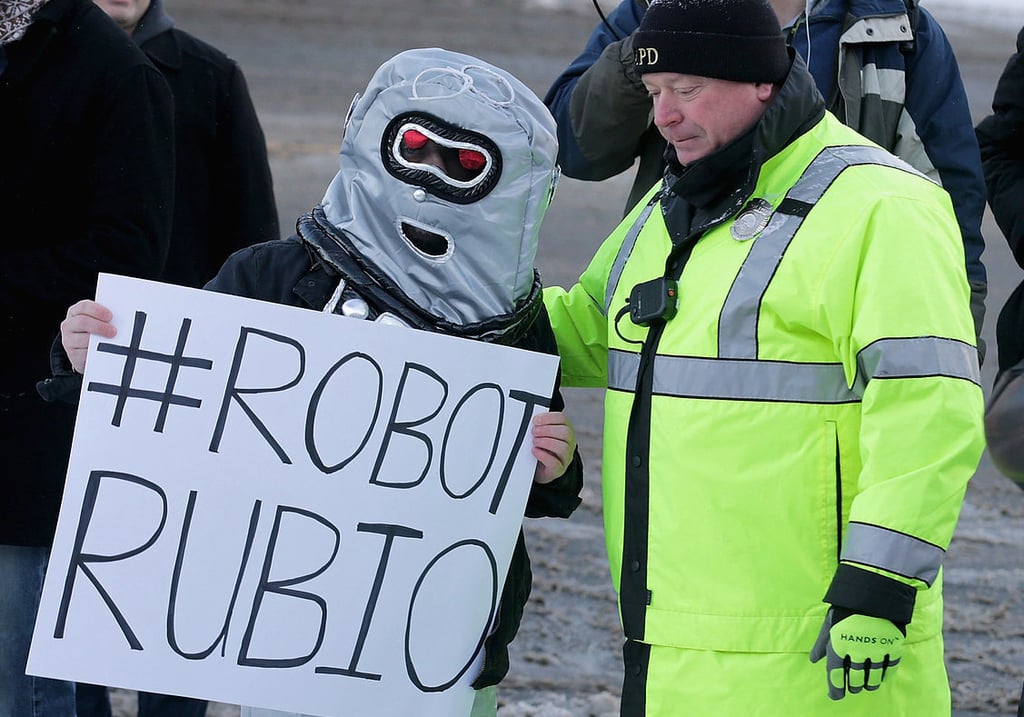 They say that actions speak louder than words, but in the case of Republican Florida Senator Marco Rubio, saying something four times in a row can really get the point across. Following a poor performance in Tuesday's New Hampshire primary — he came in fifth with 10.6 percent of the vote vs. coming in third in Iowa with 23 percent — many blame his bizarre performance during last Saturday's Republican debate for the drop. That night, he repeated the same, scripted sentence about President Obama multiple times within a short period, drawing criticism and earning him the nickname "Robot Rubio."
"There it is, there it is, the memorized 25-second speech," taunted fellow GOP candidate Chris Christie after Rubio went on autopilot. Still, even after being called out for his repetition about "the fiction that Barack Obama doesn't know what he's doing," Rubio continued to recycle the same talking point for a grand total of four times.
Again, the Rubio Repeat is a problem because it reinforces the idea that he's callow and fundamentally without substance.

— Jamelle Bouie (@jbouie) February 7, 2016
In his concession speech the night of the New Hampshire primary, Rubio acknowledged his own mistakes at the debate and its supposed effects on the election results. "Our disappointment tonight is not on you, it's on me," he told the crowd. "I did not do well on Saturday night," he added, before promising that it "will never happen again."
WATCH: @MarcoRubio says "I did not do well" in Saturday's debate: "That will never happen again." #NHPrimary https://t.co/GSDEA8Jz5J

— ABC News Politics (@ABCPolitics) February 10, 2016
Is this sort of admission enough to get Rubio's campaign back on its feet? If anti-Rubio protestors (a few of whom dressed up as "Robot Rubios" on Tuesday to rile up the candidate's supporters) have anything to say about it, perhaps not.
Earlier this week, Rubio defended himself against those who said he always repeats himself. "I'm not going to stop saying what I'm saying," he told ABC News, adding that his entire campaign is built upon reversing the policies put in place under President Obama. "We look forward to continuing to say that," he said.
Still, because one of the major critiques of Marco Rubio is his inexperience, exhibiting signs of inauthenticity — and an inability to recover from such a blunder — could take a serious toll on the 44-year-old's chances at the GOP nomination.
What do you think? Let us know in the comments!