My Family Skipped My Transgender Wedding | Personal Essay
I'm Transgender, and My Family Refused to Attend My Wedding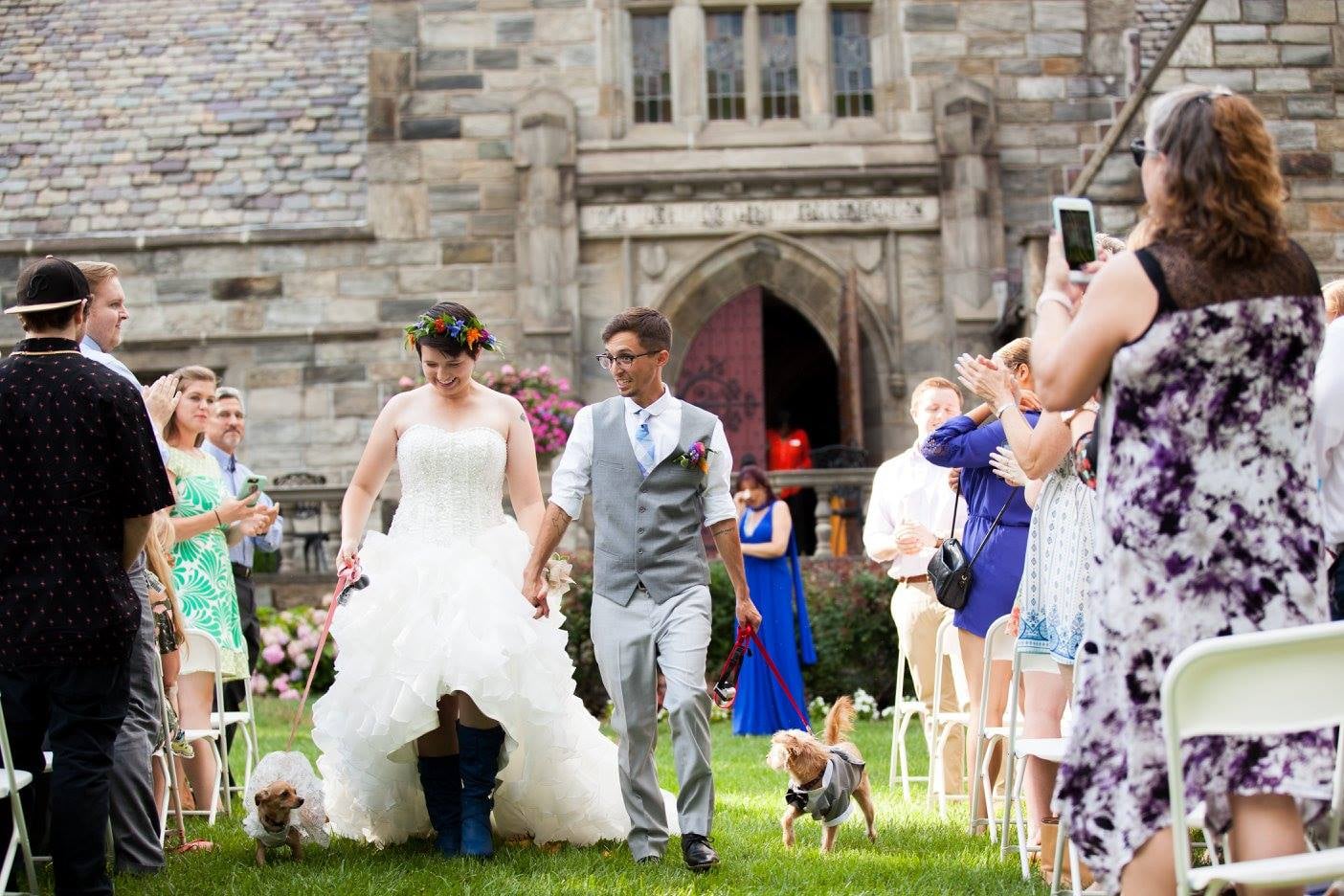 The author and his wife walking down the aisle.
Planning a wedding is probably the best test of a relationship. If you and your partner can successfully get your big day set up without either of you sleeping on the couch, then your relationship is set for life. (Especially if your event coordinator, venue, and caterer all flake out two months before the date.)
Somehow, my now-wife Heather and I were able to get the wedding planned in less than two months and survived a cross-country road trip to my fiancé's hometown where we held the ceremony, our two dogs in tow, without getting into a single disagreement . . . OK, that's not quite true. I wanted our first dance to be "Marry Me" by Train, but she drew the line and we compromised with a Jason Mraz song.
It was a beautiful ceremony and an even better reception. Her entire family and people she'd grown up with were all laughing and congratulating us, welcoming me into the fold with open arms.
My family? Well, my parents and siblings were there. But the rest of my family didn't show up. Most of them didn't bother to respond to the invites. I heard all the excuses from the few who did: "I'm too tired." "I have a job interview, so I might have a job and can't make it." "It's too far away."
I responded to each of these excuses with ideas about how to make it work. We offered to cover travel expenses and hook them up with places to stay — we even offered to pick some of them up during our road trip and drive them halfway across the country.
I knew the real reason they wouldn't be at the wedding, though. It was the same reason most of them haven't spoken to me in years, despite the fact that I send Christmas gifts and birthday wishes and celebrate every life event of theirs.
I'm transgender, and that's something many of my family members have never been able to fully accept.
My family members didn't even tell me directly they wouldn't be at the wedding. My mom gave me a call and first told me that my grandmother wouldn't attend. I was hurt, especially since I call my grandmother several times a week to check in on her and see how she's doing. My mom was devastated, though. This would be her first grandkid's wedding, but she wouldn't be there.
My mom was also the messenger who informed me that the rest of the family I had invited wouldn't be coming, either.
I was disappointed. Of course, several other people we had invited that wouldn't be able to make it for one reason or another, but they were pretty legitimate reasons. One of our favorite family members was eight and half months pregnant and wouldn't be able to travel across the country. Another simply couldn't afford to take the time off work. But to not come to your own family member's wedding because they're transgender is a huge blow to that person. It's had a devastating impact on our family. Conversations are tense, and there's an unanswered question that dances around the back of my mind every time I think about them: Why?
I still talk to my family. I still send them birthday wishes. They still tell me they love me. So why didn't they love me enough to come to the most important event of my young life?
They live in Texas and Arkansas, so their conservative views are heavily ingrained into their lives, something that I understand and accept. I know that I can't change their minds about certain things and I've never tried. Some people are impossible to get through to, but that doesn't mean I've ever stopped loving them or supporting their dreams.
Why aren't they able to do the same for me?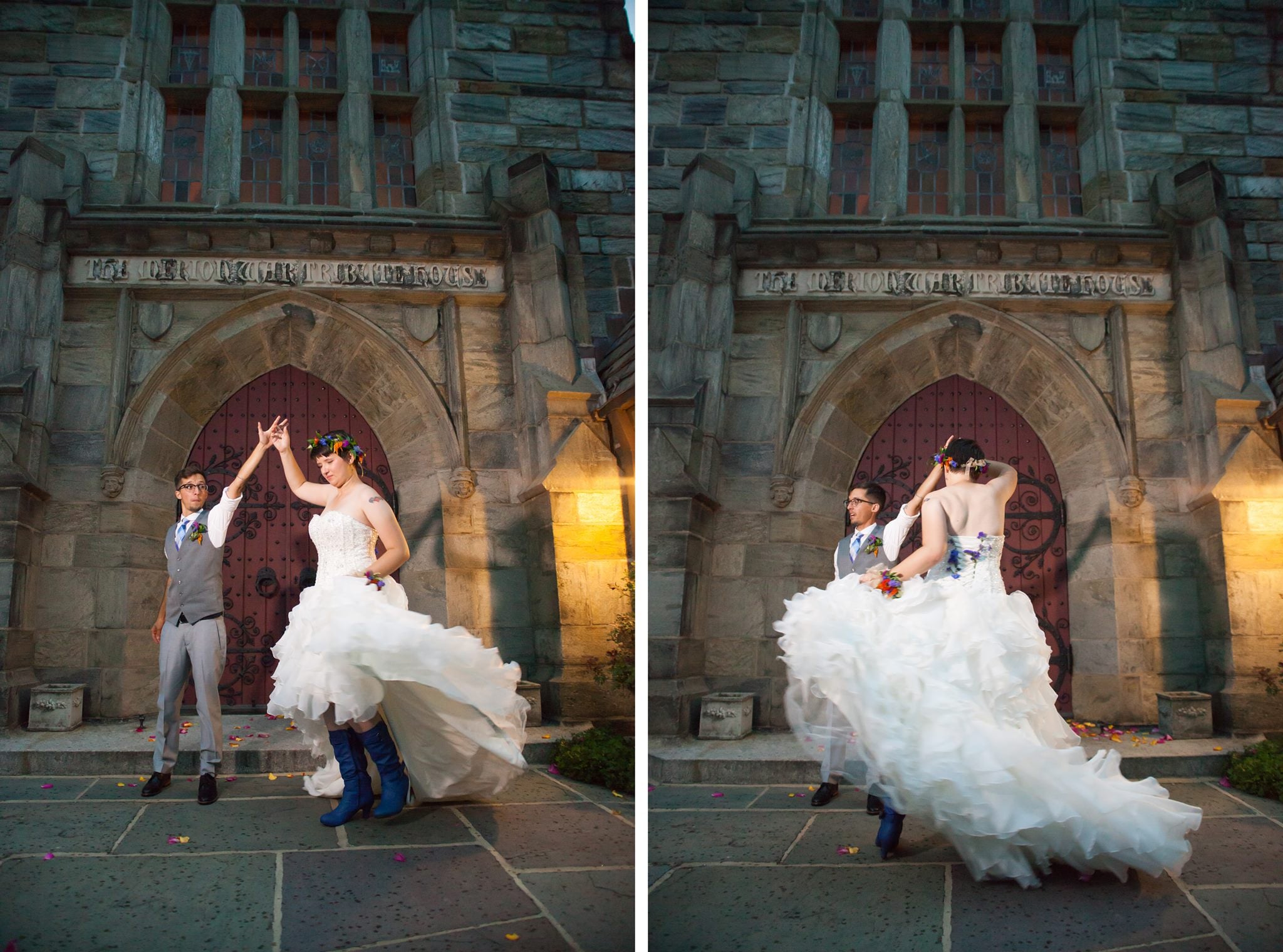 Throughout the night's festivities, I found myself making the rounds and meeting all of my wife's friends and family members. A few of my friends were seated at a table with my wife's cousins. Parents of my old classmates had made the five-hour trek from Virginia to Philadelphia and shed tears during the ceremony. My new aunt-in-law spent half an hour laughing with my dad over some Yuengling beer.
Despite the fact that blood relations were missing, this simple ceremony brought together almost a hundred people who would have otherwise never met. Celebrating our love and future together had created a brand-new family that I didn't know I needed. The next morning, I had breakfast with my parents and siblings before spending the rest of the day with my wife's aunts, uncles, and cousins. It never once felt like I was going from my "true" family to "the in-laws." It was a day full of family, simple as that.
The open arms of my new family made the sting of denial fade into a dull burn. It's still there, but I've gained the most accepting — and goofy — family that I could have asked for. They don't care about who I used to be or the fact that I'm trans. All that matters to them is that I love my wife and I know how to put back a few beers and share a good laugh.
To me, that's what family is, and I've found mine.