Official Portraits of Barack and Michelle Obama Revealed
The Official Obama Portraits Have Been Revealed, and Yes, They'll Make You Very Emotional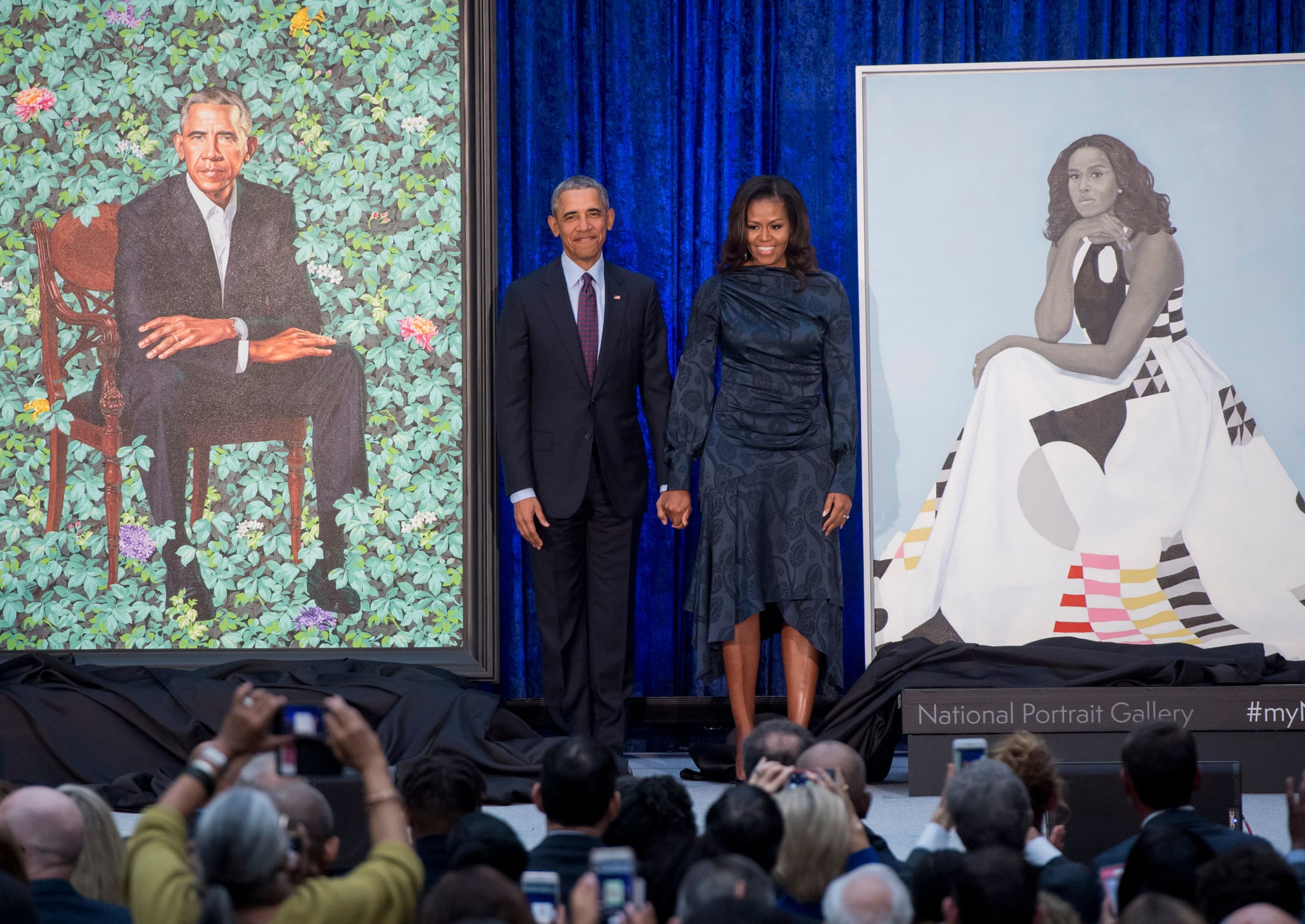 Former President Barack Obama and former First Lady Michelle Obama know exactly what America needs right now: a political palate cleanser, a release from the constant typhoon that is the current administration.
It's no surprise then that the Obamas offered us just that and more when they appeared at the Smithsonian's National Portrait Gallery to unveil their official portraits. The paintings were created by Amy Sherald and Kehinde Wiley, both black artists known for their portraits of everyday black Americans, and will be on display at the aforementioned gallery for the general public to enjoy. Both artists were personally selected by the respective Obamas to create the portraits; Wiley is also the first black (and openly queer) artist to paint a presidential portrait.

The Obamas, along with Sherald and Wiley, presented the portraits to the world while offering comments on both the process and importance of creating works of art that are effectively locked into — and evolving — decades of presidential portraiture.
"It's very intimate, the experience," Michelle Obama said of the process that went into creating the pastel-rich painting featuring the former first lady in a geometric Milly dress. Sherald appealed to Obama because of the "uniqueness of her subject matter," a fact alluded to early in her speech, as the former first lady noted that both artists are the kind of people with "talent and work ethic that usually destines people for greatness, but their dreams and aspirations were limited because of the color of their skin." The statement was incredibly powerful and, in a way, a tiny subtweet of the current administration's many silver spoons.
Barack Obama also touched on the notion of inborn advantages and disadvantages in America after unveiling a seated portrait of himself set against vibrant, flowering ivy. For Obama, Wiley appealed because he subverts the ideas of "power and privilege" in painting, depicting people of color in regal manners that recognize the beauty, dignity, and grace "in people who are so often invisible in our lives." "People who helped to build this country," Obama said. "People who, to this day, are making sure that this place is clean at night."
The portraits will go on to be displayed in the National Portrait Gallery, with former President Obama's being included in "American Presidents," while Michelle Obama's portrait will appear elsewhere in the gallery.