Is OxyContin an Opioid?
Insurers Want to Stop Covering OxyContin — but Will It Help Stem the Opioid Epidemic?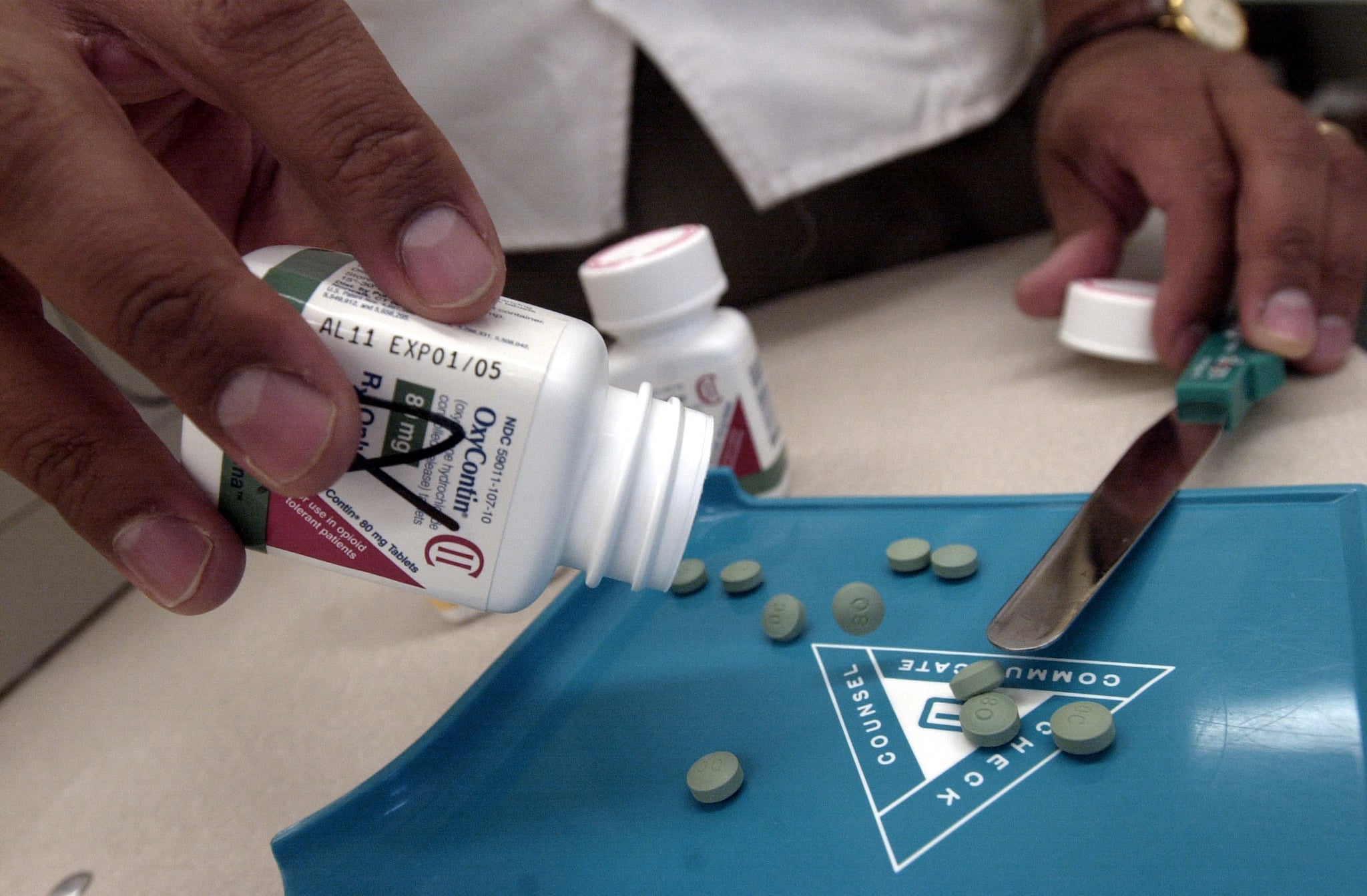 America's opioid epidemic is a serious problem. As communities, government officials, law enforcement, and medical professionals struggle with its fallout, insurers are also stepping in, with Cigna planning to end coverage of OxyContin by Jan. 1. More than half of the nation's 33,000 opioid-related deaths in 2015 were linked to OxyContin.
The insurer says the move is intended to curb the abuse of this specific opioid painkiller and shift patients toward Xtampza ER. While that drug is also an opioid, it is an abuse-deterring alternative to OxyContin.
OxyContin is a fitting metaphor for how complicated the opioid issue has become. For many, OxyContin is an effective medicine in managing pain for hours at a time, but it can also enable addiction and substance abuse. Those who become addicted to the drug may also turn to heroin and fentanyl, which share similar properties with the prescription medication.
The manufacturer of OxyContin, Purdue, has faced harsh criticism by those who say the company has enabled this epidemic by falsely advertising the extent of the drug's effects and for influencing doctors to prescribe it. Some states and cities are suing the pharmaceutical giant as a result — South Carolina, New Hampshire, Washington, and cities like Chicago and Cincinnati are taking action — while the CDC offers highly detailed guidelines on the prescription and use of these drugs.
Karen Eldred of Cigna told POPSUGAR the insurance provider is "intentionally aligning with stakeholders who share our mission to reduce the inappropriate and unnecessary overuse of opioids." This includes working with doctors, national and local organizations, and drug makers who can supply alternatives with oxycodone, a drug heavily present in OxyContin, she said.
"We will continue to cover oxycodone and other opioid alternatives," Eldred explained. "We're in the process of notifying customers with current OxyContin prescriptions and their doctors of the upcoming change so that they have time to discuss treatment options. It is important to note that individuals who have started using OxyContin for hospice care or cancer treatments will continue to have the medication covered in 2018. In addition, Cigna will consider approving coverage for OxyContin for reasons determined to be medically necessary through conversations with our customers' treating physicians."
How Will This Impact Current OxyContin Users?
OxyContin was designed as a pain medication and many people still use it for its intended purposes. But, in part because of liberal prescribing, the problem of opioids has grown out of control. It raises questions about if it should face increased regulations — or whether these decisions should be left to patients and doctors — and whether it's right to lump the prescription medication in with other opiates like heroin and fentanyl. The answers are often complicated.
Dr. Michael Munger, a practicing family physician in Overland Park, KS, and president of the American Academy of Family Physicians, says drugs like OxyContin are necessary but shouldn't be taken lightly. "When you do prescribe an opioid, you want to make sure that the benefits outweigh the risk," Dr. Munger told POPSUGAR, explaining it is vital for medical professionals to educate patients on these drugs and continue checking in on them to keep care coordinated.
The issue of insurers like Cigna stepping in is tricky, Dr. Munger said, because it limits how medical professionals manage care.
Dr. Munger also said that an opioid is never a "knee-jerk step one" and that treating pain is handled in a "multimodel fashion." The issue of insurers like Cigna stepping in is tricky, Dr. Munger said, because it limits how medical professionals manage care. "Unequivocally, we oppose limiting patient access to any sort of physician-prescribed pharmaceutical," Dr. Munger explained. Measures like insurers barring certain drugs "limit[s] patient access when in pain."
This can also present a problem in terms of healthcare policy. Andrew Kessler, principal of Slingshot Solutions, works with Congress and others as a consultant on issues like addiction. He says he is extremely concerned about insurers making decisions like Cigna's. Kessler notes that OxyContin was invented for cancer patients and those in extreme pain, and that "prescribing beyond its purpose" is what has led to problems.
"There are people who want Oxy and other drugs related to it off the market," Kessler told POPSUGAR. "I do not share that point of view because I think [OxyContin] does have a purpose when prescribed in the right situations." It's situations like wisdom teeth extraction where a prescription for an extreme pain killer is inappropriate — and that's where Kessler has a problem: overprescription and oversaturation, a blurring of when the drug needs to be used that has been exacerbated by Congressional hampering of the Drug Enforcement Administration.
In Kessler's opinion, a solution isn't to be found in cutting access to the drug, but in unpacking addiction itself. "In chasing a regulatory fix on prescribing, I think we're risking losing sight of the bigger picture of the disease of addiction," he said. "The focus on the prescribing practices has cost us the ability to look at the big picture." Reactions like Cigna cutting coverage and CVS limiting opioid prescription are well-intentioned but, he suggested, these are small bandages on a larger issue.
Why Those Who Suffer From — and Manage — Chronic Pain Are So Concerned
Advocates say imposing new barriers to prescription opioids will ultimately isolate patients. Take Tosin Ola, a registered nurse with sickle cell disease who is also the founder of Sickle Cell Warriors, a nonprofit intended to empower those with the chronic illness. Ola has taken opiates for a decade, typically two 10 milligram pills of OxyContin twice a day. She says restrictions of the drug are already interfering with her care. "There are no alternatives available to me," Ola told POPSUGAR. "I'm doing physical therapy and yoga but those only go so far."
Ola's isn't alone: this is a point of view echoed widely among those who suffer from and manage chronic pain. Barby Ingle, president of the International Pain Foundation and WEGO Health patient expert, is concerned cutbacks to pain medications will enable suicide because of a "financial decision" that shifts the focus from one drug to another. "It's a flashy, glittery move," Ingle said. "The people making the policy aren't getting the input from the people being affected."
Bridget Gardinier, author and advocate for lupus awareness and founder of My Mountain, My Lupus, sees opioid restrictions similarly. "The fact that you have insurance companies making the decision for your medical care is the first issue," Gardinier told POPSUGAR. "This isn't your doctor saying you should be on Xtampza: this is an insurance company saying this is what they're going to do. Any time an insurance company says 'This is what a doctor should do,' I'm leery."
Despite these concerns, President Trump's opioid commission has promised to "place new demands" on how insurers treat opioids. This could mean addressing health insurers' bias toward opioids for pain management and their ability to make profits from drug companies who produce problematic drugs like OxyContin. These efforts could place a bigger wedge between the wishes of doctors, patients, insurers, and lawmakers, but proponents say these steps are much needed to alleviate the opioid epidemic. And the Trump administration's stated positions on opioids like OxyContin suggest that, soon, even more insurers could follow in Cigna's footsteps.