Trump Border Wall and Government Shutdown January 2018
Sorry, Donald Trump: The Border Wall Won't Protect You From a Government Shutdown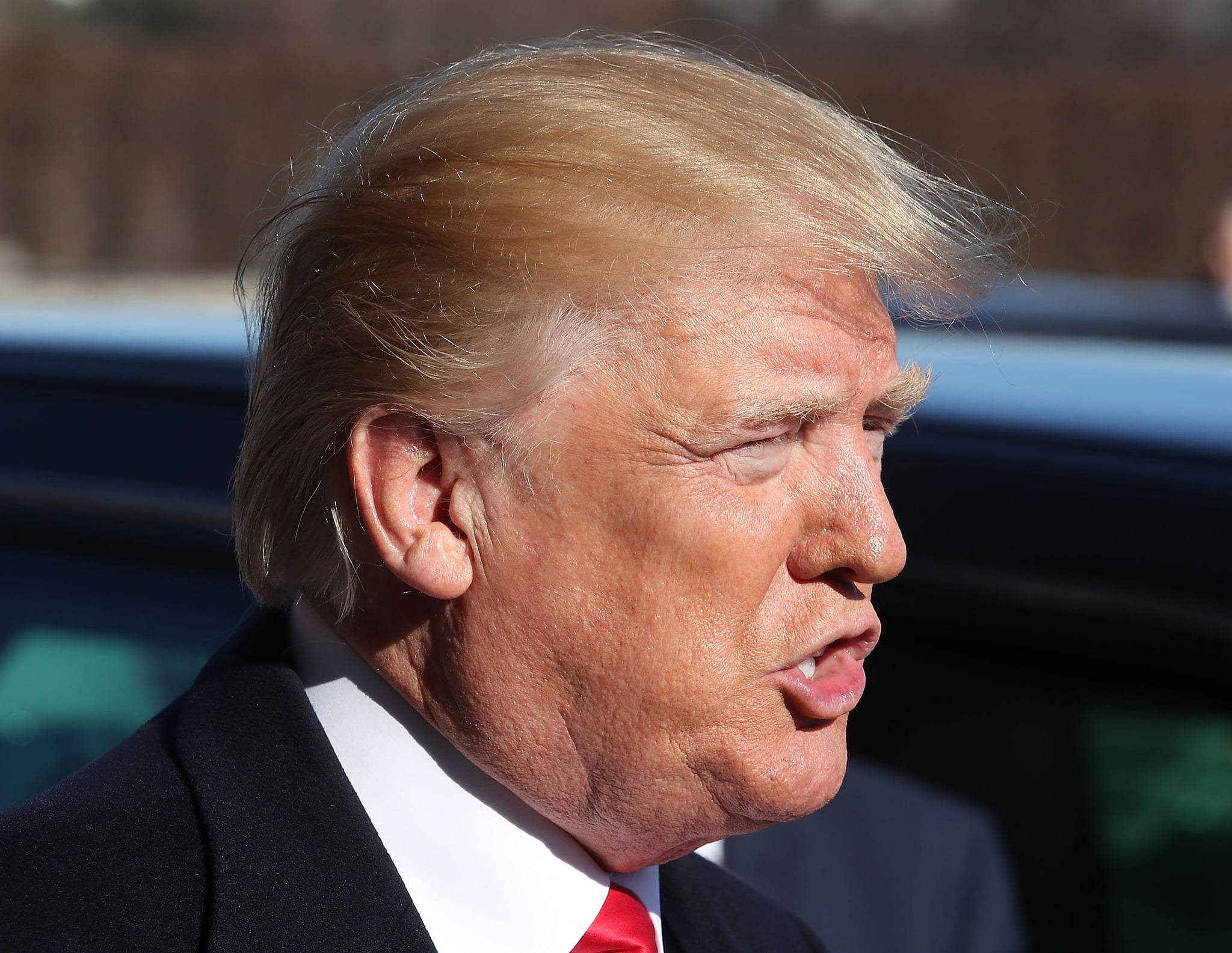 We're only 18 days into 2018, but it already feels like business as usual in Donald Trump's America. We've been treated to the now-normal thrills and chills of his oversight — from casual warmongering to free press blasting — and have returned to one of his personal presidential touchstones: the hypothetical anti-immigration wall he wants built between the United States and Mexico. But what sets this new wall talk apart from all previous threatening and promising is that it might ultimately prevent our government from getting crucial work done. The anti-immigration barrier has become the president's sole shoddy bargaining chip as he attempts to come to an agreement with the Democrats regarding the Deferred Action for Childhood Arrivals program (DACA), but for whatever reason, in his mind, if DACA is to stay, so must the border wall — and there is no compromise.
But this debate, however stalemated it may be, does actually have the potential to be the straw that brings the hay house of Trump's government down. An agreement on the subject must be reached by end of day Jan. 19 — or there will be a government shutdown. To massage the issue, Trump's Chief of Staff John Kelly assured Democrats and members of the Hispanic Caucus on Jan. 17 that the president's view of the wall has evolved, that Trump's view was not to be taken literally. In typical early morning rebuff fashion, Trump took to Twitter to let his terrible truth be known, noting that "the wall is the wall" and that he has "never changed or evolved." In other words, you may think the the wall is figurative but, to Trump, it is very real.
The Wall is the Wall, it has never changed or evolved from the first day I conceived of it. Parts will be, of necessity, see through and it was never intended to be built in areas where there is natural protection such as mountains, wastelands or tough rivers or water.....

— Donald J. Trump (@realDonaldTrump) January 18, 2018
To boot, Trump barely expounded upon but duly reiterated his campaign promise that the Mexican government would pay for the structure. Perhaps this move was an attempt to appeal to his base, but sadly, this seems like a lose-lose situation given a recent CBS News poll which found that the majority of Americans support DACA and oppose the border wall. Granted, the poll did find that seven out of 10 Republicans support the wall — but let's look at the larger picture here.
The reality of this ongoing back-and-forth, he-said-she-said drama is that there are no clear winners here, at all. Trump's wall tweets have placed a wedge between a unified Republican message, despite Mitch McConnell having a clearer answer of what Trump actually supports. Trump's tweets weren't lone incendiary statements; instead, they came with another shutdown barrier: one regarding health care, as he also tweeted about removing the Children's Health Insurance Program (CHIP) from the stopgap bill, a move that goes against the Republican plan to court Democrat votes.
A government shutdown will be devastating to our military...something the Dems care very little about!

— Donald J. Trump (@realDonaldTrump) January 18, 2018
If we've learned anything from governance under Trump, it's that there is no concern for deadlines or care for handling finances, a view best exemplified by a shutdown solution that has continued to be pushed and pushed and pushed since September 2017. This new attempt to make headway will be a make-or-break day for both Trump's wall as well as his ability to oversee — and continue — keeping our bureaucracy moving. Given his mixed signals (and his party's love of talking from both sides of the mouth), from where we stand right now, the outcome isn't looking good.