Weed and Wine Pairings
The Best Type of Weed to Pair With Wine — and Where the Future of Cannabis Is Heading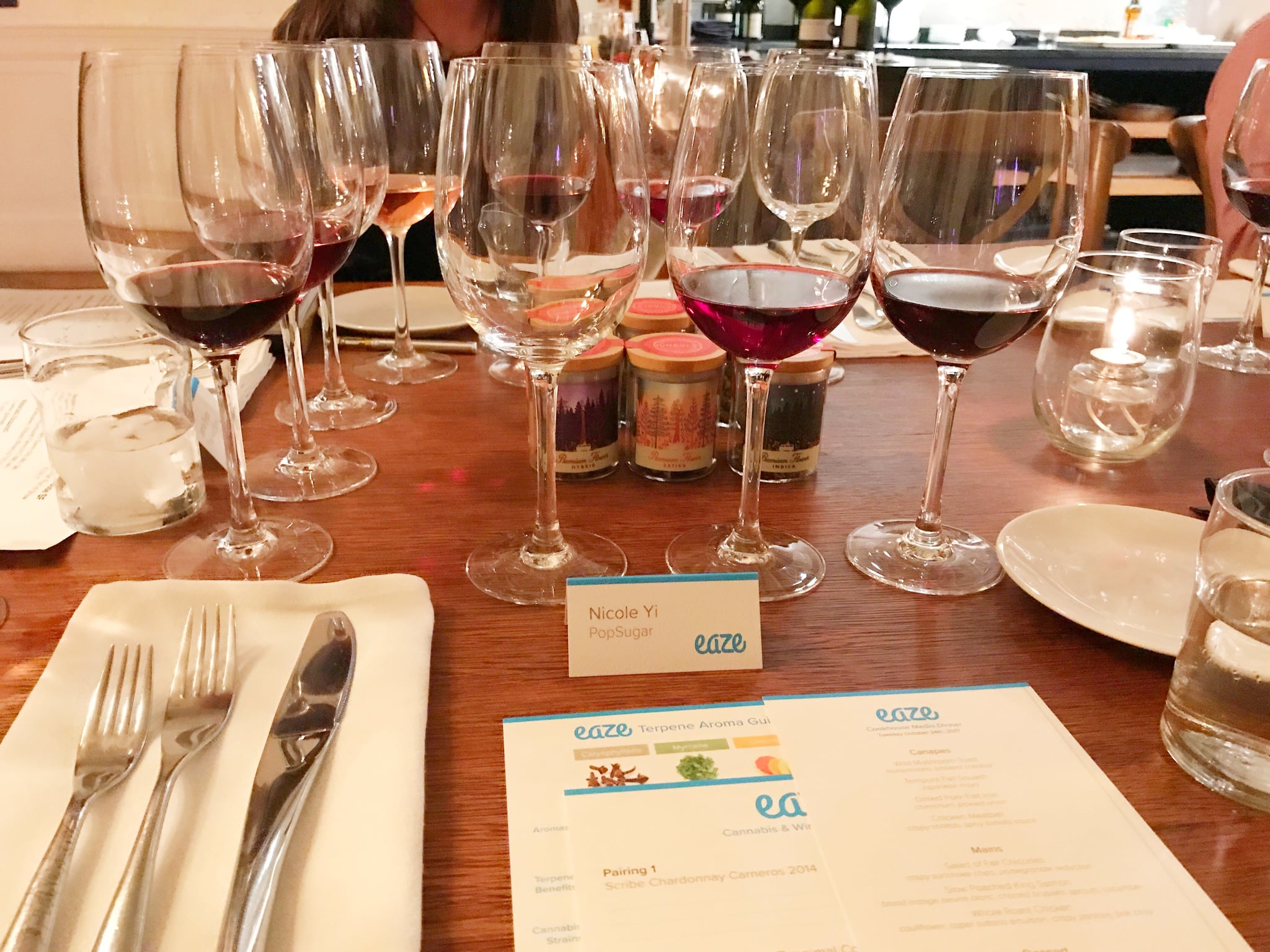 Weed and wine are a match made in heaven. Now, I've always known this on a personal level, but after attending an intimate dinner hosted by weed delivery app Eaze that included cannabis and wine pairings as the evening's core activity, it's more clear to me than ever how marijuana can be naturally incorporated into our everyday lives.
Eaze CEO Jim Patterson kicked off the Oct. 24 dinner by breaking down the changes that will soon come to the marijuana industry and focused the dialogue on the future as we settled into our seats. In California, recreational marijuana usage will be fully legal come January 2018, and as a result, the conversation around weed is steadily shifting its focus from hobby to wellness, far from the historical association with burnouts and hippies. But while more people than ever are getting on board with the idea of using weed for everything from pain relief to relaxation, there's still a strong stigma surrounding the drug. Ultimately, those in the industry have found that the best way to combat stereotypes is to start with educating the public on the benefits of marijuana beyond getting stoned.
At the Eaze dinner, Patterson introduced the idea of thinking about weed in the same complex way we think about wine. To further that point, Jamie Evans — better known as The Herb Somm — led us through a sensory experience in which we compared aromatic notes of three strains provided by Humboldt Farms with three wines from Sonoma's Scribe Winery and Napa's Ellipsis Wine Company. As we smelled and tasted each wine and took in the scents from each jar, it was increasingly difficult to ignore just how well the two pair.
Pairing #1
Wine: Scribe Chardonnay Carneros, 2014
Tropical fruit notes, citrus, bright acidity
Weed: Humboldt Farms Strain Tangimal Cookies (sativa)
Citrus, earthy tones
Best time to drink/smoke: Just as white wine is best for day drinking, sativa (the active strain family) is also ideal for daytime use. It provides a clear-headed and euphoric high that still allows for social and physical activity without making you too lethargic.
Pairing #2
Wine: Ellipsis Pinot Noir Anderson Valley, 2014
Light, bright red fruit
Weed: Humboldt Farms Strain Loopy Fruit (hybrid, sativa-dominant)
Blackberry undertones
Best time to drink/smoke: A Pinot Noir is basically the wine version of a hybrid strain. It's the best to both worlds; you can choose to sip on it in the afternoon or have a glass with dinner. Similarly, hybrid strains contain both sativa and indica species (one is usually more dominant than the other).
Pairing #3
Wine: Ellipsis Zinfandel Russian River Valley, 2013
Deep, concentrated berry
Weed: Humboldt Farms Strain Purple Punch (indica)
Grape, blueberry
Best time to drink/smoke: Think of indicas as your dessert strain. It's the best choice for winding down after a long day because it'll provide full-body relaxation and drowsiness. You'd probably opt for a deeper red before bed instead of a bright Chardonnay.
Wine and weed share similarities far beyond the recreational and aromatic aspects; grape vines and cannabis are both grown in similar climates, regions, and conditions. Where the two industries differ is production rates and profitability, and in both of these aspects, weed prevails due to quicker turnaround and a greater potential for income when comparing acres to acres. For these reasons, more wine producers are turning to the cannabis industry than ever. That includes Evans (The Herb Somm) and Devika Maskey, president of Ellipsis and founder of cannabis company TSO Sonoma, both of whom are blending their viticulture roots with the cannabis world.
For a deeper dive into the science of things, the chart below also illustrates the overlap between weed and wine in a more technical manner, as they both fall into the same categories of terpenes, which are responsible for fragrance profiles.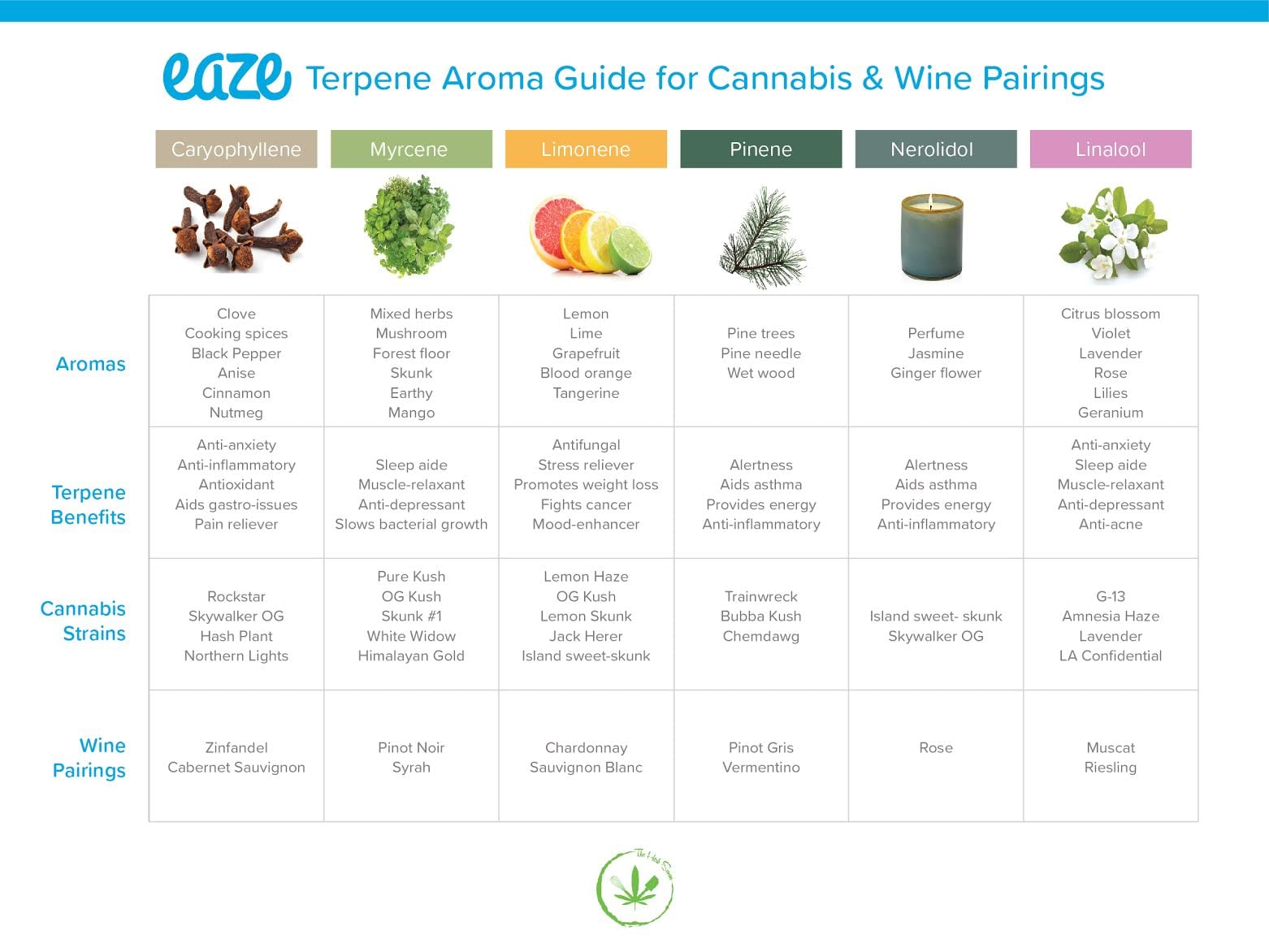 After attending the dinner — an event which brought together industry leaders such as Zach Rubin, cofounder of Humboldt Farms, and Maggie Connors, founder and CEO of Goldilocks — it became clear to me that weed is now being treated as a way of life as opposed to an ode to one's college years. That pot brownie that had you in fetal position in your dorm room has evolved to the level of being regarded as an equal player in fine dining. Why else would Connors have had enough faith in the industry to build her own cannabis company from the ground up after working at giants like Starbucks, Apple, and Pepsi?
The proof is in the weed, and we are witnessing a new era of our generation's prohibition.
Image Source: POPSUGAR Photography / Nicole Yi