Xbox One S Minecraft Limited Edition Bundle Review
This Limited-Edition Xbox Is the Video Game Console We've All Been Waiting For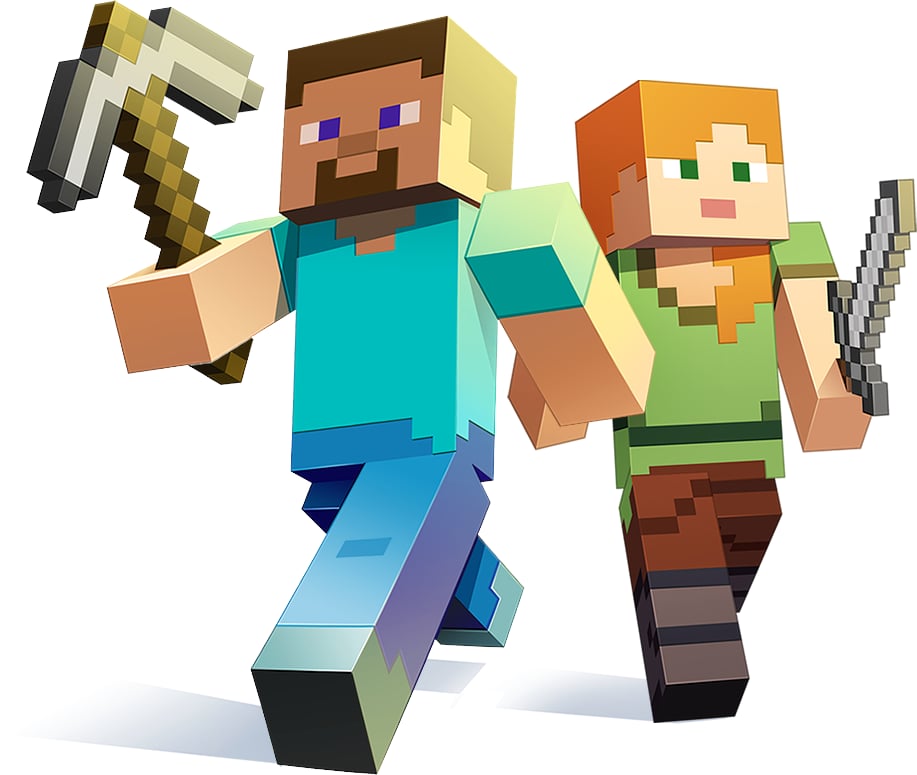 Last year, a friend recommended that I spend some quality time with Minecraft to get my mind off of the constant Trump news cycle and onto something marginally more productive. As a lifelong gamer, I gave it a shot — and was completely underwhelmed by the complicated controls that maneuvered my avatar across the screen on my iPhone and laptop. Regardless of how many times I tried to change the controller settings to something easier to process, I was quite certain that the wildly popular block-building game, while visually appealing and a great way to waste time, was not for me. That is, until I discovered the altogether different experience that comes with playing the game on a console, and not on a web-connected device.
tl;dr: The limited-edition Minecraft Xbox One S made a Minecraft believer out of me — and it's a console that has the potential to turn even the most video-game-averse individual into a diehard fan. But let's take it one step at a time.
What is Minecraft and why do people love it so much?
"Minecraft is a game about placing blocks and going on adventures," or so the official one-liner for the game reads. But Minecraft is, in far more broad terms, the most appealing gateway to STEM that a group of Swedish coders could have ever possibly imagined when they first released it in 2009. In a 2016 profile, The New York Times referred to those early preteen denizens of Minecraft as "The Minecraft Generation," describing in great detail how young people were using tech savvy and coding knowledge in order to "win" at Minecraft. Yes, the game is fundamentally a quest to mine resources with which to ensure your survival — shelter and protection are required to fight the baddies that come at you in the night — but there's a far more complicated level of know-how that's required in order to truly best play the game. Redstone, the Minecraft equivalent of electricity, can be mined easily by anyone — but it takes a certain kind of savvy to manhandle the engineering that's required to make it work. It's that quest for making the best, the most elaborate, the most intricate that really creates a Minecraft-lover out of your average gamer — and to say that it's addictive once you've figured it out would be a dramatic understatement.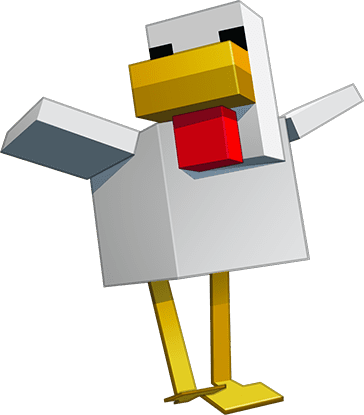 What is so different about playing the game on a console versus on a phone, tablet, or computer?
There are two main reasons that the experience is so different. One is that it's much, much easier to play the game on a standard controller than it is to use your keyboard or fingers, and having some distance between your eyes and the screen is always a big plus. The second — and more important — reason is that it moves the game away from a solo experience and toward something you can play with friends, partners, or family. Sure, you could always play in co-op mode over your various devices, but having a split-screen game while you're sitting next to someone is so much more fun (and challenging!).
How exactly does playing with someone else work?
Depending on how competitive you are, you can either work in tandem — collecting resources, building up a town or village or city — or compete for the better house with the more advanced technology. Either way, it's easy to explore a map with someone else when you're playing in the console version, though it's highly recommended that you both have wireless controllers to make sure that you're not tied down to the console!
What are the visual differences between the Minecraft Limited Edition Xbox One S and the regular Xbox One?
Behold the true beauty that is the Minecraft console (and its matching Creeper-themed controller):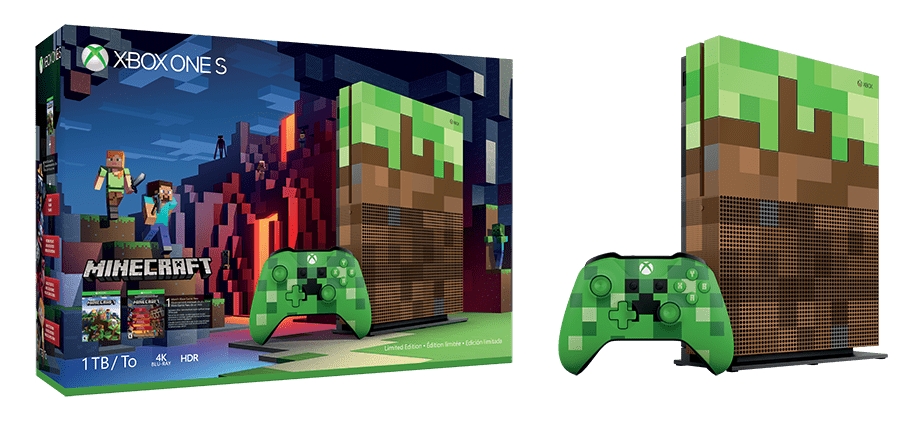 Can the Minecraft console play other games, too?
This might be my favorite part of the limited-edition console and what makes it so accessible. In addition to having a 1 TB hard drive, the Xbox One S itself comes with a free month of Xbox Game Pass and a 14-day trial of Xbox Live Gold. In other words: you've got several weeks to experiment with all of the games you've heard your friends talk about on your own, without any upfront commitment to actually buying the game in full. And it's not just recent titles, either — you can explore the wide range of options here. Suffice it to say that after years of resisting certain games on the basis that I didn't want to throw down the money on something I might not use, having a month to give all of those games test runs has resulted in my having quite a few new favorite games that aren't even remotely Minecraft-related.
Can I play Minecraft with friends who don't have an Xbox but play on PE or PS4?
Thanks to the recent Better Together update, now you can play cross-platform with most other types of devices, aside from the Nintendo Switch (the update hasn't rolled out to it yet, sadly, though it is in the works!).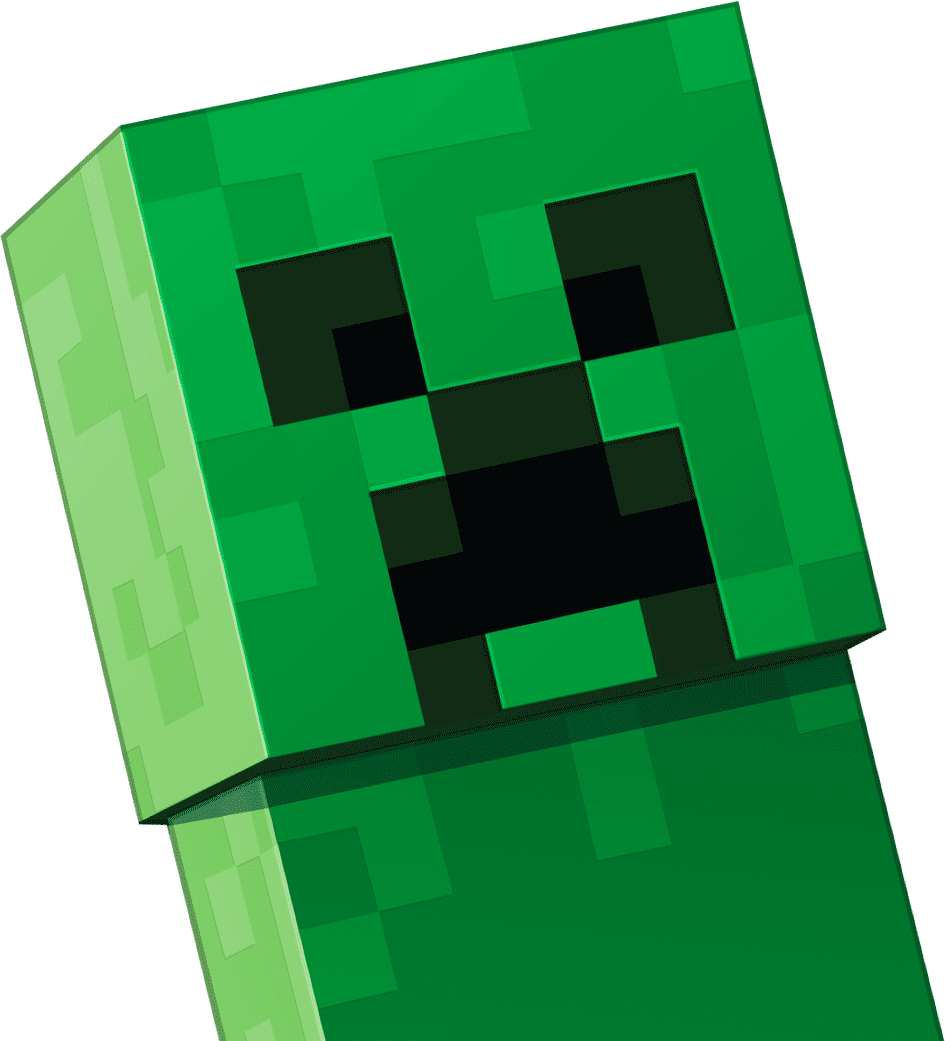 What else does the console do?
Just as with any other Xbox console, the Minecraft edition can play all your favorite apps like Netflix, Hulu, Amazon, and Spotify — making the console more than just a way to play games, but to access all of your favorite media all in one place.
What sold you on being a Minecraft fan?
On a (very) personal level, having a low-commitment, low-violence game like Minecraft to play with my significant other has been a welcome addition to my household. It's also worth noting that as someone who has always been more of a Nintendo-and-Playstation gal, the price point and ability to test other games has meant that we've got a whole host of games to play as we head into the Winter months — something I've never really had the opportunity to experiment with, and couldn't be more excited about. It really is the console I've been waiting for Microsoft to come out with – and after decades of resisting the Halo-and-Borderlands-induced madness, it's made an Xbox fan out of me.
So how can I get my hands on one?
The Xbox One S Minecraft Limited Edition Bundle retails at $399 and hits stores on Oct. 3. But don't wait to pick one up — limited edition does in fact mean that there's a finite number of consoles being produced, so they're likely to sell out sooner rather than later.