How to Seek Justice For Quawan "Bobby" Charles
Quawan Charles's Family Seek Justice After His Death Amid Apparent Police Double Standards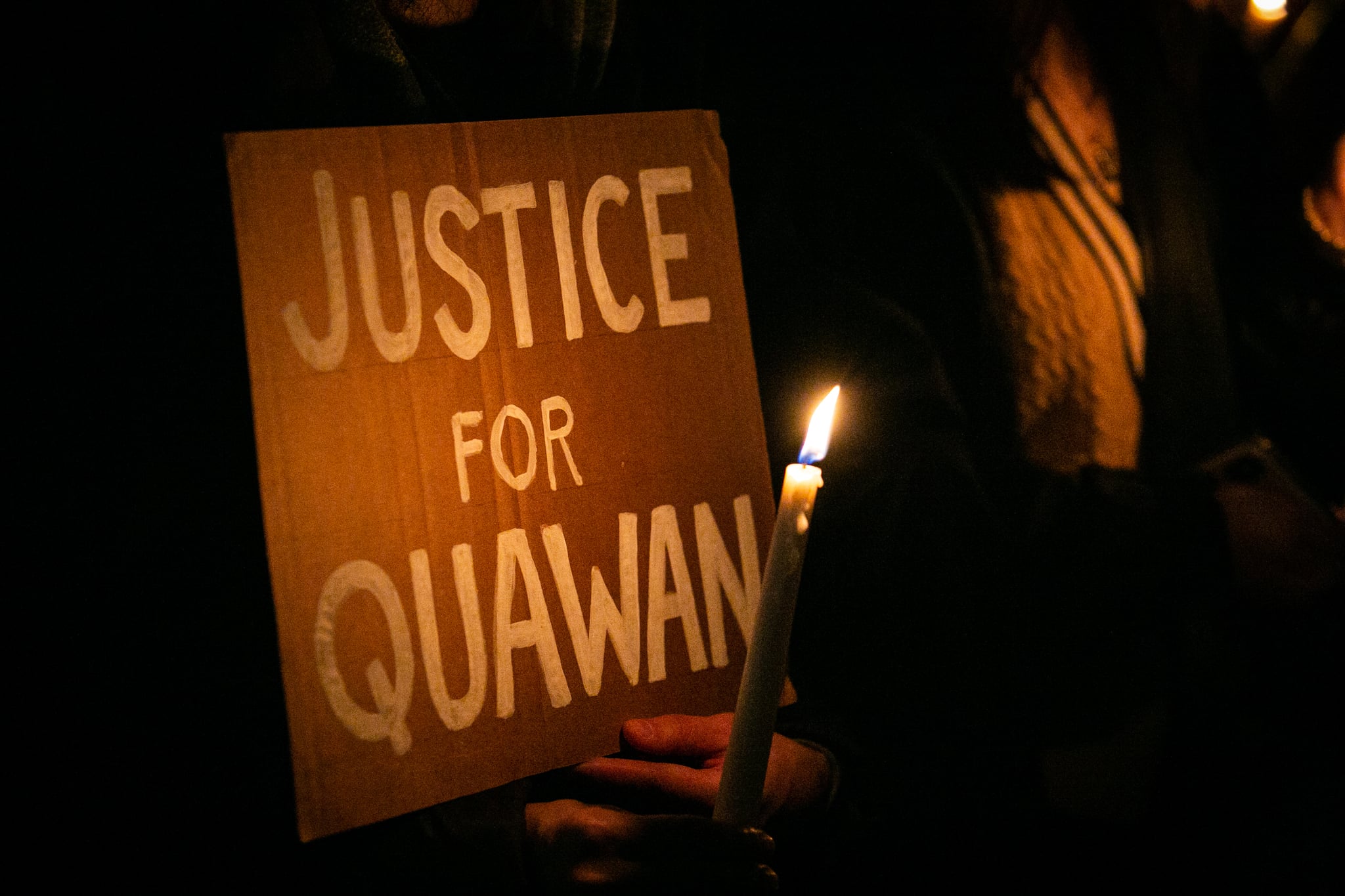 The disappearance of 15-year-old Black teen Quawan "Bobby" Charles on Oct. 30 was initially dismissed by Louisiana law enforcement, but his family pressed on to bring him home. His body was discovered days later in a sugar-cane field. As Quawan's loved ones continue to seek justice, his community is calling out the slow response from police as an indicator of the double standard missing Black youth face.
According to Quawan's family's lawyer, Ron Haley, his mother was supposed to pick him up from his father's home for a hair appointment in the afternoon on Oct. 30. The family's calls went unanswered for hours, until 7 p.m., when his father deemed Quawan missing and called the Baldwin Police Department. The officers suggested he was at a football game or with friends. They neglected to issue an Amber Alert and allegedly refrained from pinging his phone for days.
Through their own efforts, Quawan's family were told by a third party that he was picked up from his father's home by his friend Gavin, 17, and Gavin's mother, Janet Irvin, the day he went missing. His father was out shopping and did not give them permission to take Quawan. Quawan's parents also contacted the neighboring Iberia Parish to alert them of their missing son, once again taking action into their own hands. The Iberia Parish sheriff's deputies found Quawan's body in a muddy field within hours of tracking his phone. Video evidence from the area indicates he was alone for some time before and after the recording. His death is now being treated as a homicide.
Haley noted the inaction by police following Quawan's disappearance is "mindboggling." "Every local media outlet that I spoke with, that covers the Iberia Parish area, said that they did not even know a child was missing, let alone killed, until the family put them on notice," he told People. "A child was taken from, or last taken from, his parents' home without permission, and they report it to the police, and that's somehow not priority No. 1."
The parish's preliminary autopsy on Nov. 13 deemed the cause of Quawan's death was drowning, but his family is not convinced. "If in fact he did die of drowning — and we're saying that as an if — we're calling into question how exactly that would have happened," Haley said. "Can somebody who's 5-foot-6 typically drown in two feet of water? No, not unless there's another cause associated with that." Quawan was also found with wounds on his face, which the coroner said were not sustained before his death and instead were a result of "aquatic animal activity." His family disagrees. They likened his death to that of Emmett Till and shared graphic photos of his body on the family's GoFundMe to emphasize the need for an independent autopsy.
For local activists, Quawan's death and disappearance are a reminder of the hypocrisy Black people face when a young person goes missing. "Regardless of whether this was racially motivated or not, regardless of what the situation surrounding his death may be, the fact that the police departments didn't act the way they would've acted if Quawan was a 15-year-old white girl named Katie, that's the problem," Andre Arceneaux, founder of Stand Black, told The New York Times.
Haley said the most critical moments when a child goes missing are the "first few seconds, minutes, and hours that go by." Quawan deserved a rapid response. "I believe that, if they showed a greater sense of urgency in this, two things could have happened," Haley explained, then referred to Quawan by his nickname. "One, Bobby could still be here because they could have intervened. Two, if Bobby still wouldn't have been here, those who were responsible for killing him would be arrested. Evidence would be ripe. Folks would not have been able to cover up their tracks. And instead, we're here 13, 14 days later without answers."
If you would like to help Quawan's family seek justice, consider donating to the GoFundMe page Arceneaux and Celina Charles, Quawan's cousin, set up for his family. (Warning: the page includes graphic photos of Quawan's body.) The donations raised will go toward an independent autopsy, burial costs, and any other funds that may arise.