Everything We Learned From the Comey Hearing
This post will be updated continuously throughout Comey's testimony today
The most anticipated day in recent political history — one that appeals not only to news junkies or political pundits, but basically anyone who loves televised drama — has finally arrived: former FBI Director James Comey has taken the stand before a Senate committee to testify about his meetings, interactions, and conversations with President Donald Trump. The Senate is seeking answers in hopes to further their investigation of Russian interference in the 2016 election, and those of us watching from home (or, sneakily, at work) are looking to get answers to the many, many questions that have been on our minds since Comey was fired back in May.
For those not in DC — where bars opened early to host viewing parties across the city, and the conversations are almost exclusively about the testimony in hand — we're watching and taking notes on what it is exactly that we should be taking away from the hearing and what it is we need to know going forward for the future of the investigation and for the presidency writ large.
So, without further ado, here's what we've learned today:
Russia definitely interfered in the election, but Comey doesn't think it touched the actual votes. At this point we all agree that there's no question that Russia did something last year, but Comey added today that he was "confident" Russia didn't alter any voting data once ballots were cast by the American people.
When Comey was fired, Trump wasn't under investigation. This is the point that the Trump team has been harping on and, quite honestly, the reason we've gotten to the point we're at today. When asked explicitly if Trump was under investigation at the time that he was fired on May 9, Comey answered simply: "No." We're probably all ready to move on from this now.
Comey documented his meetings with Trump because he was afraid that Trump would lie about what went down. Comey had nine meetings with Trump, a number that seems extraordinarily high when put against the fact that he only spoke with Obama twice over the span of three years. But the most damning information came in the form of his reasoning for why he began documenting these meetings, starting from the very first meeting in Trump Tower: "I was honestly concerned he might lie about the nature of the meeting and it led me to document it."
We finally found out what Trump whispered in Comey's ear back in January.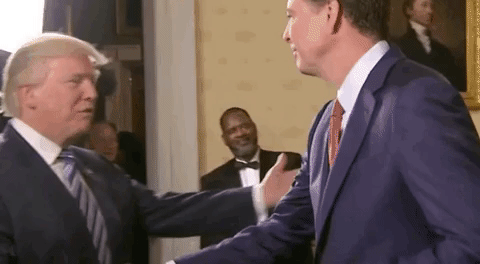 "I'm looking forward to working with you."

It's very likely that special prosecutor Robert Mueller is investigating Trump for obstruction of justice. When asked by Senate Intelligence Committee Chair Richard Burr whether he was fired in order to hinder the Russia investigation — i.e., commit obstruction of justice — or to help protect Michael Flynn, Comey indicated that Flynn was already a known issue for the administration and that while he didn't think it was the express intent, it was likely something that would be investigated. "I don't think it is for me to say whether the conversation I had with the president was an effort to obstruct," Comey said. "I took it as a very disturbing thing, very concerning, but that's a conclusion I'm sure the special counsel will work toward: to try and understand what the intention was there and whether that's an offense."
Comey was just as perplexed by his firing as we were. Initially it was said that he was fired because of his handling of the Hillary Clinton email scandal, but Trump cast doubt on this rationale when he suggested that it was to "relieve pressure" on the whole Russia debacle. "The explanations, the shifting explanations, confused me and increasingly concerned me," Comey said, before confirming that he now believes that Trump's rationale probably was the root cause. "I take the president at his word that I was fired because of the Russia investigation."
He doesn't know if there are tapes of the Trump/Comey conversations, but he'd be a happy man if they exist.

"Lordy, I hope there are tapes," Comey said with regard to the now-infamous tweet in which Trump appeared to threaten the former FBI director.

Comey leaked his own memos in order to get a special prosecutor in place. It feels like it's straight out of a movie: Comey testified that he woke up in the middle of the night and it became immediately clear that he needed to make things happen and get someone in place to take charge of what was going down with Russia, Trump, and the FBI and that leaking the memos was the only way to do it. As to how he did it? "I asked a friend of mine to share the content of a memo with the reporter; I didn't do it myself for a variety of reasons, but I asked him to because I thought that might prompt the appointment of a special counsel."
Did somebody say Kamala Harris 2020? Senator Kamala Harris of California cemented her role as the rising star of the Democratic party today by once again bringing the straight fire to her questioning of James Comey. A former prosecutor, she pulled no punches today, just as she did on Wednesday with the top intel chiefs, honing in on whether or not there's enough space being put between AG Jeff Sessions and the Russia investigation and what the relationship between Trump associates and the Russians actually is.
There's something fishy going on with Jeff Sessions. When asked about Jeff Sessions's recusal from the Russia investigation, Comey said there were facts he couldn't share in an open setting that would make his involvement in that investigation "problematic." Continued questioning couldn't get any additional facts out of him, but watch this space, there's something here.
Michael Flynn is finally confirmed as being in deep trouble. White House officials have repeatedly pushed back on this fact, but Comey confirmed under oath that at the time that he was fired, Flynn was facing a criminal investigation. This raises huge questions about why Trump has continued to side with his former adviser and is sure to be something that we'll be hearing a lot more about over the coming weeks.
Comey debunked a Feb. 14 New York Times story about contacts between Trump associates and Russian intelligence twice. Sen. Tom Cotton asked, "Would it be fair to characterize that story as almost entirely wrong?" to which Comey simply said, "Yes." There may be a bit more to come on this one, but it will be coming behind closed doors, unfortunately.
We finally got some rationale for Comey's announcements during the Clinton investigation. Comey says that his comments to the press came as a result of — surprise! — feeling "queasy" about Loretta Lynch's run-in with Bill Clinton in an Arizona airport and her using language very similar to that which was used by the Clinton campaign at the time. It's probably not the best reasoning — but at least we now have a bit of context for his seemingly rash moves last year during the election.
So let's all agree that the Clinton emails were a bust and should be buried. Period. "We had investigated very, very thoroughly. I know this is a subject of passionate disagreement. But I knew there was no case there," Comey said.
John McCain's special guest appearance didn't go down so hot. The Arizona senator got to ask questions due to his status in Congress, but it proved to be one of the weirdest parts of today's events. McCain repeatedly tried to get Comey to connect some (misguided) dots between the Clinton emails and Russian interference, which wound up just confusing everyone both in the room and watching from the outside. The general takeaway here: "What?!"
And finally, some color on what it is that Trump meant by "that thing" that he and Comey had. "What I concluded at the time is that in his memory, he was searching back to our encounter at the dinner,and was preparing himself to say, 'I offered loyalty to you. You promised loyalty to me,' and all of a sudden, his memory showed him that did not happen, and I think he pulled up short. That's just a guess."