Janelle Monáe Pride Month Election 2020 Op Ed
Janelle Monáe: "Use Your Power and Your Vote"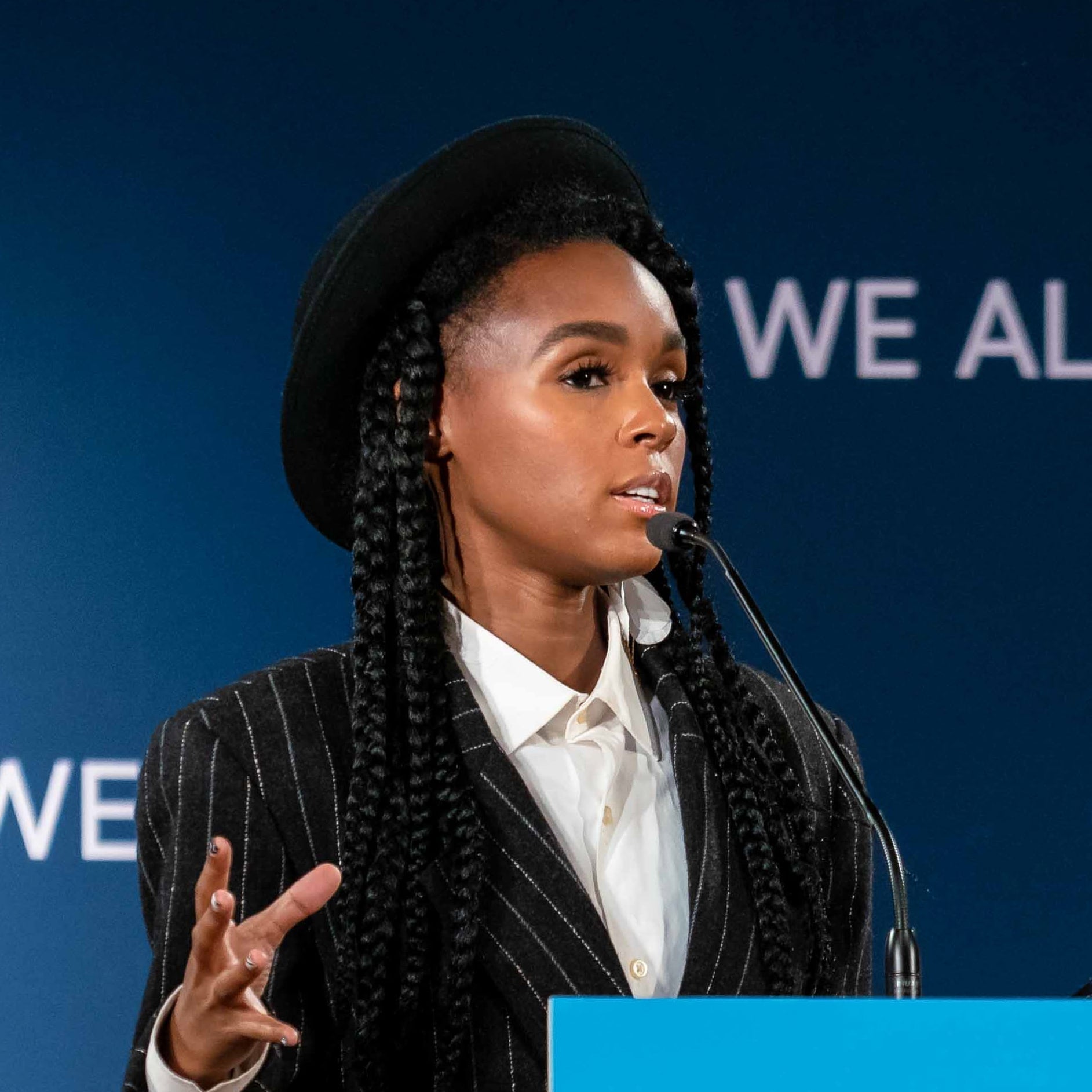 As this Pride Month comes to an end, our community has been faced with continual attacks and triumphs. Earlier this month, the Supreme Court affirmed what we already knew: that no employer should be able to fire or discriminate against anyone because of their sexual orientation or gender identity. While this decision was momentous for our community, we are far from where we need to be. We must use our collective power to fight for equity and justice.
We have the privilege of living through a revolutionary moment in our nation's history as we organize and mobilize in the fight against police violence, harassment, and systemic racism. My Pride is rooted in my identity as a free, queer Black woman. From Selma to Stonewall, I embrace my intersectionality and individuality. Just being who we are is revolutionary in and of itself. But any revolution requires long-term and sustainable action through our voices, our protests, and our votes.
Just being who we are is revolutionary in itself. But any revolution requires long-term and sustainable action through our voices, our protests, and our votes.
I'm fighting for all Black women, including Black Trans women who are often excluded from the conversation. I'm fighting for the lives of Tete Gulley, Dominique Fells, Riah Milton, and the countless Black and Trans women we have lost their lives due to violence. I'm fighting for Breonna Taylor, an EMT who was murdered by Louisville police while she was asleep in her apartment. It's been over 100 days, and only one of the three officers involved has been fired, and none have been arrested or charged for their crimes.
The people hold the power. And when we go from protest to ballot box, when we all vote, we use our power. And we must vote with pride.
I am so inspired by those of you who are out in the streets demanding change, those of you speaking out against hate, and those of you searching for ways to make an impact in this moment. We can all play a role in this revolution to create the America that we want to see. An America where we can love who we want, just live, and be free.
Here is what we know for sure — long-term sustainable change happens when you demand change through activism and vote in every election.
That is why I am proud to serve as Michelle Obama's cochair for When We All Vote, her nonpartisan, nonprofit organization on a mission to change the culture around voting and to increase participation in each and every election by inspiring you to take action and giving you the tools and resources to get registered and ready to vote.
YOU have the power to elect the officials who run our cities, police departments, schools and states, and those who create policy on the state and federal level. You have the power to elect the people who best represent YOUR values and support and protect Black Lives and the LGBTQIA+ community.
Here are three things you can do right now:
Get REGISTERED. Make sure you are registered to vote.
Become a Voting Squad Captain: Join me and Mrs. Obama by becoming a Voting Squad Captain. Create your own Squad, and get your friends and family registered to vote. Keep those closest to you up to date with the latest information on when and how to cast their ballots. Did you see the long lines in Georgia in Black and brown communities? You can help spread the word to ensure everyone understands their options to vote early and vote-by-mail, or if they run into problems, YOU can point them in the right direction. We need you and your energy!
Take the pledge for fair and safe elections. Amongst all we are facing right now, COVID-19 is still very real. We need to do our part to make sure that we are educated on all the ways to cast our ballots — fairly and safely. What do we want? Expanded access to vote-by-mail, online voter registration, and in-person early voting. We saw the long lines in Wisconsin, Nevada, and Georgia and the closure of polling places in predominantly Black areas in Kentucky. In case you didn't know, THAT is what voter suppression looks like.
Through voter suppression tactics, we have been told as Black people and people of color, young people, and members of the LGBTQIA+ community that there is no space for us in the process, and I'm here to tell you that's not true.
In fact, in 2018, a wave of Trans candidates ran for office from Virginia and Minnesota to Georgia and California, and they won. In 2016, the LGBTQIA+ community turned out in record numbers, with 70 percent of us casting our ballots, outpacing the national average. So we can be the change that we want to see in the world, and I believe it starts with our vote. And if we ever think our votes don't matter, just remember that the general election in 2016 was determined by fewer than 80,000 votes in three different states. Some of us have more Instagram followers than that.
The words of activist Raquel Willis from a recent protest in Brooklyn, NY inspired me as I hope they inspire you: "I believe in my power. I believe in your power. I believe in our power. I believe in Black Trans power." It's up to us to be the change we want to see, and I know we can get there.
Let's get to work and end this Pride Month with a bang!
POPSUGAR is proud to be a partner of When We All Vote and further amplify its mission to support every American's responsibility to register and vote.