Why 1 Survivor of Revenge Porn Wants You to Know It's Not Just a Straight Person's Problem
French writer and feminist philosopher Simone de Beauvoir once said: "It is in the knowledge of the genuine conditions of our lives that we must draw our strength to live and our reasons for acting." To put it plainly: your lived experience is the source of your activism and strength — an ethos 21-year-old activist and March Against Revenge Porn founder Leah Juliett embodies in everything they do.
At 14, Juliett — who uses they/them pronouns — was the victim of revenge porn; their nude photos were posted online by a classmate whose goal was to shame them for being LGBTQ+. Despite Juliett's countless attempts to have the photos removed, the pictures continued to circulate. This triggered severe depression and PTSD for Juliett, who began to write poetry to cope. The trauma inspired Juliett to pursue activism, so that they might defend those who had endured similar traumas. Activism gave Juliett the opportunity to turn their pain into action.
It all started with a poem Juliett wrote about their trauma as a way to heal. After performing it locally in Connecticut, they went on to perform the poem at The Brave New Voices International Youth Slam Poetry Festival and as an act of protest in front of the White House. In April 2017, Juliett led the march across the Brooklyn Bridge. According to the official site, the goal of the March Against Revenge Porn was to "amplify and mobilize victims and lawmakers to combat this public health crisis that affects over 10 million internet users in the United States."
The march inspired widespread media coverage and shone a spotlight on Juliett, who was featured in an interview with Teen Vogue and a feature on CNN. This was only the beginning; Juliett has since extended their reach by speaking out against revenge porn at various venues. They were even awarded the Rising Star grant by GLAAD and Delta Airlines for their newest grassroots project, LGBTQ+ Youth Town Hall.
This town hall, slated to be held in the Fall ahead of the midterm elections, will be an opportunity for voting-age LGBTQ+ youth to meet face-to-face with their representatives and speak about the issues they face in their communities. In a political moment when many feel unsure of their ability to affect change and be accurately represented, this event is crucial.
We recently caught up with the young activist to talk about navigating the world of politics as a gender nonconforming person and the incredible ways they're using their voice to make the world a better place. Juliett is no stranger to fighting for the causes that directly impact their identity. For them, the personal is political, and activism is a means to survive.
POPSUGAR: Can you tell me about your journey with your own gender identity and how that's taken shape over the years?
Leah Juliett: I've used exclusively they/them pronouns and identified as nonbinary for the past two years. Nevertheless, you'll find articles [about me] that have been posted six months ago that use she pronouns — especially when it comes to revenge porn. I'm constantly called she. I think that's because people view it as a very binary issue, and I've tried very hard to infiltrate and always remind them that this is a queer issue, and this is not just affecting women. For a really long time I didn't think I identified as anything but a lesbian, but I never felt fully, authentically me in my gender expression and identity. I did not know anything else out there existed. How are you supposed to know that your identity could exist if you have no awareness of what that could be? I didn't know that trans-ness was anything other than transitioning from one binary gender to the other. And based on that equation, I thought, "Well, I don't believe that I'm a trans man, so I must not be trans at all."
But then I started to learn through media advocacy — and Ruby Rose, and Asia Kate Dillon, and other public gender nonconforming people — I started to realize that this sounds a lot like me. My gender fluctuates. My gender is more in the gray area and more fluid. I began to take on the label of nonbinary, and I began to talk about it publicly and demand that I be referred to as that and use they/them pronouns. Very often I am misgendered, especially in politics, but I do my best. I'm really trying to use my own identity and experiences to infiltrate the different areas of activism that I work in.
PS: Your activism was inspired by your own experience as a victim of revenge porn. How were you able to take that trauma and turn it into action?
LJ: I [funneled] my rage and the sadness that I was experiencing into something tangible. That isn't to say I did that all along. I practiced acts of self-harm and suicide attempts. It wasn't all inspirational. I realized that it was going to kill me. I was so ashamed and devastated. I knew that speaking out was the only thing I could do. I truly believe that everyone has the strongest tool built right into their voice box — the ability to speak. Through telling my story, people started to listen to me. The validation and affirmation that I got from telling my story inspired me to keep doing that and to start the organization that I have flourishing today.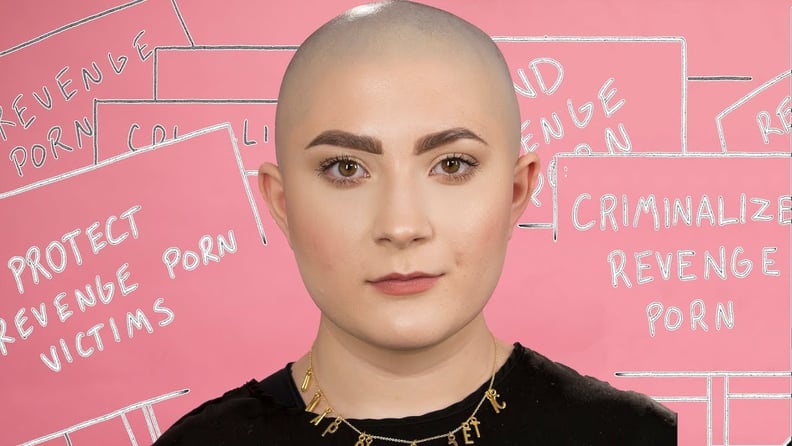 PS: Tell me about the March Against Revenge Porn. It's one thing to speak up and speak out, but a whole other thing to start an organization that's really going to better the lives of a lot of people around you.
LJ: Not a lot of people can speak out and tell their stories, so me doing so automatically garnered some attention. I was fortunate to be able to use that to my advantage to start a movement. Based on the research that I did as a student studying political science and law, I know that the biggest social movements in our country's history were also accompanied by some sort of action or march. Whether it was Selma to Montgomery or the Women's March, we commemorate big, important movements in our country with marching as a symbol of protest. And I wanted to do that.
I decided to march in New York City, because at the time, there were no revenge porn laws in the state, and I decided to use the Brooklyn Bridge because it's an iconic landmark in New York. I thought that it would garner a significant amount of attention, and it did. Walking from one side of the bridge to the other for me was truly a full-circle moment. I was there with my family. There were cameras, and I was able to fully and unapologetically and authentically be me, walking through the city and protesting for comprehensive legislation — which was enacted six months later by Mayor Bill de Blasio.
PS: What has the response been like since you founded the March Against Revenge Porn? Particularly from those who were victims themselves?
LJ: It's such a mixed bag of responses. That BuzzFeed video got tons of hits and the majority of comments were kind, but I've been called a child pornographer and ugly and horrible. It certainly has taken a toll on me. Being public is hard, especially when you're being public about something that's so polarizing. But it's all been worth it for me. Every time I speak out on a different media platform, I get more people approaching me and asking me for help or telling me their stories. And I realize just how big and diverse the revenge porn population is. The victim population has really been invigorated by telling me their stories and me sharing my story in response. Overall, I'm so thankful to be a part of this huge community of victims and allies. I'm going to continue telling my story until it helps every person that needs some outreach.
"When our most vulnerable populations are not free, no one is."
PS: Looking forward, what kind of legislation is March Against Revenge Porn focused on? Are you collaborating with other grassroots organizations?
LJ: I'm hosting a march in Pittsburgh, PA, on June 30. There are several different revenge porn groups in Pittsburgh that I'm partnered with. 50 Shades of Silence is one. They are a global movement to stop revenge porn, and they're creating a documentary. And the BADASS Army (Battling Against Demeaning & Abusive Selfie Sharing), which is a group of revenge porn victims as well. We are marching from the City Council building to Clark University, and we are demanding that Congress enact federal revenge porn legislation. We are demanding that they call to the floor Senator Kamala Harris's "Enough Act," [which] would criminalize revenge porn. We're also demanding that our voices be heard. I'm a queer person who was victimized because of my identity, so I'm trying to make it as intersectional as possible. I don't want anyone to feel left out.
PS: There's definitely a misconception that revenge porn only affects straight, cisgender people, but obviously that's not always the case. Why do you think it's important to address that?
LJ: Research shows that 17 percent of lesbian, gay, and bisexual people have been victims of revenge porn. Only two percent of heterosexual people have been victimized. There's not even any research on the victimization of trans and gender nonconforming people. I personally believe that because trans people are disproportionately subjected to cyberbullying and sexual assault, it only makes sense that there's a whole population of trans people being victimized by revenge porn. When our most vulnerable populations are not free, no one is. So I believe we need to make the internet safer for all. We need to talk about it from that lens. I also think revenge porn should be looked at as a hate crime. Every instance is different, but the majority of the time, this is an act that is is being committed against a woman by a man because of their gender. That is a textbook hate crime. We need to expand the definition of what a hate crime is to include internet harassment, and we need to expand the definition of revenge porn to include attacks against the LGBTQ+ community.
PS: Can you tell me about the National LGBTQ+ Youth Town Hall and some of the experiences you've had thus far?
LJ: A few months ago, I was given a grant by GLAAD and Delta Airlines toward any project I wanted. I pitched them this concept of the National LGBTQ+ Youth Town Hall, which I hope will be an event that will be held before the midterm elections in New York City, that will bring together young, voting-age LGBTQ+ youth with their legislators along with stakeholders, activists, and educators to talk about the issues that are being put on the ballot. I'm from Connecticut, which is known as a liberal place, but I was born in a very conservative pocket of the state, so I know that there are young people who are suffering at the hands of their state and local legislators because they're not being heard.
I think this town hall gives them the opportunity to specifically speak on and focus on queer issues — whether that be immigration, health care, or racism. Whatever issues affect them most as LGBTQ+ people and are on the ballot, this will be the opportunity for them to talk about it. Following the town hall, we're going to be drafting a report of what issues were discussed, what issues we care about, what issues we demand that Congress address and send that to everyone who is on the ballot during the midterm elections to make sure that they know that we may be a smaller population, but we are not going back into the closet. We demand to be heard through the electoral process and on a political stage. I think that is a really great way to incorporate LGBTQ+ issues with politics and really give a voice to those who have been voiceless.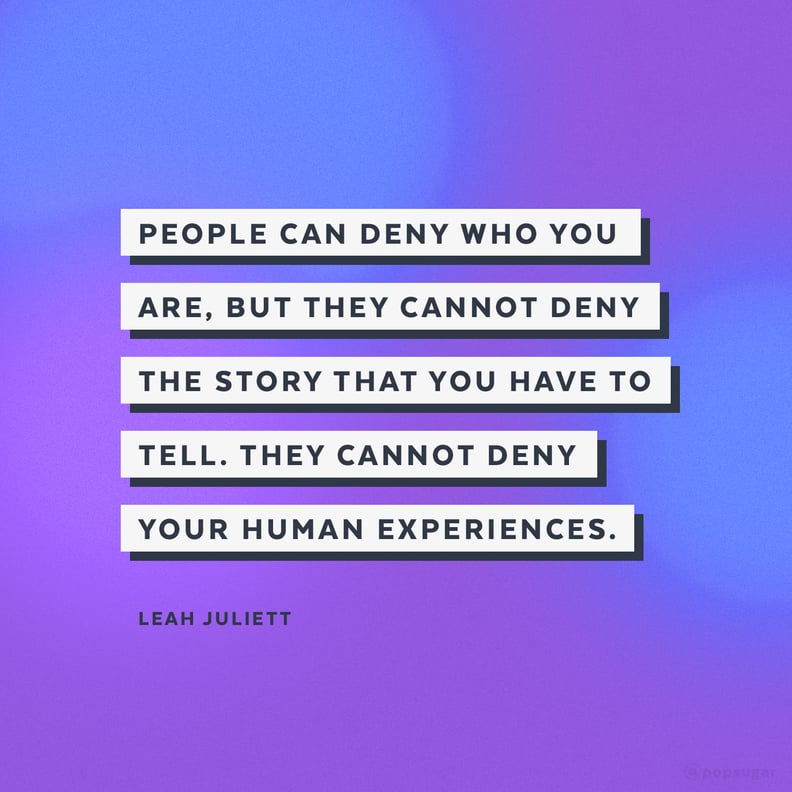 PS: As a queer person, do you feel an urgency to speak up and speak out?
LJ: Absolutely. I totally acknowledge that I have immense privilege in that my race, my ability, and my socioeconomic status has made it easier for me to speak out. I certainly don't want to be a voice for the voiceless but more so help to provide a stage or a platform on which those who have been voiceless can have a voice. That's always been my passion. Every day under this new administration, I feel scared or vulnerable. But I choose to acknowledge that if I'm feeling vulnerable, then there are people out there who have different intersectional marginalized identities that must be feeling much more vulnerable than me. I want to be able to provide a better world for them. Politics and activism is the best way that I can do that. If I can make others feel better and safer in our world, then I feel better and safer for myself.
PS: What are your tips for those who also want to get involved but don't where and how to start?
LJ: As long as it is safe for you and you are comfortable doing so, using your voice is the best weapon you have to combat adversity. People can deny who you are, but they cannot deny the story that you have to tell. They cannot deny your human experiences. If you tell them, "I was discriminated against and this is why we need to have legislation to prevent this from happening to someone else," they can't deny that that happened to you. Your experiences are the strongest thing that you have to convey in the political sphere. Human experiences weigh more than judgments or stereotypes people may have based on your identity. And then joining an organization, a grassroots organization or national organization that mirrors your values. For me, getting involved with GLAAD was huge. I realize now that media visibility is integral to my ability to have an identity and have a voice. By pushing for media visibility through GLAAD, I feel that I am working toward creating a more accepting platform for myself and the world.
PS: How are your poetry and activism married? Do you see your writing as another outlet for your activism or is it more personal than that?
LJ: It's a little bit of both. I've been a writer my entire life. When I'm sitting in my bed going through it, and I need to heal in some way, I write poetry. Making the choice to share that poetry through spoken word or publishing is a form of activism. The act of writing is a personal form of healing.
PS: Do you think campus organizations are one of the best ways for college-age people to stay connected or get involved?
LJ: They're crucial. If you don't see yourself represented on campus, you're likely to feel as if the campus itself doesn't support you in your identity. College is a time to energize and mobilize people for the future. College has helped me shape my morals and values, and to see them echoed in other people. It's important to have accurate and fair representation of the student body reflected on campus.
PS: What would you say to a younger Leah?
LJ: Whenever I'm asked who I'm inspired by, I always say my younger self. I'm truly inspired by her. I am proud of how younger me stayed alive in a world that wanted to fundamentally kill her; used her pictures and traded her like a playing card; used her like an object of consumption, degraded her, and demeaned her. A world that almost forced her off the face of the Earth. I am proud of her for staying alive. I know that she has a voice in there and the time will come for her to start using it. I would tell her to speak and never let the world silence her. And that she will never imagine the incredible opportunities she'll have just by talking about the things she's experiencing.