LeBron James, Michelle Obama Launch Early Voting Initiative
LeBron James and Michelle Obama Are Teaming Up to Encourage Early Voting Across the Country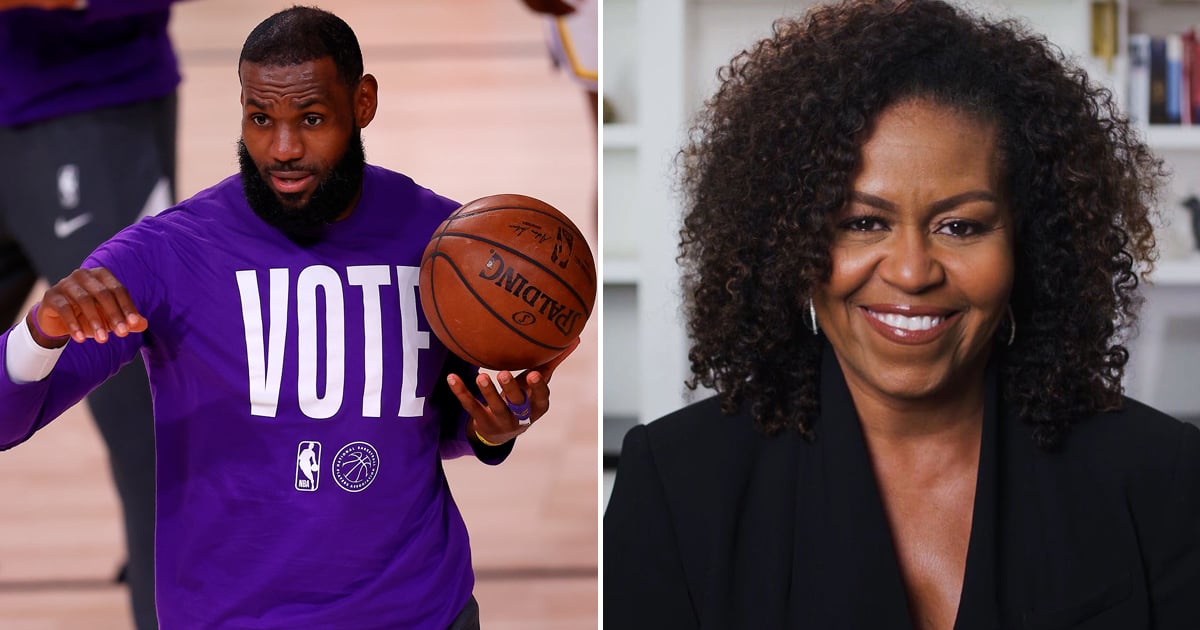 Image Source: Getty / Mike Ehrmann, Getty / BET Awards 2020
With Election Day less than three weeks away, Michelle Obama and LeBron James have teamed up to announce a voting initiative encouraging voters to cast their ballots early and safely. In partnership with Obama's When We All Vote and James's More Than a Vote, the Early Vote Weeks of Action event — from Oct. 18 to Oct. 31 — will provide voters in cities across the nation with information, transportation, food, music, personal protective equipment (PPE), and voter protection support.
"Millions of Americans have already cast their ballots, and with only 21 days until Election Day, making your plan to vote early is critical," the former First Lady said. "It's now up to us to do everything in our power to get our friends and family ready to vote early and safely together. We can't leave anyone behind. I'm proud of the work When We All Vote will do with More Than a Vote and our partners to help provide on-the-ground support for Americans who will cast their ballots early."
When We All Vote will also contribute over $1 million in grants and supplies to local partner organizations across the country to host their own activation events. In addition to the resources listed above, these in-person events will feature DJs, as well as celebrity and athlete appearances, to encourage civic engagement and help registered voters submit their ballots at early voting centers. When We All Vote will also host a virtual #CouchParty on Oct. 23.
As part of the initiative, Obama has also launched the #VotingSquad Challenge, which asks voters to tag three friends and encourage them to vote early and safely.
We can't let anyone sit this election out! Get your #VotingSquad together, make a plan to vote, and challenge three friends to do the same.

I challenge my @WhenWeAllVote co-chairs to get their #VotingSquad and make a plan to vote. Join us: https://t.co/5bSuauh1iF pic.twitter.com/zVUAy2hW3o

— Michelle Obama (@MichelleObama) October 13, 2020
See the full list of in-person events for Early Vote Weeks of Action by city here, and read up on where you can drop off your mail-in ballot for the 2020 election.
Atlanta, GA: Oct. 24
Charlotte, NC: Date TBA
Detroit, MI: Oct. 24
Los Angeles, CA: Oct. 24
Milwaukee, WI: Oct. 24
Orlando, FL: Oct. 24
Philadelphia, PA: Date TBA
Virtual #CouchParty: Oct. 23