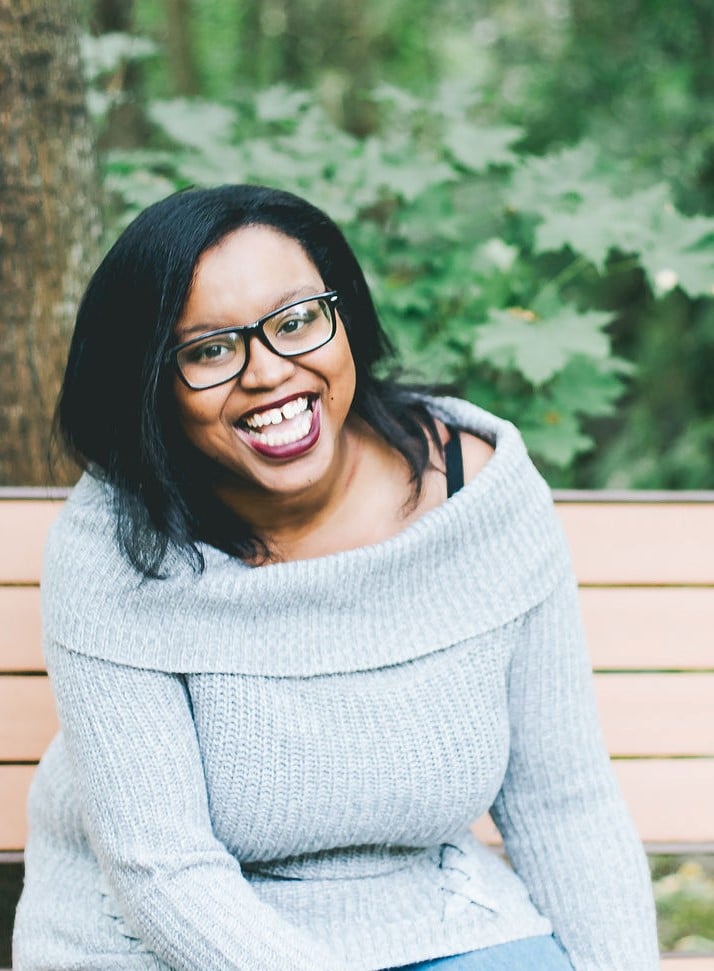 Photos courtesy Simon and Schuster
Photos courtesy Simon and Schuster
Keah Brown is a writer, disability rights activist, and the creator of the viral #DisabledAndCute campaign. The following is an excerpt from her upcoming book The Pretty One: On Life, Pop Culture, Disability, and Other Reasons to Fall in Love With Me, which is available for preorder now.
As a child I marveled at the black people in their bodies on my TV and VHS tapes. Bodies that were nothing like mine in the way that they could and would pick up things with their hands without pause, run and walk long distances, but still, we shared the same skin, and so I loved them a little more for it, cheered a little harder when they reached their happily-ever-after endings. These movies allowed me to love my black skin long before the world would try to convince me not to. I know that we all have a tendency to romanticize the past, and maybe I am doing so, but I think of that time of movies and television as the years that allowed me to be unapologetically black. I saw that same energy reflected back to me so often that I never had to question it, and I didn't even think about it as a thing I could lose.
"When will all of me be good enough to be seen by lovers of entertainment and popular culture like myself?"
As the landscape of television and popular culture changed, so did I. At the close of the nineties we saw fewer black people on our TV screens, and as a result I was left to find ways to connect to white and nonblack characters like Rory Gilmore and Lane Kim on Gilmore Girls, the characters in Dawson's Creek, Everwood, The OC, and Gossip Girl. There were also kids' shows like Zoey 101, Lizzie McGuire, Even Stevens, and the like. I did not take the time to examine what impact watching shows with majority-white characters would have on me as I was watching them. Aside from That's So Raven and Sister, Sister, what I consumed during the nineties and early aughts was white-centered media. I watched white teenagers misbehave, fall in and out of love, and deal with drugs and guns on The OC, The Hills, Laguna Beach, and The City. In all fairness, I was young and I just gravitated toward what was popular, which happened to be majority-white TV and film. It wasn't that I sought out whiteness but that whiteness was usually the only option for me to enjoy. But as we often do when we are older and hopefully wiser, I now wonder why I felt such a pull toward these shows when they were among others on a list too long to mention. The only answer I can come up with is that I loved them because they reflected back to me an unwavering longing for more. The longing I felt when watching them was a longing only for their characters' ability to travel, their closets of clothes, their love lives, and their financial stability. Of course, I am going to be honest and tell you that I still want these things, but I think that a part of me bought into the idea that in order to have it all, I would have to be as close to whiteness as possible. The idea was flawed for a variety of reasons, but mostly because I would absolutely have lost myself in the process.
"I love that our entertainment has changed with the times as we learn and grow as a society."
Don't get me wrong, I loved seeing myself in these characters and I loved these shows, but after high school, I became more aware of what I was not seeing. This is not to say that I didn't watch majority-white shows anymore. In fact, there were some MTV shows, Glee, Pretty Little Liars, and a few more with some people of color sprinkled in. What changed after high school was the realization that if I, like many other black people, was able to see myself in white characters, why weren't white execs and showrunners able to see themselves in people who looked like me in order to give us the attention and agency these white and nonblack characters had? And it wasn't as though nonblack characters had the best story lines anyway. That's the thing about fighting for scraps: you don't even realize that the scraps are useless until you're close enough to see the imper- fections. I saw some nonblack people of color on some of my favorite white-led shows, but I wouldn't say that Lane had what she deserved in the later seasons of Gilmore Girls. The writing of her and her resulting life was disappointing back then.
Regardless, despite the positive changes toward inclusion being made now, I still find myself asking this very question when it comes to my being disabled: When will all of me be good enough to be seen by lovers of entertainment and popular culture like myself? When can I expect someone like me to be messy and imperfect and loved still, to be rooted for and championed through mistakes, only to captivate the audience regardless? My love for television only intensified as I grew into a woman who has enough shows each night of the week to fall in love with. Shows that now give me what the others I loved in the past did, but also with the inclusion that they were missing.
I love that our entertainment has changed with the times as we learn and grow as a society. That is the magic of entertainment. I refuse to be one of those writers who scoff at the idea of watching TV or doing anything besides reading historical books or what have you. I am a black woman who loves watching The Fosters (before and after it ended) and NBC's Good Girls on Monday. Tuesdays are for The Flash and iZombie on the CW and Younger on TV Land, because who doesn't love forty- year-olds pretending to be twenty-five and superheroes and zombie consultants/medical examiners? There was also Shadowhunters and Kevin (Probably) Saves the World (before they were unjustly canceled). Some of these shows conflict with each other, so DVR is my best friend. On Wednesdays, I rest, but Thursday is for the Shondaland empire, The Good Place, Superstore, and Will and Grace. Fridays are for Bring It! on Lifetime and Jane the Virgin. I have a real soft spot for Jane the Virgin because I love Gina Rodriguez (and because I once got to interview Justin Baldoni, who plays Rafael — swoon). Since Orphan Black had its series finale, my weekends are clear, apart from Killing Eve on BBC America, which stars Sandra Oh. Killing Eve is one of the best shows on television right now. The kinds of shows I love are the ones that just keep being able to reinvent themselves. Netflix is another thing entirely. I watch Stranger Things, Grace and Frankie, One Day at a Time, Dear White People, Alexa & Katie, Bojack Horseman, and more.
If I am not binge-watching those shows when they are live on the streaming site, I aim to read and write on the weekends — but TV still manages to reign supreme.
Listen to the audiobook excerpt here: