Ryan Lochte has some explaining to do. After claiming he and three other teammates were robbed at gunpoint, the Olympic swimmer's story began to unravel when Brazilian police put together an account that contradicted Lochte's; now, two of his teammates who initially corroborated his story are reportedly denying it. Here's what else you need to know about #LochteGate.
1. Lochte gives different versions of what happened that morning.
On the morning of Aug. 14, tweets surfaced that Lochte had been "held up at gunpoint." About an hour later, his mother, Ileana Lochte, was the first to corroborate his story that he was robbed while intoxicated and returning from a party in the early morning along with swimmers Gunnar Bentz, Jack Conger, and Jimmy Feigen. Lochte then said they were passengers in a taxi when it was sideswiped and they were confronted by guys who had police badges.
In an interview with NBC News, he explained, "They pulled out their guns, they told the other swimmers to get down on the ground — they got down on the ground. I refused, I was like we didn't do anything wrong, so — I'm not getting down on the ground." He also said supposed burglars then took his wallet but left his cell phone and credentials. Lochte added that one of the men pulled out a gun, cocked it, and put it to his forehead. Later, Lochte's story changed slightly when he added that they were robbed returning to the taxi at a gas station where they had stopped to use the bathroom. He also said that they left the club party at 4 a.m. on Sunday when footage showed them leaving at 5:50 a.m. Amid the media storm, Lochte posted a statement.
2. The Brazilian government denies Lochte's story and detains two of the swimmers who were with him that night.
Because security and safety are a major concern during the Olympics, Brazilian authorities launched a full investigation into Lochte's claim. In addition to the Brazilian government's denial of his story, the International Olympic Committee (IOC) contested Lochte's story, saying the robbery was "absolutely not true." After speculation about the truthfulness of the swimmers' claim, Brazilian Judge Keyla Blank banned the swimmers from leaving Brazil. Police detained Bentz and Conger for questioning on Aug. 17 after they were pulled from their plane headed to the US when it was already on the Tarmac, according to The New York Times. Lochte had already flown home a day earlier, but Feigen remains in Brazil speaking with authorities.
3. The government releases its own version of events and video footage surfaces from the morning in question.
Soon after Lochte's story went public, footage of the swimmers returning to the Olympic Village around 7 a.m. with their belongings surfaced. Judge Blank said she ordered the swimmers not to leave the country after seeing the video because she became suspicious that they appeared to be acting playfully. "They arrived with their psychological and physical integrity unshaken," she wrote in a filing.
On Aug. 18, police repudiated Lochte's story and said he and his teammates left the party and went to a gas station where they broke down a bathroom door, according to the Times. The station security guard reportedly confronted the swimmers to pay for the damages and brandished a weapon. Authorities also say witnesses to the incident corroborated the police's account.
An official who spoke to the Times said, "Unfortunately, the swimmers told one lie after another. We've been able to determine that there was no armed assault."
4. The two swimmers who were pulled off the plane admit that Lochte was lying.
Facing heat for their involvement with Lochte's story, Bentz and Conger told police that Lochte's story was fabricated, according to People magazine. Officials said, "Everything they said was a lie and not true. When [Lochte] went on American TV and said he story, it made Brazil look bad when he was the one who had been doing the wrong thing." The two swimmers were released from police custody but still remain in Rio.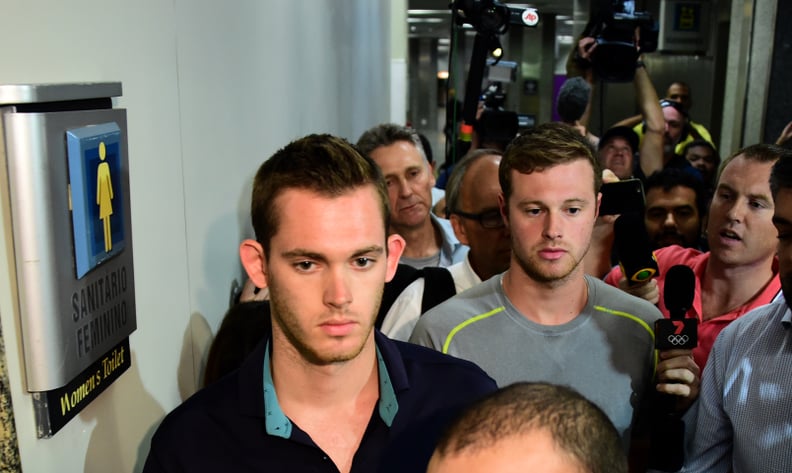 This photo shows Bentz and Conger leaving the police station in Rio.
5. The IOC releases an official statement.
When the news broke that Lochte and his teammates were reportedly robbed, the spokesman for the IOC, Mario Andrada, initially apologized. He said, "We apologize to those involved. Once again, we regret that violence is still an issue at these games." On Aug. 18, after the new details emerged, Andrada released a second statement, asking people to give the "kids a break."
6. The story becomes a huge joke on social media.
Predictably, Lochte's story has gone viral, with people responding hilariously to #LochteGate.
Ryan Lochte: "Sorry I'm late babe, my alarm didn't go ..... I mean, ISIS tried to take me hostage but I fought them off it was awesome."

— Brian Gaar (@briangaar) August 18, 2016
brazil police: were you robbed or what
ryan lochte: I would very much like to be excluded from this narrative

— Bryanna Cappadona (@brycappa) August 18, 2016
Seriously if he was going to make up a story about getting robbed it would have involved "then I saved everyone with ninja moves" you guys

— Greg Wyshynski (@wyshynski) August 18, 2016
Confession: I robbed Ryan Lochte. I used my Lackawanna County Sheriff's badge a squirt gun & a bad Brazilian accent. Sorry.

— RainnWilson (@rainnwilson) August 18, 2016
There's still no word on whether the swimmers, including Lochte, will face criminal charges now that their story has been disputed, but we will continue to update this story.
On August 19, Lochte issued an official statement. While Lochte apologizes in the beginning, the admission becomes less sincere when he attempts to blame the incident on a language barrier.