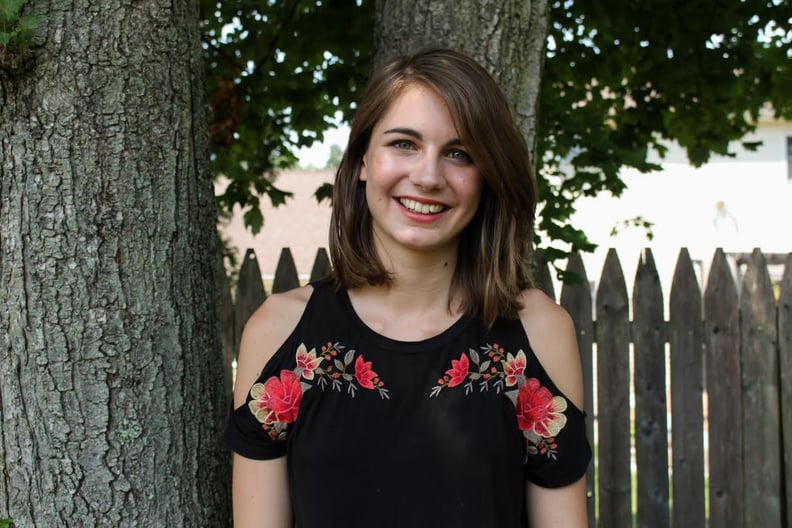 Photo courtesy Ashley Fowler.
Ashley Fowler graduated from high school in May and was extremely frustrated with one aspect of her public-school experience: sex education.
"Our senior year is when we got sex ed, which is far too late," the Burlington County, NJ, 18-year-old (pictured above) tells POPSUGAR. "My health teacher was very religious . . . [and] said that the vast majority of abortions are saline abortions, which isn't true." (Saline abortions, which involve injecting saline into the uterus, have almost never been used since the 1970s.)
Unfortunately, her experience isn't unique: inaccuracies, scare tactics, and misinformation in sex-education curricula can be found in most states. In Missouri, some students are taught that sex — like drugs — might "impede your mental development." In Texas, sex education teaches that sex before marriage can be "physically, emotionally, and financially harmful" to a person, noting that a person becomes akin to prechewed chewing gum when engaging in premarital sex. In Mississippi — where teachers are prohibited from explaining how condoms work — one educator went viral for teaching the merits of "putting on a sock" to protect your feet during "sock activity." And nationally, the White House has moved to end teen-pregnancy-prevention programs.
"It is unreasonable to think that adolescents are going to google their way to good sexual health."
Disparities in sex education often stem from powerful, religiously conservative beliefs: only 24 states and the District of Columbia mandate sex education in public schools, and more than $1.5 billion has been spent on abstinence-only programs since 1998. Just a little more than half of teens receive basic sexual-health instruction on subjects like putting on a condom in school. The American public education system is complicit in the matter, and often so are private and homeschool programs, which aren't always bound by state laws to provide such education.
Laura Lindberg, principal research scientist at the Guttmacher Institute, studies what happens when students are on the receiving end of sex-education programs that withhold information and are less inclusive. "[Educators] are certainly leaving out adolescents who are sexually active, who need medically accurate information about contraception and other issues," Lindberg tells POPSUGAR. "What we see over the long trend is that some information about birth control, in particular, has declined in curriculum-based programs. Less teens are getting birth-control instruction."
Lindberg notes that — compared to the late aughts — fewer teens are getting sex education in general, and that often when they do, it's "too little too late." Health education is often the first to be subjected to cutbacks, alongside music and art classes. "Sex education — which may be politicized, provocative, difficult for teachers, a tough sell in the community — it's very easy to take off the plate when we need more time to prep for a state test," Lindberg says.
Thankfully, many people — from activists to educators, students to entrepreneurs — are hoping to shape a brighter future for sex education. In fact, the very tensions around sex ed are yielding clever, innovative solutions for filling the gaps created when education breaks down at the hands of politics.
Is Technology Sex Ed's Biggest Ally?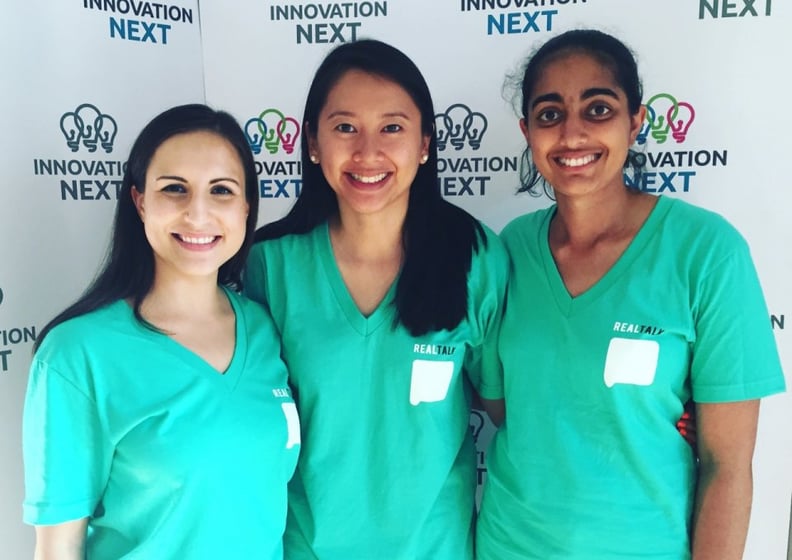 Cristina Leos, Liz Chen, and Vichi Jagannathan, the founders of Real Talk, an app that seeks to teach students about sex and health. Photo courtesy of Real Talk.
Vichi Jagannathan and Cristina Leos, two of the cofounders of the nonprofit MyHealthEd, believe they have a unique solution when it comes to getting better sex education in front of students: a story-based sex-education app consisting of true stories from teens. It's called Real Talk.
"Almost every middle schooler we talked to had their own smartphone," Jagannathan tells POPSUGAR. "A lot of kids see sex ed as a topic that they'd like to engage with very privately. Their phones are a very private space."
The app will feature stories from different perspectives — from boys, girls, nonbinary and LGBTQ people, and beyond — and allow students to leave comments and submit their own stories for the Real Talk team to review.
"All of our content is based on real stories written by real teens," Leos says. "We do review the stories for content, quality, appropriateness, etc., but really we want to keep it as authentic as possible."
Deb Hauser, president of nonprofit Advocates For Youth, is very proud of a similarly tech-y option that could revolutionize sex education: video-based AMAZE, a series of animated shorts on sexual-health subjects.
"We wanted to make something fun and funny and engaging that is at the right level of information," Hauser tells POPSUGAR. "To see young people, find them, and respond to them has been really humbling and exciting."
The 30-odd videos have collectively reached over two million views since debuting at the start of the 2016 school year. While it's a fun, catchy way to offer information, AMAZE's most, well, amazing feature is that it offers free, credible information, thus removing a huge financial barrier for educators.
"I didn't want to hear schools anymore tell me that they couldn't afford the curriculum, that they couldn't afford the teacher's training," Hauser says. "You can put five million barriers up if you want to — or we can take them all down. The goal we had at Advocates was to take down as many barriers that we could. Now? This costs nothing."
This is hugely important since federal funding for sex education in the upcoming school year is dedicated to abstinence-only curriculum, and alternatives like AMAZE offer creative solutions. Moreover, school districts have huge problems prioritizing how to spend funds and disparities in budgets, which leads to unequal education. As a result, a lack of solid sex ed manifests most significantly in less fortunate schools and districts that are financially suffering.
But sex education doesn't necessarily stop when school does. Young adults are increasingly going online to learn about sex and sexuality. One place they might go is a website like Pornhub, which similarly hopes to engage and educate people in sexual education. (Yes, Pornhub has become a surprising player in the landscape of American sexual-health education with its Sexual Wellness Center, which intends to educate fans in its 18-plus demographic who explore the brand's nonpornographic resources like insights, contests, and charitable contributions.)
"As a leading provider of adult entertainment, we think it's important that we also offer a platform on which carefully sourced information about all aspects of sexuality be made available to our viewers," Corey Price, vice president of Pornhub, tells POPSUGAR.
While the project is an entirely independent effort on behalf of the site, it, too, is tapping into esteemed experts and educators in sexual education. "We aim to provide our visitors with a site that has credible and insightful information, rather than have them scour the internet," Price says. "Our Wellness Center is like a one-stop shop."
How Some Schools Are Doing It Right
While these tech innovations and online tools represent positive steps forward, efforts in advancing sex education should be coming directly from schools, directly offering students the necessary supplemental materials and tools to learn. Yet more politically and socially liberal states like Vermont, Massachusetts, and Hawaii are taking steps in this direction, too, with more comprehensive sex-education programs.
Tech is a double-edged sword in sex ed: so much information is available, yet educators and teachers often fail to give kids guidance on credible (and not so credible) resources.
"Comprehensive sexuality education really is the answer," says Chitra Panjabi, president and CEO of Sexuality Information and Education Council of the United States (SIECUS). "Because it's age and developmentally appropriate, medically accurate and complete, culturally and inherently LGBTQ-inclusive, it can provide the education and information that all people need, no matter their identity and or their lived experience."
For example: California has taken a more progressive stance on comprehensive sex education via the Healthy Youth Act, which took effect in January 2016. It requires more nuanced subjects like sexual and gender identity and body image be taught in grades seven to 12, barring abstinence-only education. But this sweeping approach has caused some tension between educators and parents. This has been most pronounced in Palo Alto, CA, where recent disagreements between the two parties have made headlines: parents have petitioned the school system, saying the state mandate oversteps parental boundaries to determine what's appropriate for children to learn in school.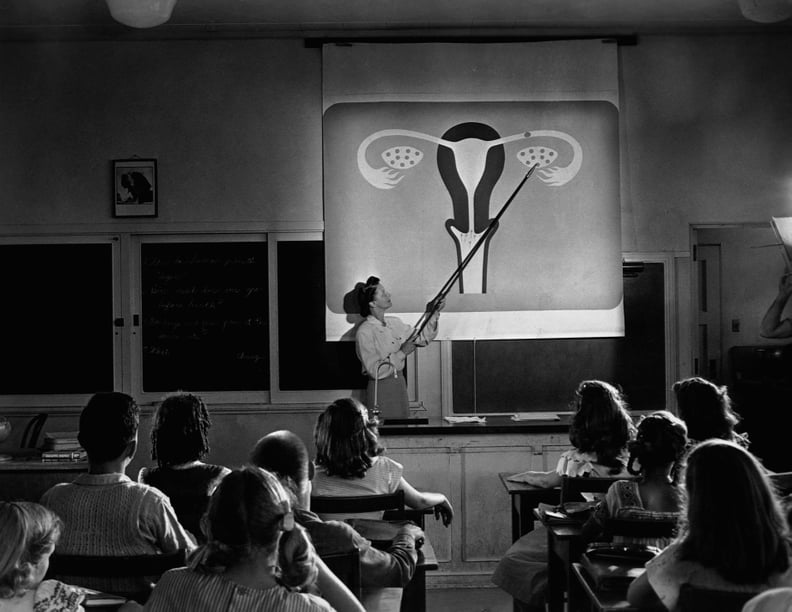 A teacher points to a diagram of female reproductive organs in a scene from Human Growth, a 1940s education film on sex education. Photo courtesy of Flickr user Tallia Saba
The Palo Alto Unified School District (PAUSD) program includes puberty education in fifth grade and sexual education in seventh grade. The latter program covers everything from relationships to STIs and gender identity to sex in the media, and — as a PAUSD representative told POPSUGAR — the program was vetted by school principals and chief academic officers. The district also held parent education sessions so concerned moms and dads could weigh in.
Still, this means of advancing sex education in school leaves out something crucial: technology. Tech is a double-edged sword in sex ed: so much information is available, yet educators and teachers often fail to give kids guidance on credible (and not so credible) resources. "It is unreasonable to think that adolescents are going to google their way to good sexual health and that all they need is a smartphone and two thumbs to type in a question and, lo and behold, the answer to everything they wanted to know will come," Lindberg says. "They don't even necessarily know the questions they want to ask."
Lindberg says it's wrong to assume kids these days are sophisticated when it comes to sex. "I have concerns that programs, schools, parents think, 'My teen must already know this because it's all out there.'"
Teens and Early 20-Somethings Take Matters Into Their Own Hands
Teens, who have increasingly liberal and progressive attitudes — especially around sexuality — have the potential to create some of the effective solutions, especially when it comes to peer-to-peer sex education, which studies show results in students learning more and positively changing their behaviors.
College student Eleanor Shaul attended high school in the Houston area and says she was fairly clueless about sexual subjects when she entered college.
Shaul notes that her mom was the one who taught her anatomy . . . but many of her peers were in the dark. "I remember girls being shocked about periods," Shaul says. "They packed 90 of us into a little classroom because they paid someone to come in to show us scary penis pictures . . . without telling us how to prevent STIs."
Shaul, who currently attends the University of Texas, took control of the situation to teach others like them about sex. Shaul founded UTerus as a means of teaching interested students comprehensive, hands-on sex education via fun information sessions. She's currently teaching a late-night freshman orientation program in which new students can drop in and learn. In surveys Shaul has conducted of more than 400 University of Texas students, she's found that their work is sorely needed: 57 percent of those surveyed said they didn't learn anything about contraceptives in high school.
"Peer education is one of the most important things, especially with sex ed," Shaul says. "If I was getting a presentation from college students instead of my 45-year-old teacher, I'd pay more attention."
Lex Loro of Richmond, VA, decided to cofound a program called Not Your Average Sex Talk (NYAST), inpired by her own subpar sex ed in high school. "When I got to college in Washington DC and started my coming-out process, I realized that I knew very few things about queer sexual health and wellness," Loro tells POPSUGAR. "My cofounder, Emmett [Patterson], and I thought that it was ridiculous that so many people grow up not learning the things they deserve to know about their bodies, their identities, and how to have healthy, consensual sex in nonheteronormative ways." Loro and Patterson focused on creating a program that was both LGBTQ and disabled friendly that could be shared nationwide at conferences.
Loro says this approach gives young folks agency and power over their sexual health and wellness in ways that sitting in classrooms and learning from instructors cannot "and allows young people to speak for themselves." In her view, this style offers a more robust perspective that serves as an antidote to an education system that continues to "fail, erase, shame, and further marginalize" certain students.
Ashley Fowler — that same teen who says she was subjected to an inadequate sex-ed program at her New Jersey high school — had to take matters into her own hands to create change: she joined Answer by Sex, Etc. in hopes of learning and sharing information with her classmates. "I feel lucky that I've worked with Answer," Fowler says. "[Students] aren't getting the information that they need, and they might not know where to find it. That's putting a teen, [or] a young adult, in a risky position."
"Most of my work at Sex, Etc.(/Answer) is centered around peer-to-peer education," Fowler says. "The publication and website I write for really values the approach and style teens bring to their pieces on sexual education. Getting accurate, honest information from a teen can provide insight that may be missed when adults try to relay that same information."
"Peer-to-peer information also tends to be less clinical and, in my opinion, more approachable and enjoyable to read and relate to," Fowler adds. "I think incorporating more peer-to-peer learning situations within sex ed in and out of the classroom can lead to more reception and retention of information."
Change Is Coming — but It Will Take Time
Despite the unevenness, backlash, and political and religious agendas, there's reason to believe the future of sex education is bright. The willingness to make change on so many levels — by way of schools and technology and students themselves — suggests a shift is happening.
It's possible to envision a future in which apps like Real Talk might become folded into formalized education as it is shown in classrooms. UTerus might pave the way for revolutionizing Texas education, while NYAST offers universities new ways to engage with students. Sex education is becoming more nuanced and versatile, a more holistic approach to a sensitive subject instead of a one-size-fits-all shoving onto students. If anything is certain, it is that the future of sex education is a team effort that requires school systems, educators, parents, and thinkers alike to create resources that are a pedagogical hybrid.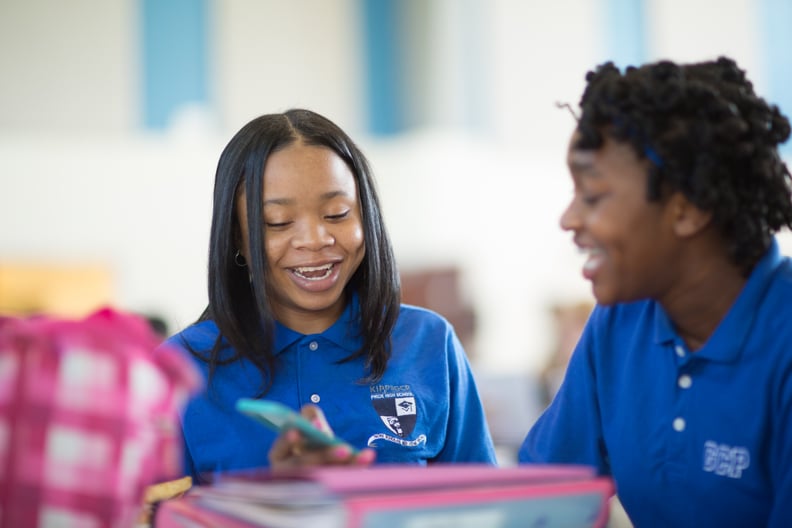 Students using the Real Talk app, a new sex-education concept that puts health information for teens on smartphones. Photo courtesy of Real Talk.
Regardless, advocates say sex education must change to reach more students, in more meaningful ways, and much sooner. "[Sex education] can and should start in first grade," Fowler — the youngest person POPSUGAR spoke with — suggests. "You can teach consent because so many people don't understand the very basics of consent. That rudimentary stuff can be taught in elementary school and can become sexual once you reach middle school ages."
"I think a lot of sex ed that we have now is very fear-based," Fowler says, "which people don't respond to."