Stockton on My Mind's Jasmine Dellafosse on Incarceration
Incarcerated Youth Need Your Attention — and Your Vote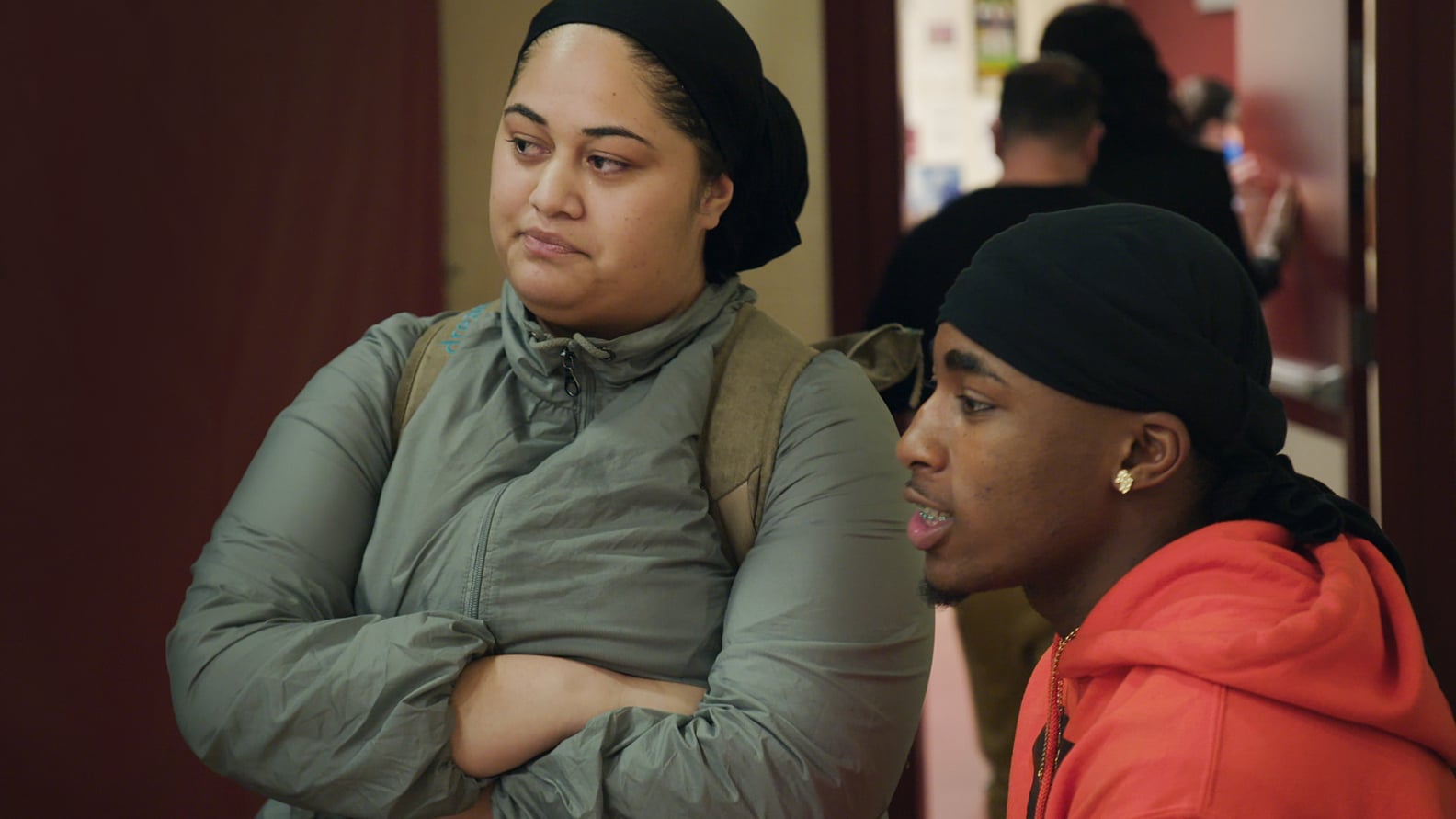 Jasmine Dellafosse, 25, who appears in the HBO documentary Stockton on My Mind, is senior regional organizer for The Gathering For Justice. She is pictured at left above, with Isaiah Evans.
The HBO documentary Stockton on My Mind tells the story of Stockton, CA, Mayor Michael Tubbs, who at 26 became the youngest mayor and first Black mayor in Stockton history in 2016. He was also the youngest mayor in the country that election season. I have had the great honor of being part of that story. My work as a community organizer began in 2013, when at 18 I became one of Tubbs's first interns while he was in office as a city councilman. I continued to work alongside Tubbs from that time until he took office as mayor. Four years later, as the documentary makes headlines, we are still fighting to "upset the setup" by dismantling the school-to-prison pipeline while ending youth and child incarceration.
As youth incarceration, COVID-19, and policing have become election-year issues, like Stockton on My Mind, they speak to the critical importance of local and state-level elections.
As the film shows, many of the same social factors in place 25 years ago when Mayor Tubbs's father received a life sentence are present today in the fight we undertook for Isaiah Evans, who faced a similar set of charges from the same district attorney. The state-run youth prison located in Stockton incarcerates more young people, per capita, from Stockton and surrounding San Joaquin County than the majority of other municipalities in California. Under a global pandemic, the stakes are even more life-threatening — and this is why this year's election is extremely critical for young people to get engaged and registered to vote, even at the local level.
At 16 years old, I personally experienced the injustice of the juvenile justice system in Stockton; through that experience, it led me toward my path. Over the last seven years, I have aimed to empower, advocate, and provide holistic support services through cultural programming to young people who are system-involved. This March, the Department of Juvenile Justice canceled all programming in juvenile halls/youth prisons across the state due to the COVID-19 outbreak. Hence, I have not been allowed to communicate — with so much as a Skype call — with the young people who I've been working with since before the pandemic began. However, I have been hearing from their family members, who are reporting complaints about receiving no notices about COVID-19 outbreaks, a lack of testing, lack of social distancing in the open-air dormitories, inadequate access to PPE and hygiene care, and other alarming, unsafe conditions.
State inspections of these youth facilities have also been canceled since March, making it difficult to verify these reports. Yet we know the number of cases is growing rapidly. As of Aug. 6, there are 65 youth and 19 staff with confirmed cases of COVID-19 inside of Stockton's youth prison. In a facility that houses about 350, that's nearly 20 percent of the population.
The Gathering For Justice is working with a grassroots coalition of groups fighting to get more information about protocols and supplies, to get as many youth released and reconnected as much as possible, and to stop the spread of COVID-19. Almost 90 percent of the youth incarcerated in California are either Black or Latinx, which speaks to the racial disparities in our justice system and indicates most of these youth are at a higher risk. According to the Los Angeles Times, Black and Latinx Californians ages 18 to 64 are dying more frequently of COVID-19 than their white and Asian counterparts relative to their share of the population. And spending $306,398 per year to incarcerate one young person was outrageous even before the pandemic created a financial crisis in our state budget.
As youth incarceration, COVID-19, and policing have become election-year issues, like Stockton on My Mind, they speak to the critical importance of local and state-level elections. While the presidential election is no less important, it is the races for mayoral seats, district attorney offices, county board of supervisors, even school board officials in our own communities that can make a huge impact on the issues that we're fighting for.
For example, the problem of police brutality has gotten long-overdue nationwide attention this year. Stockton has had the largest drop in officer-involved shootings anywhere in California, thanks to the recently created City Manager's Review Board, comprising 25 members including community-based organizations like The Gathering For Justice who review critical incidents including officer-involved shootings, citizen complaints, use of force, and other materials needed to create transparency and accountability and promote shared safety. The Review Board is endowed with the authority to ask questions of the chief of police as needed.
While school districts across the country have invested millions of dollars into school resource officers each year, elected school district officials in cities including Minneapolis, San Francisco, and Oakland have taken action to remove police from schools. In Stockton Unified School District, the upcoming election for the board of trustees will make or break our efforts to abolish the school police district in Stockton. The Gathering For Justice and our task force Justice League CA are part of the Stockton Education Equity Coalition, which has been working for the past eight years to dismantle the school-to-prison pipeline in Stockton. We've had major victories including the Department of Justice investigating and confirming a pattern of racial bias in punishment in Stockton Unified School District. This led to a landmark settlement addressing systemwide violations of civil and constitutional rights of Black and Latinx students with disabilities, which has already shifted resources away from police in schools and into restorative justice programming and Ethnic Studies. With majority board support — decided this November at the ballot — we could make this a full transition to programming and policies that supports rather than criminalizes our youth.
With fewer than 100 days left until the election, I hope Stockton on My Mind helps people see that elections are one of many critical components to "upsetting the setup" of racial inequities in poverty, incarceration, and violence. Young people shouldn't be incarcerated, period. They deserve support and resources to grow, heal, and thrive, and we need elected officials at all levels who acknowledge that. I appreciate HBO for bringing not just attention but also needed support in the form of its digital series. As Common and many others have observed, "If your vote didn't matter, they wouldn't be trying so hard to keep you from voting." It's gonna take young people voting, getting involved, and even running for office, but change is going to come.
To learn more about the work or get involved, contact Jasmine@gatheringforjustice.org and visit The Gathering For Justice.