For Me, Marching in Pride Isn't an Option — It's a Responsibility
Tommy Dorfman is a breakout star from Netflix's 13 Reasons Why.
Growing up, I was always the "weird kid" at school. I wore (mostly) girls' clothes, because I preferred girls' clothes. I was obsessive about dressing like the Spice Girls, which meant bell-bottoms, tube tops, and platform shoes. I had shaggy hair and my nails were always painted. As I grew older, and thanks in part to years of bullying, I became self-conscious about not fitting in. The older I got, the meaner my peers got, and eventually I broke. I was sick of getting sh*t for being different, so I laid to rest all of the quirks and queer tendencies and worked on blending in. I wore my older brother's clothes: baggy pants from PacSun, boxers, AirWalk skate shoes. Everything four sizes too big. It felt heavy. It became drag for me, a part to play to survive from grades five through nine.
But still, underneath all those layers, I was always queer.
In the Spring of my freshman year in high school, sitting in rehearsals for Urinetown: The Musical, I fell in love with a guy for the first time. His name was Will; he had the voice of an angel and helped me come out. At that point, I was the only out gay kid in my grade, but he made me feel less alone in school.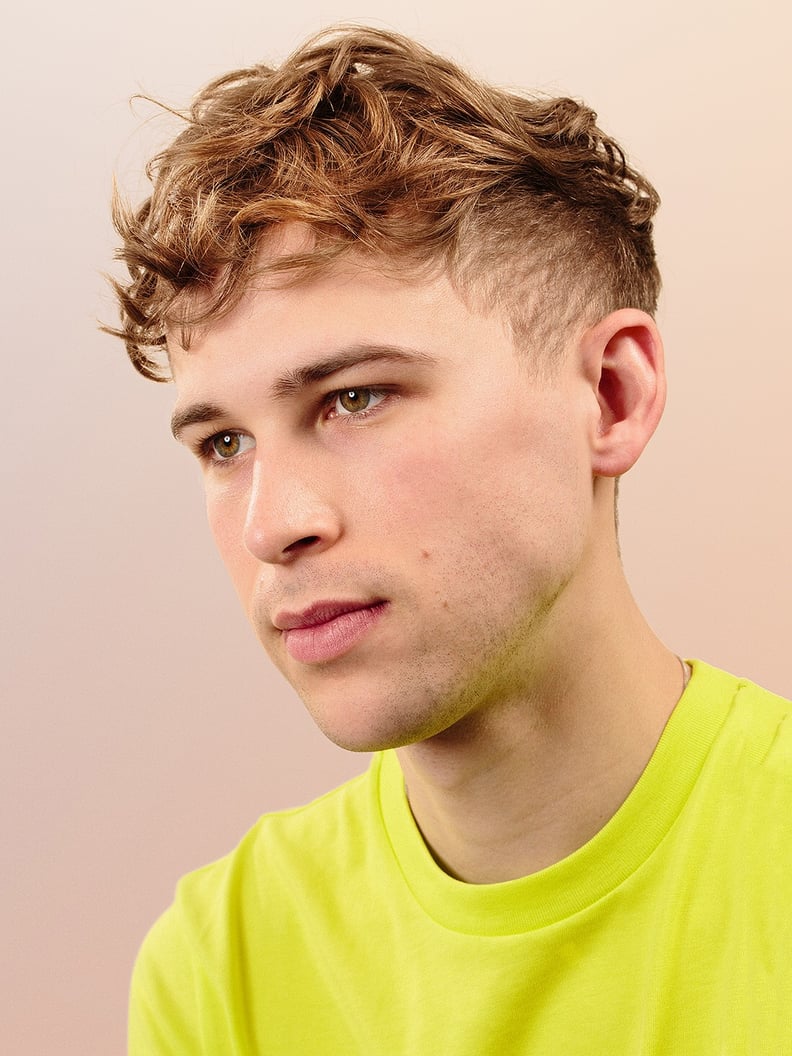 I tried not to make the coming-out process into a big deal. My mom and dad knew, as they've said, from the time I "came out of the womb, jazz hand first." Instead of telling people in school, I simply changed my Facebook info. I enjoyed hearing whispers in the hallway about it, an undercurrent of gossip from my peers. Instead of verbal confirmation, I used clothing and mannerisms attached to stereotypes of how I thought gay people were meant to act and dress. Overnight, I became as G-A-Y as possible. It was liberating. In an instant, I realized I could be anything I wanted, and for the rest of those very formative years, I wore many different hats. Assimilated and tried on different facets of queer culture, working through things to find my authenticity. Not even 24 hours after graduating high school, I got the f*ck out of Atlanta and moved to New York.
I saw it as an opportunity for all facets of the LGBTQ+ community to come together, allies in tow, and march in support of each other, our ancestors, our future.
The first time I went to Gay Pride was by accident. I was rehearsing a play at a small, run-down theater on Christopher Street. I stepped out on one of my breaks and found myself in the middle of the parade. I took those breaks as opportunities to observe, from the sidelines, the wonder that is Pride, in all of its messy, beautiful glory. I saw it as an opportunity for all facets of the LGBTQ+ community to come together, allies in tow, and march in support of each other, our ancestors, our future.
I continued, after that Summer, to participate in Pride from afar. I didn't feel driven to fully immerse myself in it. However, post-Trump America has emboldened me to get involved in new ways. It's become clear that our rights aren't guaranteed. In general, I've started to remove myself from the sidelines and immerse myself in my community, engaging with all facets as much as possible to try to understand how I can best improve intersectionality and support those who are more marginalized than myself. I am more aware of my privilege as a cis-passing, white, queer person who gets to create art as a profession; that I've been granted rights that others fought for me to have and lived very comfortably as a queer person up until this point. Now, I feel a responsibility to fight to keep the rights I inherited and, more importantly, do my best to support other members of the LGBTQ+ community who haven't had it as easy.
That's what my Pride really boils down to: this fight. Our rights. Unabashed pride in ourselves and all the diverse facets of our community.