This Insane Mistake Trump Just Made on Twitter May Be His Worst Yet
Let's be honest: at this point, we're all pretty accustomed to President Donald Trump's early morning tweets. But the president's attempts at being more professional on the social media platform were set on fire on Aug. 15 by two ill-advised retweets that put into question all of the motives behind Trump's silence on Charlottesville, VA. While both retweets were later removed from the @realDonaldTrump feed, reporters across the country started their day with a frankly terrifying look inside the president's thought process.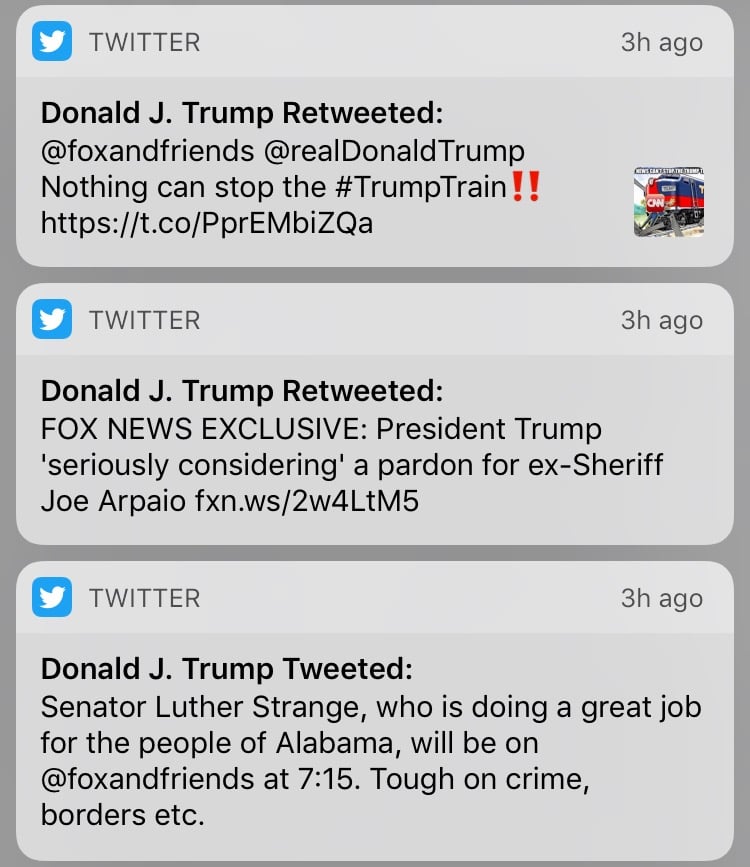 The first accidental retweet was not as damning as the second but still bizarre in its own right as it was of a response to a Fox & Friends story about Trump pardoning former Arizona Sheriff Joe Arpaio. "He's a fascist, so not unusual," the response read, and while it's up for debate whether the tweet referred to Trump or Arpaio, it's safe to say that Twitter user Mike Holden got a rather unexpected endorsement. To commemorate the moment, Holden changed his Twitter bio — which now reads, "Officially Endorsed by the President of the United States. I wish that were a good thing."
The second retweet does not have any upside or funny story to accompany it. Instead, it's downright upsetting.
Trump, whose silence on all things Charlottesville was met with near-universal condemnation, appears to have been endorsing (or at least, approving of) a cartoon drawing of a train running over a CNN reporter. It's overlaid with the words "FAKE NEWS CAN'T STOP THE TRUMP TRAIN," but the evocation of a Trump slogan doesn't quite erase the horrifying takeaway here: the President of the United States thought it appropriate to acknowledge something so similar to the events that unfolded in Virginia just a few days earlier, where 32-year-old Heather Heyer was tragically killed when a car drove into a crowd of protesters.
While Trump continues to argue that access to his Twitter feed is essential for his followers, it's hard to see that argument winning out in the White House after such a reprehensible decision. He may think that removing it is the way to backtrack things, but the bottom line is that enough people saw it (this writer included) that it's impossible to claim it as a "fake news" item. And it adds a whole new level of darkness to an Aug. 14 retweet of one Jack Posobiec, who's one of the individuals responsible for the DeploraBall and, according to a BuzzFeed report earlier this year, the man responsible for "viral photos of a sign urging violence against Melania Trump at an anti-Trump protest."
Ultimately, there are two words that can be used to sum up this whole disrespectful, thoughtless scenario. And those two words are never tweet.