Kim Kardashian's Visit to the White House Worked — Alice Marie Johnson Will Be Freed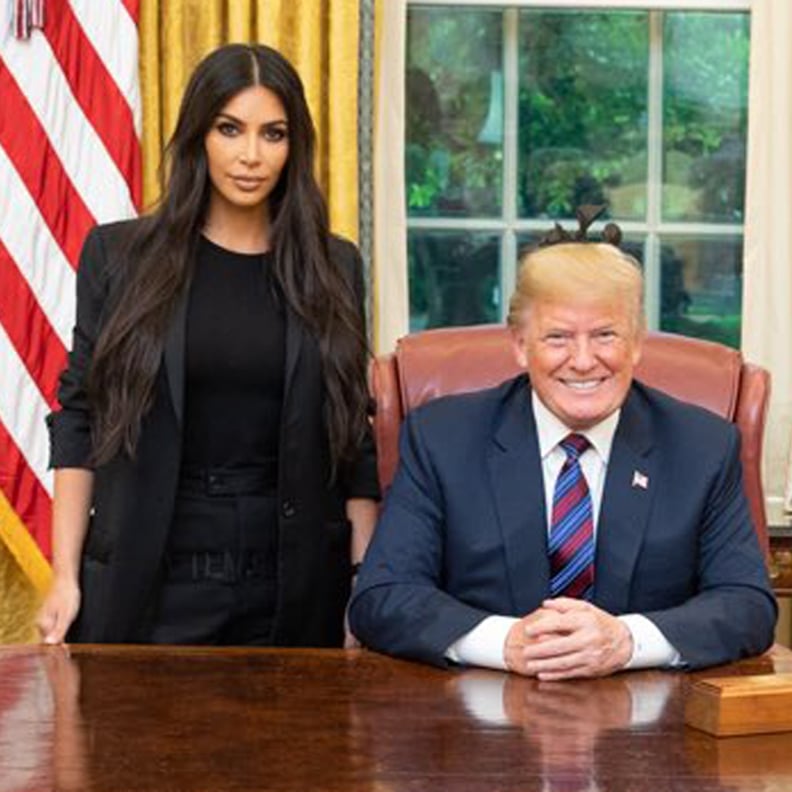 Update: The imprisoned woman whom Kim Kardashian set out to free, Alice Marie Johnson, has been granted clemency (a presidential pardon) by President Donald Trump. Kardashian made it her mission to help Johnson, a grandmother serving a life sentence without parole for a first-time nonviolent drug offense, back in October. She recently visited the White House for one-on-one meetings with the president and other officials, which was surprising to some. Mic has exclusively covered the story over the last few months, and the publication reported on June 6 that Johnson will be released from federal prison in Aliceville, AL, soon. Kardashian tweeted "BEST NEWS EVER" and told Mic, "[Trump] really spent the time to listen to our case that we were making for Alice."
Original story: On Wednesday, May 30, Kim Kardashian visited the White House to discuss prison reform and meet with the president. She met with officials including senior adviser Jared Kushner, and later in the afternoon, Donald Trump shared a photo with Kardashian, confirming their one-on-one meeting. "Great meeting with @KimKardashian today," he tweeted. "Talked about prison reform and sentencing."
Kardashian's visit is specifically related to her quest to free Alice Marie Johnson, a 63-year-old woman who is serving a life sentence without parole for a first-time nonviolent drug offense. Kardashian explained her passion for Johnson's case in an exclusive interview with Mic (whose October 2017 video prompted Kardashian's interest in the first place), saying this is her way of "trying to bring her case to the president's desk and figure out how we can get her out." Kardashian tweeted a birthday message to Johnson on the day of her Washington DC visit, writing, "Today is for you."
It may seem out of the blue for Kardashian to express so much commitment about prison reform, but she assures everyone it's important to her and this is the first of many cases she'd like to help. She told Mic that spending money on material things doesn't make her happy like it "used to." She said, "If I could put the money into a shopping spree — which sounds ridiculous — to save someone's life and do that once a year, then that would make my heart fuller." The mom of three revealed that as soon as she heard about Johnson's life sentence, she got her personal attorney on it. "We're on a mission now," she said.
It's an undeniably kind gesture, but needless to say, the surprising combination of Kim Kardashian and Donald Trump posing behind his desk and chatting about policy left people almost speechless. Those who did have a comment, however, weren't afraid to share it — see some of the internet's reactions ahead.