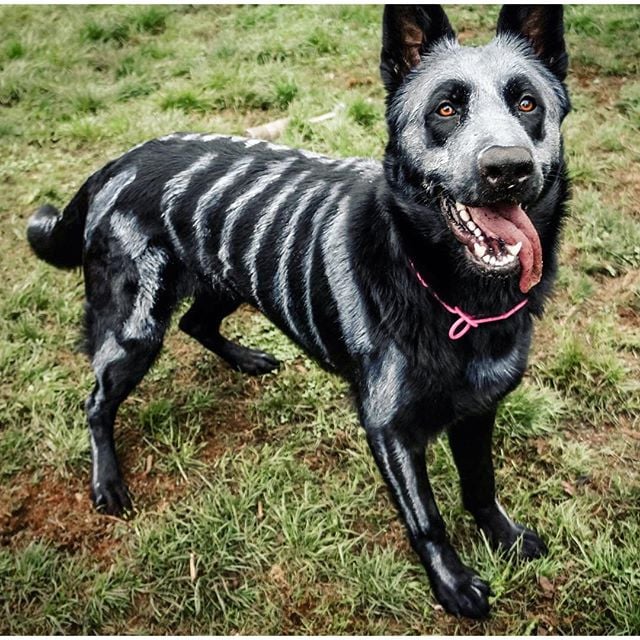 As POPSUGAR editors, we independently select and write about stuff we love and think you'll like too. If you buy a product we have recommended, we may receive affiliate commission, which in turn supports our work.
The air's getting crisp, pumpkins are popping up on porches, and you're stocking up on fun-size candy — must be time to start brainstorming costumes! This year, get your dog in on the fun. Check out this year's hottest DIY dog costume ideas and have a blast trick-or-treating with your pup.
01
The Wayne to Your Garth
Just like 5 o'clock, it's always the '90s somewhere. Why not bring a little "schwing" to your Halloween festivities with a killer throwback like this Wayne and Garth duo?
02
A Hot Beverage
'Tis the season, folks, and you know what that means: pumpkin spice everything. Even dogs. The pugkin spice latte is a new classic, just wait and see.
03
A Minion
With a retrofitted hoodie, overalls, and some well-placed goggles, your dog could be rocking your kid's favorite look this year. Just be sure they're comfortable and not constricted in this colorful getup.
04
Dognald Trump
Whatever your political proclivities, it's hard to deny the power of the Donald this year. Give your dog the loudest voice in politics (and a ridiculous wig to boot). A DIY Dognald costume is gonna be hard to beat this election season.
05
A Hipster
Because 1. We never get tired of poking fun at hipsters and 2. This costume is as easy as it gets. Find a sick scarf, pop on a pair of glasses (for the photo opp — most dogs won't want to sport them all night long), and ta-da, instant hipster hound.
06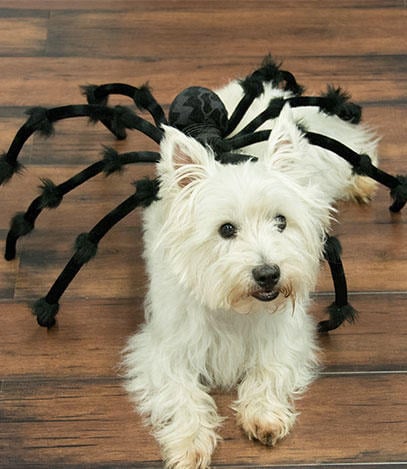 Spider Dog, Spider Dog
Not gonna lie, this one is actually a little scary. With the addition of eight crooked legs, you too can turn your cuddly dog into a fearful creepy crawler.
07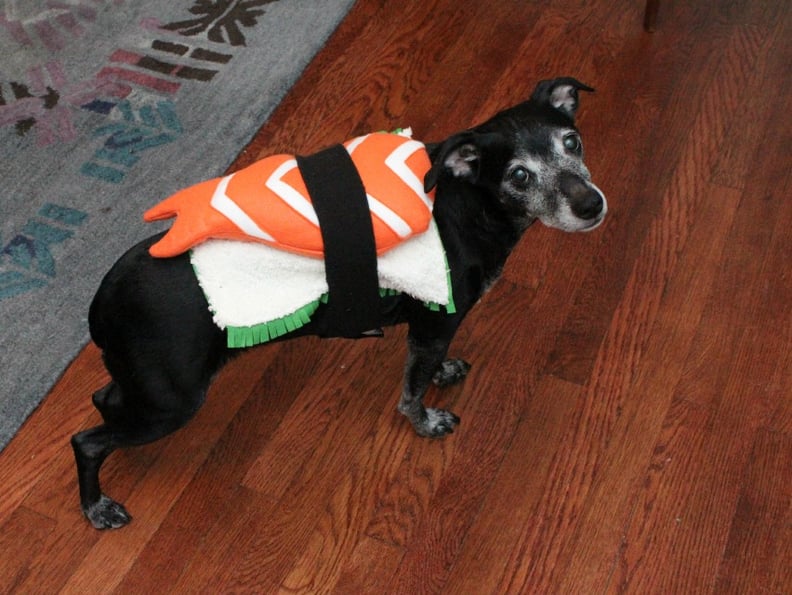 A Sushi Roll
For this deliciously adorable costume idea, just pick your favorite roll, assemble the fabric version, and strap in your dog safely and comfortably with some pseudo-seaweed.
09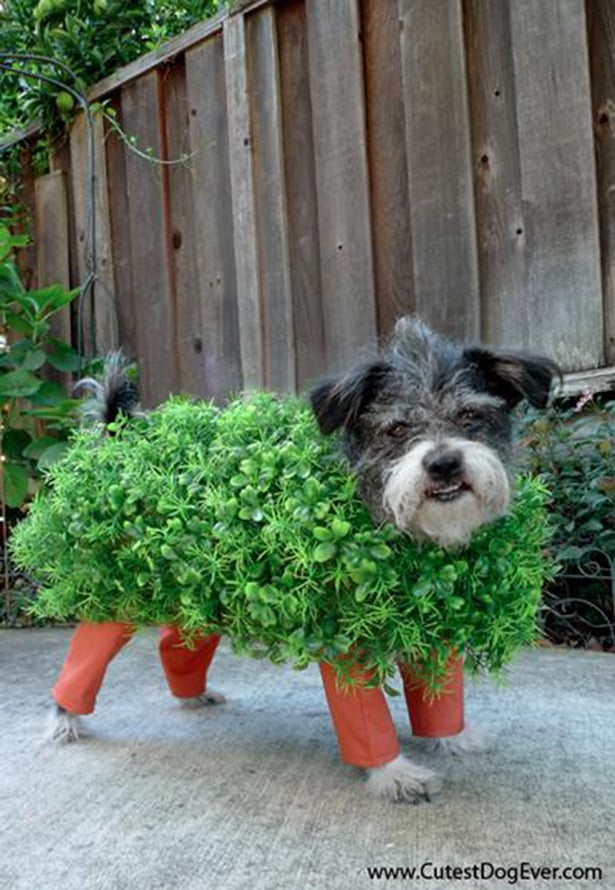 A Chia Pet
Perhaps the greenest costume on this year's list, this gorgeous chia dog is a breath of fresh air on a cold Halloween night.
10
Chewbacca
"Is that a custom sci-fi bandolier and satchel?" you might be asking yourself. Why yes, it is, and just in time for Star Wars. This year, any dog can be Chewbacca with this satchel from Etsy ($50) and a little DIY finesse.
11
An Ewok
Star Wars costumes are always sure to be a hit on Halloween. So it makes perfect sense for you to transform your furry friend into an Ewok using this super easy Ewok DIY.
12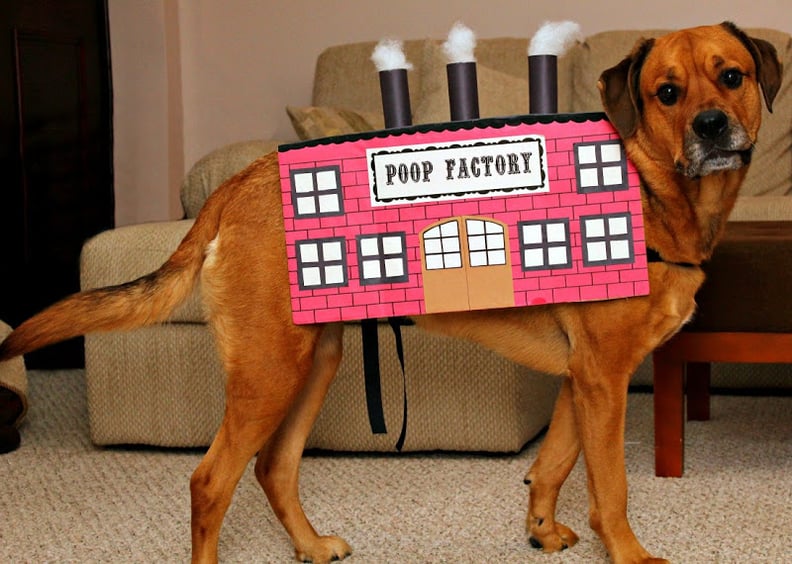 A Poop Factory
Because let's be honest, it's just the straight-up truth. Grab some scissors, glue, construction paper, three toilet paper tubes, a little stuffing, and some paint — and get crafting!
14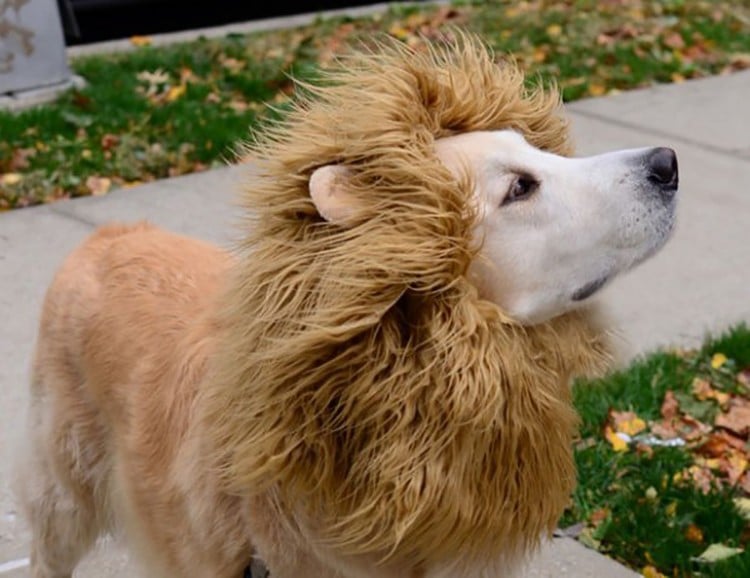 A Lion
Forever a classic, dress your regal dog up with a fluffy mane for maximum roar potential. Follow these step-by-step instructions to emulate this fierce look.
15
Skele-Dog
This double-take-inducing get-up requires dog-friendly paint (look for safe, vet-approved products) and a little artistry. Bam! Your dog will be spooking the neighborhood cats like never before.