Are you a pet owner with absolutely nothing to do? Great, because this Snapchat filter that "Disneyfies" your four-legged friends is guaranteed to take up at least 30 minutes of your day. Danielle Sugden, a dog mom and member of the Facebook group Dogspotting Society, was the first person to share her success with the filter.
"For those that don't know . . . Snapchat has a new filter and it basically Disneyfies your dog. YOU ARE WELCOME. Plz post your Disney dawgs here 🙏🏼" she wrote in the Facebook group, later adding that the filter actually had an official name. "I'm so stupid - I never use snapchat (until now) didn't think it had a name but saw someone write in the comments . . . the filter is called 'cartoon face' 💗 LOVING ALL YOUR DISNEY PETS!"
How Do You Disneyfy Your Pet on Snapchat?
Simply open up the Snapchat app on your phone and hit the search icon in the top left corner. From there, search "Cartoon Face" and the filter should pop up. Once the filter is open, pet parents will be able to pick the eye color, eyebrow shape, and whether or not they want to give their dog eyelashes. Of course, the filter works on humans, too, so if you want to take a few test shots of yourself, go to town! As the owner of six animals, I gave the filter a try.
Is the Disneyfy Filter on Snapchat Effective?
According to the comments section on Danielle's original post, thousands of pet owners have had luck Disneyfying their pets. So far, I haven't had quite as much success. I first tried to use the filter on my Black Lab — and although I can't confirm why — the filter wouldn't register with his face. At some point, it placed the filter eyes on his snout, which was hilariously incorrect!
I had slightly better luck while trying the filter on my gray cat, Minnie. Although he wouldn't stay still enough for me to get the perfect shot, at least the eyes popped up in the correct place! See my futile attempt below, and don't mind the pile of clean laundry that's been sitting on my guest room bed for the last three days.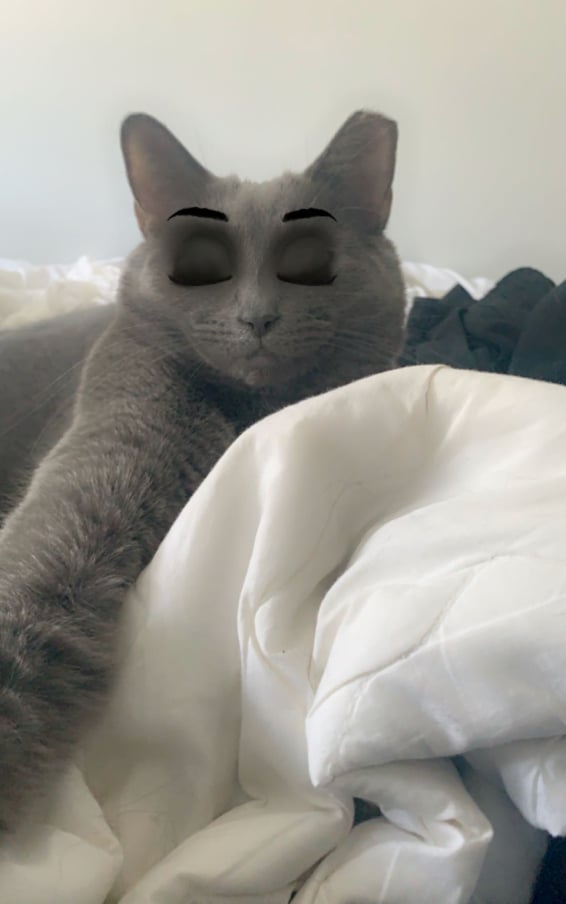 He looks just dashing, doesn't he? Try the filter out on your own and be sure to share your results with us on Facebook!