I Tried to Eat Well on $4 a Day; This Is What Happened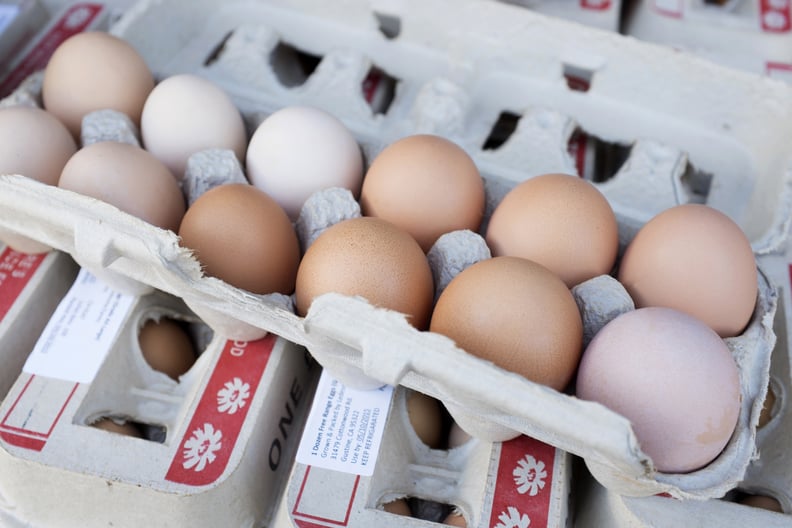 POPSUGAR Photography | Jae Payne
POPSUGAR Photography | Jae Payne
I first got the idea to eat on $4 a day when I read about graduate student Leanne Browne launching the Good and Cheap cookbook as a free downloadable PDF. Her intention was to educate people on very limited food budgets about healthy meals that can be made cheaply. Browne even raised $144,681 in a Kickstarter campaign to publish this cookbook in print to make it available for free to people who don't have access to computers.
The cost is based on the average allowance that a person on SNAP, or the Supplemental Nutrition Assistance Program (formerly known as food stamps), gets allotted every day. There was so much coverage about the cookbook and praise on how you can make complex dishes like jalapeño scones and banana pancakes that it really intrigued me. Since I thought it was a cool idea, I decided to try it out for myself. The big question I wanted answered: is this cookbook realistic for the population it's targeting — those who are on SNAP — and if not, what are some ways we can improve it.
EDIT: I know that the SNAP program is supposed to be supplementary and not your total food budget, but this experiment is an attempt to understand how to make the $4 amount work if your bills cost you all your spending money.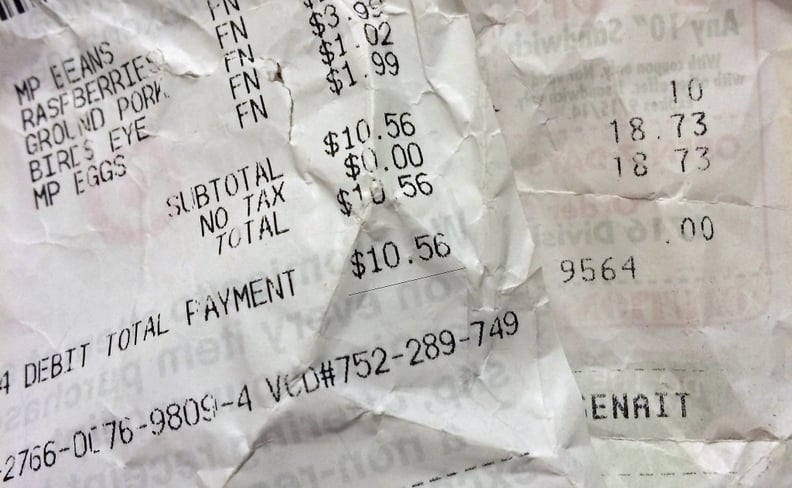 My Process
I first looked at the stores in my area in San Francisco to see which ones accepted SNAP. There were mostly Walgreens, Target, and Safeway stores. I chose Target and Safeway because I was familiar with those two after a study we did on the cheapest items at grocery stores.
I set a few ground rules for myself. One was to not factor in seasoning in my budget and to just use what I have at home. Unfortunately, I couldn't afford a new bottle of salt or pepper with the budget. Another rule was to not factor in beverages because I couldn't afford to buy instant coffee as well, and I mostly stuck to free coffee from the office. I know, I know — those two ground rules probably made this experience less authentic. However, besides those exceptions, I did my best to stick to a budget of $4 a day, which totaled $28 for the whole week. I did go slightly over my budget. I spent $29.29 on two grocery shopping trips combined and an extra 40 cents on an impulse buy of instant ramen. I initially thought I was going to just shop at one store, but I had to break it up into two trips. You'll read more on that later.
Another thing to note is that I didn't follow the recipes to a T because I didn't have enough to buy all of the ingredients, so I just tried to make it work with what I managed to purchase.
Day 0
I took one-and-a-half to two hours to figure out what to buy at Safeway, and I shopped for much longer than I usually do. I had to calculate everything in my head to make sure it fit the budget, and I had to figure out which recipes I could make off of it. It actually gave me a ton of decision fatigue as I struggled to figure out what to make. Walking around the supermarket finding ingredients for the recipes, then adding them up in my mind, took up a lot of time as well. It probably took up more time than warranted because I was trying to follow the recipes as best as I could. I had figured out about half of my meals when I finally decided to shop for the rest of the food later in the week at Target.
This is what I bought:
Eggplant
Whole-wheat pasta
A dozen eggs
Cucumber
Oatmeal
Tofu
Tomatoes
Bread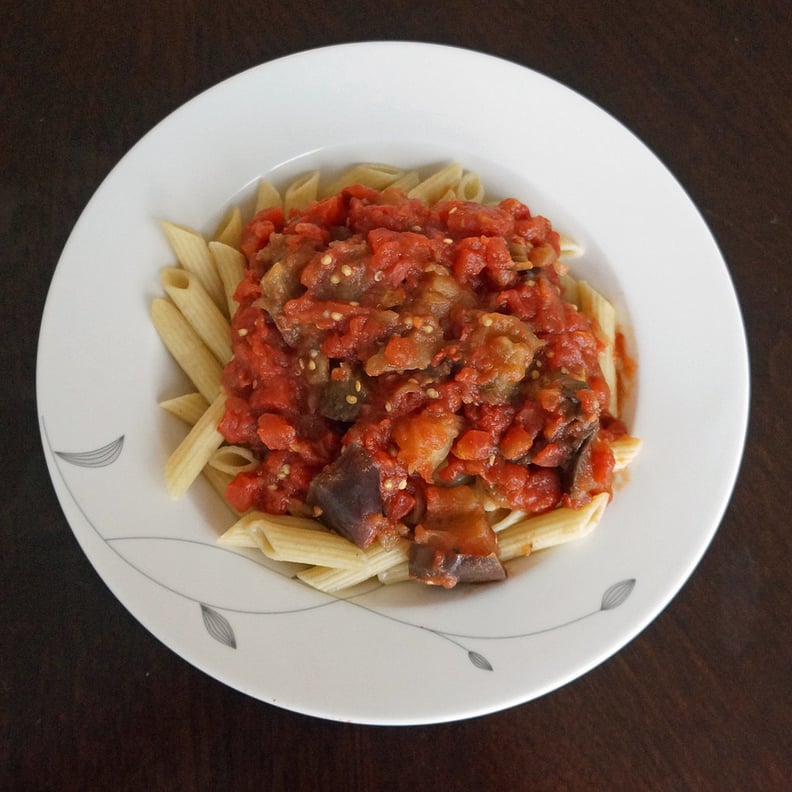 Day 1
Breakfast: Oatmeal
Lunch: Tomato and eggs
Dinner: Eggplant pasta
Late-night snack: Eggplant pasta
I was hungry for some reason. Not eating snacks throughout the day was a change I had to adjust to, or maybe I didn't buy enough items that could fill me up throughout the day. I left out the garlic and cheese in the pasta because I already went over my budget and I figured I could go without them and not have that much effect on the taste. My meals weren't bad; I did enjoy the oatmeal and the egg and tomato scramble. The eggplant pasta, however, was only alright. I didn't enjoy it because it wasn't flavorful, but it may just be my amateur cooking skills.
I met up with friends at night and drank water while they ordered food. I was glad I could bring up my experiment and talk about it with them. We talked about food deserts and how people in some low-income neighborhoods don't have kitchens and access to ingredients at affordable prices.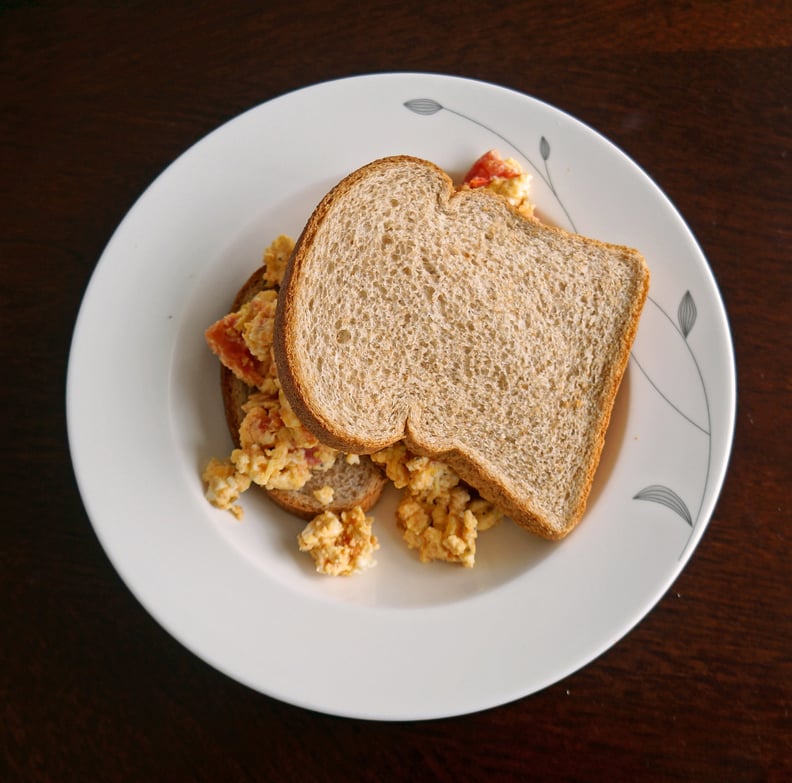 Day 2
Breakfast: Oatmeal
Lunch: Tomato and eggs on toast
Dinner: Eggplant pasta
I had the same meals and enjoyed them just as much as the previous day. I'm starting to wonder why I never ate oatmeal for breakfast — I actually really like it! It's so simple to make and quite filling. At night, I went to Target to buy groceries for the rest of the week. Breaking it up into two trips made it less overwhelming, and I had a better idea of what I needed to get on the second trip. Again, it took me longer than usual because I had to look at the prices of various items, trekking back and forth to different aisles and tallying the totals in my head to make sure they fit my budget.
This is what I bought:
A dozen eggs
Frozen broccoli
Ground pork
A can of beans
Raspberries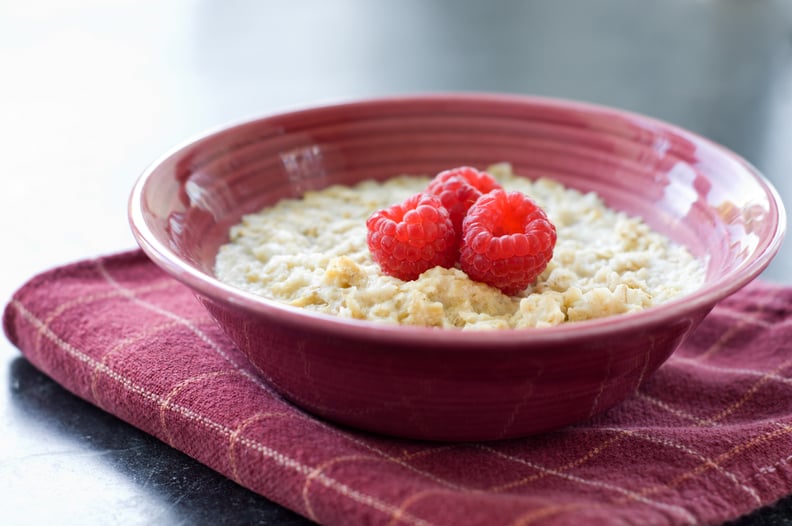 Day 3
Breakfast: Oatmeal with raspberries
Lunch: Egg and toast
Dinner: Bean, cucumber, and ground pork burger with tomatoes
I was a huge fan of the raspberries and oatmeal and feel like I could eat that every day. I didn't really care for the burger because I didn't like the taste of the meat from Target. I added cucumbers to the meat mixture just to add in some vegetables. You'll see a photo of the burger under Day 4.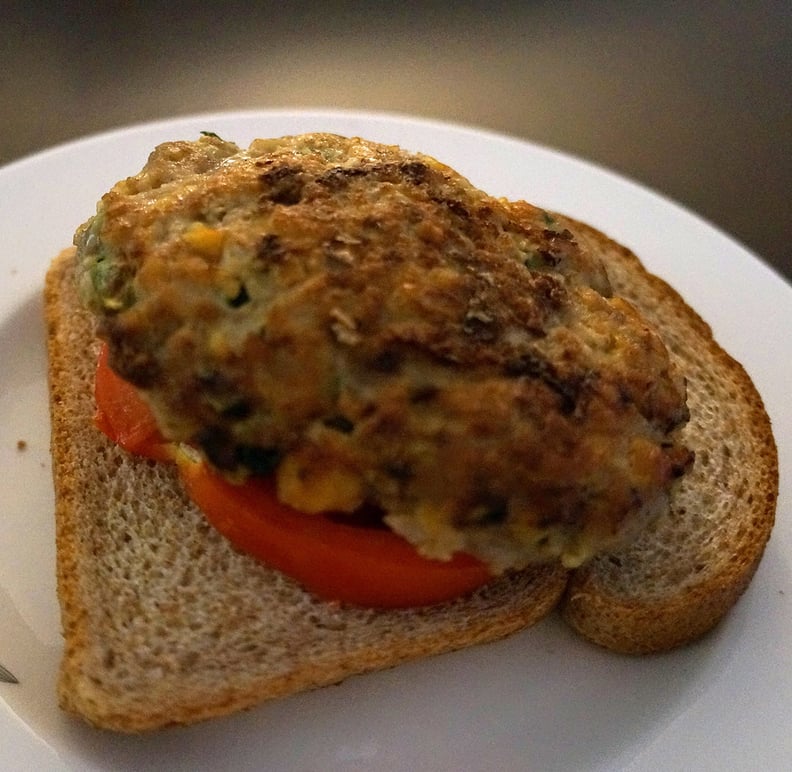 Day 4
Breakfast: Oatmeal with raspberries
Lunch: Eggplant pasta and eggs
Dinner: Bean and ground pork burger with tomatoes
Late-night snack: Raspberries
I started to realize that I made the mistake of not buying enough vegetables and fruits.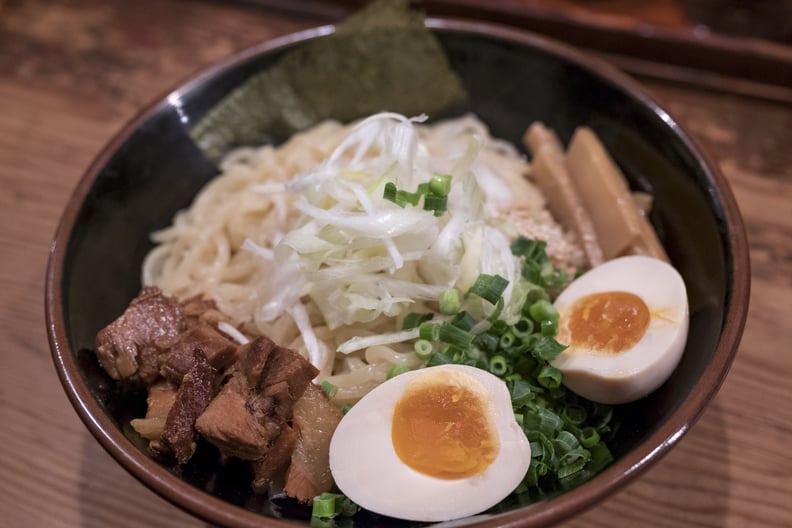 Day 5
Breakfast: Oatmeal
Lunch: Eggplant pasta and eggs
Dinner: Ground pork, beans, and egg in instant ramen
Late-night snack: Eggs
I was craving something new, so I ended up caving and buying instant ramen, even though it's not exactly healthy. At 40 cents, I figured I should be able to make some space for it in my food budget. I tried to make it better by adding meat and eggs to the ramen.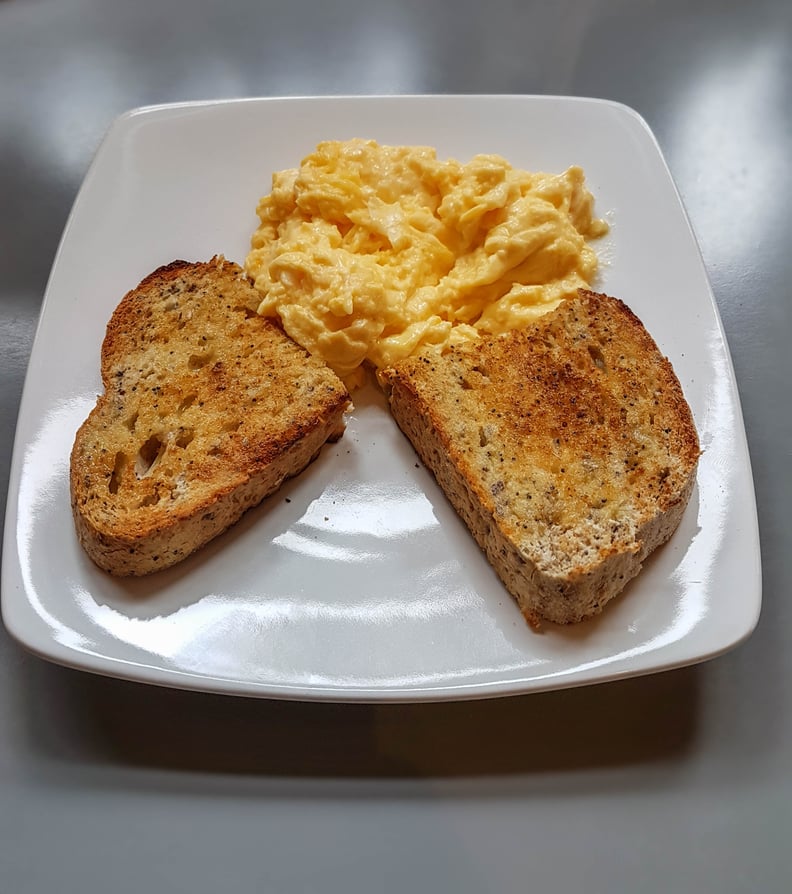 Day 6
Breakfast: Oatmeal
Lunch: Eggs and toast
Dinner: Ground pork and bean burger
By now, I was kind of dreading eating the burger, just because I wasn't a fan of it. I met up with some friends at a food fair and didn't have anything except water. Again, it sparked a conversation about welfare and SNAP.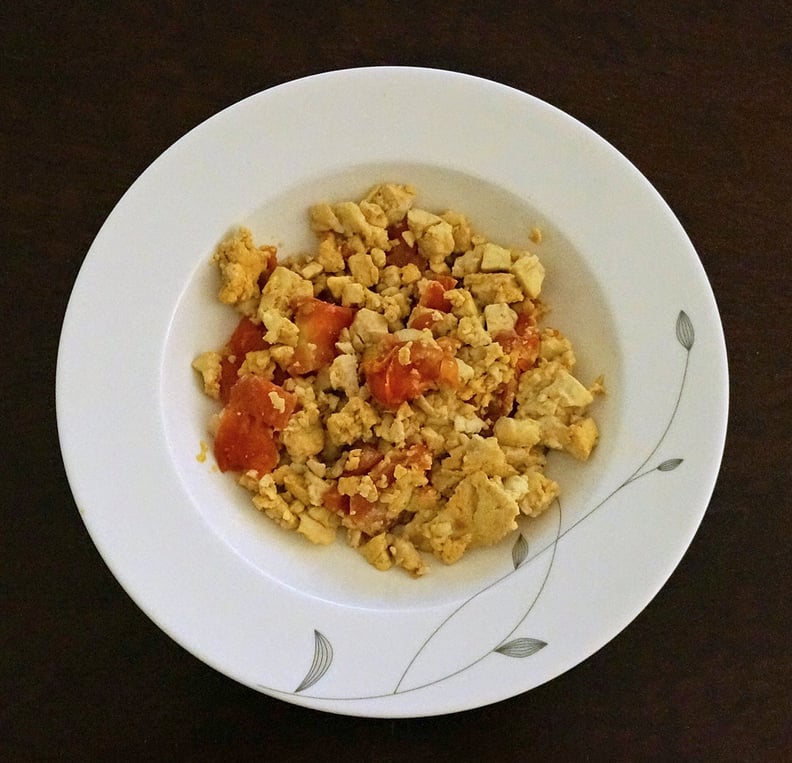 Day 7
Breakfast: Oatmeal
Lunch: Eggs and toast
Dinner: Tofu, egg, and tomato scramble
The recipe for the tofu scramble didn't exist in the cookbook, so I just made it up. I wish I'd used tofu throughout my challenge instead of the ground pork — it tasted so much better. I was also wondering why I didn't account for vegetables when I was food shopping, but it turns out I had forgotten about the frozen broccoli in my freezer! I heated it up and devoured it. However, I regretted eating it the way I did. I wish I had cooked it with something else, like in soup or an omelet, because it tasted pretty soggy with salad dressing.
Conclusion
As it turns out, I had quite a bit of food left over that could keep me going for a few more days. So yes, it is possible to eat healthy on $4 a day, but it can be hard and time-consuming. I also didn't get to eat as many fresh vegetables and fruits as I wanted. OK, so it was my fault for forgetting about the broccoli, but even if I were consuming that, I don't think it would've been enough. And I much prefer fresh broccoli to frozen.
Personally, I think some tweaks are definitely needed for this cookbook. To be fair, Browne addressed that in the introduction when she said this book is more of a "spark" to get people to pick up cooking skills. And in reference to those who do not have access to kitchen and cooking equipment, she said, "I simply cannot hope to do those issues justice within the bounds of one cookbook."
I'm guessing it may be hard for someone on food stamps to follow this cookbook. It's a lot to think and stress about while you're shopping at the supermarket, and cooking from scratch takes up quite some time. And who needs more added stress when you have bills to pay? Someone struggling to feed a family who sees ingredients such as cumin seeds and fresh thyme in the cookbook could possibly think that it's out of touch with her reality. All the added spices and seasonings are great, but maybe impractical. Thinking back on the conversation about food deserts with my friends, I'm also wondering if the quality of what's available in low-income neighborhoods is even appealing to people. Why would you want wilted lettuce when the boxed mac and cheese looks a lot more appealing?
There obviously needs to be more conversation on what we can do to improve the access of quality food to low-income communities, and this book is a good start — perhaps not a perfect one, but at least it'll get the conversation going.