Average Wedding Budget
A Complete Cost Breakdown of One Couple's $26,000 Wedding
Weddings aren't cheap, no matter which way you swing it. The average cost of a wedding in the United States is more than $26,000, and while some are able to save tons of cash on their nuptials, it can be easy to go over your budget when is all is said and done. Reddit user miscsubs was recently married, and he offered a helpful breakdown of the wedding budget he and his wife came up with and how the couple ended up spending more money than they originally planned. See where the cash went, and take some of his tips to heart if you're planning your own wedding!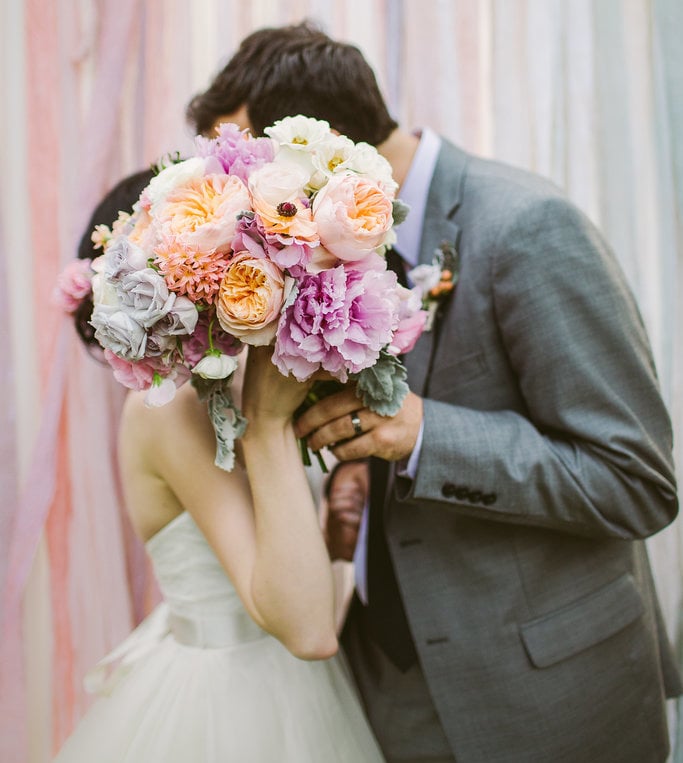 I just got married. I know there are people who can pull off a wedding for $4K or maybe even for $500. Well, that wasn't us. I wanted to give a rough list of our expenses to show why weddings are so expensive even when you're trying to control costs. I hope this post will be useful for some of you in some way.
July 2014:
$2,700 (20 percent) deposit for the engagement ring. Financially, I'm doing pretty well but even for me the ring she liked had a steep price tag. But I decided I wasn't going to cheap out on the ring and got the ring she liked.
December:
Well, she thought about it and decided she doesn't want the expensive ring. So we returned it. We got a much cheaper ring. While we were there, I went ahead and bought our wedding bands too. Paid another $3,700 for all three rings. Total ring cost: $6,400.
February:
$1,300 deposit for the venue.
$600 deposit for the DJ. He was a recommendation from a friend whose wedding I had been to. A band would have cost more, I assume.
$2,000 for the bride's dress. There were many purchases and returns in this month from bridal shops. I don't understand the process, so I can't quite comment on it. My understanding is $2,000 is not a terrible price. We also paid $100 or so in shipping.
$250 for the bride's shoes.
March:
First makeup trial: $120. She didn't like it.
Florist deposit: $850. This is insane. I was thinking "They're just flowers! How can they cost so much?" Well, there is more to it apparently. There's the design, colors, blah blah, and of course, it's a wedding. Everything costs 10 times of what they should.
Catering deposit: $4,300. At this point we expected about 100 people. Not a big wedding really. Edit: I went back and looked what's included. The price includes the cake, linens, food, beer/wine, apps for the cocktail hour, and the dance floor. I paid a little extra for the beer/wine since we had craft beer choices and not the usual domestics. The venue required a dance floor to be installed since it's a historic venue. So, not quite $100/plate as I quoted elsewhere.
Second makeup trial: $160. She didn't like it.
Dress alterations round one: $60
April:
Photographer deposit: $550. She's a friend so she gave us a good rate. Yep, that's half of a good rate.
More wedding dress stuff: $330. I have no idea why so much.
Third makeup trial: $120. And we found THE ONE before the makeup trials bankrupted us!
May:
Groom's suit: $200. I also bought shoes for $350, but I didn't quite include it in the wedding cost since I'll wear those shoes for the next 10 years (I hope!)
June:
Venue second payment: $1,100. We had a Friday wedding so it was $1,000 cheaper. Well, that's good I guess.
Photographer second payment: $500.
Marriage license: $60
Cash to tip the DJ, venue people, catering people: $540. These people worked hard and they deserved it.
Venue late-night cleanup fee: $200. We wouldn't have to pay this if we could do the cleanup the next morning, but the timing didn't work.
DJ second payment: $980
Florist second payment: $1,000
Catering second payment: $4,600 (90 people)
July:
Nails, pedicure, makeup, and all that jazz: $460
Hotel for the newlyweds: $410
Hotel for one guest who couldn't pay her own: $220
Officiant: $100 — was a friend who gave us a deal. The fees I've seen here go between $200-$400.
When all is said and done, we ended up spending $28K or so — $22K if you exclude the rings. Definitely not the cheapest wedding. Definitely could have saved more money somewhere. But everything worked really well with no incidents or crises. The bride never got into the bridezilla mode. I also found out that things just add up. I was hoping for a $15K wedding (excluding the rings), we blew that budget by about 50 percent and not because we were careless.
The biggest costs, as you can see, are the rings and the catering. We went with the buffet style to save money but it's still about $100/plate. I'm sure smaller towns have it cheaper. We also went with a caterer we know — and to their credit, the food was really, really good, and the service was excellent — and we didn't really have too many options anyway since the venue gave us a few caterers they prefer and have worked with before.
My wife's second choice of a wedding dress was considerably cheaper (about $800), but she liked the primary one so much we stayed with it. You know what, she looked incredible in that dress so I'm glad. Anyway, I hope you guys don't ridicule me for overspending. The good news is it's a once-in-a-lifetime thing (hopefully!) so I won't be spending this much on a wedding again!
— Reddit user miscsubs