Halloween Lighted Cans
Welcome Halloween With Trick-or-Treat Cans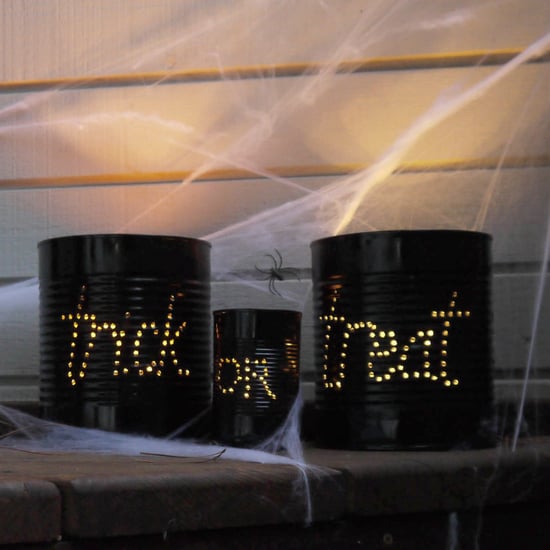 Create an inviting entryway with upcycled can decorations that are really something special. We found this idea on Pinterest and had to give it a try. The DIY basically costs nothing to pull off (cue maniacal laugh), which makes this project even better. You'll need 24 hours, so plan accordingly when prepping for the craft. And don't stop with trick-or-treat cans; make more with other sayings, like "BOO," or draw outlines of spooky faces or swooping bats for a collection of basically free Halloween decorations!
Keep reading for the easy directions:
What You'll Need:
2 large metal cans
1 small metal can
Black permanent marker
Hammer
Ceiling nail
Hand towel
Black spray paint
Tea lights
Directions:
Start by removing any wrappings from the cans and cleaning the containers. Old paint cans, coffee cans, or bulk containers work best for the big candle holders, and a 15-ounce can is perfect for the smaller can.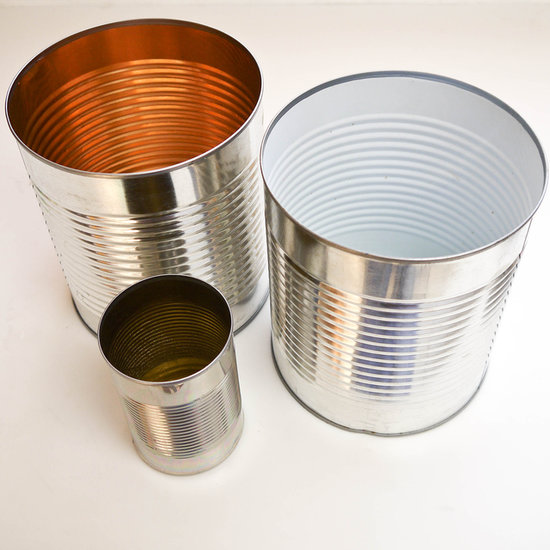 Now use a black permanent marker to write the words on the cans, spelling out "trick" on one of the larger cans, "or" on the small one, and "treat" on the second large can.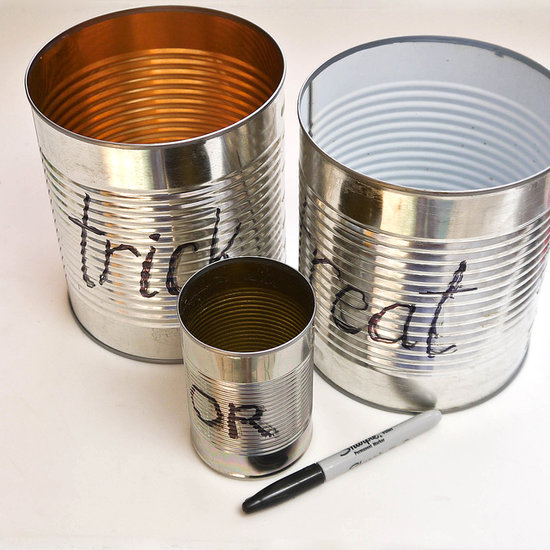 Fill cans with water to the top of the letters and pop in the freezer overnight or until frozen solid. This creates the support needed to nail through the can.
If possible, take cans outdoors and place on their sides on the grass. Working on a carpeted area works just fine, too. Nestle the can in a towel to catch some of the ice that might chunk out while working. Slowly start hammering the nail into the letters, leaving a small space between holes. Continue nailing until the words have been formed.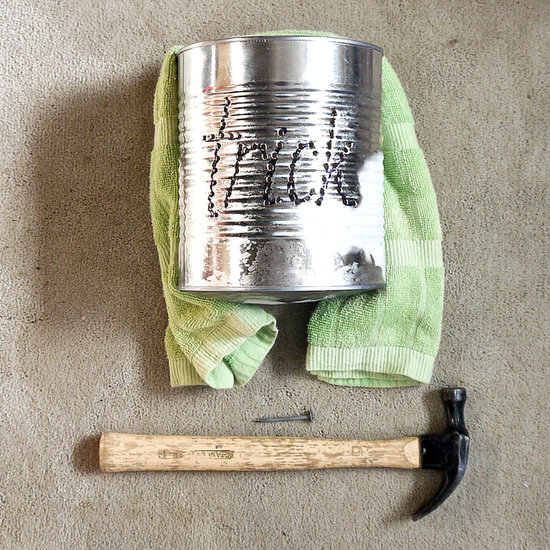 Take cans outdoors and turn upside down in the sun until the ice pops out, or place upside down in the sink and run hot water over the cans to release the ice. Pound the base of the cans flat if they were pushed out while the water was freezing.
Wipe the cans dry and take outdoors or to a well-ventilated area, place on a newspaper-covered work area, and spray-paint black. Coat the cans inside and out. Let dry and touch up as needed.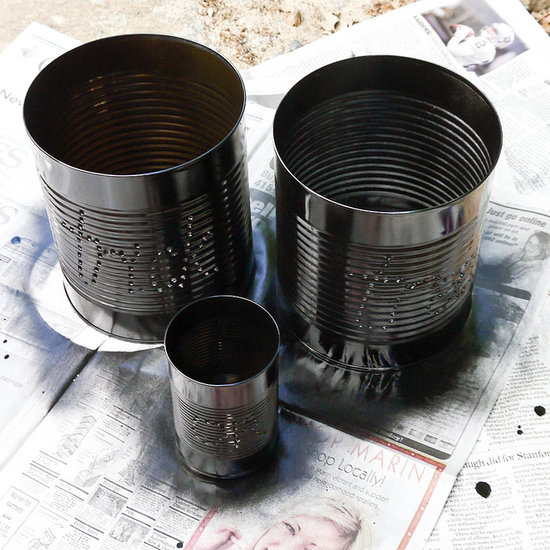 Arrange the trick-or-treat cans on your doorstep, and pop in tea lights for a welcoming Halloween home.