Homemade Laundry Booster
Brighten Clothes With This Awesome Dry Laundry Booster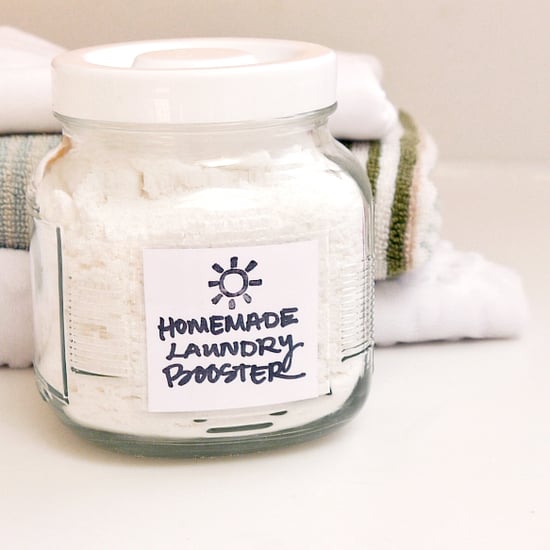 Brighten dingy laundry with this homemade eco-friendly dry laundry booster. Instead of paying for commercial brands, you can easily make your own with basic ingredients found at any grocery store. And once you pick up the basic ingredients, each batch costs pennies to make. Keep your all-natural booster contained in a small jar so it is handy — and seriously potent — when you're doing laundry.
What You'll Need:
2 cups washing soda
1/4 cup hydrogen peroxide
Mixing bowl
Fork
Small container
Directions:
Think of laundry booster as your detergent's best friend. Using washing soda really amps up this laundry helper, while hydrogen peroxide works together with your detergent to help clean your garments.
Measure and add the washing soda to a mixing bowl, and then add the hydrogen peroxide. Gently stir with a fork.
Use the fork to break up any lumps, creating a sand-like texture. When the mixture interacts with water, it creates bubbles of oxygen, which help lift tough stains and gently whiten whites.
Pour the booster into a small container with a lid, and you're all set for tackling the laundry.
For tough stains and dingy whites, soak clothes in warm water mixed with 1/4 cup of the laundry booster for 20 minutes or overnight before washing. And you can keep things all natural and make your own homemade eco-friendly liquid laundry detergent. In a rush? Simply add 1/4 cup of booster directly to your next load of laundry to give your detergent a bit of a kick.
For more cleaning supplies that won't break the bank, check out our top DIY picks.
Image Source: POPSUGAR Photography / Sarah Lipoff