How to Earn Money From Home
12 Ways to Make Extra Money Online While Chilling at Home Like a Boss
Shannon Ullman from YourTango shares some tips on how to save money using apps.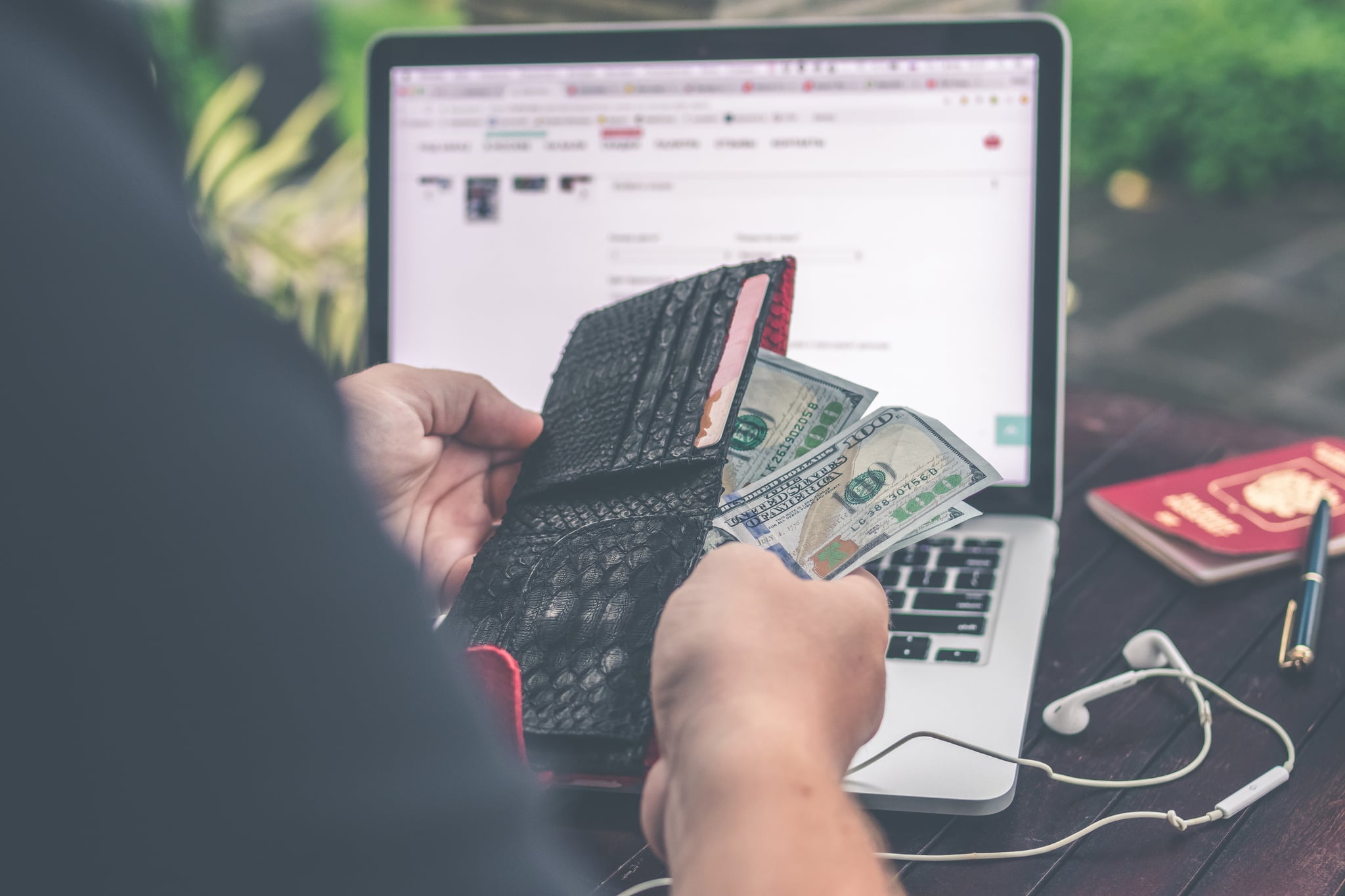 Who couldn't use a little extra cash?
If you're wondering how to make extra money from home, there are a ton of options. Between online side hustles, money making apps, and the wealth of extra income ideas on the internet, you have a lot of options.
Women can especially benefit from learning new ways to make extra money. Between the pay gap, needing to stay home with the kids, or becoming a single parent, using apps to make money can be very helpful in becoming financially secure.
So, if you need some extra income ideas, especially through using money making apps, here are some of the best options we've found.
1. Use a Cash-Back Credit Card (or Debit Card)
Getting cash back for things you buy is pretty amazing. I mean, who doesn't love free money? But, don't make it rain at your favorite online stores just yet. Spending money you don't have and racking up credit card debt is a major no-no. Seriously, girl. It's pretty hard to be a boss babe when you're swimming in an ocean of debt and being hit with massive waves of interest.
If you want to make extra money using a credit card the smart way, you should only use it to buy things that you have the cash for. Think about the things you buy every month:
Gas
Groceries
Toiletries
Restaurant meals
Who needs a side hustle when you can earn cash back on the things you're buying anyway? Just make sure that you pay your card off in full each month to avoid interest. If you're forking up extra cash for interest, the cash back kind of cancels itself out.
Don't qualify for a cashback credit card? Don't worry, you can sign up for a debit card that offers you cash back on everything you buy!
2. Use Apps That Pay You For the Places You Frequent
If you're like most boss babes, your phone is full of apps. Everyone knows that you need to stay connected if you want to boss up your life. Since you're always answering emails, taking calls, and making deals, your phone is probably in your purse at all times.
So, why not use apps that pay you cash? There are a ton of cash back apps out there that give you extra money just for doing the things you normally do.
Cashback apps are getting so good that you don't even need to buy something to get paid. There are now apps that will give you rewards just for the places you go!
3. Use Apps That Give You Cash Back For Your Groceries
All boss babes need to eat, so why not earn extra cash just for buying groceries? You can shop for your weekly groceries, upload a photo of the receipt, and watch as the cash stacks up in your handy cash-back app.
Let's not forget that shopping for groceries and cooking for yourself can save you hundreds, if not thousands of dollars over the course of a year. So instead of busting your budget eating at restaurants, save some cash by shopping for yourself and earning extra money for the things you buy.
Going grocery shopping without a cash-back app would be a major mistake because if you can get free money every time you pick up a late night snack, why wouldn't you?
4. Get Paid to Game
Work hard play hard. You deserve it. But if you're going to play, try to get paid for it. If you have a smartphone, you can download apps that pay you to play. Practice your skills against real life players and earn real cash as your winnings.
Whether you're in line at the grocery store, waiting for your oil to be changed, or on your lunch break, you can be earning extra money right from your phone. These games are the real deal, with some players winning thousands of dollars in prizes!
Playing games that earn you cash is the ultimate side hustle and a total boss babe move.
5. Negotiate Lower Bills
If you want more money in your life, learning how to negotiate is a must. Practice your skills by negotiating lower bills. Think about your cable, cell phone, and insurance, and consider speaking with a representative to get the bill lowered.
Not into negotiating? Don't worry, there's an app for that. Seriously, technology is so good these days that all you have to do is upload your bills and subscriptions and the app will go to work negotiating lower prices.
6. Always Have a Financial Backup Plan
Even if you have a solid emergency fund, you never know when tragedy will strike. Whether it's a broken bone, a sick pet, or a broken down car, you might need to get your hands on some money fast.
Having a financial backup plan like the ability to take out a personal loan is essential. Even boss babes need a little financial help sometimes, and a personal loan can be an absolute life saver. And if you're worried that you can't get a loan because of bad credit, fear not because you've got options!
There are now personal loan companies that cater to people with low credit scores and offer interest rates that are lower than many of the rest. This way, you can get the money you need without worrying about digging yourself into deep debt.
7. Save on Your Power Bill While Saving the Environment
Today's world is one made up of paper straws, solar energy, and a constant reminder that the planet needs saving. It can be hard to keep up sometimes. As a boss babe, you're probably busy killing it in your career, saving your money, and planning to take over the world. But what if you could do all that while saving the world at the same time?
It turns out that you can! We found a program for renters and homeowners that will find ways for you to cut down on your energy usage as well as find programs that will save you money on your utilities. It's free to sign up and does all of the work for you! You'll have to check to see if the program works in your state. Here are the 13 states that will have access: DC, DE, MA, MD, NH, NJ, RI, ME, OH, PA, NY, IL, CT. Save the environment and money at the same time? Why not?!
8. Make Wise Investments
It's common knowledge that women tend to make less money than men. Twenty percent less actually!
That's a big gap, and the pay for women tends to drop off early, especially after having children. This is why it's important to invest early and often.
Finances and investing are often different for women and men, based on different needs, which is why we were excited to find this investment service that is by women, for women.
Sometimes, learning how to invest money can be intimidating, which is why this app is perfect for anyone who wants a more hands-off approach to investing, and is especially useful for working towards specific goals like saving for a home or retirement. Unlike other investing services, this one takes into account the variables that are unique to females.
9. Don't Overpay on Your Car Insurance
No matter which way you look at it, car insurance is something you need. Sure, you may be an incredible driver, but you're sharing the road with a whole lot of people who you can't control.
Having car insurance is necessary, especially because it can save you thousands of dollars if you're involved in an auto accident. However, you don't need to spend a fortune every month on coverage. In fact, it's highly probable that you're overspending on you car insurance, because shopping around can be a major hassle.
Luckily, we've uncovered a service that can find you the most cost effective car insurance for your needs. It does all of the work for you so you can save hundreds on car insurance throughout the year. Think about all of those savings and what you could do with them! The more you save on cheap car insurance, the closer you'll be to your other financial goals.
10. Avoid Bank Fees Like the Plague With an Online Bank
Do you think that overdraft fees, maintenance fees, and ATM fees are part of life? Think again. The world of banking is changing, and with more online banks popping up, there are now more options for boss babes who are sick of shelling out cash for fees.
I mean seriously, aren't you tired of paying these massive institutions extra money that you don't have because, well, you didn't have enough money? The craziness can stop when choosing a mobile banking app like this one instead. You can wave bye-bye to hidden fees while you enjoy lining your own pockets, not the pockets of the big wigs at the banks.
11. Get Money Back on Price Drops
How annoying is it when you buy a pair of shoes full price, only to see them go on sale a week later? Let's face it, stores are willing to part with their products for less money, so why pay more for something when you don't have to?
There's now an app that finds price drops on your purchases so you can reap the rewards (and the sale prices) without even trying.
It turns out that stores will actually allow you to get your money back on products that recently went on sale. But, who has the time to keep an eye on prices, call customer service, and organize it all? That's why these free price drop apps are so great because they'll do all the work for you. They'll track your email receipts and find out if any of the items went on sale, helping you get money back easily.
12. Get Free Gift Cards For Shopping
Want to know how to get free gift cards? If you're like most people, you're shopping all the time. Whether you're on a shopping spree with your friends, stocking up on groceries, or running errands, you're probably spending money on a daily basis. Why not get rewarded for the money you spend with free gift cards?
We found an app that gives you points for shopping at your favorite stores like Target, Amazon, Trader Joes, and more. With every purchase you stock up on points that you can eventually trade in for free gift cards. It's essentially free money so why not try to rack up those points on the shopping you have to do anyway? Grab gift cards to all your favorite stores to make your spending a whole lot sweeter.
Want to earn even more free cash on the side? Check out this article that helps boss babes like you earn more money fast!
Shannon Ullman is a Senior Editor for YourTango whose writing focuses on lifestyle advice for women.
-Created in partnership with SmartWallet
Check out more great stories from YourTango: