How to Naturally Dye Easter Eggs
Naturally Dye These Beautiful Easter Eggs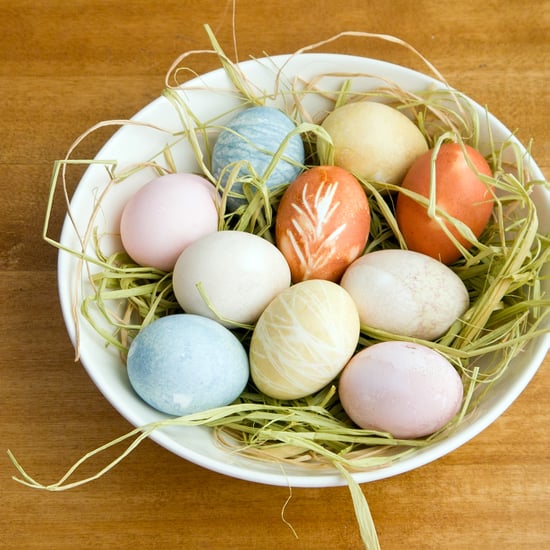 Instead of tossing those strawberries and blueberries that aren't so fresh, use them to naturally dye your Easter eggs. And if you've got a pair of nylons that have a run, they can help create eggs that will look amazing on your holiday table. You might be surprised by how various odds and ends, like onion skins and used tea bags, create eco-friendly colorings that give your leftovers a second use — and cost basically nothing to make. Set color with a splash of vinegar, soak hard-boiled eggs for a few hours, and you're on your way to the prettiest Easter eggs on the block.
What You'll Need:
Skin from 2 onions
1/2 cup blueberries
1/2 cup strawberries
3 used tea bags
Skin from 1 beet
White distilled vinegar
Water
Saucepan
Strainer
Glass jars
Tongs
Hard-boiled eggs
Directions:
Gather leftovers to use for making the natural dyes. The more you have of each ingredient, the stronger the color will be. Onion skins and blueberries create vibrant color, while green tea bags and strawberries offer lighter hues.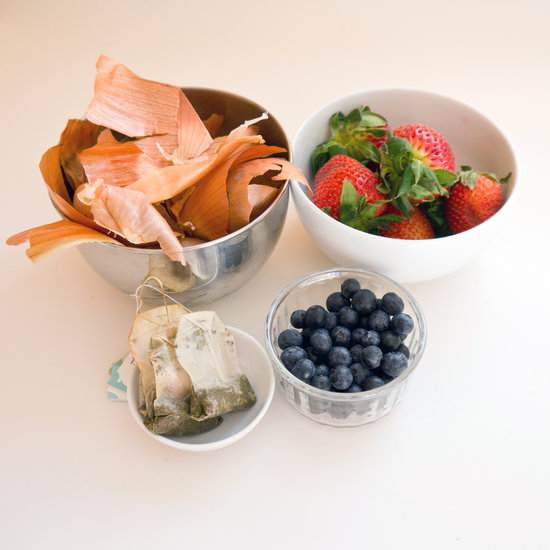 Measure and add two cups of water to a small saucepan, and then add one of the leftover items for creating the dye. Bring to a simmer, and let boil for 10 minutes. You can have several natural dyes simmering at the same time, so they are all ready for coloring eggs.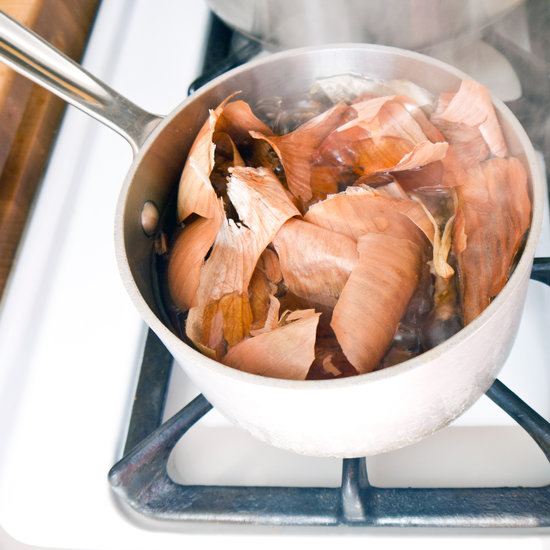 After 10 minutes, strain and pour into small bowls or glass jars. Add a tablespoon of vinegar to each dye, and let them come to room temperature.
While waiting for the dyes to cool, you can prepare the hard-boiled eggs for coloring. If you've got nylons with a run, use them for creating unique eggs that have ghost images of sprigs of herbs, leaves, or flowers.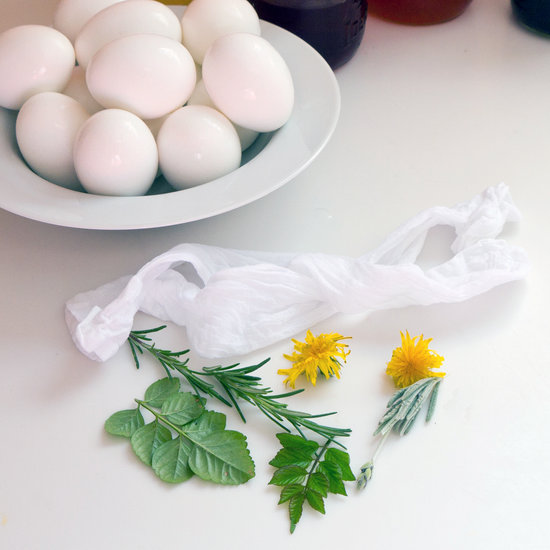 Cut a section from the nylons, tying one end. Gently place the egg in the nylons, and position the leaf, herb, or flower on the egg. Carefully pull the nylon around the egg and secure tightly with a knot.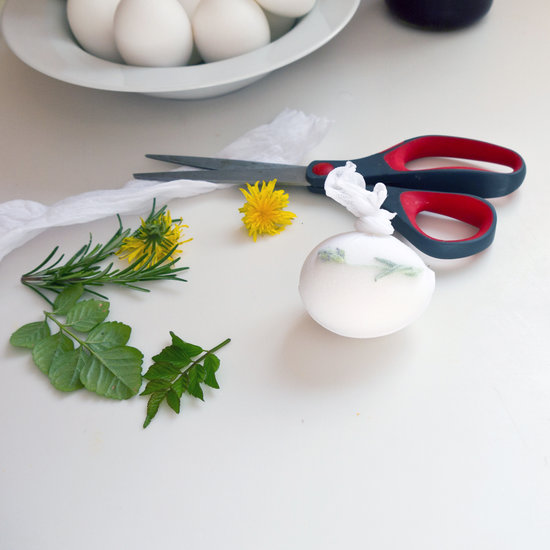 Another fun way to add detail to eggs is to wrap with lengths of string. Use tongs to gently place eggs in the dyes. Placing eggs wrapped with nylons or string in darker dyes, such as the onion skins or blueberries, will leave a more prominent design, while strawberries or beets will have more of a ghost-like image.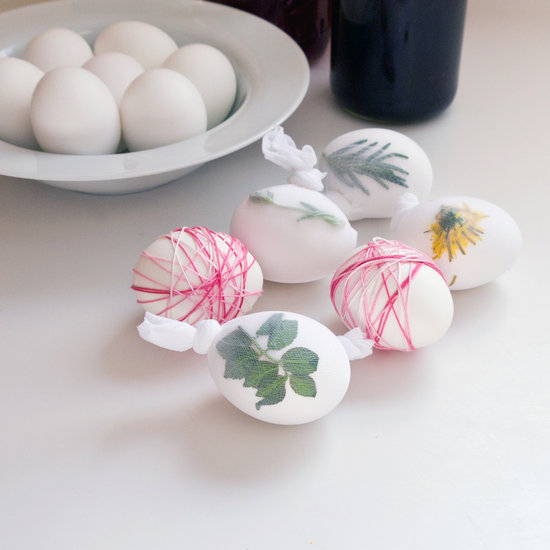 Allow eggs to sit in dyes for up to two hours, and then remove. For saturated colors, place the soaking eggs in the fridge for several hours or overnight.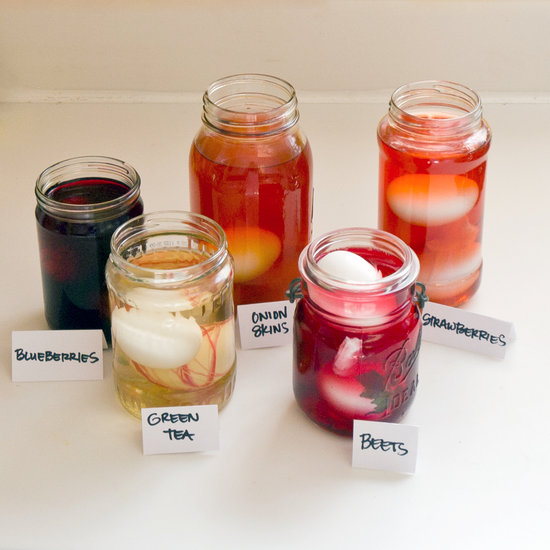 Carefully remove eggs from the dyes using tongs, and place them on a paper towel to dry. Here's how our naturally dyed Easter eggs turned out after soaking for four hours: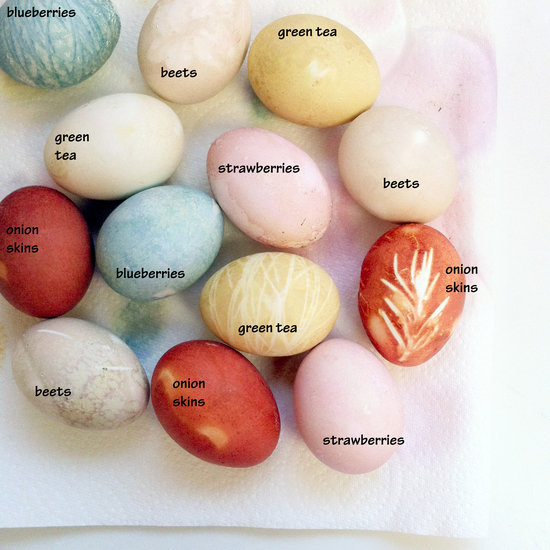 Arrange your finished eggs in a pretty bowl or on a serving platter for display on your holiday table, and get ready for lots of oohing and aahing from your guests this Easter.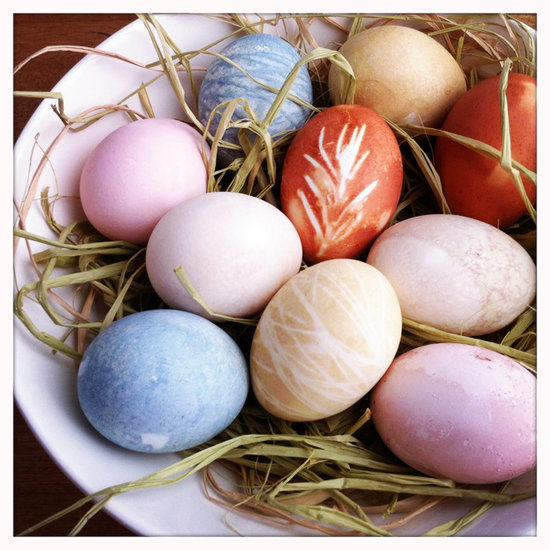 Image Source: POPSUGAR Photography / Sarah Lipoff