How to Prevent Wedding Mishaps
Without a Hitch: 8 Ways to Avoid Wedding Mishaps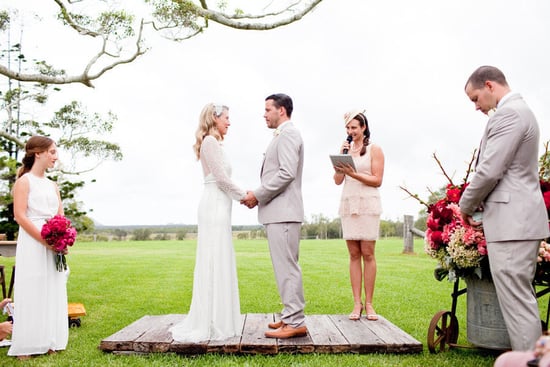 Even if you've gone bridezilla and planned everything in your wedding down to the last detail, accidents can still happen. When unexpected mishaps occur, take a deep breath and try not to blow your top. Meanwhile, to diminish the chances of these awful incidents happening, here's how to prep ahead of time:
Detailed contracts: Try to prep for the worst-case scenarios with vendors and other people you hire for the wedding by being diligent when it comes to contracts. For example, if there are food allergies or specific requirements the caterer needs to be aware of, add those requests in the contract.
Have a dress rehearsal: Holding a dress rehearsal can help you spot any problems that may come up during the actual wedding — unruly dresses, the clueless bridesmaid missing cues, and more.
Create a contact list: Put together important contact information of people involved in the wedding and pass it around so your bridal party can help out if needed.
Find a mediator and assign a CEO: If you don't have a day-of coordinator, ask someone in the bridal part to stand in as your CEO, making sure everything goes off without a hitch and preparing for when mishaps happen. You can also ask the same person or another bridesmaid to be a mediator — someone who can smooth things over and tackle drama among people as it happens.
Create an emergency kit: Emergencies happen but your handy bridal tool kit can help protect you from them. Some items include makeup for touch-ups, breath mints, sewing kit, etc.
Back up everything: Treat your wedding as if you were working on an extremely crucial work project, which means making sure you have a backup for everything. Have a plan B in case Mother Nature rains on your parade, the sound equipment goes awry, your stocking develops runs, and more.
Check in with everyone: A month before your big day, check in with the people you hired and the people in your bridal party to make sure everything is in order. Confirm details with the vendors and talk to your bridal party to see if they have any concerns and if they are on track with their duties.
Consider a day-of coordinator: Ease the load off yourself and your bridal party during your wedding by hiring a day-of coordinator, who will take care of any snafus that come up, assist you in tasks that need help, and coordinate all the activities on your big day.
Photo by Karen Buckle Photography via Style Me Pretty