Quip Toothbrush Review
I Tried That Toothbrush You See Everywhere Online, and I'm Never Using Anything Else Again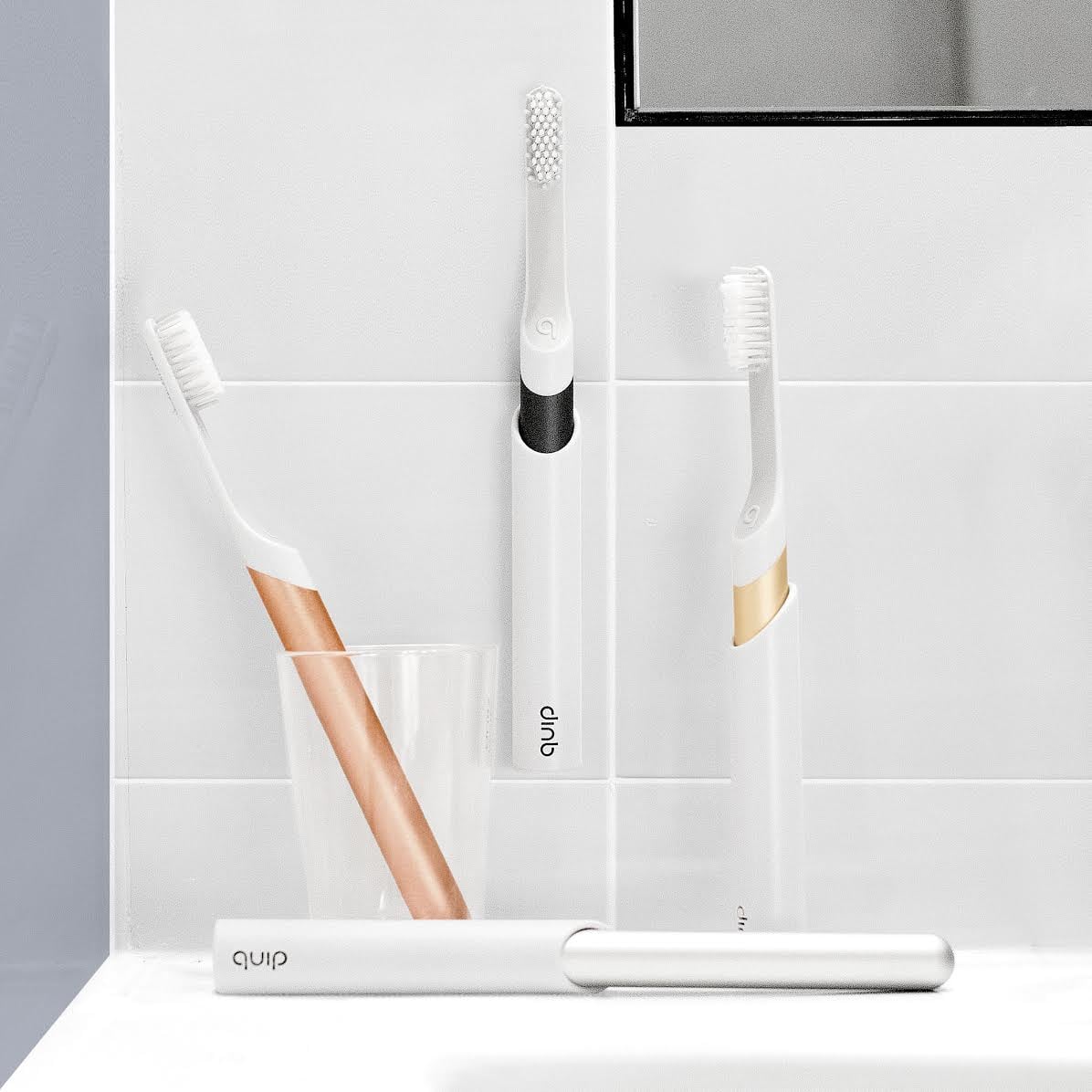 "I can't wait to brush my teeth!" is not something I ever thought I'd hear myself say. Ever. But on day two of owning a Quip toothbrush, I found myself smiling on my way to the bathroom, excited to put it to use. That in itself is amazing because I absolutely hate the task of brushing my teeth (don't worry, I still do it).
In case you live in a cave and haven't seen Quip ads plastered all over your social media platforms, it's a sleek electric toothbrush that's somehow made oral hygiene cool. The first time I saw it featured on my Instagram feed, I was weirdly drawn to its minimalist aesthetic and simplified routine. The company works on a subscription-based model, delivering toothpaste refills and new brush heads to you every three months, which is about when dentists suggest swapping your brush out for a new one. Here are three more reasons I'm never going back to a regular toothbrush again.
1. It's affordable.
I've considered buying an electric toothbrush before for an easier and better clean, but little did I know how expensive they are. I couldn't justify spending $60 to $200 on a toothbrush, so I continued to use my good ol' Oral-B. Quip's electric sets start at $25 to $45, depending on the brush (plastic or metal base) and the refill plan you want. Choose to pay $5 every three months for a brush head replacement or $10 for a brush head and toothpaste refill. Although I was lucky enough to receive a complementary Quip to try, I was already contemplating purchasing one myself because of its reasonable price point.
2. It's travel-friendly.
Most, if not all, electric toothbrushes are typically bulky and not something you'd pack for trips or slip into your purse. The Quip brush is slim and sleek, and although it surprisingly has some weight to it, its travel wall mount makes taking it on the go so easy. It doubles as a toothbrush stand/wall mount that attaches to glossy surfaces like a suction cup and as a travel cover. Stick the mount onto your mirror or shower tile (it's waterproof!), and simply peel off and cap your brush whenever you want to take it with you.
3. It works.
Quip is small but mighty. Creator Simon Enever spoke with dentists and learned that oral hygiene professionals suggest using electric toothbrushes over manual brushes, as well as the common mistakes most patients make when brushing their teeth. From there, he designed Quip to fit all those needs: a small head (for tight spaces), round-tipped bristles (softer on gums), and soft, flat bristles (most people brush too hard). One of the main issues he found was that most people don't brush long enough, so a two-minute timer was built in, which pulses every 30 seconds to let the user know to switch sides. The delivery-service model also helps you get the most out of your brush; you're not brushing effectively after three months of wear. After each use, my teeth feel and look significantly cleaner than they would from manual brushing.
Don't judge me, but by bedtime, there are nights when I'm too sleepy to get out of bed to brush my teeth. And even though my teeth are in relatively good standing (only one cavity in 23 years so far . . . knock on wood!), I wasn't doing myself any favors by skipping the most important time to clean. But because Quip makes brushing so easy and fun — or as fun as brushing can get — Quip overrules my laziness and leaves me without any excuses to bypass this routine. I was sold my first time using it, and I'm pretty sure you will be, too.
Image Source: Courtesy of quip