Uses For Rubber Bands
18 Uses to Make the Most Out of Your Rubber Bands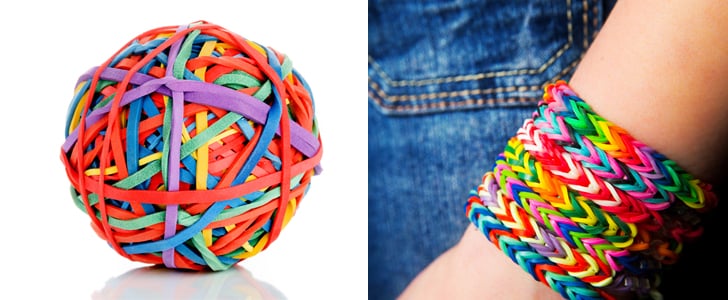 Do you have a bunch of rubber bands lying around the house? Well, get ready to put them to use! These inexpensive household items can do much more than keep a bag of chips closed or a folder of papers together. Rubber bands have plenty of daily uses that you wouldn't expect. Here are 18 uses for rubber bands that will make your life easier around the house and save you from breaking the bank.
Keep sliced apples fresh: Preparing lunch? After slicing an apple, put the pieces back together and wrap a rubber band around them. This will keep the slices from getting dry and brown.
Hold a cutting board: If your cutting board keeps slipping on the counter, put rubber bands on each side of the board. This should create enough traction to keep your cutting board stable.
Decorate Easter eggs: Wrap rubber bands around the eggs then dip them in dye. After removing the rubber bands, you'll see patterns you couldn't have painted. (The same applies for tie-dyeing clothing!)


Source: Flickr user OakleyOriginals
Create a quick splint: If you injure your finger, use a rubber band to strap it to a firm card. Of course, this is only a temporary fix until you can go in to see the doctor!
Make statement jewelry: Rubber bands can also be a good DIY project! Get some colorful rubber bands and put them together to make a fun necklace or bracelet without burning a hole in your pocket.


Source: From Rags to Couture
Get sticky fingers: Pages can be hard to turn or separate. To quicken the process of shuffling through papers, tie a rubber band around the tip of your fingers to provide traction.
Save bottled liquids: Do you find that when you pump soap out of a bottle, you get too much of it? Well waste no more with rubber bands! Simply wrap a rubber band around the dispenser to stop the handle short and limit the flow.


Source: Shutterstock
Save yourself from buying a new broom: When the ends of your broom start to fray, tie a rubber band around the middle of the bristles. This will help to tighten them up and keep them together for a cleaner floor.
Make an eraser: If you can't seem to find an eraser around the house but you have rubber bands, tie them together to make a small ball. It will serve as a great makeshift eraser!


Source: Shutterstock
Toddler-proof your house: Toddlers love opening cabinets. To avoid this, wrap rubber bands around the two knobs to lock them.
Open a stubborn jar: Wrapping a thick rubber band around the lid of a jar will help you get a better grip. The jar should open in no time!


Source: Flickr user Mike Lieberman
Create a clip for your car visor: If you need an extra compartment in your car with easy access, tie a rubber band around the visor of your car and slip your important pieces of paper into it.
Keep your pets away from the toilet paper: If your cats or dogs have a bad habit of ripping up the toilet paper dangling from the roll, snap a rubber band around the roll. You'll eliminate the temptation!


Source: Shutterstock
Keep thread from getting tangled: When your sewing box is filled with multiple spools of thread, you may find yourself constantly detangling the ends. To avoid this, wrap a rubber band around each spool to stop the threads from unraveling.
Break in baseball gloves: Buying new gloves is a challenge because they are so stiff. To break a pair in, place a baseball inside the glove and wrap a rubber band around it.

Source: Snapguide user Jess Hirshfield

Create a bookmark: There's no need to go out and buy a bookmark that may just slip out of your book. Snap a rubber band around the pages you have already read to keep your place. You can also wrap a rubber band around the whole book if you're putting it in your bag and you don't want the book to open and the papers to fold.
Stop spoons from slipping: Hate it when your spoon falls into your bowl of soup? Take a rubber band and wrap it around the top of the spoon to avoid having to fish it out.


Source: Reddit user ImTheMoon
Keep clothes from falling off a hanger: Plastic and wooden hangers can be quite slippery. If you're constantly rehanging clothing because they won't stay put, wrap rubber bands around the ends of the hangers for traction.
Source: Shutterstock; front page