21 Real Struggles Every Adult Will Understand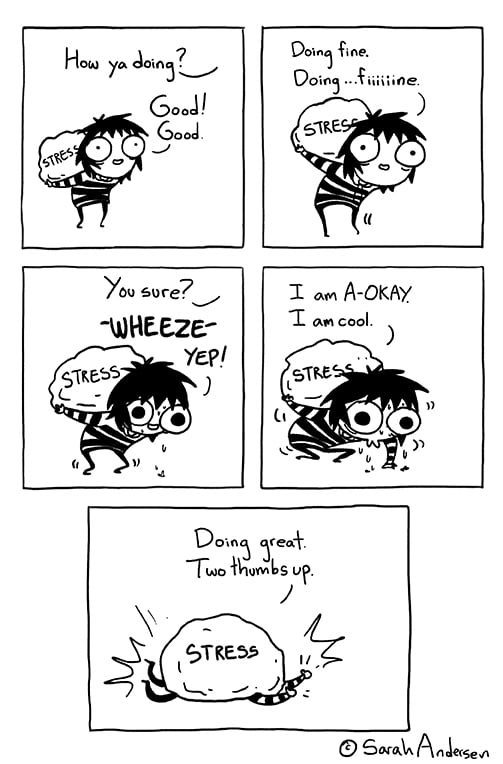 Instagram | sarahandersencomics
Adulting is hard and frustrating and weird. Apparently hitting your mid-20s automatically makes you a real person, even if you have no idea what that means. If we are brutally honest with ourselves, we're probably doing it all wrong. Luckily, these hilarious comics by artist Sarah Anderson not only accurately sum up the roller coaster ride that is being adult, but they'll remind you that, at the very least, you're not alone in your struggles. We're all just making it up as we go along; adulthood is a myth, after all.
01
When reality literally slaps you in the face.
02
When you can't even make it through a normal conversation without f*cking SOMETHING up.
03
When you remember decaf exists and nothing in the world makes sense.
04
When the grass is always greener.
05
When making new friends isn't as easy as it used to be.
06
When you MIGHT have left something on and now you're convinced your house is going to burn down.
07
When smart money management is a little hard.
08
When it's all a little too much.
09
When you're not a millionaire but you really want new stuff.
10
When you just hate that person.
11
When "treating yourself" goes a little too far.
12
When there are WAY scarier things in your life than ghosts and demons.
13
When you're just over it.
14
When there's a major tradeoff.
15
When your everyday life goes something like this . . .
16
When the whole "self-control" thing goes out the window.
17
When your mind gets a little carried away.
18
When you fail really hard at what seems like an easy task.
19
When you're fine. Really. You're fine.
20
When you want something done and you have to actually do it yourself . . .
21
When "real life" is STILL better than high school.