7 Things You Should See, Do, and Eat in Atlanta
It's not just Georgia's state capital or the home to Coca-Cola and the world's busiest airport — Atlanta has a booming culinary scene, lots of green spaces, and more hip hidden gems than most realize. A lot of travelers find themselves exploring cities like Charleston, Nashville, and Savannah before they land up in this Southern metropolis. Unless you know just where to look, it can be easy to get lost in the city's concrete, miserable traffic, and overdone tourist attractions. My advice is to not let those impressions keep you away. As a graduate of the University of Georgia, I've had some time to travel from Athens to Atlanta and get my bearings on the peachy city. When you do it right, it will likely surprise you. Keep reading if you're hungry for ideas on where to eat, drink, and wander in Atlanta.
01 Relax in Piedmont Park.
Consider this Atlanta's Central Park. Home to festivals like Music Midtown, pathways, ponds, and lounging locals, it's one of those spots that can mold to whatever the mood is. As colorful and lively as it may be for families, it can be just as romantic for couples. It's so massive and green that you will probably forget that you're exploring around in the middle of a major city. The skyline is always hanging over the trees, just in case you need a friendly reminder.
02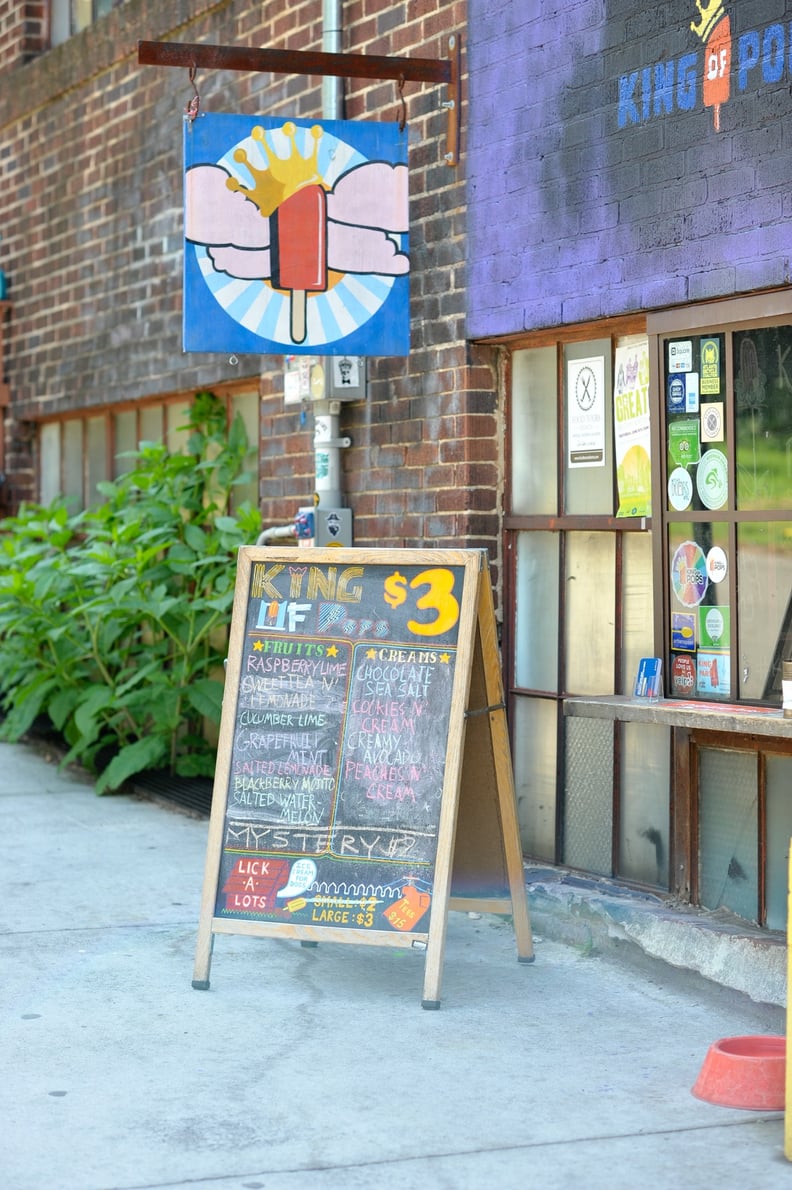 Wander along the BeltLine.
Similar to New York's Highline, the BeltLine is a historic railway turned into a major trail and green space. Amid the city's 45 neighborhoods, it wraps around for 22 miles. You'll find street art and musicians entertaining under overpasses, joggers, bicyclers, and friends strolling home postbrunch. You can go for a run, use it as a connector from here to there, or make a day of it. Stop at shops along the way and grab a local draft, coffee, or gourmet ice pop from locally loved King of Pops.
03 Eat your way through Ponce City Market.
If you wander along the BeltLine you'll eventually stumble on the historically preserved Ponce City Market. From the same developers as NYC's Chelsea Market is this funky retail space and food hall that makes it easy to toss all first impressions of the city. It has burgers, fried chicken, tacos, lattes, and more. There are stores like Anthropologie and West Elm — plus a multivendor marketplace for artisan makers to set up shop. When you're done snacking and shopping, you can head up on the freight elevator to the roof for cocktails, mini golf, and carnival-style games.
04 Shop around Westside Provisions District.
The Westside Provisions District is charming and loaded with cute boutiques, galleries, showrooms, aromatherapy shops, chic stores like Free People and Calypso, and teeny eateries like Jeni's Splendid Ice Cream. Industrial chic and design focused, it's good for date nights or meeting up with friends. Like so many other spots in the city, it's a bit random and pops up out of nowhere. Regardless, the outdoor space is another cool part of the city that's the right kind of unexpected.
05 Fall in love at Taqueria Del Sol while you're at it.
Sitting just beside the shops at Westside Provisions is this always-packed Southern, Mexican, Southwestern fast-casual restaurant. You'll probably spot it by the line wrapping out the door. No worries, it moves quickly. Order the salsa trio, queso (without jalapeños if you're not into spice), as many tacos as you can finish, or maybe some enchiladas. Don't forget to check the daily specials! There's also a full bar for the margarita-lovers. It's a local favorite, and everyone inside will tell you how truly addicting it is.
06 Visit the High Museum of Art.
Midtown is considered the art district of the city, and this museum definitely has a hand in that declaration. The architecture is so cool, and there's a permanent art collection featuring interesting works and a mix of ever-changing exhibitions. For those who are into it, there are monthly nights with live jazz music, film screenings, conversations with writers, seminars, and book clubs. For the artistically inclined, there are even the occasional art classes. It may be smaller, but it's well-curated and totally worth a visit.
07 Kick off a night out in Buckhead.
Well-known for its upscale vibe and happening nightlife, Buckhead is a fun place to indulge in cocktails and some good eats. Clustered around a few streets, it's pretty easy to navigate and has a youthful scene that you'll want to check out. Restaurants like the Southern Gentleman, a chic Southern spot, and Gypsy Kitchen, a funky tapas-style restaurant, are a must-try for dinner. Make a reservation or post up at the bar until your table is ready. It's a good spot to be in as the night picks up.