Your Ultimate Guide For the Most Authentic Austin Adventure
Located smack on the edge of the Hill Country region is where you'll find it: the sizzling little slice of the South known as Austin, Texas. Recognized as the live-music capital of the world, this vibrant city has long been acclaimed for its distinctive quirky culture and art-centric focus. And with an unofficial slogan of "Keep Austin Weird," you can expect an abundance of good times to start rolling as soon as you arrive.
So whether you're thinking of heading this way for the endless live music, to two-step at an authentic honky-tonk and chow down on delicious barbecue, or to simply allow your spirit to roam free and wander, we've rounded up 11 ways to make sure you have the ultimate authentic Lone Star experience. Ready for an unforgettable Austin adventure?
01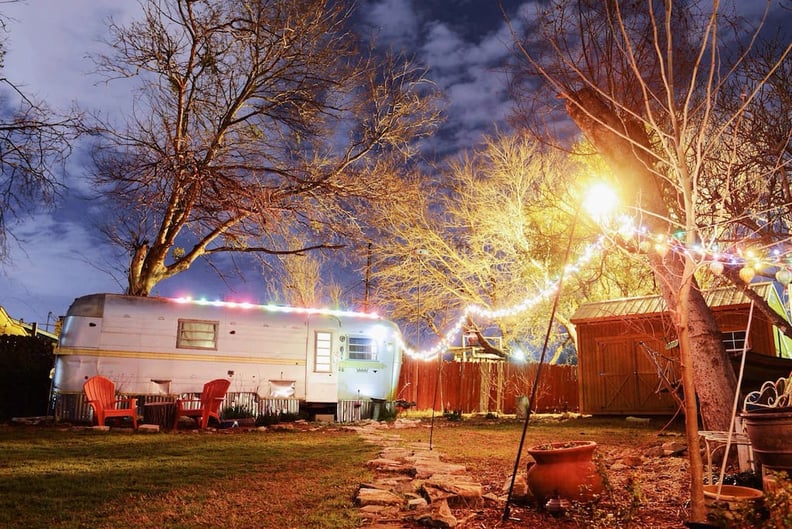 Rest your head in style by sleeping in a vintage airstream.
While there are plenty of hotels in Austin, why not add some pizzazz to your accommodations and stay in a vintage airstream? Thanks to Airbnb, the options are endless. With hardwood floors, a full-size bed — that comes with 600-thread-count Egyptian Cotton sheets! — and far more personality than any ol' hotel can provide, this retro airstream is a true backyard oasis. And with rates starting at just $50 per night, you will certainly be one happy camper.
02 Embark on a scavenger hunt to locate Austin's iconic murals.
It's no secret Austin is bursting with creative energy. And just a few looks around is all it takes to realize this city is peppered with colorful art. From the "Greetings From Austin" postcard mural to the "You're My Butter Half" and "I Love You So Much" outdoor paintings, what would a visit to Austin be without hunting down a few murals?
Because some of this stamped artwork can be quite hard to find, joining a guided tour can be a great way to scout out the hidden gems. Austin Street Art Segway Tour is an extra-fun choice! Not only will you wheel past iconic murals, vibrant graffiti, and other colorful oddities throughout this two-hour tour, but you will also have a chance to explore different neighborhoods of the city, as well as the HOPE Outdoor Art Gallery.
03 Explore the Cathedral of Junk.
Remember how we mentioned Austin is known for keeping things weird? Case in point with the Cathedral of Junk! While it might be invisible from the streets, the 60-ton pile of junk is anything but unrecognizable once you cross the threshold of Vince Hannemann's backyard.
He started collecting in 1988 and hasn't stopped since. Although the neighbors aren't the biggest fans of Vince's junk collection, this Cathedral has become a household name in Austin and is one of the most interesting exhibits in the entire city. It certainly is something you have to see to believe. Expect to find lots of illuminated beer signs, clocks, and any other ornamental doodads you can imagine when touring this man-made masterpiece. Vince even accepts junky gifts to add to his collection. Just make sure to call before heading this way, as tours are by appointment only!
04 Peruse for treasures on South Congress.
Exploring the vibrant neighborhood of South Congress is a must when visiting Austin. Also known as SOCO, this pocket of the city oozes with activity and houses a chest full of treasures. From classic shops such as Uncommon Objects to all the local eateries, art galleries, and music venues, there is something for every interest.
But be sure not to leave the area before perusing the countless aisles of cowboy boots at Allens Boots. These boots come in all different sizes and shapes and can become quite handy with all the line dancing that might be in your future! And if you're in the mood for a sweet treat, head on over to Big Top Candy Shop, where you'll find circus-themed candies and old-school confections.
05 Revel in the city's iconic landmarks and historical buildings.
From the Texas State Capitol and Governor's Mansion to the French Legation Museum and Texas State Cemetery, there are so many fascinating opportunities to step back in time and revel in the history of the Lone Star State. Aside from touring the grounds of these iconic landmarks, you can also delve deeper into the city's heritage by downloading an app to join a self-guided tour through Preservation Austin. The best part? These tours are free and right at your fingertips, allowing you to get to know the city at your own leisurely pace!
06 Chow down on all the local food-truck cuisine.
Austin and food trucks practically go hand in hand. With the perfect blend of tasty culinary mashups, regional imports, and classic comfort foods, you can eat your way around the world in one of the city's beloved food-truck trailer parks. From Tex-Mex and Thai to breakfast tacos, pizza, and barbecue, whatever your taste buds are craving, you'll find the fix here.
Ready to belly up and eat? Check out this map listing all of Austin's food trucks. A few local favorites are Via313, LeRoy and Lewis, and Thai-Kun, but don't worry: you can't go wrong no matter what you choose!
07 Create your own soundtrack with Austin's live music.
From the infamous SXSW and Austin City Limits music festivals to local street performances and live shows, the music scene is sizzling here in this pocket of Texas. And with more than 250 music venues, get ready to start tapping your toes because you'll find musicians everywhere. At coffeehouses, clubs, bars, taquerias — even grocery stores! — expect to find some sort of live soundtrack playing.
To take advantage of daily musical events around the city, be sure to check out Austin's music calendars.
08 Get your two-stepping on at Broken Spoke.
What better place to get your boots scootin' and learn to two-step than at a true Texas honky-tonk? With live music every night, cold beer, and classic comfort foods at extra-cheap prices, Broken Spoke is one of the most adored traditional dive bars in all of the Lone Star State . . . and the perfect place to dance the night away!
09 Tap into your inner adventurer by soaring over the Texas Hill Country.
Did you know the longest zip line in all of Texas is located in Austin? Yes; it's true! So if you're a lover of adrenaline and looking to escape the city crowds for some outdoor fun, Zip Line Adventures is for you.
Take in spectacular views of Lake Travis and the Texas Hill Country as you soar over canyons, hills, and water. Adrenaline junkies will love the finale of this experience, as it consists of launching off a cliff 20 stories high and zipping 2,800 feet across the lake!
10 Beat the heat by cooling off in a natural swimming hole.
Don't forget to pack your bathing suit when visiting Austin. With a 50-foot waterfall, limestone walls, and water with a mesmerizing jade-green hue, the Hamilton Pool Preserve is the perfect spot to cool off and beat the Summer heat. However, because this natural swimming grotto has become quite popular among visitors and locals, reservations are required from May 1 through September 30.
If you're unable to land on the reservation list, another refreshing swimming spot is the Barton Springs Pool, a pool three acres in size and filled with water from nearby natural springs!
11 Leave inspired by experiencing the magic of a spectacular sunrise.
There are very few things that compare to an awe-inspiring sunrise. But sunrises in the city? Even better! If you can manage to drag yourself out of bed and find your way to the Congress Avenue Bridge, a breathtaking experience awaits. With Lady Bird Lake calmly resting below and the downtown skyline glistening above, you can't help but leave feeling rejuvenated — awake! — and inspired.
But don't expect to find this type of solitude if you're strolling along the bridge at night. Once the sun sets for the day, hundreds of people flock to see the world's largest urban bat colony emerge from under the bridge's archways. Yes, you read that correctly! Up to 1.5 million bats fly into the Summer skies, making this bridge one of the most unusual and captivating tourist attractions anywhere. Just another way to help keep Austin weird.