14 Route 66 Attractions to See on Your Next Road Trip
Ready to have a good ol' fashioned road trip? Consider your travels planned with this excerpt from Drew Knowles's Route 66 Adventure Handbook, featuring quirky roadside attractions and facts you won't want to miss.
America's iconic highway is still alive and definitely worth incorporating into your Summer travels. You can't call it a real road trip if you don't get your kicks on Route 66, right?
Born out of need after automobiles became mass produced in the US, Route 66 was built in 1926 as part of the numbered federal highway system we know today. It then boomed as a popular highway when John Steinbeck referred to it in his famous novel, The Grapes of Wrath. Dotted along "the Mother Road," as Steinbeck would say, are both bizarre and intriguing attractions that will make your drive one to remember. Some of them are so strange you won't believe they exist, and all of them promise some great photos. Buckle your seat belts because we're taking you from Illinois to California.
01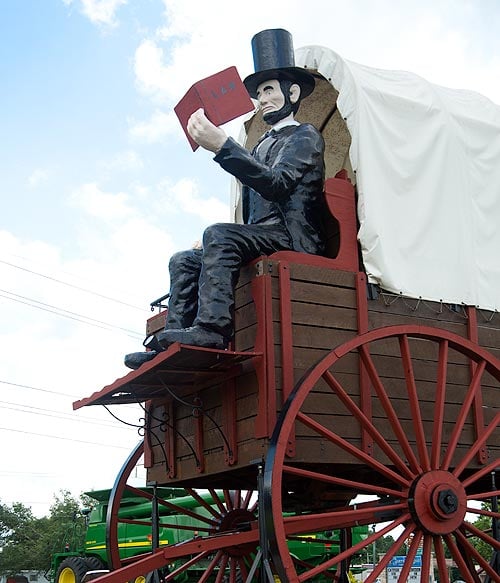 World's Largest Covered Wagon (Lincoln, IL)
Lincoln is now home to the World's Largest Covered Wagon (1750 5th St.), recognized as such by the Guinness Book of Records. The wagon was built several years ago, and after completion it was displayed for a time in the Divernon area with a huge figure of Abraham Lincoln in the driver's seat. It now has a permanent home on the grounds of the Best Western Lincoln Inn.
02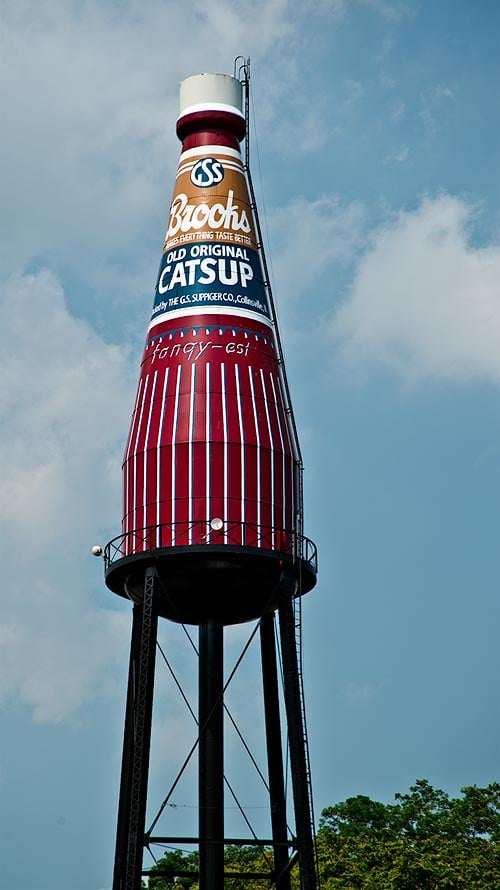 World's Largest Ketchup Bottle (Collinsville, IL)
Collinsville is also the home of the World's Largest Ketchup Bottle (800 S. Morrison Ave.), at the old Brooks Foods plant. Built as a water tower, the bottle is about 70 feet tall and stands atop a 100-foot base. Brooks closed years ago, but the bottle replica, constructed in 1949, remains.
03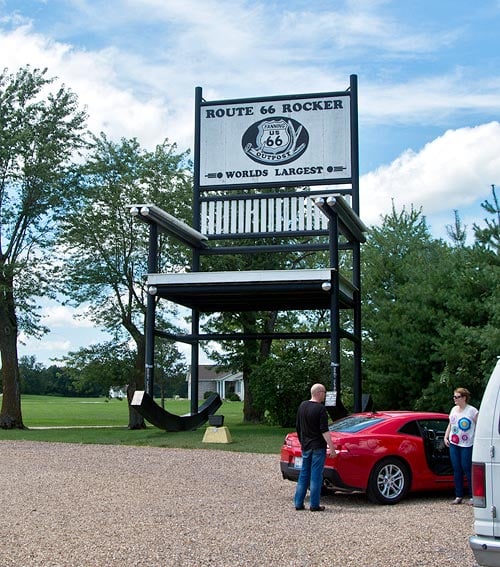 World's Largest Rocker (Fanning, MO)
West of Cuba, you'll encounter the small community of Fanning. At the site of the former Fanning US 66 Outpost stands the Guinness-certified World's Largest Rocker. Constructed in 2008, it is more than 40 feet tall, making for an outstanding photo opportunity.
04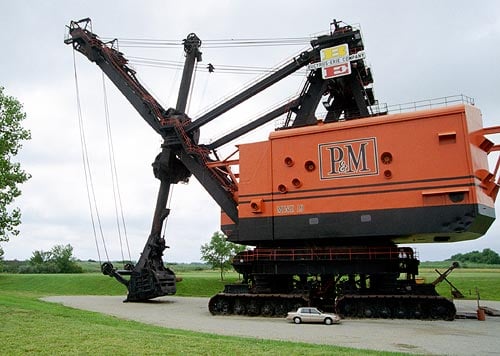 Big Brutus (West Mineral, KS)
If you want to do even more exploring, turn west from US 69 onto State Highway 102 to reach the town of West Mineral. Here stands Big Brutus (6509 NW 60th St.), the second-largest power shovel ever built. 16 stories high, Big Brutus has a shovel that could fill three railroad cars with one scoop. One look at this monster will erase any lingering doubts that this part of Kansas owes its livelihood to mining. Every June, the Big Brutus Miners' Day Reunion is held in West Mineral, where veteran miners reconvene to talk about old times. August gets even livelier, with the Big Brutus Polka Fest featuring dueling polka bands. The Big Brutus complex even includes RV and camping facilities.
05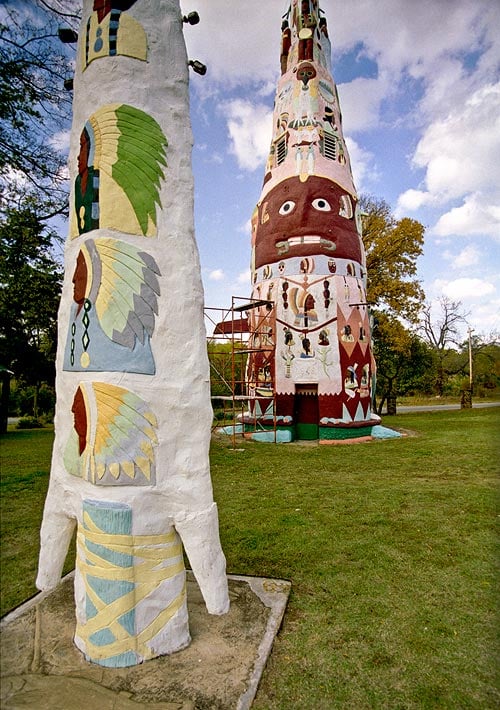 Totem Pole Park (Foyil, OK)
Foyil's claim to fame today is that it is home of Ed Galloway's collection of concrete American-Indian-inspired structures, in what is commonly called Totem Pole Park (21300 E. Hwy 28A). This is truly a landmark, and a great old-fashioned roadside attraction to boot. Get there by leaving State Highway 66 and turning onto Highway 28A at the north edge of Foyil, and going about four miles east. The focal point of the collection is a 90-foot-tall totem pole made of brightly painted concrete. Ed Galloway created this collection of structures in the post-war years (the main totem pole in particular bears a date of 1948) as an expression of his own creative impulses.
06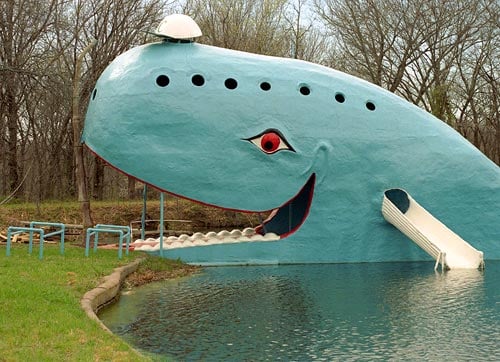 Catoosa Whale (Catoosa, OK)
Near Catoosa is the Catoosa Whale (2600 Historic Rte. 66), an example of a small-scale mom-and-pop roadside attraction. Restored by volunteers in 2002, it is a large whale-shaped structure that is painted blue and sits in a small pond. In its heyday, visitors could enter the whale's mouth and then slide down a chute, which exits behind the whale's ear, or dive off a small platform at the tail and into the surrounding swimming hole.
07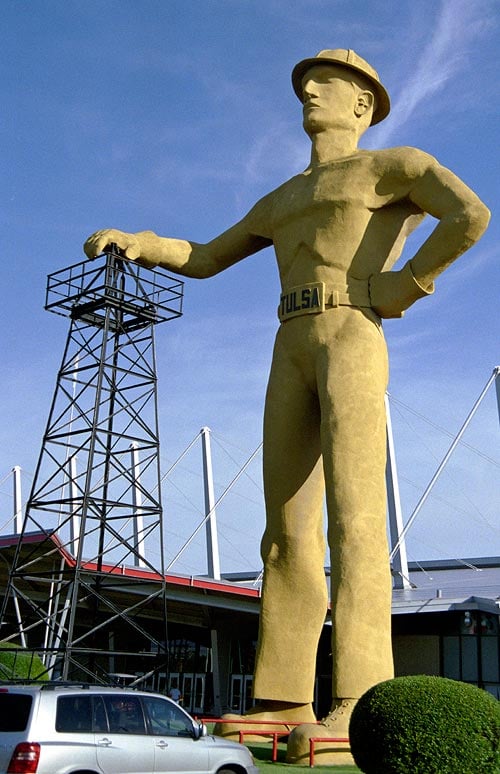 Golden Driller (Tulsa, OK)
There's a 76-foot-tall oil worker sculpture, known as the Golden Driller, standing outside Tulsa Expo Center (4145 E. 21st St.). The center is said to contain the world's largest unobstructed interior volume. The roof is suspended by a system of booms and cables, which allows adequate room inside for over-sized equipment shows. In fact, the original Golden Driller (he was upgraded in the 1970s) was put on display inside the building for a while prior to his outdoor placement in 1966.
08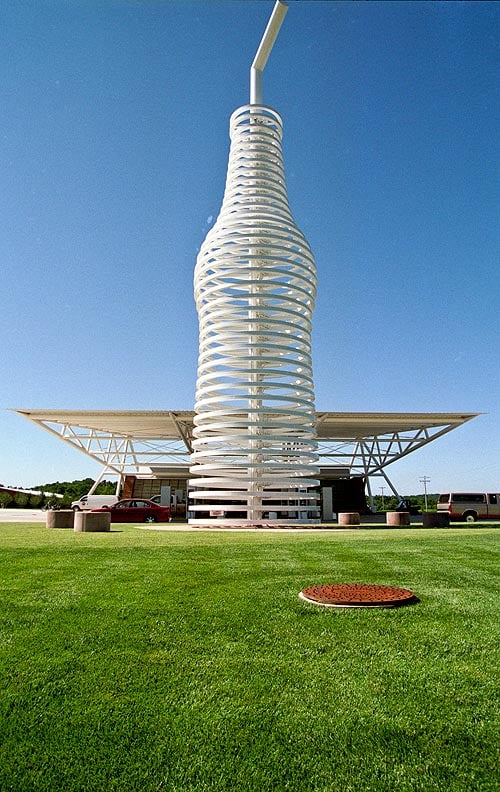 POPS (Arcadia, OK)
The western outskirts of Arcadia are dominated by the monumental POPS (660 Oklahoma 66), a new Route 66 attraction that reaches out and grabs your attention like classic tourist traps of the past. You certainly can't miss a 66-foot-tall illuminated pop bottle standing a few yards from the roadway. Inside, POPS has countless brands and flavors of soft drinks to choose from, as well as a snack bar and internal combustion fuel for your iron horse. This decidedly over-the-top concept was brought to life by Rand Elliott, the same architect who designed the Oklahoma Route 66 Museum in Clinton, Oklahoma, in the 1990s.
09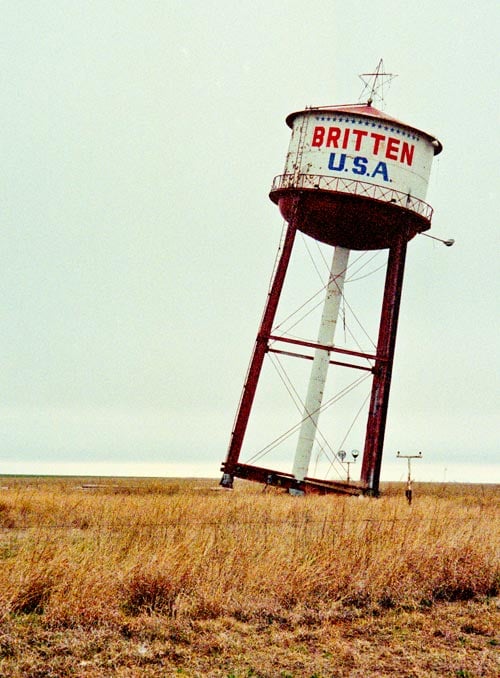 Leaning Water Tower (Groom, TX)
Exit Interstate 40 at the first Groom exit — the one with the leaning water tower. I wish I had a nickel for every time I've heard someone describe this water tower as having 'one leg shorter than the others.' To the careful observer, this is pure hokum. Look carefully and you'll notice that the water tower has five appendages — four legs and one central water conduit. The end of that water pipe was intended to be beneath the surface of the ground, so it is in fact longer than the four true legs, which is why the tower sits at such an angle. The legs are actually all the same length, just as they should be. The owners of the Britten Truck Stop that once operated here thought that the spectacle of the leaning tower made for a good gimmick; besides, it would've been unnecessarily expensive to install the thing properly.
10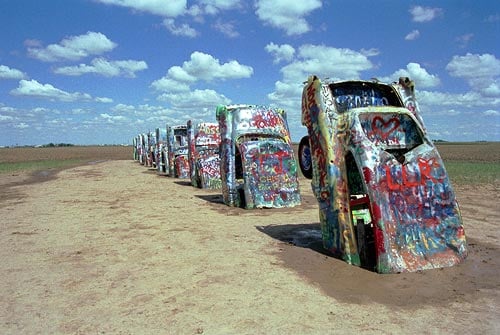 Cadillac Ranch (Amarillo, TX)
Created in 1974, Cadillac Ranch (I-40 Frontage Rd.) has become a sort of mecca for Route 66 pilgrims. Ironically, the construct, which was assembled by an art co-op calling themselves the Ant Farm, came along too late to be contemporary with Route 66 in the region. Instead, it was replaced in a field beside I-40, the highway which had supplanted US 66. That said, no trip through the Texas panhandle is complete without taking a walk out into that field to absorb some of the energy contained in those upended Cadillacs, which are said to be positioned at the same angle as the sides of the Great Pyramids of Egypt. Encroaching suburbia led to the relocation of the ranch in 1997. It now sits in a field on the west side of town, between I-40 exits #60 and #62. For those of you who never visited it as its original location, it must seem improbable that such an installation would literally be picked up and moved after 20-odd years, but that's exactly what happened.
11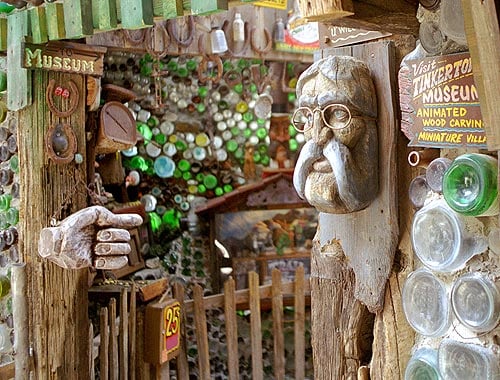 Tinkertown (Sandia Park, NM)
Also on NM 536 is the town of Sandia Park. This is the home of Tinkertown (121 Sandia Crest Rd.), the creation of a man named Ross Ward. Tinkertown consists of twenty-plus rooms depicting the world in miniature, including an animated miniature Western town, a tiny three-ring circus, and other dioramas, all surrounded by a collection of over 50,000 glass bottles. The slogan at Tinkertown: "We did all this while you were watching TV."
12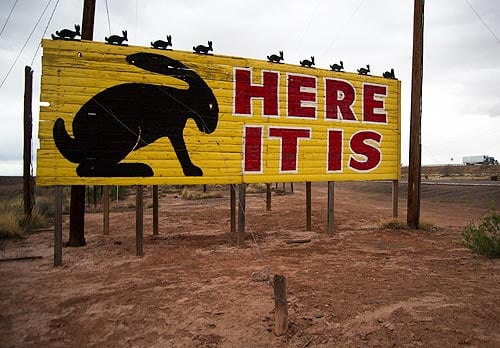 Jackrabbit Trading Post (Joseph City, AZ)
West of the town proper is the famous Jackrabbit Trading Post (3386 Historic Rte. 66). The billboard proclaiming "HERE IT IS" has to be one of the best-known sights along the route. I for one find myself transported back in time whenever I see it. Aside from the billboard, the Jackrabbit is also famous for its slogan: "If you haven't been to the Jackrabbit, you haven't been in the Southwest." Lots of travelers over the years have had their photographs taken sitting astride the giant jackrabbit figure on the premises. To find the Jackrabbit, you can either cross to the south side of I-40 at exit #274 and then turn west, or you can take the interstate west to exit #269 and then double back on the south frontage road.
13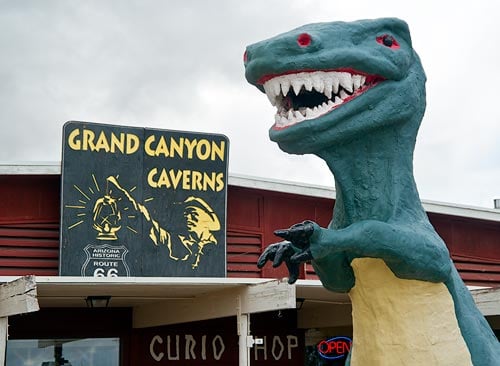 Grand Canyon Caverns (Grand Canyon Caverns, AZ)
Here's a good old-fashioned roadside attraction. Called the Coconino Caverns on some old maps — and later, Dinosaur Caverns — the Grand Canyon Caverns (115 Mile Marker AZ-66) are accessed by an elevator that takes you 21 stories underground. Aside from the normal cave formations, attractions below include a mummified bobcat. Outside, you'll see dinosaur replicas lining the walkway to the front door. This complex has everything: motel rooms, a restaurant, gift shop, and even an airstrip.
14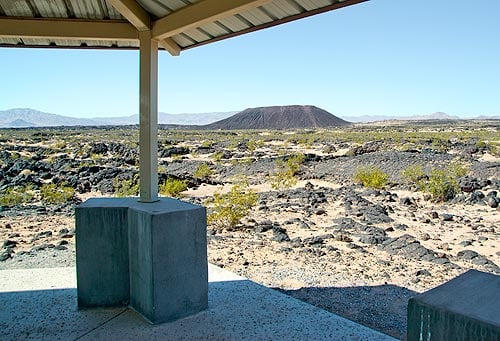 Amboy Crater (Amboy, CA)
Amboy Crater is just a mile or two south of the highway. There is a turnoff to the dormant volcano just west of Amboy proper. The crater itself is accessible via a three-mile trail (round-trip) from the parking area.