13 Things to Do in San Francisco That Don't Include Fisherman's Wharf
I'll be honest, before I moved to San Francisco two years ago, I wasn't the biggest fan of the city. Little did I know how much more there was to it than Union Square and Fisherman's Wharf. Once I quickly realized that the locals don't even set foot near those two tourist hot spots, I explored everything else the city has to offer, and damn did I fall in love with this place.
First things first, if you don't want a glaring sign over your forehead that says "tourist," avoid referring to SF as "Frisco" or "San Fran." Nobody calls it that. Second, there are too many amazing sites and places to see to waste your time at those two places. But if you must, please don't spend too long eating clam chowder on the pier and shopping at the same stores you can probably find at home. Even though San Francisco is only about seven miles by seven miles, it's dense with incredible food, eclectic people, and vibrant neighborhoods — you won't want to miss any of it.
Now, let's get to the good stuff, shall we?
01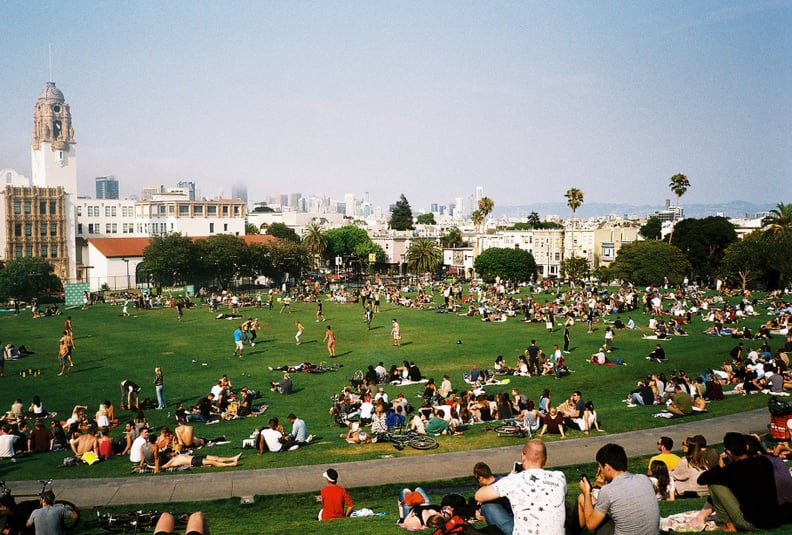 Spend the afternoon at Dolores Park in the Mission.
The Mission is a fun and hip neighborhood packed with a variety of great restaurants, bars, boutique shops, and attractions. It's most famous for its murals, as well as Dolores Park where locals flood to on sunny days. You can easily spend the day in this area, but if you find yourself running out of things to do, check out The Castro, which is a short walk away. You won't be able to miss the LGBTQ-friendly area with its waving rainbow flags and painted streets.
02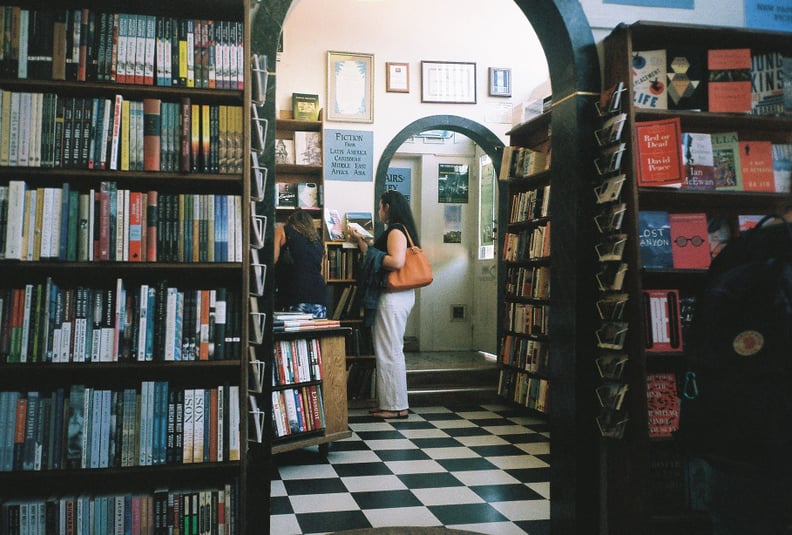 Indulge in Italian food and books in North Beach.
San Francisco's "Little Italy" is home to some of the city's oldest staples. The nearly century-old Tosca Cafe is one of my personal favorites (their bucatini is almost better than sex), in addition to the famous City Lights Bookstore. North Beach is flooded with strip clubs, but there are plenty of other family-friendly places including Chinatown, which is basically around the corner.
03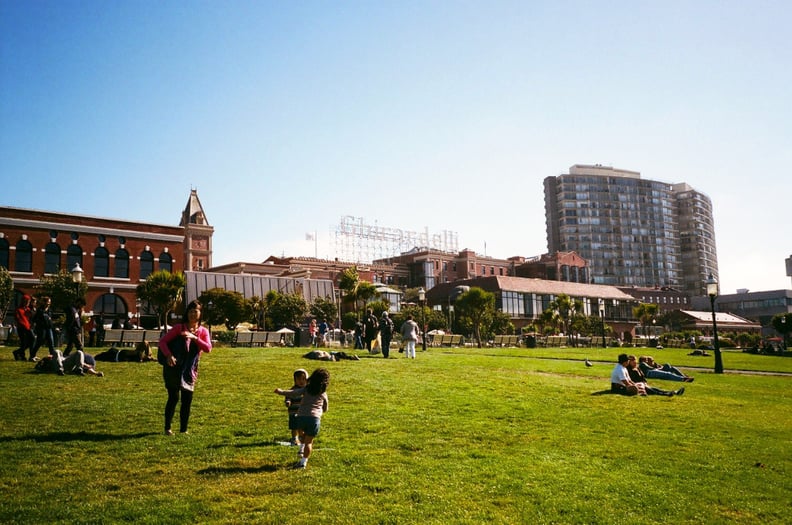 Have dessert for dinner at Ghirardelli Square.
OK, so Ghiradelli Square is technically part of Fisherman's Wharf, but I like to treat them as completely separate attractions. After getting your fill of sundaes, relax on the outdoor greens facing the water. The nearby Buena Vista Cafe also has the best Irish coffee in the city if you feel like getting boozy.
04 Go shopping in Hayes Valley.
Right by Civic Center is the cute and stylish neighborhood of Hayes Valley. Here you'll find everything from cool shops and great restaurants to bars. Don't leave without grabbing some ice cream from Smitten. This area is ideal for anything you're looking for, whether it's brunch, a family day, or Friday-night shenanigans.
05
Eat your way through the Ferry Building.
One of my favorite things to do on the weekend is to eat and drink everything the Ferry Building has to offer. First, I start with an iced coffee at Blue Bottle, snack on cheese and Acme bread from Cowgirl Creamery and some meats from next door, then enjoy a pork bun from the Imperial Tea Court, and slurp down some oysters at Hog Island Oyster Co. I highly suggest topping it all off with some ice cream from Humphry Slocombe. The Ferry Building also hosts a fantastic farmers market every Saturday until 2 p.m. that I'd add to my list.
06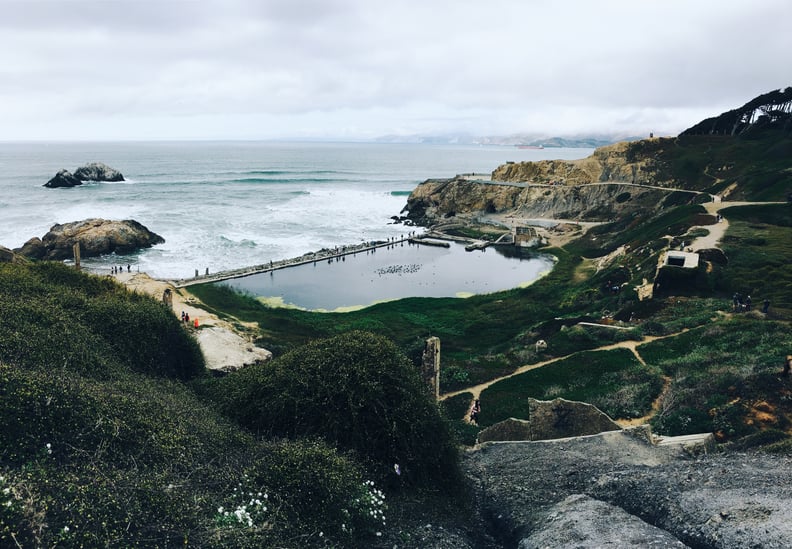 Hike to Lands End.
For a fun day outdoors, hike the coastal trail to Lands End where you'll be able to enjoy beautiful views of the Golden Gate Bridge and bay along the way. It begins above the Sutro Baths (pictured here), now remains of what was a collection of saltwater pools from the late 1800s. I suggest taking the turn toward the water. On this route, you'll come across the famous Labyrinth lined with rocks and a small beach that's the perfect stop for a break.
07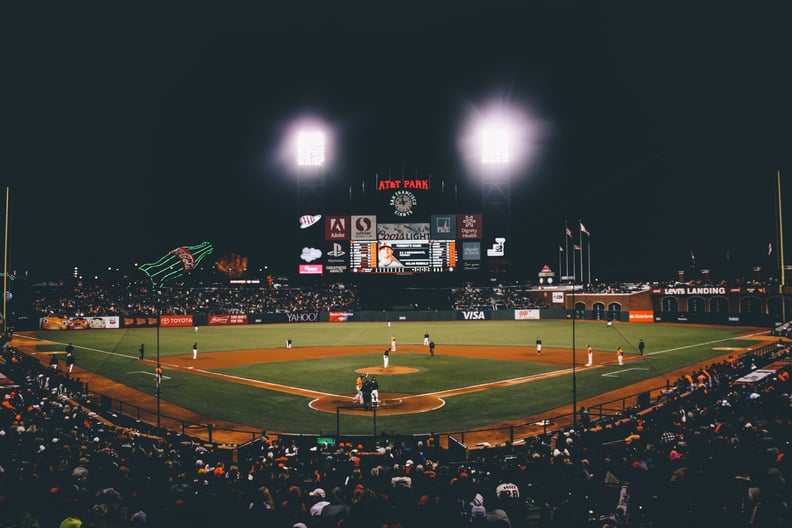 Catch a game at AT&T Park.
Even if you're not a baseball fan, this field is worth checking out. AT&T Park, home of the Giants, sits right on the water, offering beautiful views during the game. It's also located in the SOMA area where you'll find plenty of restaurants and bars to enjoy even during off-season.
08 Spend the day at Golden Gate Park.
Golden Gate Park spans an impressive 1,017 acres (larger than Central Park) with 10 lakes, 14 hills and meadows, eight groves, and more. You'll definitely get your fill of nature with a day spent here checking out the Conservatory of Flowers (pictured here), Windmill and Tulips, and other attractions this massive park has to offer. If you're looking for a 420-friendly spot, check out Hippie Hill and then make your way to Haight and Ashbury straight from Golden Gate for fun shops.
09 Hit all the museums and gardens.
Remember when I mentioned how huge Golden Gate Park is? It also features the de Young Museum, California Academy of Sciences, and a Japanese Tea Garden — all of which are located right next to each other and worth checking out. Pro tip: admission to the Legion of Honor fine arts museum (near Lands End) gets you free same-day admission to the de Young and vice versa.
10 Walk around the Palace of Fine Arts at night.
The Palace of Fine Arts in the Marina is definitely packed with tourists during the day, but it's so beautiful, I often stop by on weekends when I'm in the area. It's even more breathtaking at night, plus you won't find nearly as many people here at that time. If you do check it out during normal business hours, walk to Union Street and Chestnut Street for trendy restaurants and shops.
11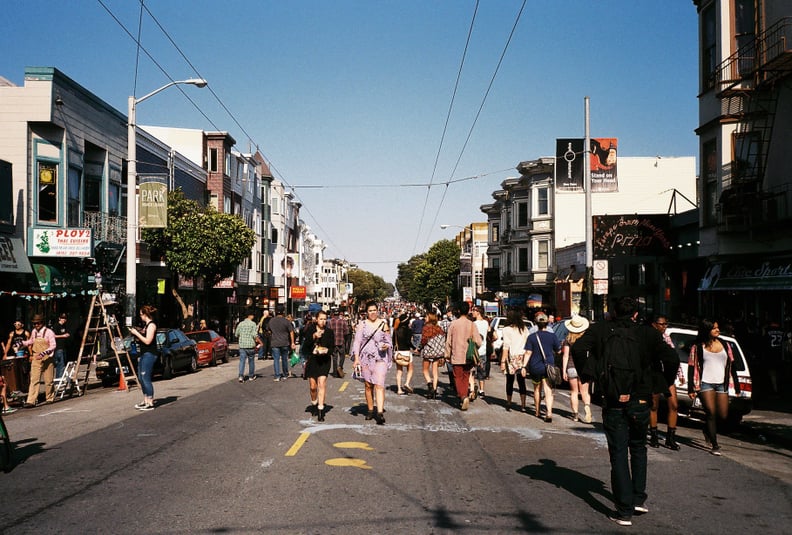 Check out each neighborhood's street fair.
The great thing about San Francisco is that there is almost always something going on. Especially during the Summer, certain neighborhoods host street fairs on the weekends with local fare and usually live music. You'll also be able to find book fairs and craft fairs seasonally, which are some of my favorites.
12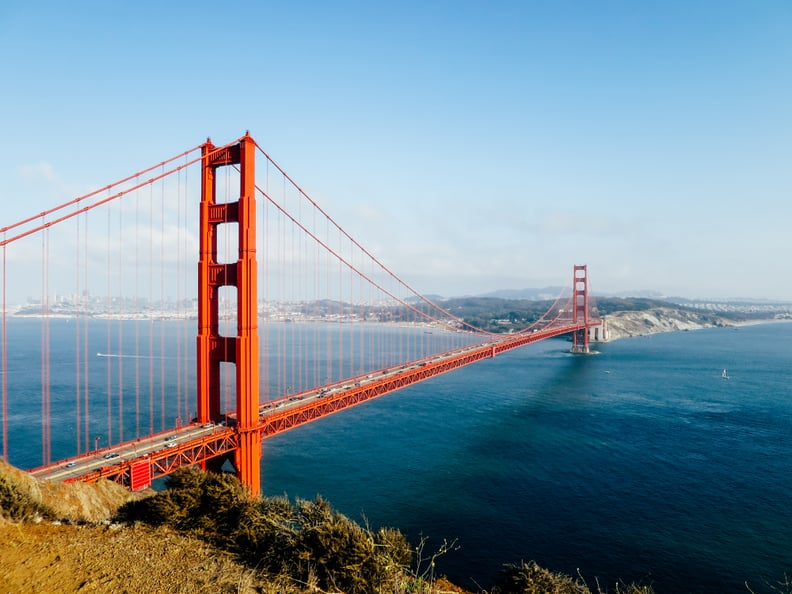 Go see the Golden Gate Bridge.
Last but not least, there's the Golden Gate Bridge, the epitome of a San Francisco tourist destination but a must see nonetheless. I've seen this icon from a number of angles at various points in the city, and I still can't help but be in awe each time I look at it. A trip to San Francisco really isn't complete without checking out the bridge, so make sure you don't leave without a photo.