How to Make the Most of 24 Hours in Santorini, Greece — Without Leaving the Hotel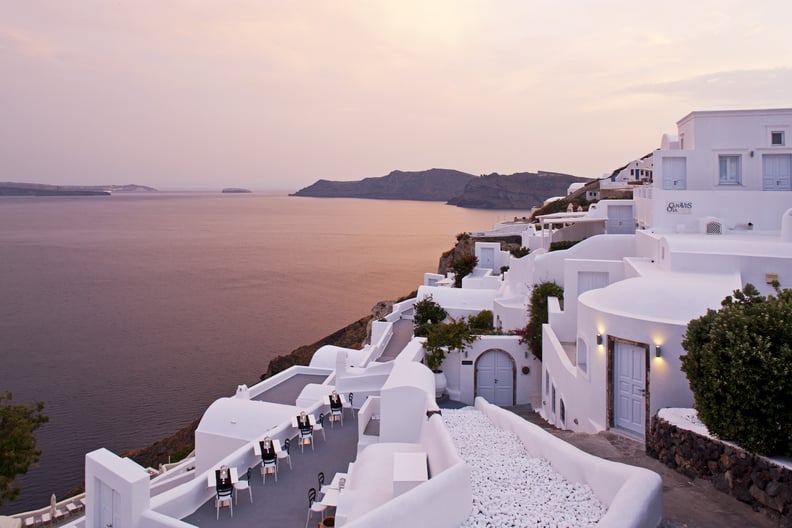 Courtesy of Canaves Oia Hotel
I wish I could tell you that the photos in this story are severely photoshopped. But after visiting the Canaves Oia Hotel in Santorini, Greece, I can confirm: the hotel is really that bright white, the sunset is that vibrant, and the Mediterranean ocean is that blue. I traveled to this hotel, located on one of the highest peaks in Oia, Santorini, at the end of last Summer. I had just gotten engaged a few months before, so it was the perfect romantic getaway for me and my fiancé.
Keep reading to see photos and learn more about this gorgeous space, perfect for an anniversary, honeymoon, or weekend away with someone who you love.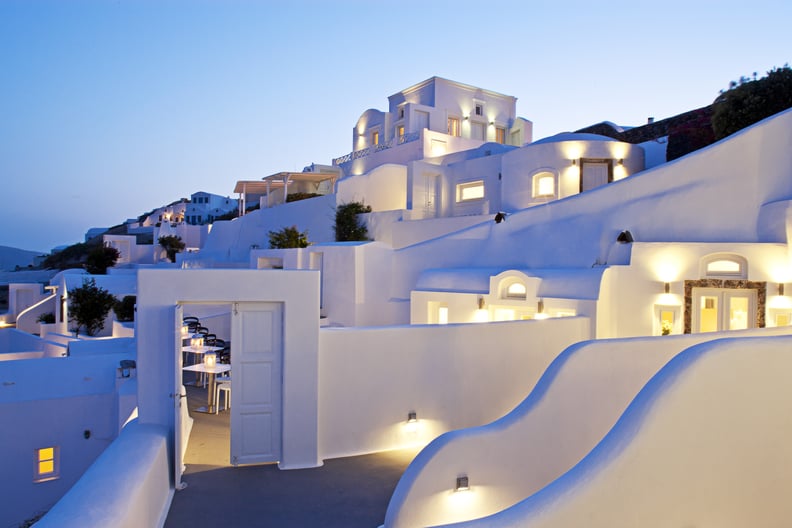 Canaves Oia is built into a cliff with water views and has three separate parts: the hotel, the suites, the villa. The hotel has 17 suites, 10 of which have their own plunge pools. The suites feature 26 even more opulent suites, which all have private plunge pools; and the villa sleeps seven to eight people with a private Jacuzzi and a ton of extra space. Really, you can't go wrong. (Classic suites start at 410 euros per night, while junior suites with plunge pools start at 530 euros per night.)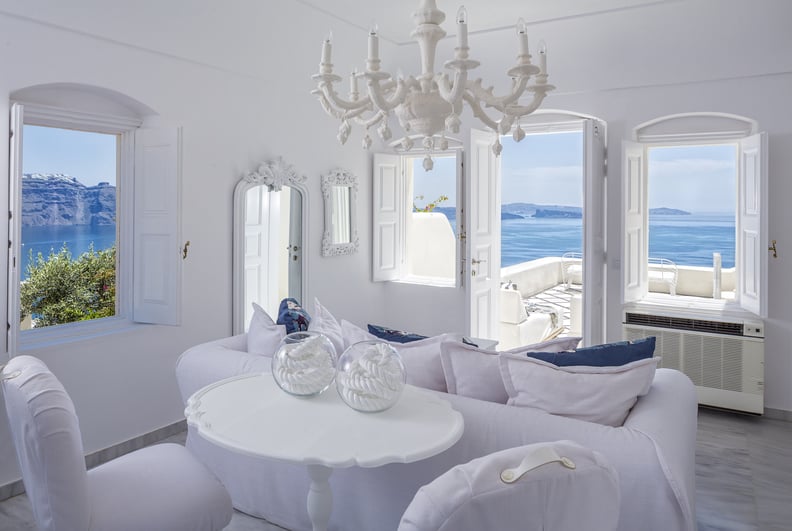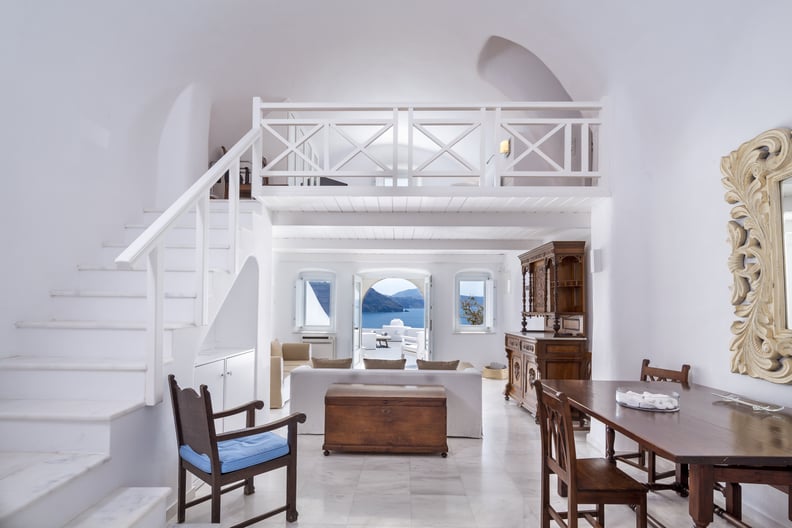 The rooms are all white inside and feel like chic caves. Though if you stay in the suites, there is a touch of Hermés fabric infused into the decor. The beds are plush with tons of fluffy pillows, and the bathrooms are stocked with Acqua di Parma beauty products. If you do your trip right, besides sleeping and napping, you're going to want to spend your time outdoors enjoying the breathtaking scenery (and soaking up Santorini sunsets with a crisp glass of wine in hand!).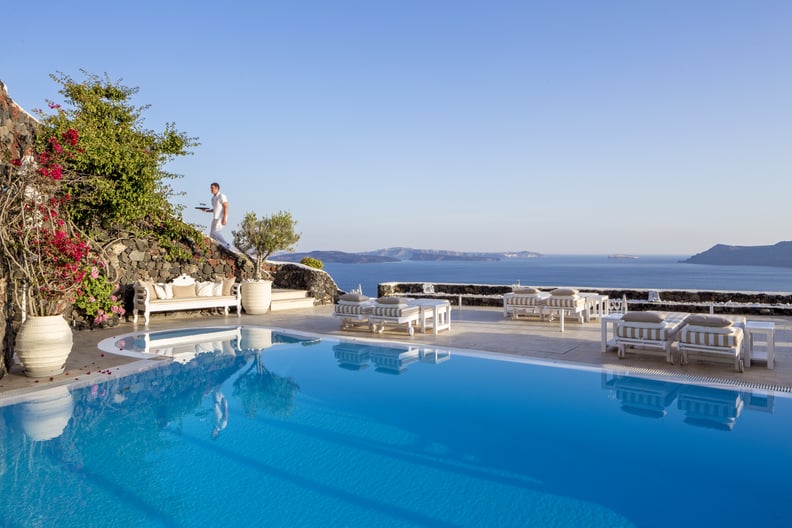 We arrived to Santorini from Mykonos by a boat, and someone from the hotel picked us up. Our driver told us all about the island during our drive. After we checked in and guzzled glasses of strawberry water, we visited the smaller pool (there are two total) for complimentary welcome drinks. The dipping pool is a peaceful spot, overlooking the Caldera. There are just a few cozy daybeds, so it feels pretty exclusive. I ordered the ideal glass of dry, mineral white wine. We also shared the most delicious Greek salad I've ever had in my life (the feta cheese cubes were creamy bites of European dairy heaven).
Later that day we took a trip to the recently renovated spa that features Elemis products. We tried the Rasul couples' treatment (120 euros for 45 minutes), which is basically a cleansing and detox scrub session in a private hammam. The hamman is similar to a tiled, steamy dome with a shower. It has two seats, so my fiancé and I could face each other (at the perfect distance for a foot rub).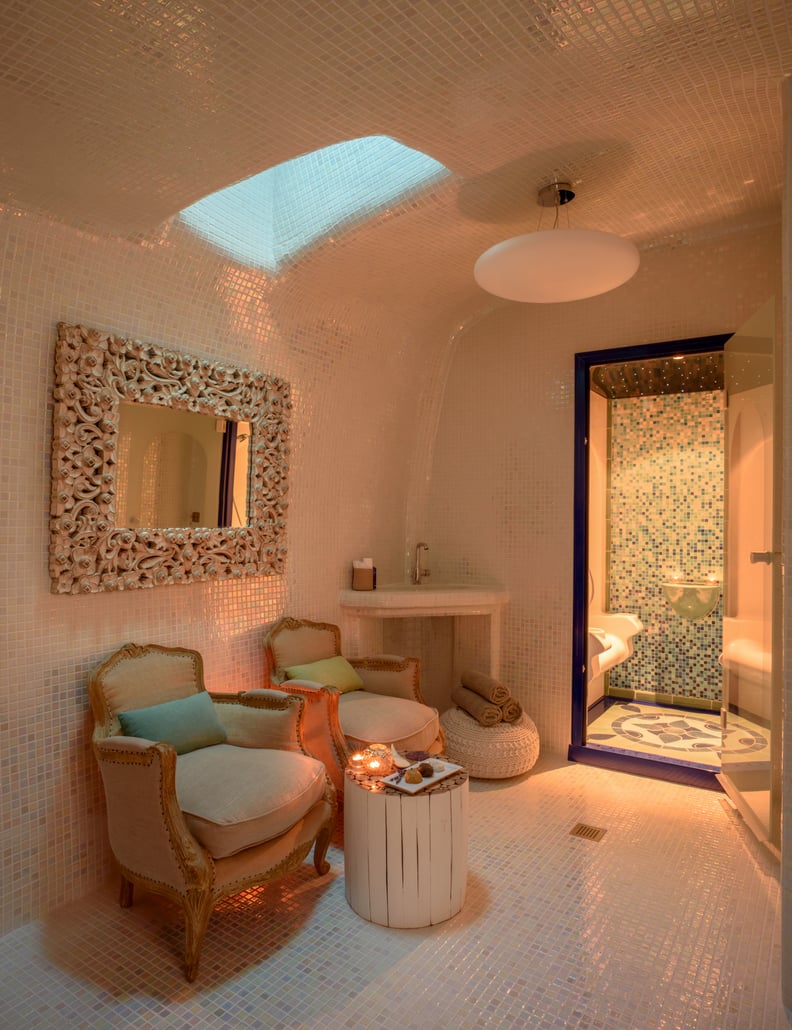 An esthetician showed us the space and explained what to do with the homemade products: apply the chalk formula to our backs and butts, put mud on our bodies, and then steam for two rounds. After that there is an optional scrub, a shower, and body lotion with essential oil. She left, and it was our job to execute the treatment. The experience was fun, sexy, and a little awkward all at the time same time. The best part is that you are left with velvety skin once it's all done.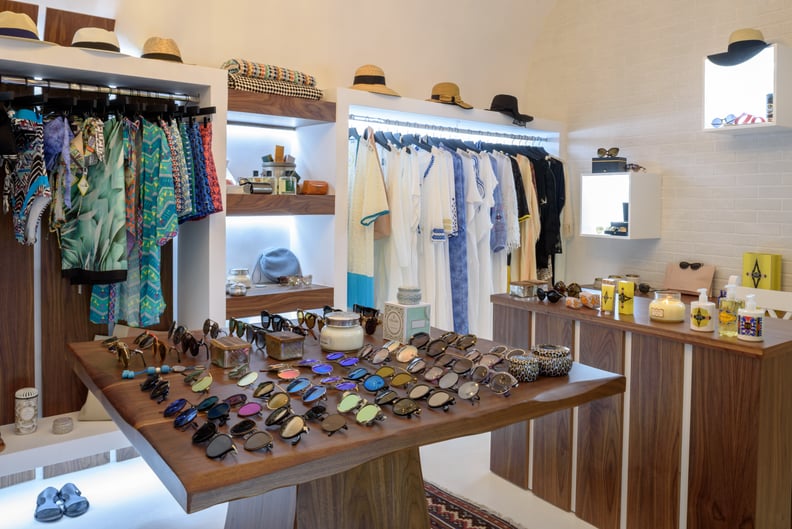 After the spa visit, we stopped by the boutique, which offers all fashion-forward Greek designers. There is mostly beachwear, sunglasses, dresses, and some high-end beauty products from brands like La Mer, Dior, and La Prairie.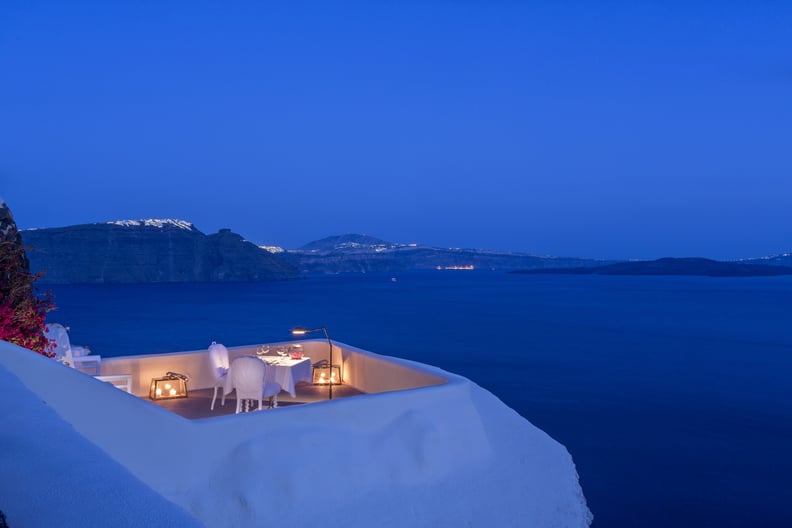 Our evening began with sunset cocktails and live music at the small pool, followed by dinner at the main restaurant, Petra, which wraps around the bigger pool. Because there are only about 10 tables, it feels like a private dining experience, overlooking the ocean. We enjoyed a delicious three-course meal and lots of Greek wine. Highly recommend the olive-crusted lamb with quinoa and smoked eggplant. It was truly one of the most romantic evenings I've spent with my fiancé. I felt like we were on The Bachelor!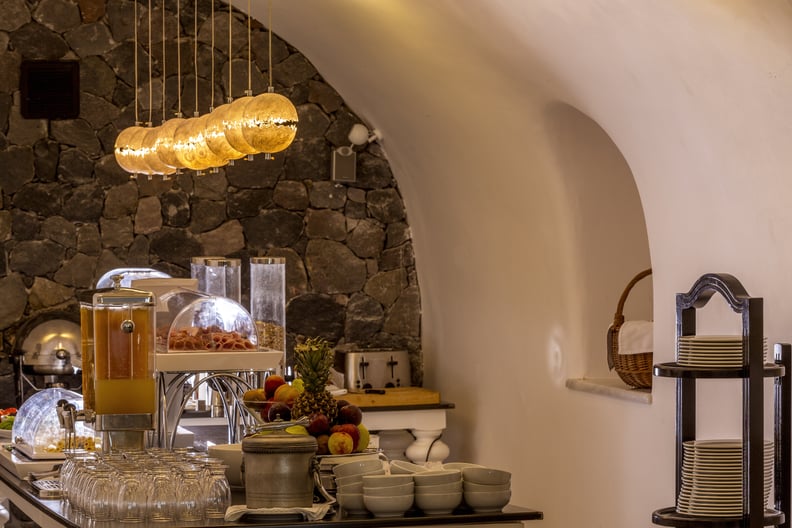 Breakfast is complimentary for all rooms, featuring traditional Greek fare and a Champagne brunch, but unfortunately we had a very early flight and missed it. Perhaps that's just one reason to go back!
Keep reading for more stunning photos!