10 Unique Ideas For a Memorable Cancun Bachelorette Party
Wedding gown alterations, check. Bridal party bouquets, check. Wedding bands and cake tasting, check, check. You have begun the countdown to the weeks and days left living the bachelorette life and realize it's now time to chill out and have some fun with your girls. While bachelorette parties all begin to look vaguely familiar: a boozy night at a local bar with squealing women decked out in penis party accessories, we have bigger and better plans for you. What better way to wave goodbye to your single status than by spending some quality time in a place famed for fun in the sun, swimming in the electric turquoise-colored ocean, eating incredible food, and enjoying a vast array of activities for you to bond with your best babes before the big day. Oh and did we mention, it's affordable?
Cancun, located on the Yucatan Peninsula's northeast coast (which has a ton of convenient direct flights from all around the US), may have a party-girl reputation, but we promise it will charm you with its excellent balance of fun, relaxation, adventure, and affordability — along with having some of the most incredible beaches, sights, and wonders in the world. With Cancun's Caribbean coastline of fine white sand beaches, there is no doubt that this destination continues to ride to the top of lists for bachelorette party destinations. Be prepared to throw your inhibitions out the window and get ready to sip delicious margaritas to the sound of crashing waves and dance until the sun comes up. Read on to create an itinerary for the pre-wedding bachelorette Cancun getaway of your dreams — passport, swimsuit, and SPF required, FOMO expected.
01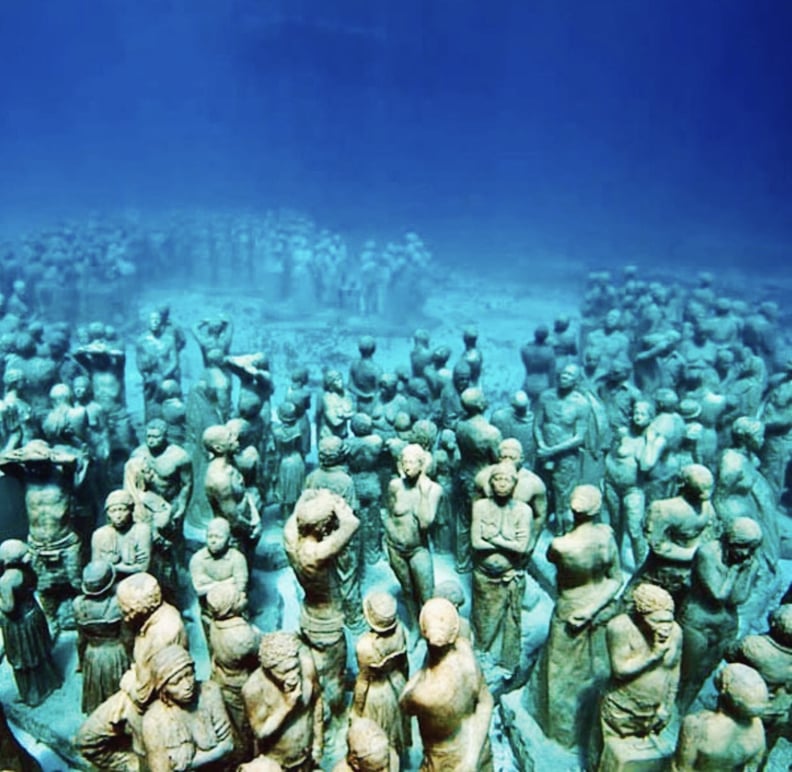 Swim to a museum to view art.
There is as much to see under the water as there is above on land so throw on your fins, grab your mask, and turn into an mermaid with Aquaworld and head to the Underwater Museum. The snorkel or dive excursion is located in between the coast of Cancun and Isla Mujeres and home to over 450 statues.
02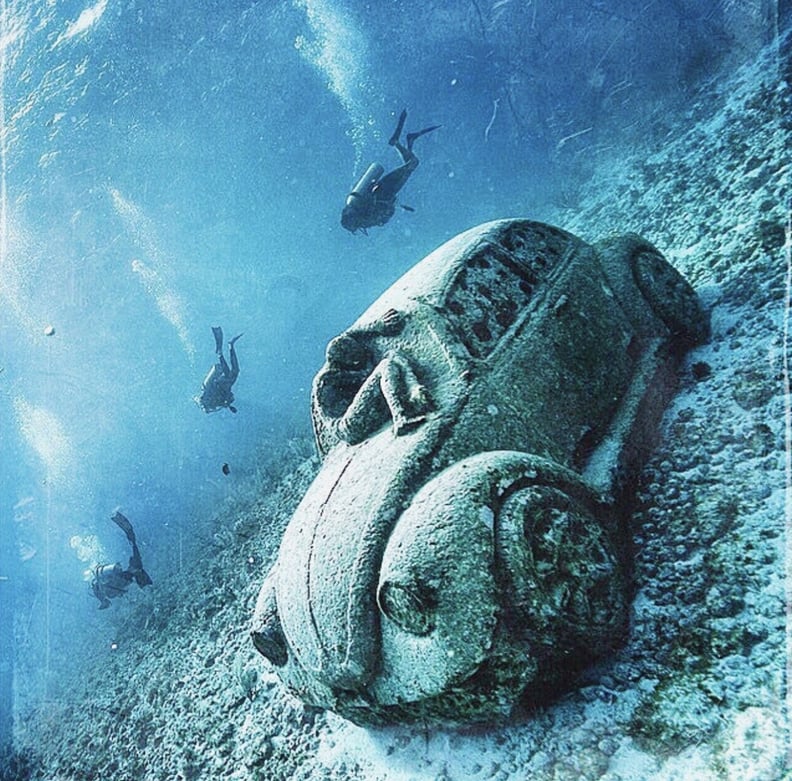 The great thing about this underwater museum "tour" is your entire squad can leisurely swim together and take your time in exploring all the statues, spot sea turtles swimming by, and spotting unique fish among the coral.
03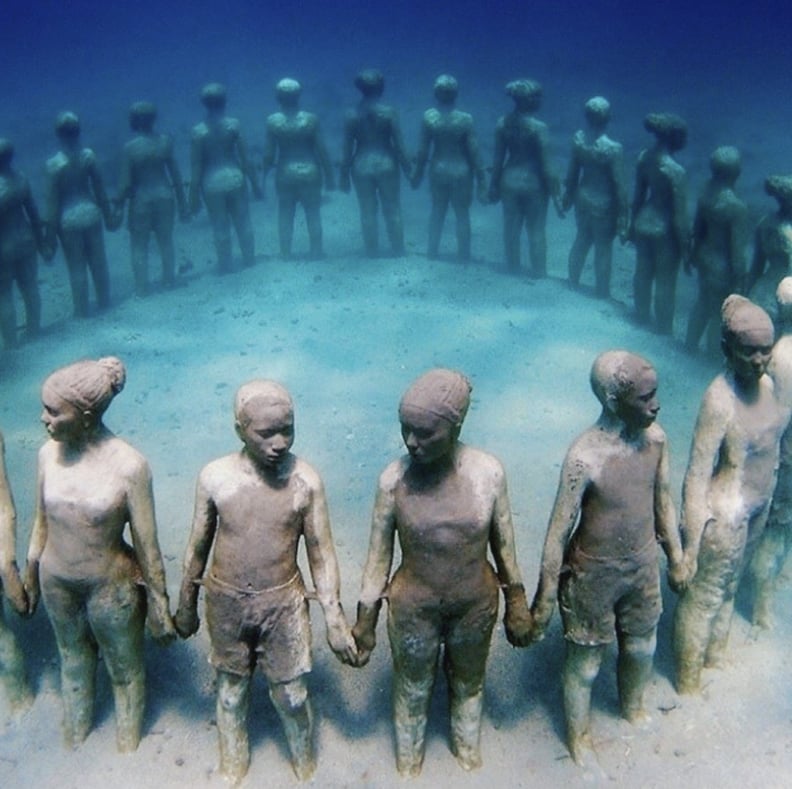 The statues are now covered with algae and coral and gives off a mysterious and adventurous vibe that is bound to excite and delight. Make sure to bring your GoPro for selfies and mermaid shots!
04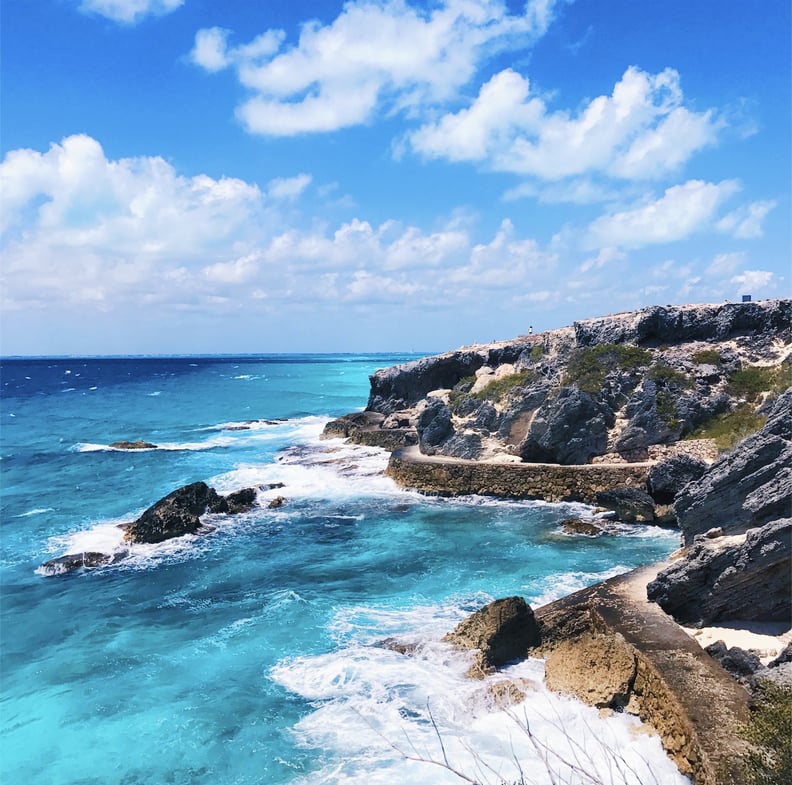 Day trip to Isla Mujeres.
Directly translated as "the island of women," what better place to explore than with your bridal squad? Only a short 25-minute ferry ride from Cancun, Isla Mujeres is an excellent day trip to explore coral-crushed beaches in which the main mode of transportation is golf carts.
05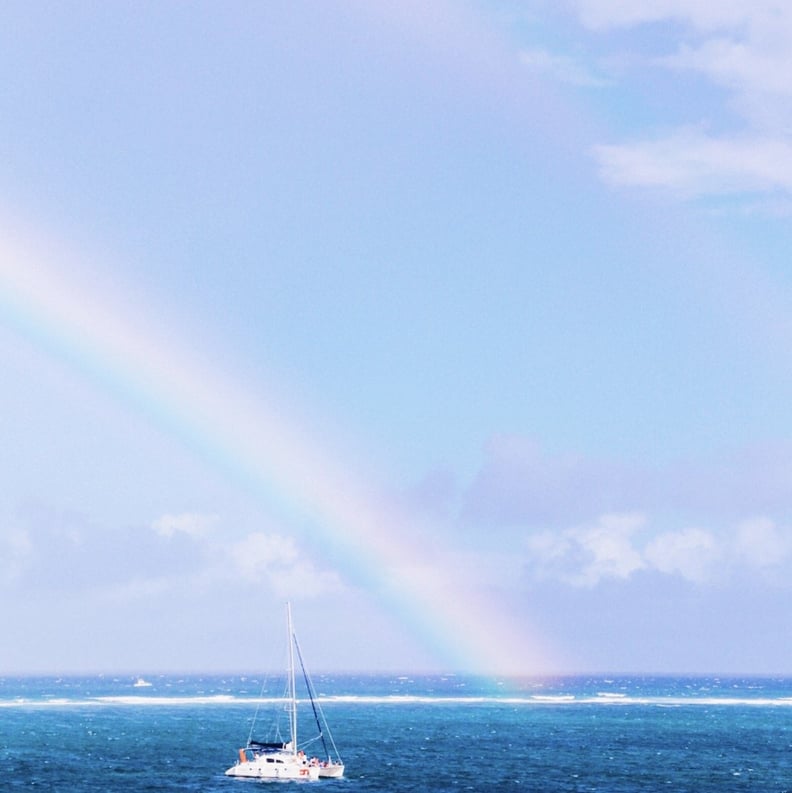 At Punta Sur, the southern most tip, there are remains of a Mayan temple, a sea turtle sanctuary, and a lighthouse overlooking the vast electric neon-colored ocean.
06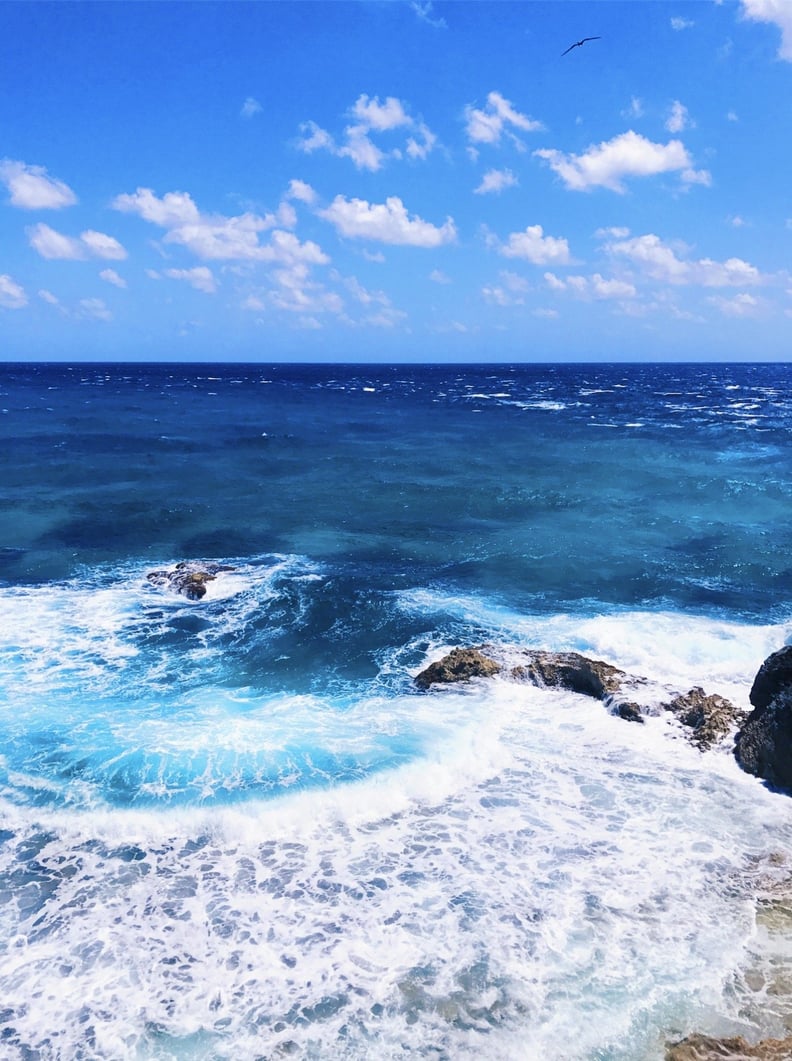 Steep cliffs with breathtaking crystal-clear blue waves crashing ashore makes for the perfect 'grammable shot with your squad.
07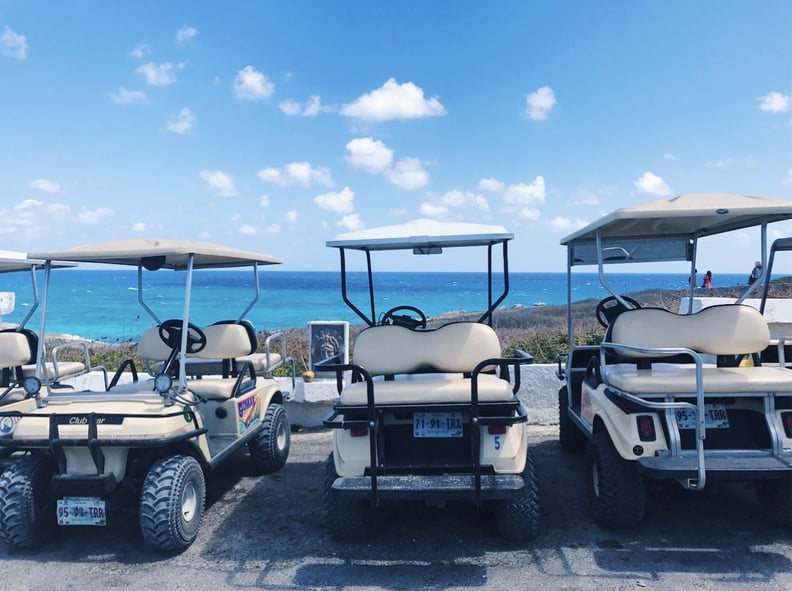 Isla Mujeres is filled with beach clubs for anyone to pop in, put on your shades, and soak in the Mexican sun and gush about wedding excitement. However, if you're thrill-seeking gals, golf cart it over to Garrafon Park where you can zipline and soar 100 feet over sea level, giving you the most exhilarating views of the ocean.
08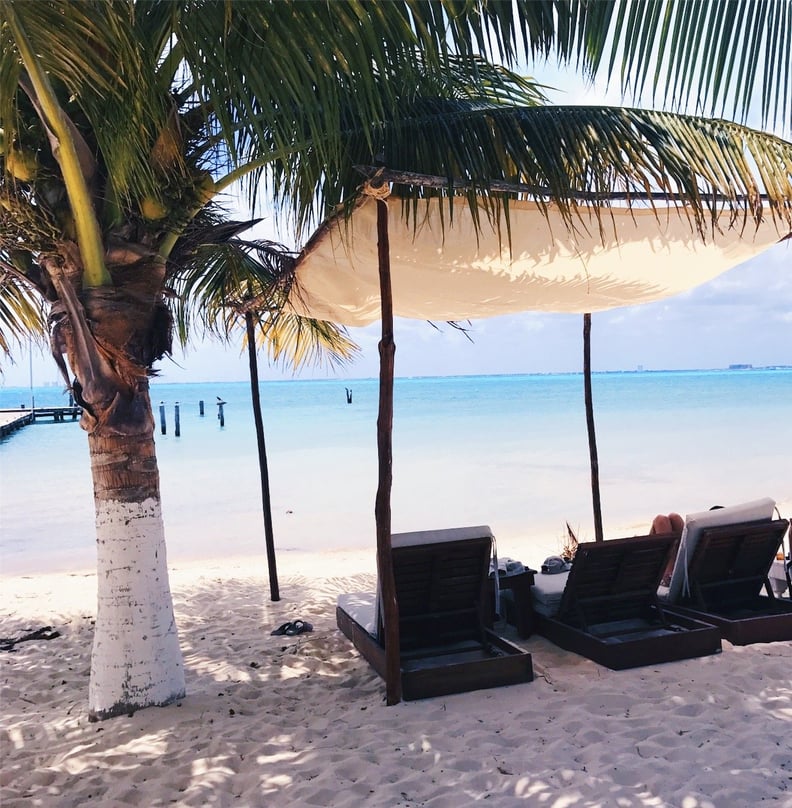 Sure, there are quite a few ticky-tacky tourist shops, but Isla Mujeres boasts great views of the sunset alongside bright candy-colored small wooden houses paving the side streets of downtown, giving your group a perfect combination of adventure and relaxation.
09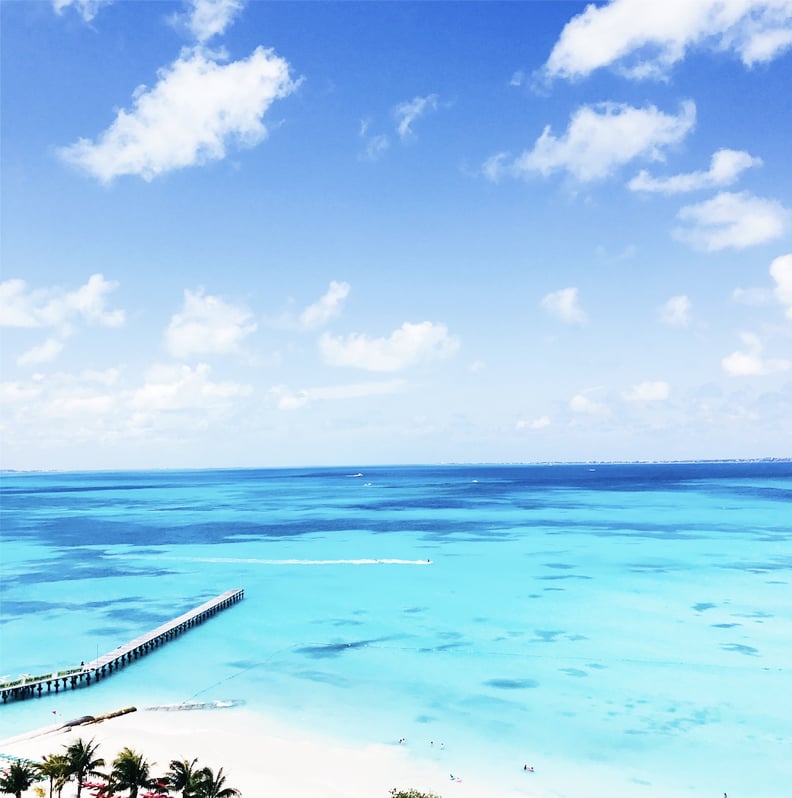 Stay at a resort where ALL the rooms have a view.
There is nothing better than waking up to the sound of the ocean, but don't let your ears get all the fun. Stay at Grand Fiesta Americana Resort that sits right on Coral Beach, (they call it the "Grand Dame" of Cancun because it was one of the first hotels built there), and therefore score one of the best spots on the beach.
10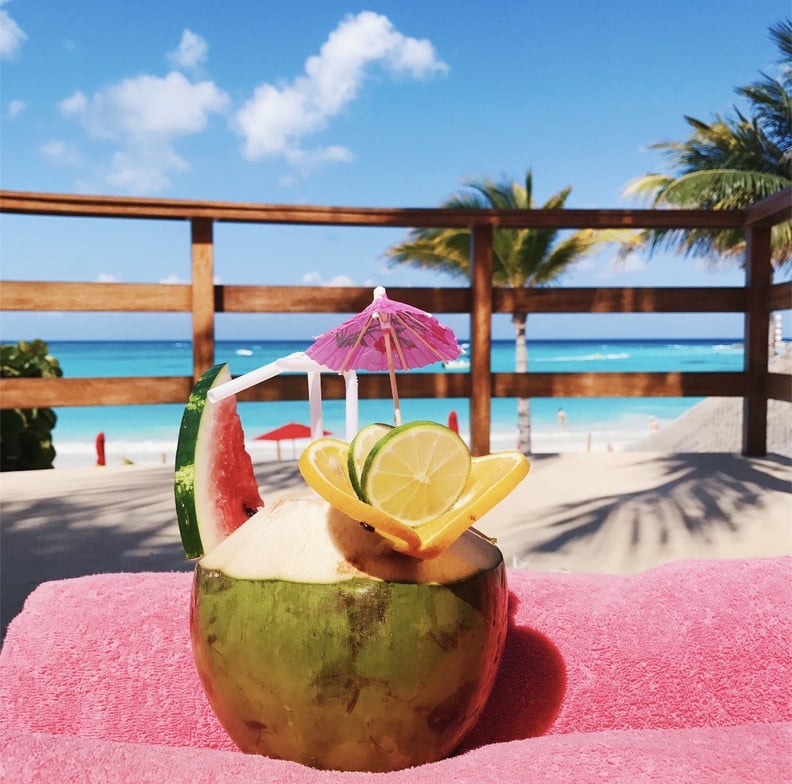 That being said, every single room in the hotel has an ocean-facing direct view, each with its private terrace; a true sight for sore eyes. Yes, I did mean every single room. It is rare to find a resort that offers this as something "standard" and we expect your crew will love the daily postcard-perfect suite views.
11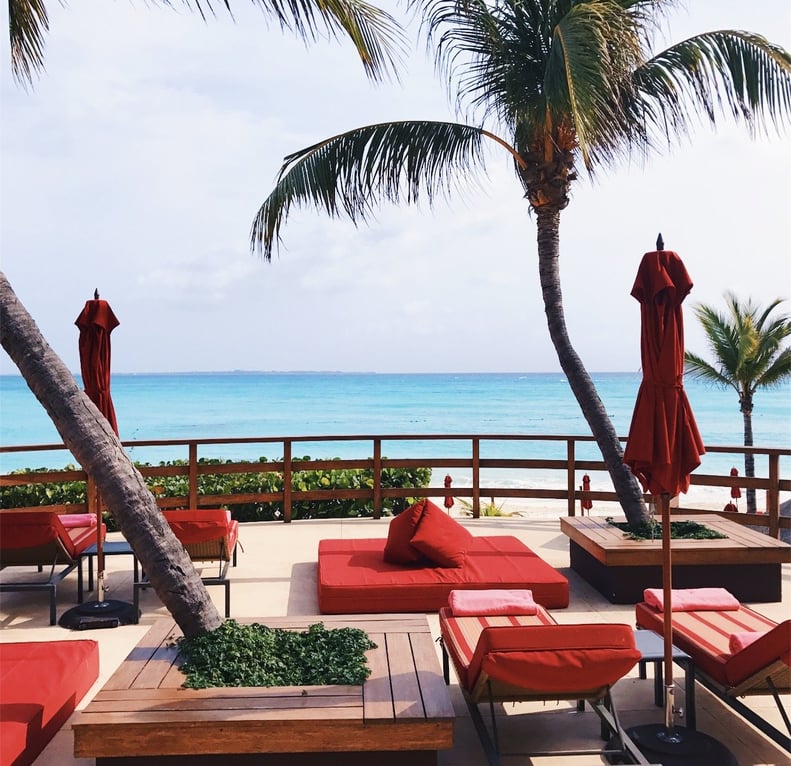 For a small additional cost per person, I'd highly suggest joining the Grand Club, which gives everyone in the party access to private sections on the beach, beautiful beachside cabanas, jet ski access, a certificate for hydrotherapy at the spa, and a separate bar and lounge area where you can order unlimited cocktails to your heart's content. Yes, I said it, unlimited.
12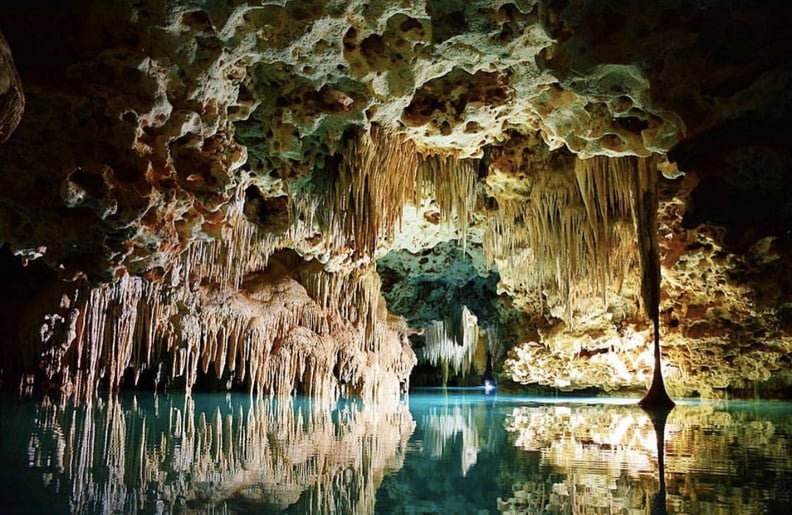 Dive into a crystal cave.
Get your babes together for a once-in-a-lifetime opportunity to go crystal cave swimming and exploring in one of the world's most coveted underground rivers. Talk about adventure to the nth degree, Rio Secreto will invoke a feeling of being part cave explorer, part astronaut venturing into places ancient and unknown. Rio Secreto stretches eight miles with 15 natural outlets, making it the longest semi-sunken cave in the Yucatan Peninsula, meaning you can hike or swim through most of it.
This magical place does not allow personal photography for safety reasons, but they provide Instagram Husbands for all your photo needs, so worry not. The visual impact of being in these pitch-black caves full of geological wonders is immediate, all while submerged in the surrounding crystal-blue waters is a completely surreal experience. All of your senses will be heightened as you climb rocks, submerge into crystal clear water, and listen for the sounds of bats flying above. Hint: request Gonzo as your guide — he is insanely knowledgeable and, most of all, passionate about the underground world and truly makes the tour a memorable experience. You can also request a specific route if you ask your guide, so go in prepared with the "Joy," "Supreme," or "Dream" route, you will not regret it. The groups are small and it's an incredible bonding experience to have with your bridal party. Not only will you not have your phone to distract you, but I promise you will hear the word "wow" more times in the two-hour span than you will in your entire life — well, except for when you walk down the aisle.
13
Go tequila tasting!
Did you actually know what you are supposed to suck on a salted lime before sipping on tequila? Reward yourself after a long day at the beach with a tequila tasting followed by an award-winning authentic Mexican dinner complete with entertainment from a 10-piece Mariachi band.
14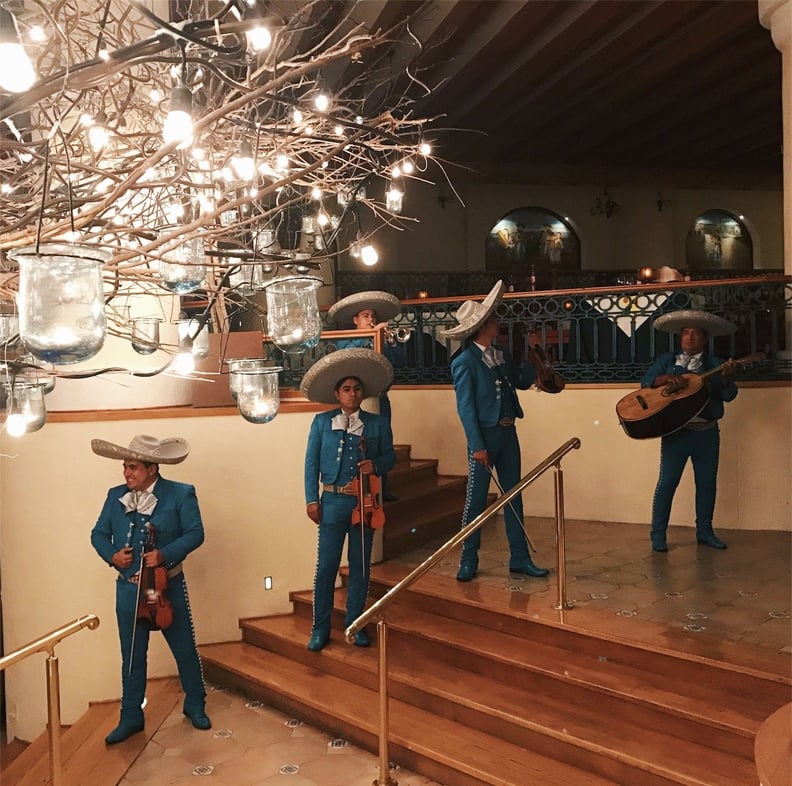 La Joya will transport you to the feel of an outdoor villa complete with swaying candle lights hanging from trees and terra cotta and floral decor. Let your inner foodie soak in the delicious spices and flavors from the traditional tortilla soup, to the delectable chicken molé, and, best of all, the deliciously fresh churros. I guarantee the Mariachi band will serenade your table with their lively music and this immersive cultural experience will be a night you and your girls won't forget.
15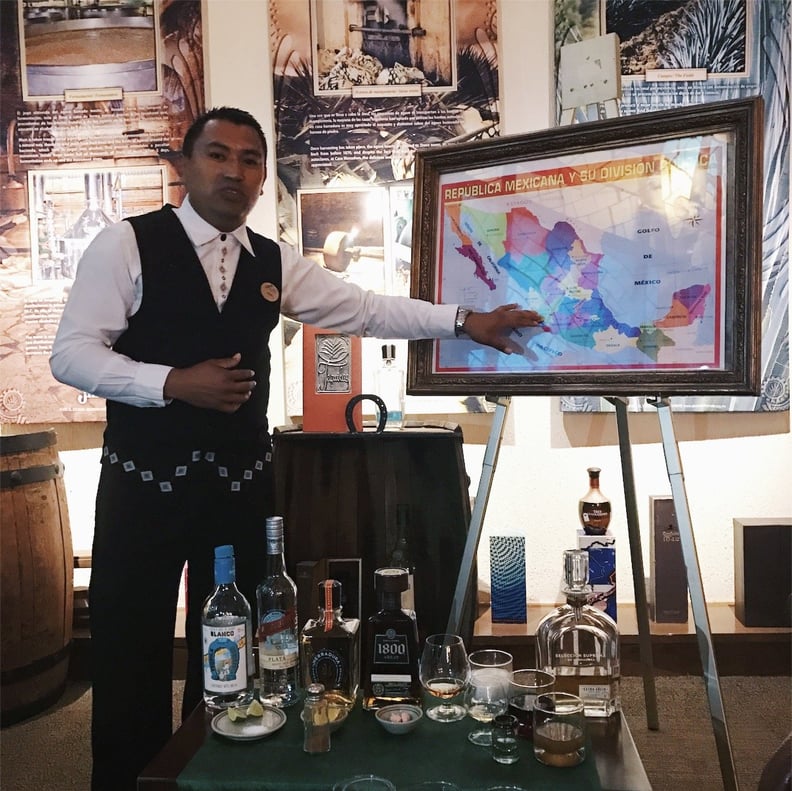 If you are having dinner at La Joya, the tequila tasting for your bridal party can be requested ahead of time, free of charge. You will arrive to a beautiful set up of tequila, corresponding juices, accompanying fruits, and tiny fares and a knowledgeable Tequillier who will explain the fascinating history and the rules about the complex creation of tequila in Mexico.
16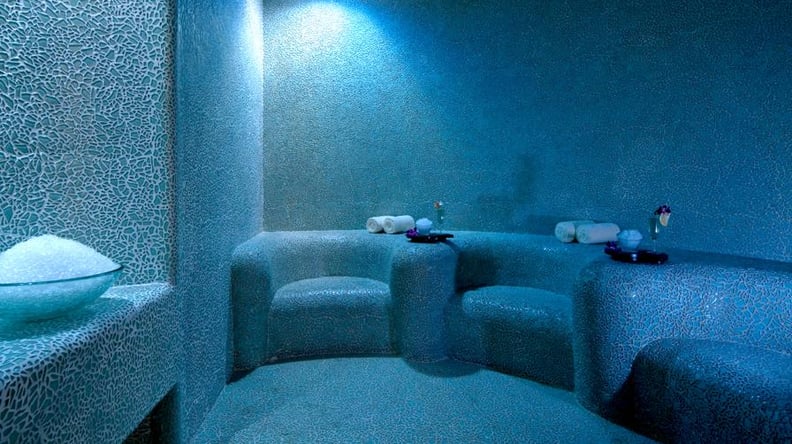 Have a spa day at the Gem Spa.
Relaxation mode is now officially on and what better way to sit pretty with your girls than at a world-class spa that offers value but does not compromise service and amenities? The Gem Spa at Coral Beach is a massive 40,000-square-foot luxurious spa (having won a prestigious Forbes award) specializing in ancient Mayan healing practices and gemstone therapy. Treat yourself to a Seventh Wonder Luxury Massage that combines reflexology, aromatherapy, and seven quartzes placed on the seven corresponding chakras of the body, leaving you feeling revitalized and completely zen.
If massages are not your jam, try out the Amber and Gold Facial using healing amber gems in order to counteract fatigue and stress in the skin followed by a serious neck and scalp massage — and lets be honest, you can't go wrong with anything that includes gold. One of the best parts of the Gem Spa is that your bridal party can all participate in the unique 10-step hydrotherapy ritual together, moving from room to room and sharing in the experience of the temperature of the Ice Room to the textures of the Italian mosaics in the Clay Room all the way through the transformative Senses Pool. Glide through the 10 steps in this luxe and tranquil oasis with your bridal party, and I promise the utmost relaxation vibes.
17
Go cenote hopping.
Say it with me, pronounced cey-NO-tays (and derived from a Mayan word for "well"), are underground caverns — think little holes in the earth — often leading to stunning turquoise-colored water. While some cenotes are part of a massive underground network of caves and rivers, many of them are popular swimming holes and cave diving destinations and make for a great day spent relaxing with your girls.
Mexico boasts over 7,000 cenotes, each with its own exclusive adventure. You can take time to cenote hop and experience all of the different types. Try Dos Ojos, which is translated to "two eye"' for good reason — one of the cenotes is crystal-clear blue water and the other is virtually pitch black and you will need a flashlight to dive. Cenote Samula is a massive sinkhole allowing a huge root system to reach towards the water below ground. After walking down the stairs, the view from the platform is Instagram heaven. Spend the day being mermaids by swimming and diving into the crystal-clear water and being in awe of mother nature.
18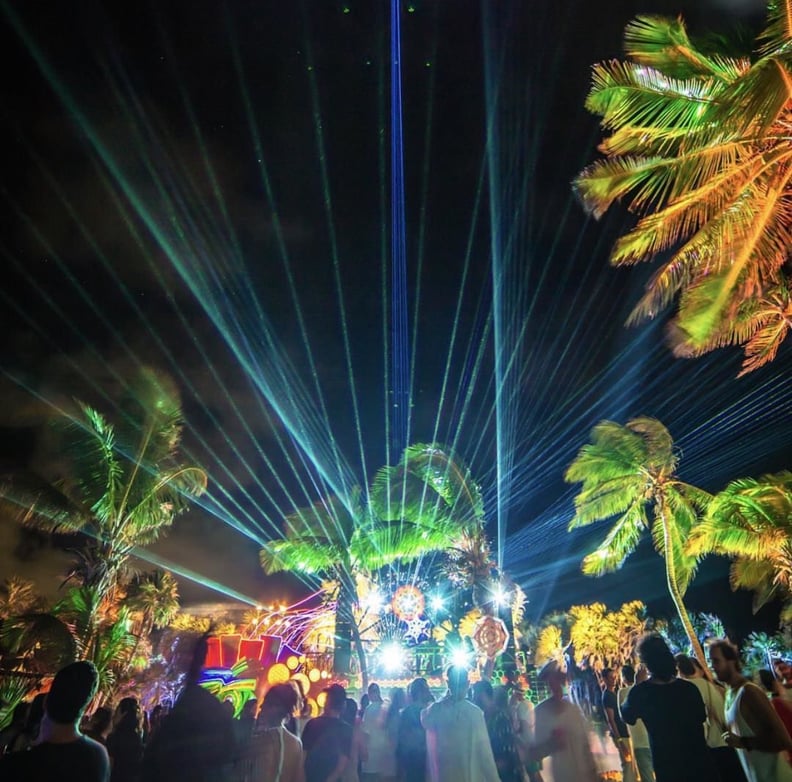 Go to a full moon party.
Directly on the beach under the moonlight, be prepared to dance under the stars until the sun comes up. The Papaya Playa Project, known for being one of the most sustainable hotels in the Northern Hemisphere, hosts monthly Full Moon parties that are bound to get you and your bridal party ready for dance moves on your wedding day. If are in the Cancun area when they happen to be having a party, consider adding it to your agenda. With a live DJ, flowing cocktails, and the laid-back beach ambiance, if dancing is what you love, this full moon party is a must do!
19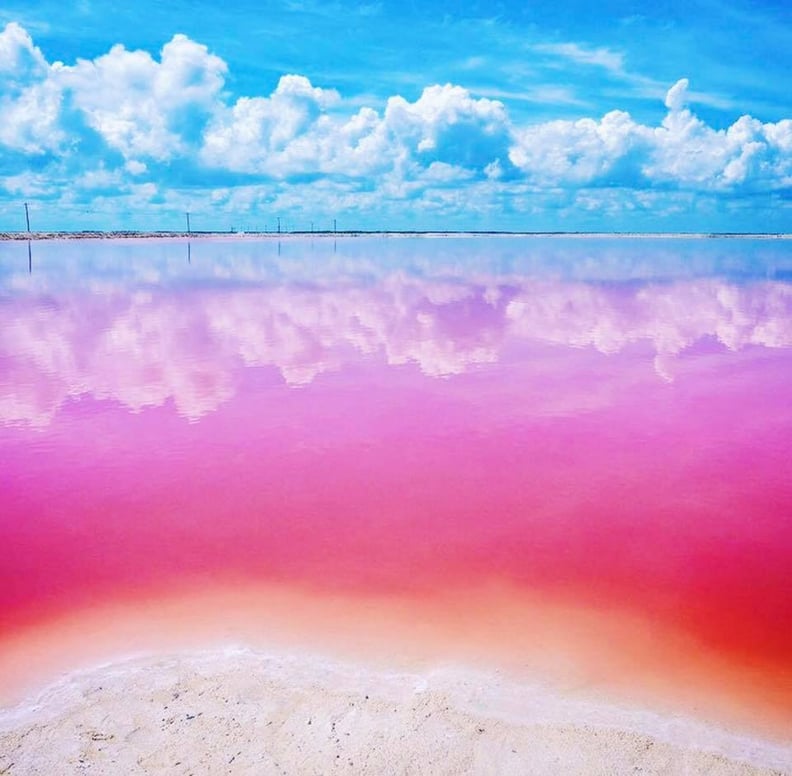 View a pink lake.
While this cotton candy color lake is a bit of a drive from Cancun, I can promise that the Lisa Frank moments will not be a disappointment. This pastel color gem is called Las Coloradas and is in a small fishing town on the coast of the Yucatan, and it is an absolutely magical sight. The vibrant pink color of the lake is due to red color algae, shrimp, and plankton that thrive in the salty water. Fun fact: The reason why flamingos are pink is because they eat these pink creatures in the lake — normally their feathers are white! The pink hue contrasted against the white salt hills will truly be a view to remember. Pack a picnic lunch, make sure you have your camera and your girls in tow, and the coast is yours.
20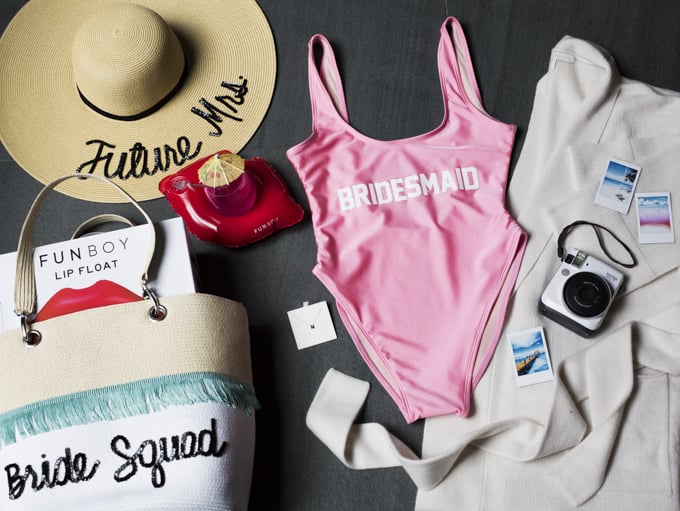 And don't forget your beach bridal squad packing list!
Forget the sparkly sequin bridal sash and obnoxious X-rated novelty items, here is a round up of some packable must have items to make your beachy bachelorette bash not only fun, but stylish, elevated and most of all, affordable!
Capture instant memories with a Fujifilm Instax Mini 70 camera that comes in a variety of fun colors and print packs with vibrant colors and patterns.
Treat the bride to a luxe cashmere robe at a non-luxe price point by Naked Cashmere, the new line of affordable travel cashmere that can be monogrammed.
Since beach bashes usually mean a ton of time in the sun, get the Bridesmaid swimsuit by Shop Private Party for the ultimate bridal squad shot on the beach.
The new jewelry line Covet by Stella and Dot, brings diamond and gold affordably without compromising style for the ultimate bridal party gift in black diamond initial stacking necklaces.
Headed to the beach or pool? Of course you are, and what better way to show off your bridal party status than fully customizable beach totes and hats by Born + Made.
With your last hurrah underway, make sure to have your adorable six-foot lip floatie by Fun Boy to sink into all day. Baby kissy drink holders for your gal pals will have you all kissing (your cocktails!) without telling.