This Woman Creates Amazing Disney Artwork Using Sidewalk Chalk — Just Look at Flounder!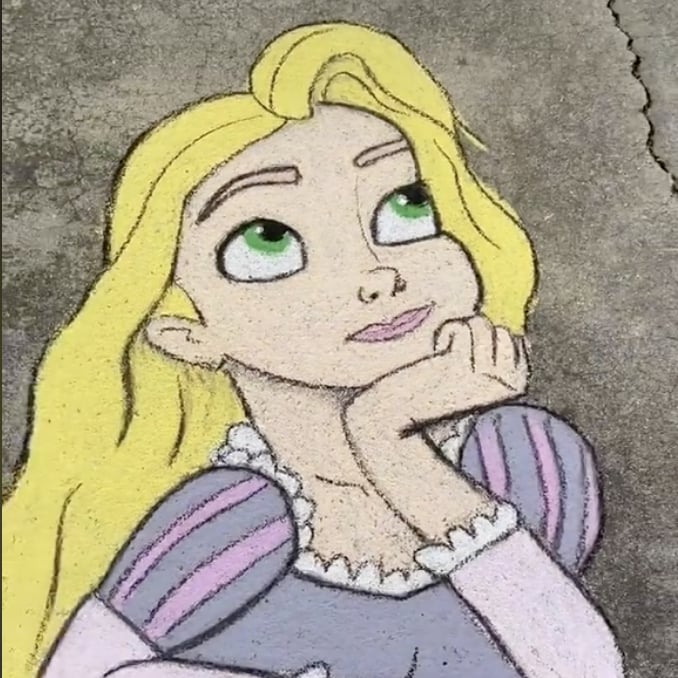 In the art world, chalk is one of the messiest tools — just behind its superpopular sister, glitter. Colorful, powdery residue goes everywhere, sticking under your nails, showing up on your clothes, and coating your hair. Not to mention, it's actually really hard to draw anything other than hopscotch boards and those pretty stained glass pictures with chalk. But in TikTok user @mandamae385's capable hands, chalk turns into amazing Disney characters that practically come to life on her sidewalk! So far, she's drawn Elsa, Anna, Olaf, Ariel, Stitch, Rapunzel, Pocahontas, Merida, Tiana, Kuzco, Flounder, Nemo, and so many others. And her attention to detail rivals Bert's magical chalk creations in Mary Poppins!
California-based Amanda states on her profile that she's "stealing my kids' chalk to do art," but don't let that fool you — she's actually an incredible artist with a talent for bringing Disney princesses, animals, villains, and other characters to life on her sidewalk. Her more than 159K followers love watching her videos, which start with a rough outline of a character and then show her coloring in the details before the finished Disney character is revealed. Most of them are set to music from that character's movie (for example, you'll hear "Into the Unknown" when she draws Elsa). She even takes requests on her Instagram page to draw birthday chalk messages for her fans. Feel free to head over there for any special asks, and keep scrolling to see her beautiful works of art.
Elsa, Anna, and Olaf From Frozen
Ariel From The Little Mermaid
Pocahontas From Pocahontas
Tiana From Princess and the Frog
Stitch From Lilo & Stitch
Kuzco From The Emperor's New Groove
Flounder From The Little Mermaid