Celebrate! Patriotic Bug-Away Candleholders
POPSUGAR Photography | Sarah Lipoff
POPSUGAR Photography | Sarah Lipoff
Along with creating a festive Fourth of July table, these patriotic candleholders are scented with smells that keep bugs away from your guests and grub. And most of the materials needed for this easy DIY can be found at the dollar store for only a few bucks. So set the table, light the candles, and get ready for a bug-free celebration!
What You'll Need:
2 pounds rice
Red food coloring
Blue food coloring
Lemongrass, lemon eucalyptus, or citronella essential oil
3 small bowls
2 sheet trays
Parchment paper
4 small glass votives
4 tea candles
Rubber gloves (optional)
Keep reading for the how-to!
Directions
To create the colorful rice, place a sheet tray over your work area to protect it from the food coloring. You can also don old duds and a pair of rubber gloves to prevent ruining your clothes and staining hands. Evenly distribute the rice between three bowls, and then add the red food coloring to one bowl and the blue to another. Use a spoon to mix and distribute the color.
Now, add five to 10 drops of the essential oil to each bowl, and stir to coat the rice. Bugs don't care for the smell of citronella, lemongrass, or lemon eucalyptus, which makes these scents a good choice. The essential oil will lightly scent the candleholders and create a nice smell for your festive table. And while the candle is burning, it gently warms the rice, releasing even more of the bug-repelling scent.
Remove the bowls of rice from the sheet pan, and cover the pan with parchment paper. Scoop one bowl of the colored rice onto the covered pan, and evenly distribute to create a layer of pretty rice. Rub the grains together with rubber-gloved hands to ensure grains are totally coated with color. Do the same on the other sheet pan with the blue rice.
Place the sheet pans in a 200˚F oven, and warm for one hour. This bakes the color into the rice so it won't come off on your hands or mix with the other colors of rice while assembling the patriotic candleholders.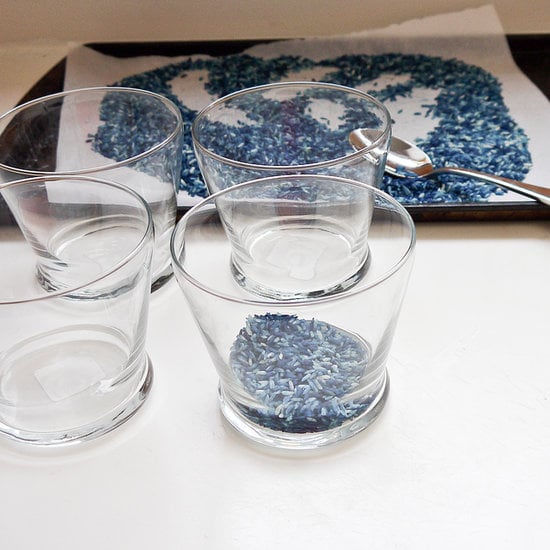 Allow the rice to cool before creating the layers of color. Line up the glass votives to help make the layers even. We found glass votives and vases at the dollar store in a variety of shapes and sizes, all of which would make fun containers for this project. Scoop the blue rice into the base of the glass, putting equal amounts in each votive.
Now add the white rice to the glasses, and then add the red, leaving about two to three inches of space at the top of the votives. Place a tea light in the center of the red layer, and you're ready to party.