Upcycle an Old Scarf Into a Cool Camera Strap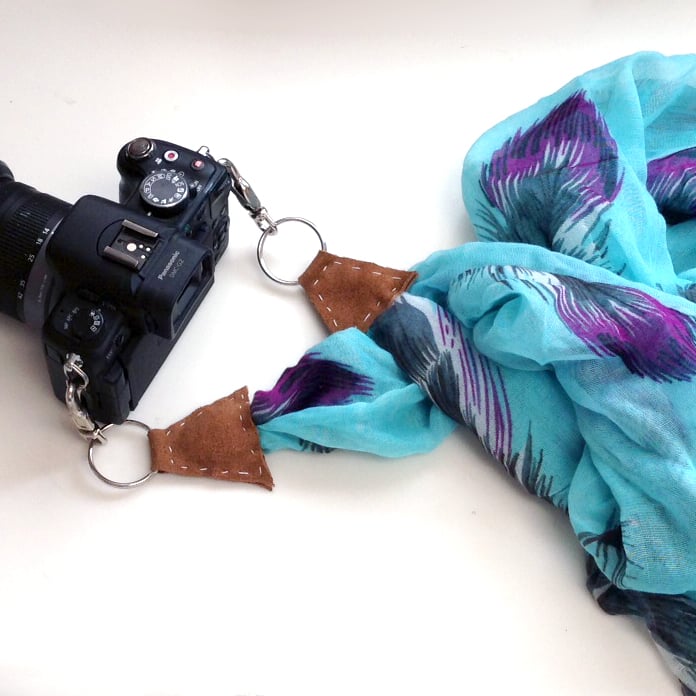 POPSUGAR Photography | Sarah Lipoff
POPSUGAR Photography | Sarah Lipoff
If you have a collection of old scarves, this DIY is a smart way to give them new life. And after you realize how easy this project is, you'll want to get crafty and make one for all your favorite photographers. We've seen scarf camera straps popping up all over Pinterest, so we had to try making one. Pick up everything you need at your local craft store for around $5, and you're on your way to making this cool camera strap.
What You'll Need:
Long scarf (ours measured 1 1/2 by 4 feet)
Scrap of leather
Scissors
Marker
Superglue
Clamps or clothespins
Sewing machine (or needle and thread)
2 split key rings
2 hook carabiners
Directions:
Start by folding a scrap of leather in half, with the side you want showing on the inside, and draw a V shape, with the base at the fold and the top at the open end of the leather. We found a rectangle of leather around four by six inches was more than enough to create the two shapes. Make sure to leave around one inch of leather at the base of each V. Cut out shapes with a sharp scissors.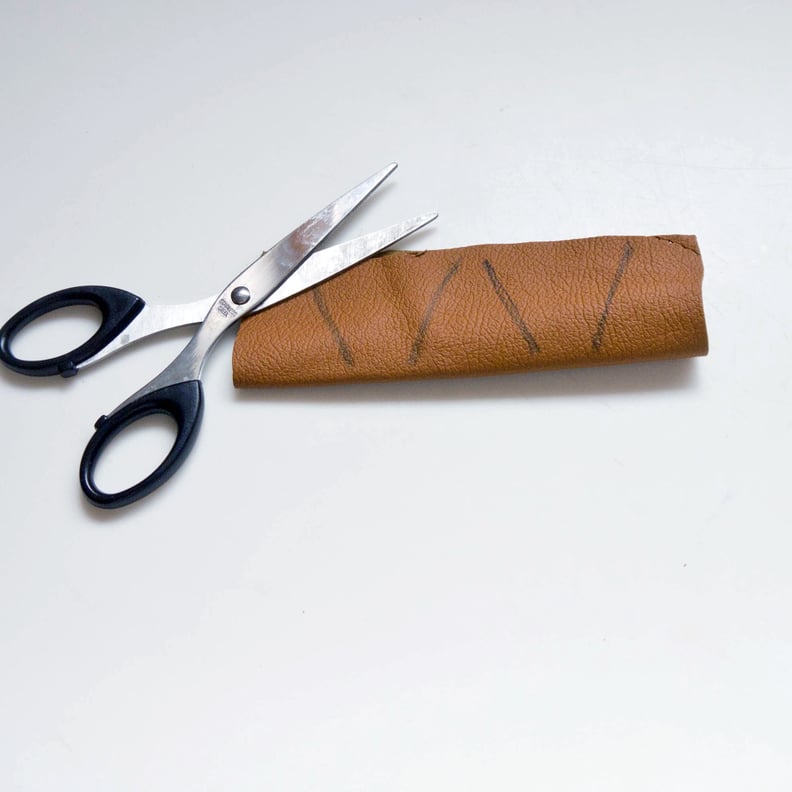 Now twist one end of the scarf, and hold it in place using a clothespin or clamp. Open up one of the leather shapes, placing one side underneath the end of the scarf. Place a few dots of superglue at the top corners of the leather and a few along the sides, avoiding the bottom of the V. Hold in place for a 10 count, and repeat on the other end of the scarf.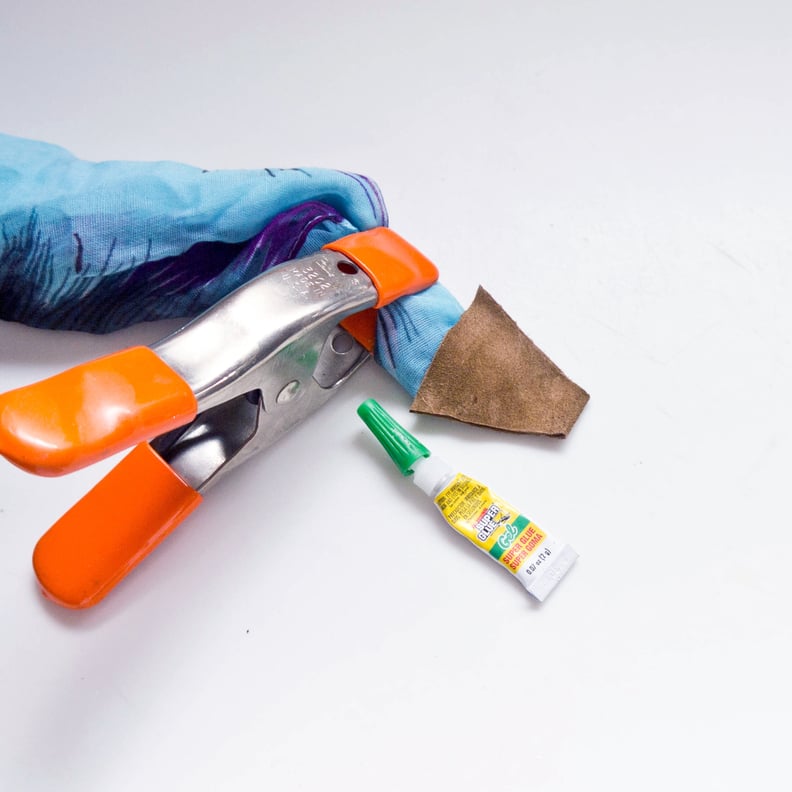 Slip the split key rings through the opening at the base of the leather V, making sure they move easily.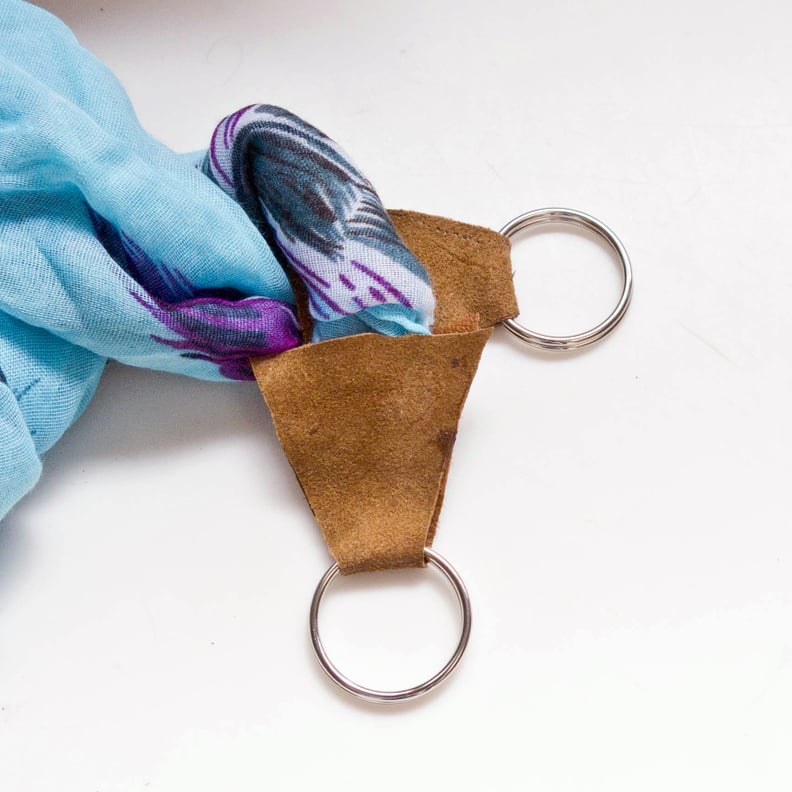 The superglue helps hold things in place while working, but it's not strong enough to create a really safe and sturdy camera strap. Get out your trusty sewing machine, and sew around the sides of the leather and across the top edge, securing the scarf and the leather base. If you don't have a sewing machine, you can hand stitch the leather and scarf together using heavyweight thread — it just takes a little patience! For extra durability, sew an X over the triangle of leather.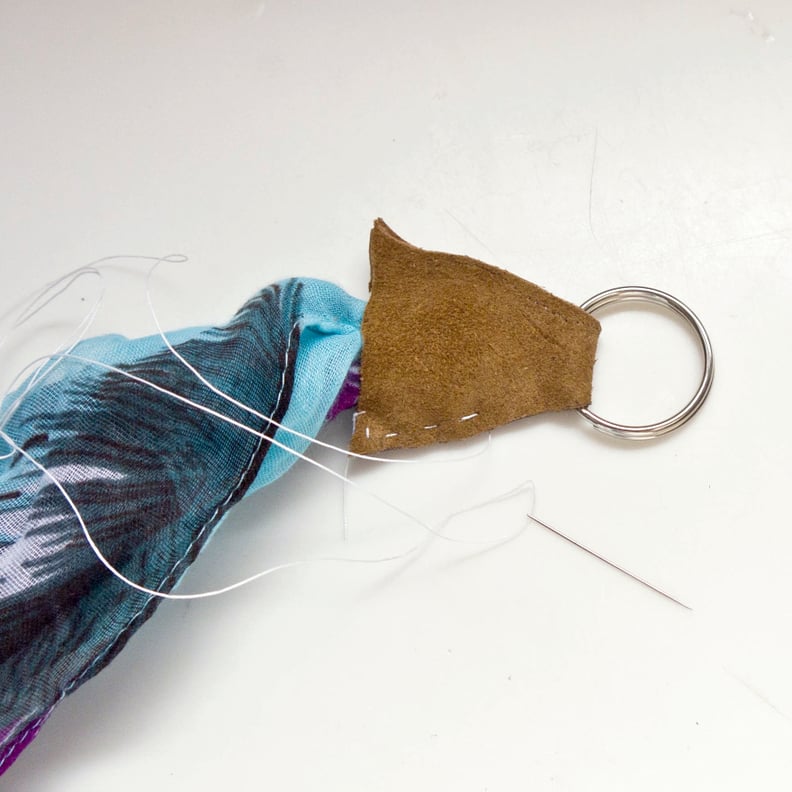 Finish the camera strap with hook carabiners, and then connect to your camera, which makes removing the strap when needed so easy. How chic!